Historically, Gold Has Been A Poor Inflation Hedge
Historically, Gold Has Been A Poor Inflation Hedge
Gold is often touted as a great hedge against inflation, but it is not. If we look at historical data, its record has been spotty.
A good inflation hedge would generally rise along with the rapid growth in consumer prices. However, gold has yielded negative return during some of the highest recent inflationary periods in the U.S. Let us take a look:
Gold investors lost 10% from 1980 to 1984, when the annual inflation rate was about 6.5%.
Similarly, gold yielded a negative 7.6% return from 1988 to 1991, when inflation was at 4.6%.
However, gold fared well from 1973 to 1979, when the annual inflation rate averaged 8.8%. Gold returned 35% for the period.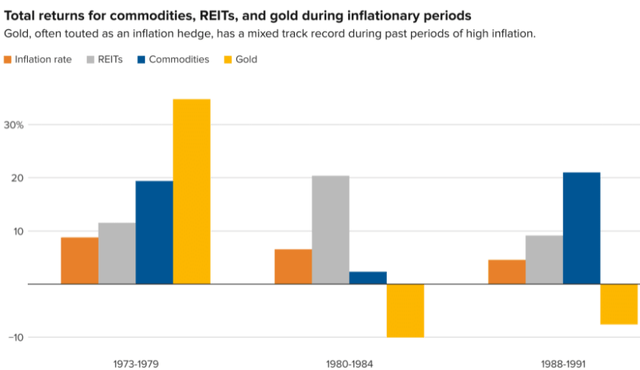 Source: CNBC
More important than the above, gold's correlation to inflation has been very low at 0.16 over the past half-century. A correlation of 0 means no relationship, while a correlation of 1 means they move together.
The low historical correlation would make gold a poor hedge against inflation.
In general, silver, commercial metals (such as copper, iron ore, steel, aluminum), oil, and agriculture commodities are much better hedge against inflation.
Why Gold May Work As A Good Inflation Hedge This Time Around
If we dig deeper in the past on why gold under-performed in periods of high inflation, we see that this happened during periods of recession or periods when cash and liquidity were scarce in the system. Today we have the exact opposite. The economy is booming and the system is flush with cash. Furthermore, gold is cheap relative to its historical norms. In fact, gold has returned almost zero percent over the past 10 years, and even negative returns relative to inflation. Today, it offers a good entry point for investors.
Therefore I believe that gold would be a good hedge against inflation this time around. If you noticed, the price of silver and gold have both soared on Thursday and Friday. If you are interested to hedge with gold and silver, I would suggest you invest in the miners rather than the commodity itself by buying the following ETFs:
The reason to own the producers rather than the commodity itself is because the producers tend to outperform the price of the commodity by a wide margin. For example, precious metals equities have historically outperformed the commodity's price by twofold to threefold when the commodity prices are rising.
Note: If you plan to buy the above ETFs, it is best to consider them as long-term investments. The technical picture for gold and silver looks very bullish, but there will be volatility, and the prices will not go up in a straight line. However, I believe that the rally will be very strong through the year 2022.
HDI, described as the #1 service for income investors and retirees, offers a "model portfolio" targeting a yield of +9% Learn more here.