Yes, You Can Retire On Dividends
Yes, You Can Retire On Dividends
Are you looking to work forever? Most of us would answer with a resounding "no!" However, even after retirement, recurring bills such as insurance, electricity, gas, food, medical expenses, and other costs continue to come in. This means that a regular income is still necessary, even if you have planned and own your home and cars free and clear.
In my opinion, the best option is to retire on dividend income.
Is it possible to retire on dividends? Absolutely.
To do so, you must aim for a "liveable yield." It's common to hear workers demand a liveable wage, but when it comes to investing, we often settle for an unacceptably low yield on our hard-earned money. Don't fall into this trap.
You worked hard for your money, so make it work hard for you.
Personally, I target a 9% yield for my overall portfolio. This allows me to invest in some lower-yielding, safer securities that offer lower volatility while also incorporating solid super high-yielder that could be more volatile.Overall, this creates a portfolio with average price volatility, but with a big fat income.
Today, I would like to discuss two excellent opportunities that flood my portfolio with their dividends.  Let's dive in!
Pick #1: THQ - Yield 7.1%
Tekla Healthcare Opportunities Fund (THQ) is a "closed-end fund" CEF that invests in healthcare companies:  pharmaceuticals, medical providers equipment makers.It also invests in medical technology, and even real estate used in the medical sector..  
THQ Fact Card
The healthcare sector is a defensive one because demand tends to be inelastic. The fundamentals behind the sector are strong and inevitable. With the U.S. consumer aging, demand for medical care is set to soar over the next decades. The Baby Boomer generation alone will put enormous demand on the healthcare system 
There is no question any portfolio should have exposure to the healthcare sector.  For our "model portfolio: which currently yields +9%, we invested in the CEF THQ. THQ invests in the companies and converts the gains to a dividend that meets our income goals. Instead of large unrealized capital gains that can disappear like mist, we get a monthly dividend deposited into our brokerage account. This is tangible realized gains, every month. THQ provides us with competitive exposure to the healthcare sector while providing a high yield.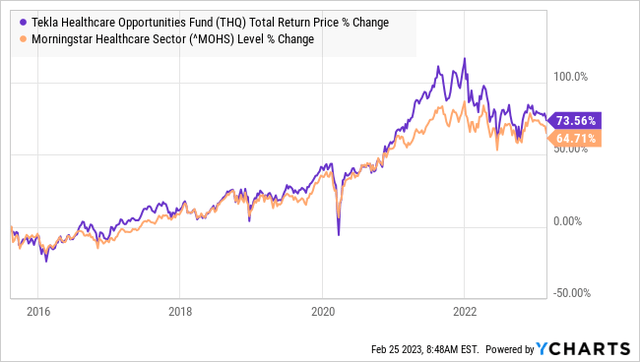 If you are a THQ investor, next time you're at the doctor, take a look around at all the things that are paying your dividends. The medication, equipment, bandages, vials, needles, insurance companies, and more are all generating earnings for the companies that you invests in via THQ. It might not make going to the doctor "fun", but it sure does make you feel a little better when you know everything around you is fueling your monthly income!
Pick #2: RNP - Yield 7.7%
Cohen & Steers REIT & Preferred Income Fund (RNP) is one of the best Property REIT CEFs . Its primary objective is to produce "high current income," and the secondary objective is "capital appreciation." To achieve this, they invest in real estate and diversified preferred securities in both U.S. and global real estate positions. 
Cohen & Steers is  top tier manager of active REIT and real estate investing with an impressive track record. Cohen & Steers maximizes shareholders' returns by taking advantage of unjustified pullbacks and overweighting REITs with solid track records paying well-covered dividends. RNP also uses a 25% allocation to preferred shares as a base for reliable income. This also lowers the price volatility of this CEF.
The fund is a great way to get REITs and preferred REIT exposure in one basket. Both provide the cash flow needed for income-focused investors.  
Fact Sheet RNP -December 31st, 2022
RNP has done an excellent job managing its portfolio. The NAV (net asset value) had fully recovered from the COVID crash until the Fed's interest rate hikes pushed real estate prices down. Over the last 10 years, the NAV has increased an average of 2.5% a year.  RNP does indicate that over the long term, the distribution is fully covered.
RNP's top 10 holdings are all top quality REITs, very recognizable and have achieved solid results over the long term.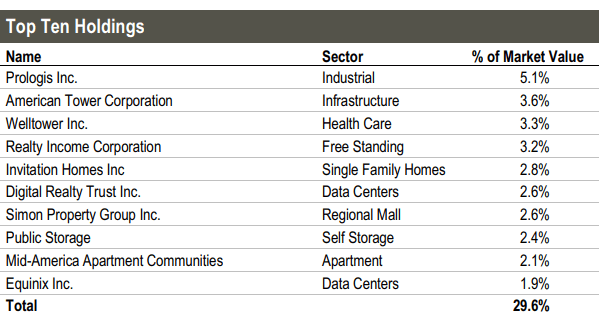 Fact Sheet - December 31st, 2022
These are REITs that we would be comfortable holding through any economic conditions. RNP is a great way to invest for big income.
Conclusion
With the current market turbulence, THQ and RNP offer a very attractive valuation. These are super bargains not to be missed!
At "High Dividend Investing," we have been increasing our position in these 2 securities. Today our "model portfolio," which currently includes over 40 high-yield stocks carries an average overall yield of of +9%.
We are buying the dip for our retirement portfolio!
HDI, described as the 'Must Own' Service for Income Investors and Retirees, offers a "model portfolio" targeting a yield of +9%  Learn more here.