Weekly Crypto Report: Possible Extension?
Micro:
General
We do not yet have any evidence that Bitcoin and Ether topped in their respective b waves, and this may indicate more extension in the third. I discussed in yesterday's webinar how another extension means we have not likely not seen the fourth yet.
This is based on the small portions of this so-called fourth compared to the second making it more likely a nano-fourth of the third. This view is based on experience more than any classic Elliott Wave rule. 
Given recent levels of emotion, I'm going to keep 'the mantra' right here. The mantra is the key steps for a market to indicate it has bottomed:
1. Five waves off the low, ideally over resistance but should be close to resistance.
2. Hold a three-wave pullback, over the .764 retrace, as a wave 2.
3. Break over the previous five waves and over resistance if the first five waves did not.
As of writing, we haven't even completed the first step yet.
Bitcoin
Bitcoin would need to break $22,100 to indicate a top in B of wave-iv. Above that, we may see an extension. This would indicate an extension for wave-3 in my view. Key bullish support is still $18,650.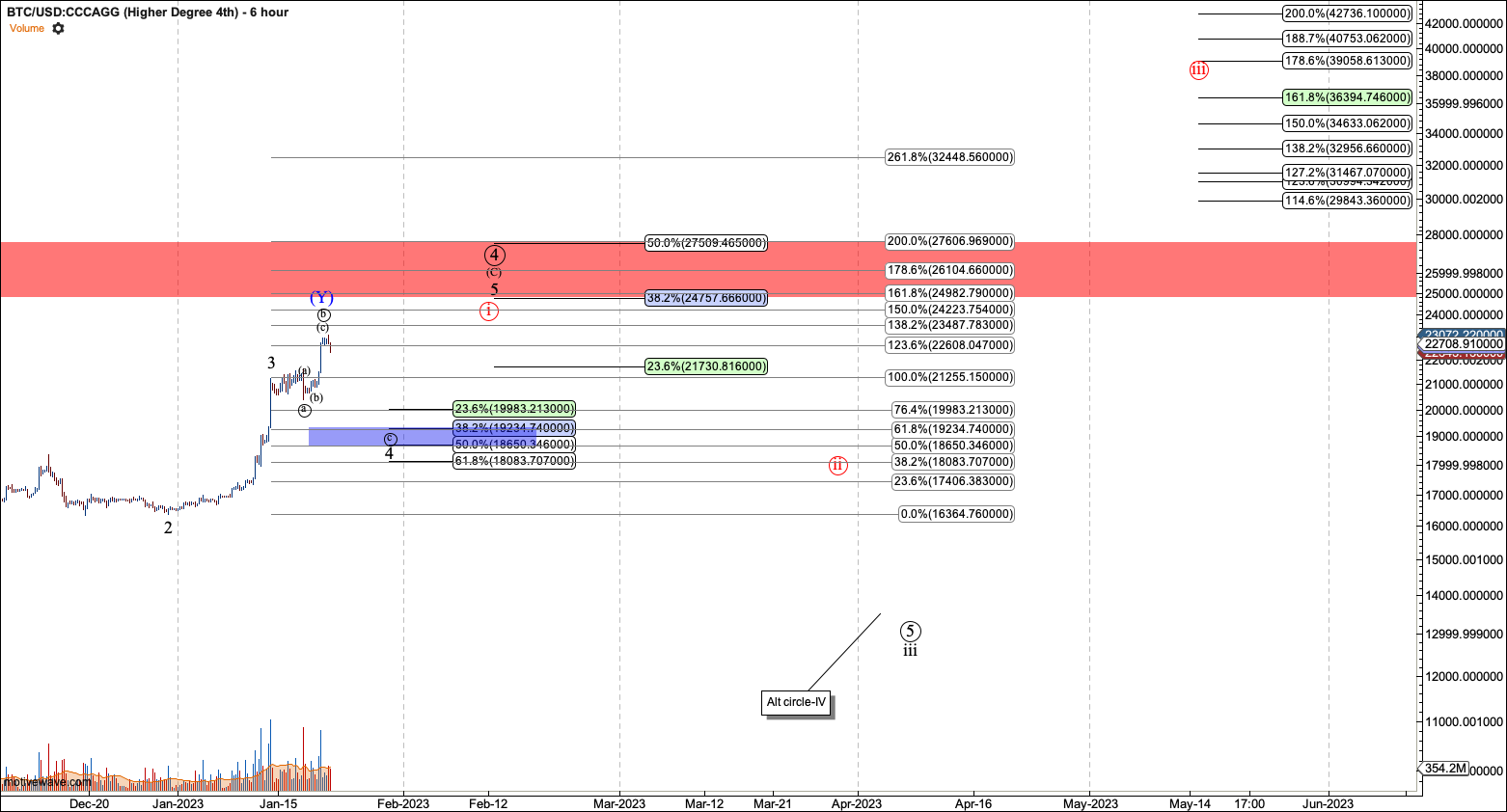 Ethereum
Ethereum has not broken even the most nano level of support, and one more wave would give me five off of the point labeled (a) of circle-iv. That would give me another extension in circle-iii. Breaking below $1592 would indicate a top in (b) of circle-iv, and avoidance of another extension. 
Key bullish support is still $1370.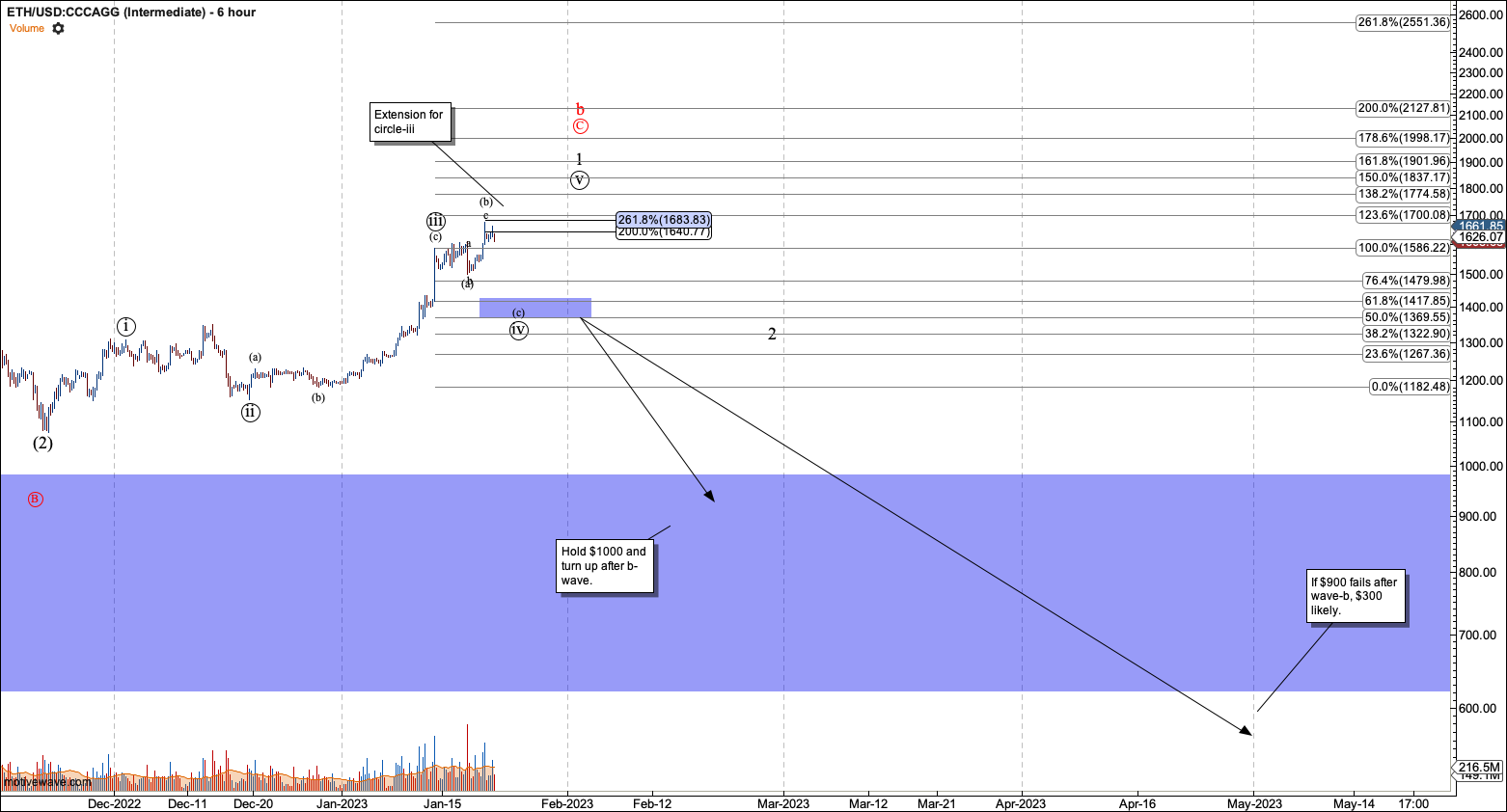 ETHBTC
ETHBTC should head back to 0.068 with an outside chance of dropping to 0.055 in an alternate b-wave. I have added the micro for the black count which has been converted to a WXY based on the local structure. And, I added the structure for the path to 0.055 in red, which is likely an ending diagonal.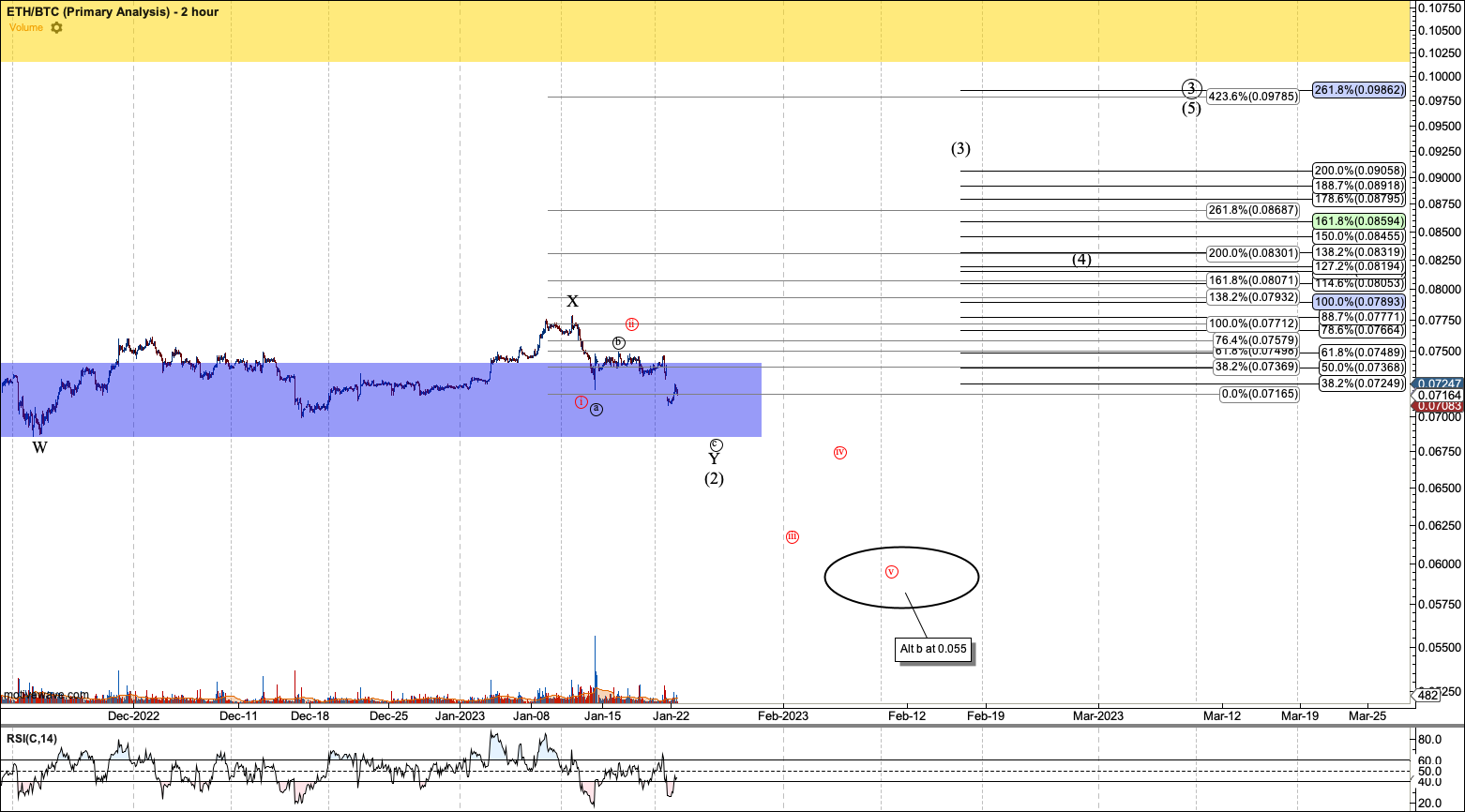 GBTC
GBTC will get new coverage tomorrow when the stock market opens.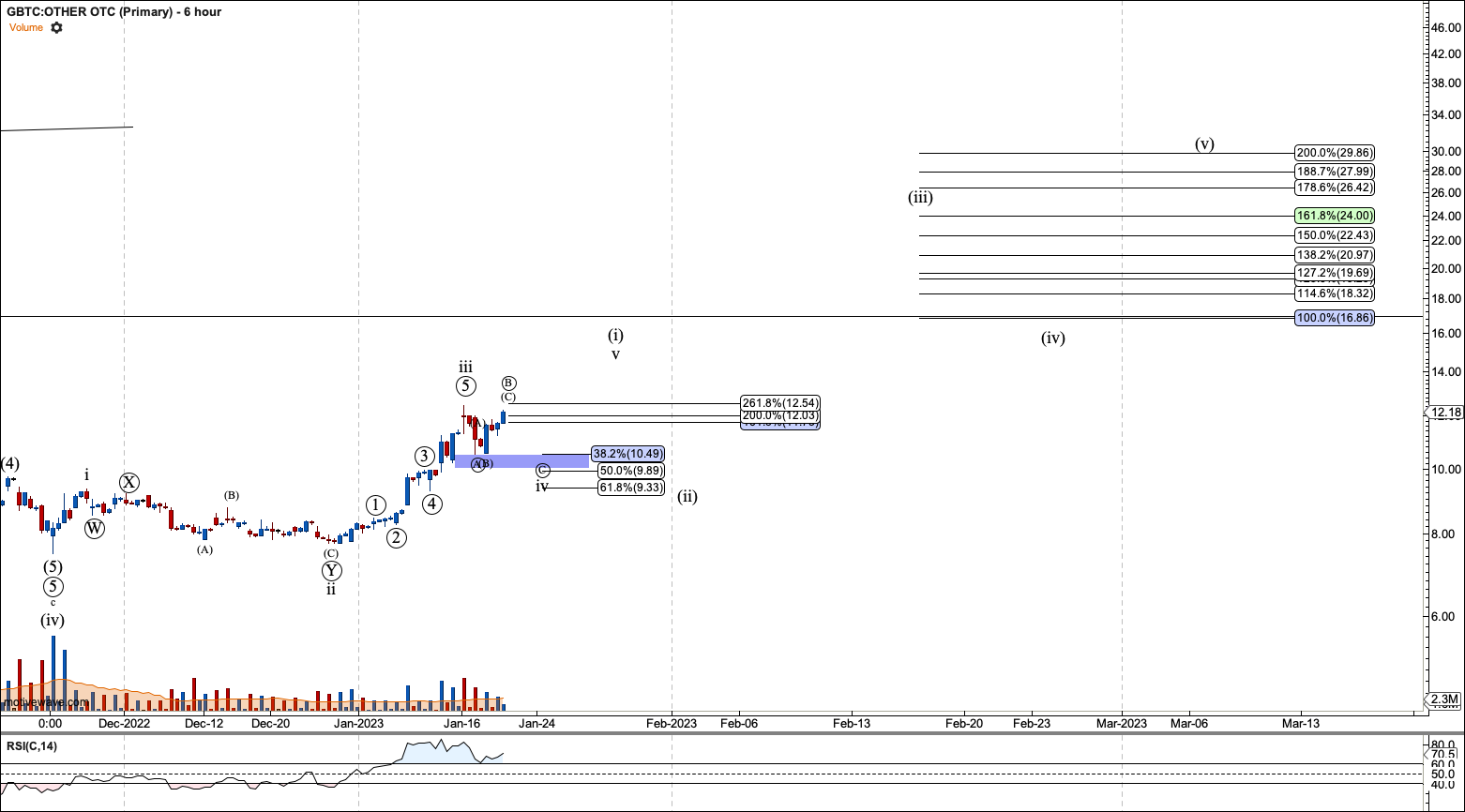 Intermediate Views
Bitcoin Intermediate
Just as I have on recent nightly reports, I am leaning toward my alternate Bitcoin long-term count which can drop as low as $3K, and likely drops to $6K, before bottoming. That said, Bitcoin has not sustained below $16K which leaves this view unconfirmed. Even with the strong move over the last two weeks, it is well within the confines of a large wave 4 of iii and has rallied in three waves off the lows. Breaking over $27,500 and sustaining over, sends me back to the previous primary. 
I have indicated the old primary with a label to remind you that if the recent low does hold, our target above is $125K.
Zooming in, I have indicated in my micro counts what it takes to confirm that the bottom is already in. We should present five waves into the resistance region between $24,700 and $27,500, then hold the red wave-2 which can pull back to $18K, though I'll be precise as soon as five waves are complete. If wave-2 holds, then a break over the previous five wave rally confirms the bottom is in.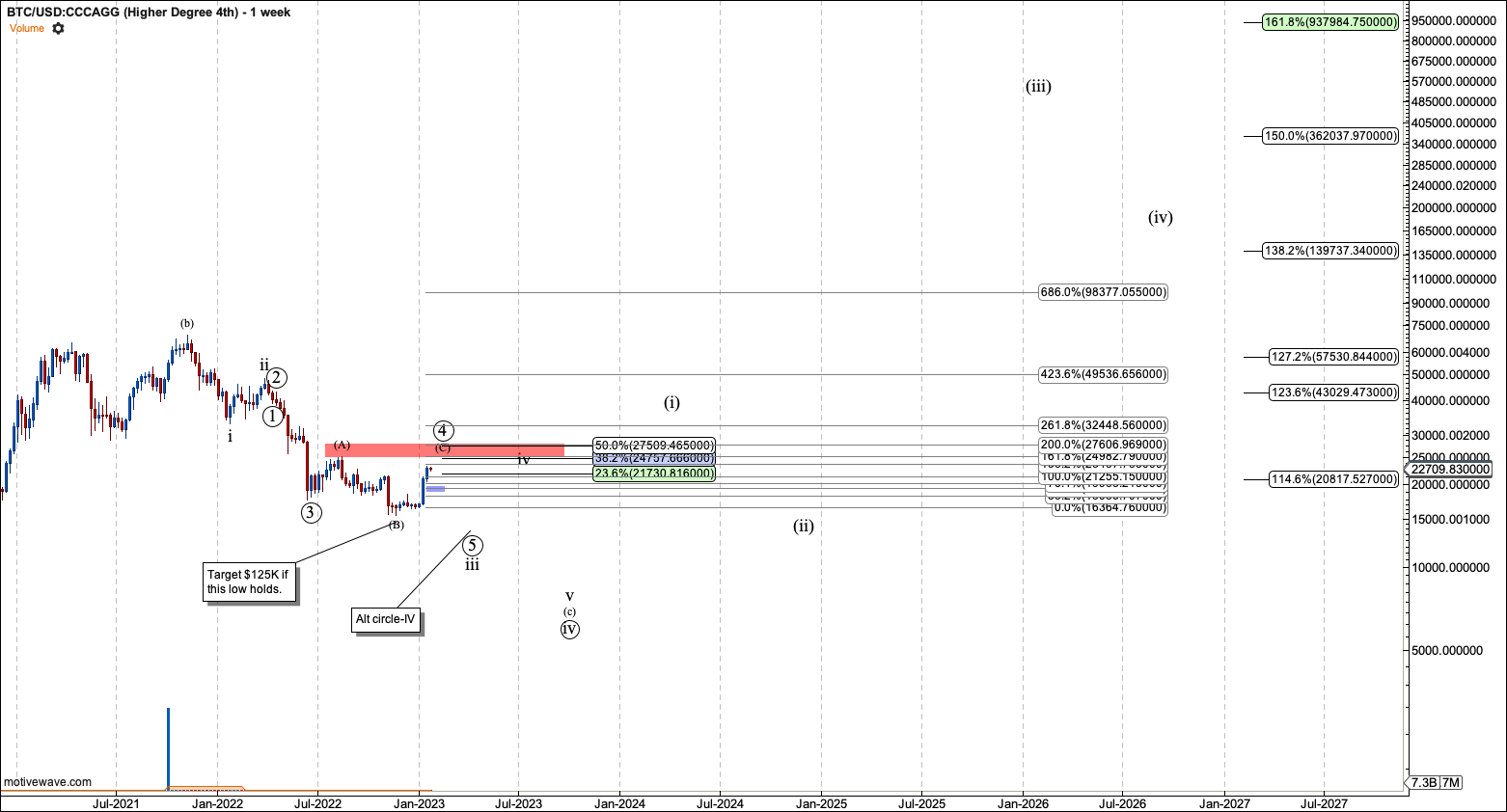 Ethereum Intermediate
I've moved to the alternate counts in Bitcoin, though I need another break below $16K to confirm it. So what does it take to move to the alternate red count in Ether? It takes a sustained break below $1000, which renders the setup in black circle i-ii improbable. I have forced a view on this chart based on Bitcoin's alternate. In this view the current micro move to $1700 could result in a B wave top and then Ether drops to the $300s while Bitcoin drops to $6000.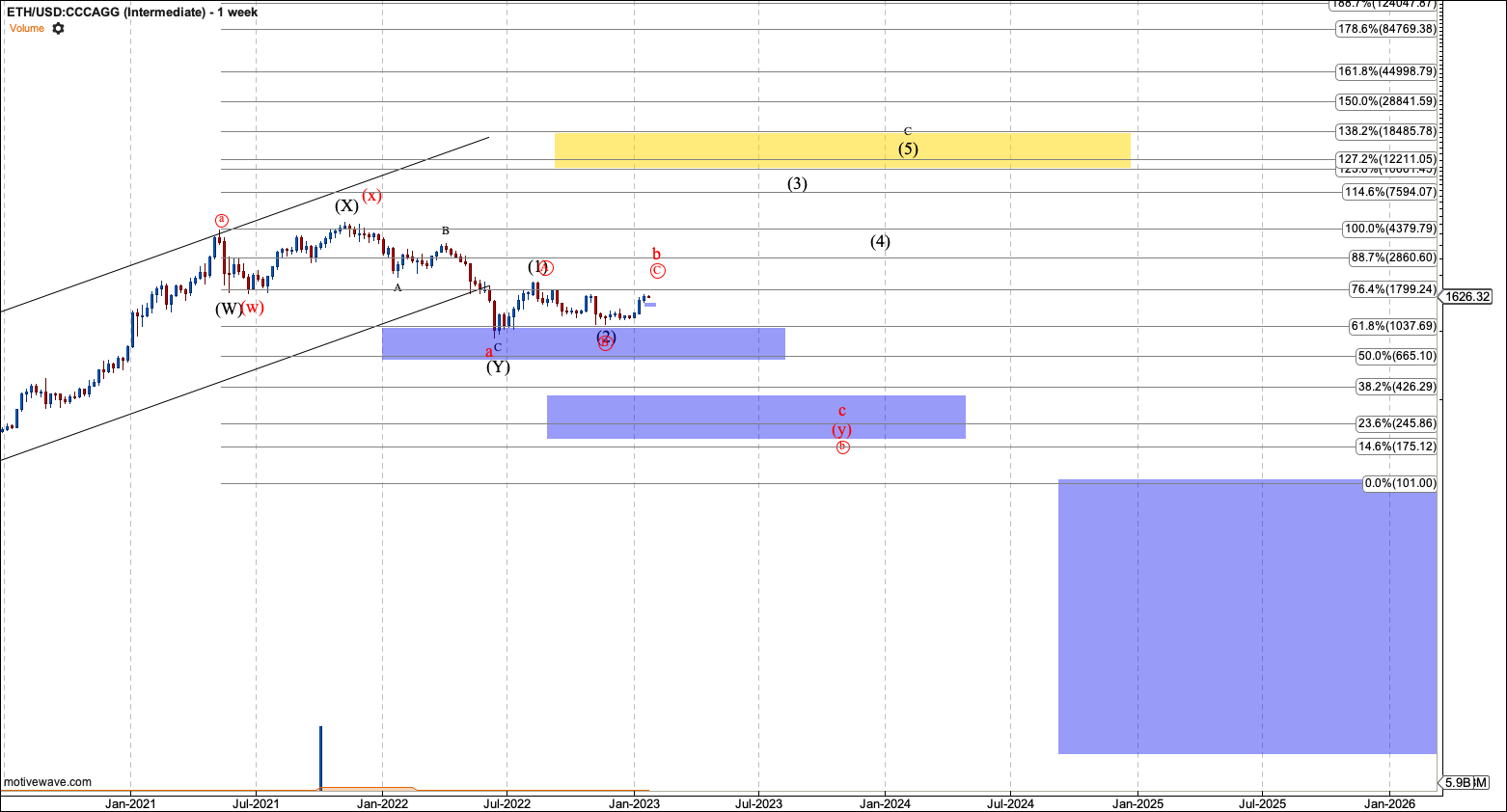 GBTC Intermediate
I now lean toward GBTC being in my red count as it has gone too low to call the 2022 bear market a reliable fourth. Though the enormous diagonal that results from this count seems implausible now. In this view, the next support is $5, which also confirms the red count as primary. Ultimately support is $73 cents, below which, I don't have a bullish view. Although I don't expect GBTC to go that low until I have a setup suggesting this is the case.