Weekly Crypto Report: Bullish Week Expected
Bullish Week Expected
Long-term Traders:
Intermediate charts and write-ups are included. 
Housekeeping:
I am traveling from November 5th to the 8th. That will cut my time on the board a little during the trip. Though I plan to post reports, they will not likely post at the same time of day as usual.
Key levels:
Bitcoin: The daily chart trend is considered down below $24,600. If Bitcoin sustains below $16,000 the door to a much longer bear market opens with the following support levels: $10,000, $3000, and $1800.
Ethereum Supports: The daily chart trend is considered down below $1440. $675 needs to hold or the door to a much longer bear market that may not find a low until the $80's.
GBTC Supports: The daily chart trend is down below $20. GBTC already broke impulsive support off the 2019 low, confirming it is a diagonal at best.
Short-term Traders:
General
Bitcoin and Ethereum have likely moved into the heart of their third waves off of the mid-October low so should push higher all week. 
Bitcoin
As long as Bitcoin remains over $19,360 it should be in the heart of the third wave and aiming at $21,100 for circle-ii. if it breaks below $19,360, I'll expect the alternate top in red (i). Regardless, Bitcoin is short-term bullish as long as $18,700 holds. 
Bitcoin is expected to be constrained below $21,700 where it should start a turn toward $16K and below. Above $21,700 I have to consider that Bitcoin has put in a truncated low, or at least a larger circle-4 into the $25K region.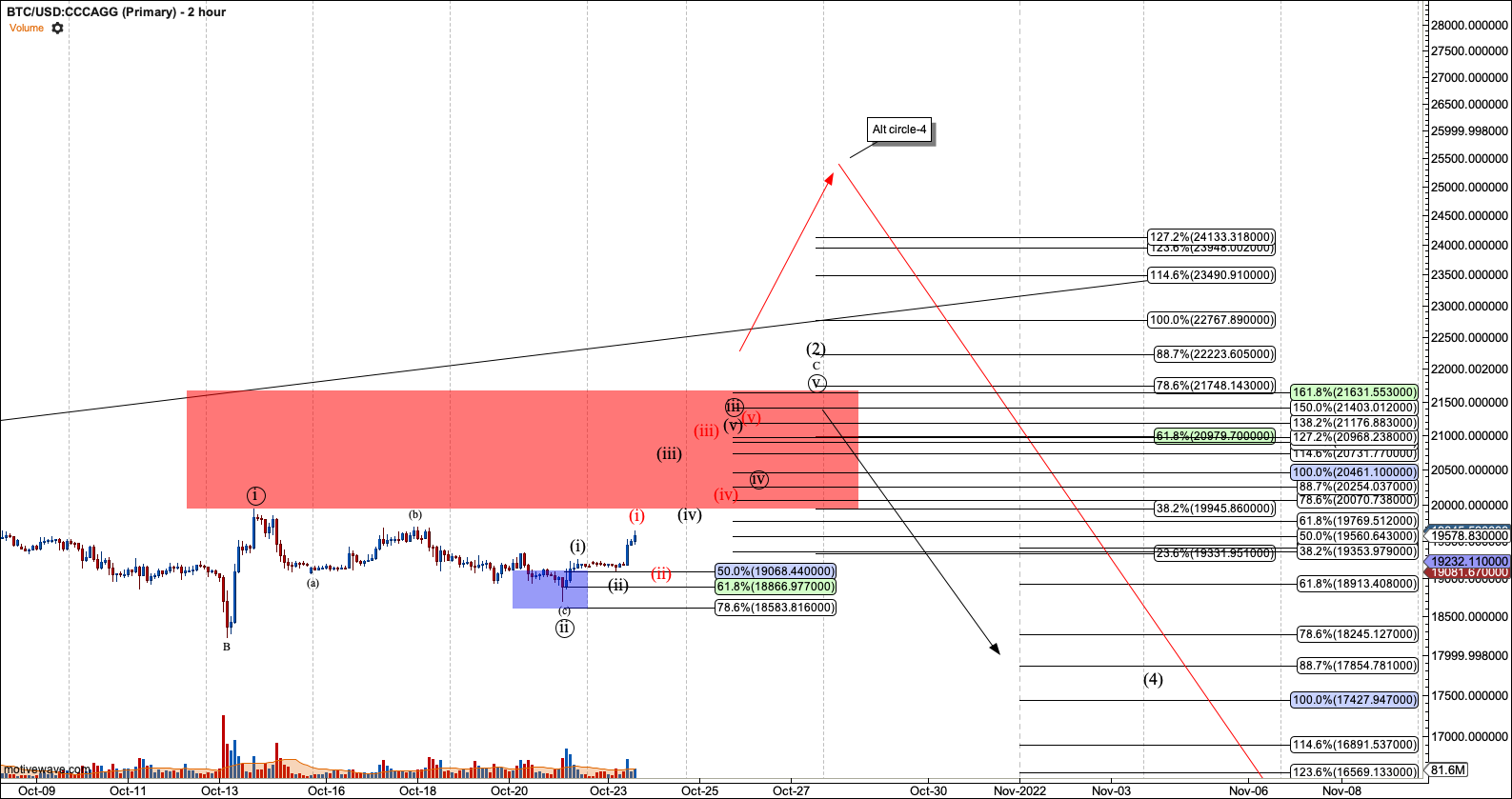 Ethereum
Ether has pushed into the heart of the third off of the mid-October low and should take a relatively direct path to $1455 before pulling back in wave-4 of (3). It should remain over $1325 now.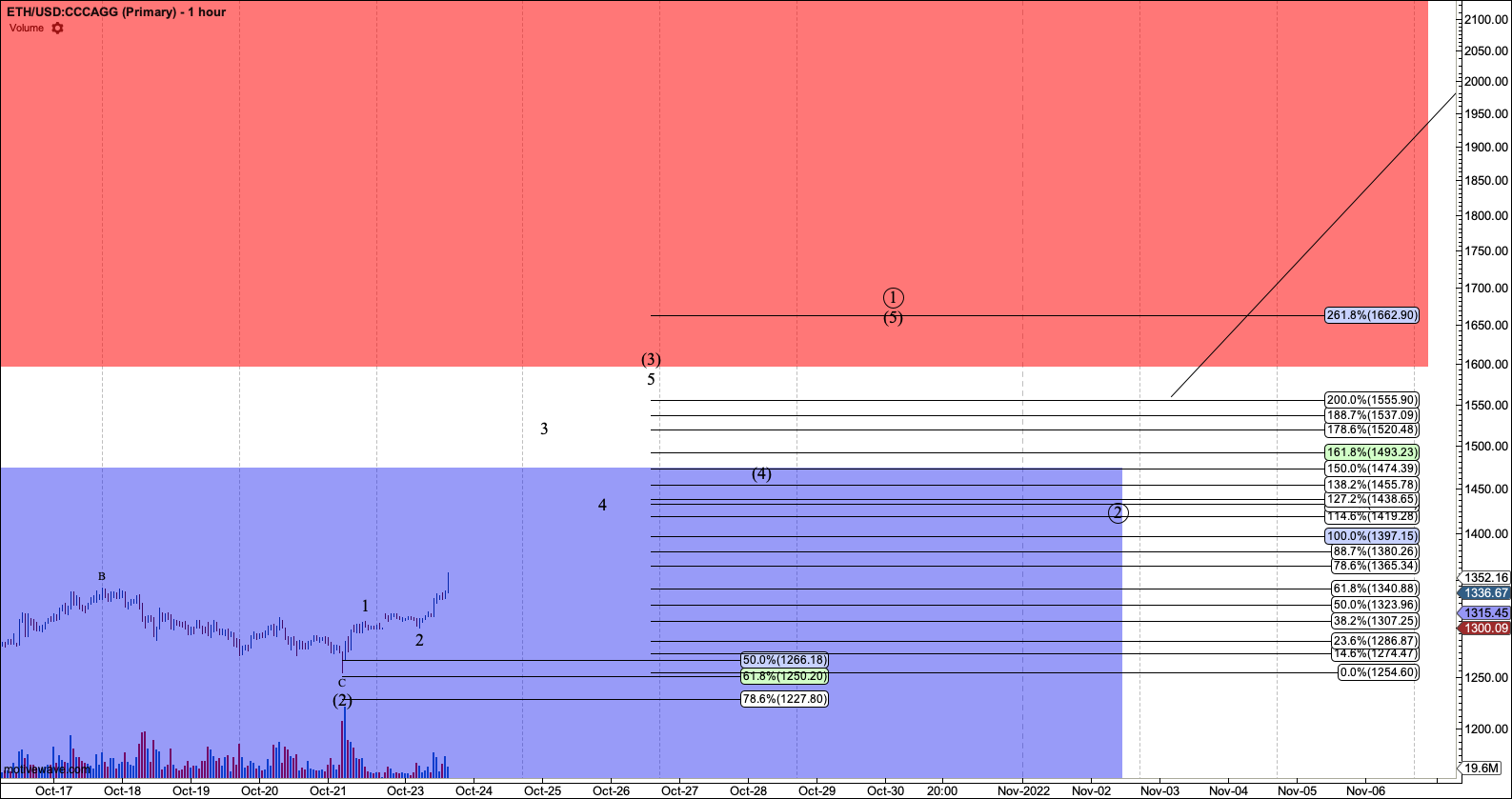 ETHBTC
ETHBTC stretched out its wave wave-2 of (3) but now appears to be on its way higher to the 0.075 region before significant pullbacks. 
GBTC
GBTC will get coverage when the stock market reopens. 
Bitcoin Intermediate
The current bull cycle, which began with the ~$3000 bottom in December 2018, is not expected to end until Bitcoin fills out five waves off that low. Since early last year, my primary count has been looking for the third to finish in the low six figures. However, the fourth wave that started in April has now dipped below $24K. This confirms my view that a move over $100K will give us the fifth wave and the end of this cycle. My ideal target is now $128K to $193K and it should hit lower in that range barring a euphoric extended fifth.
If $16K is breached and Bitcoin sustains below that level, the crypto market will likely be in a longer-term bear market. The next important levels below are $10K and 3K. However, the door will also open to several scenarios, therefore, several counts.
If it takes this route, my view will be that the bear market that topped in 2017 never ended, and the degree of this bear market moves up to the primary fourth. In that case, the fifth wave should push to $1M or more in a multi-year rally with many lower-degree bear markets along that path.
I have also noted that the move down from the August high could be a truncated fifth which is in the process of bottoming here in September.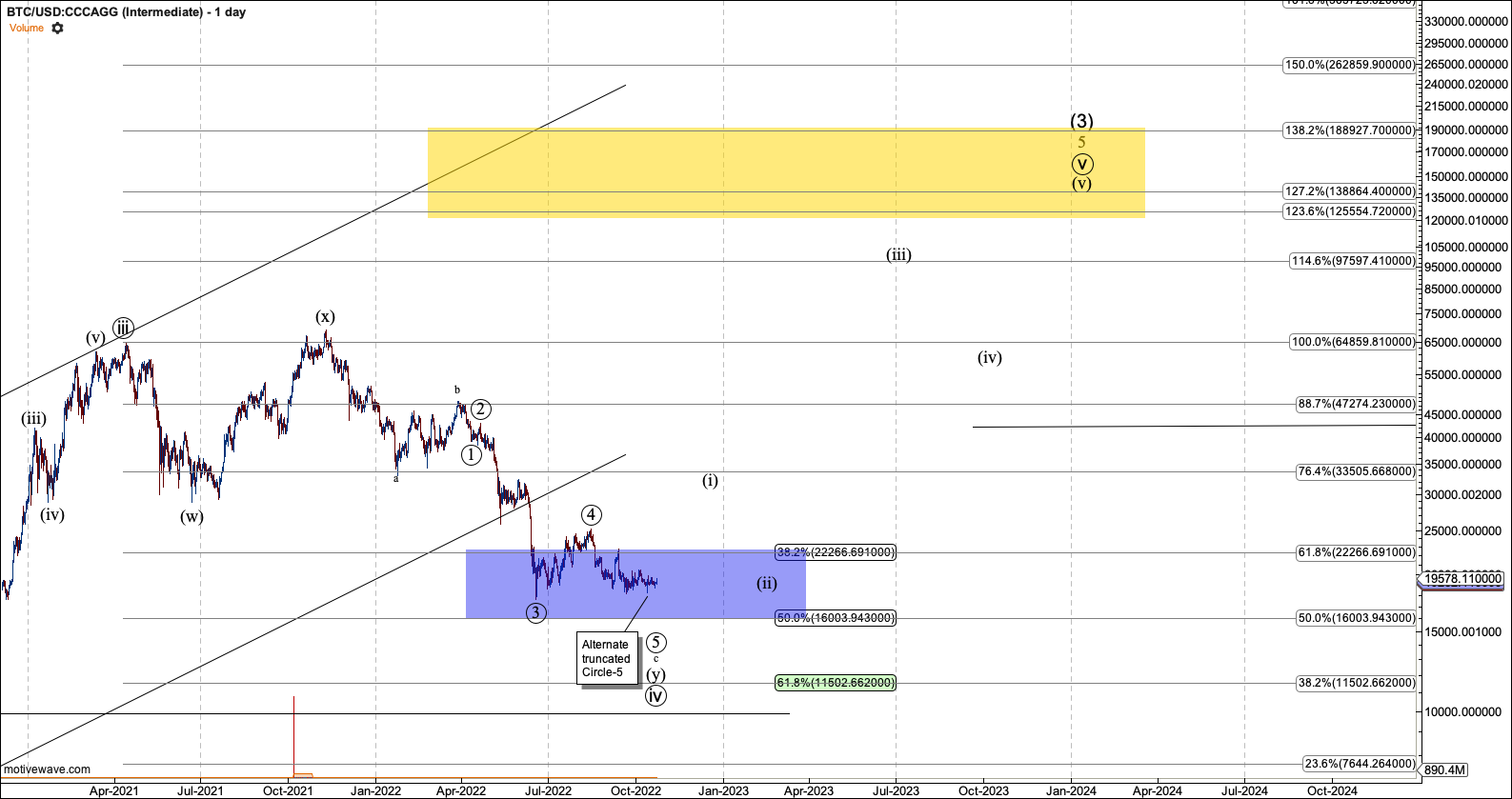 Ethereum Intermediate
In previous updates, I viewed Ether in the fifth of the third wave off the 2018 low. However, that view required Ether to hold $1074. Now that that level was breached, I view Ether as in the next degree fourth wave. That leaves Ether with one more wave in this cycle up to between $10,500 and $18,000, likely in the lower end of that range.
In the updated count $675 is key support, equivalent to $16K Bitcoin. This level, if broken, will put Ether in a higher degree bear market and it can easily drop below the 2018 low at $83.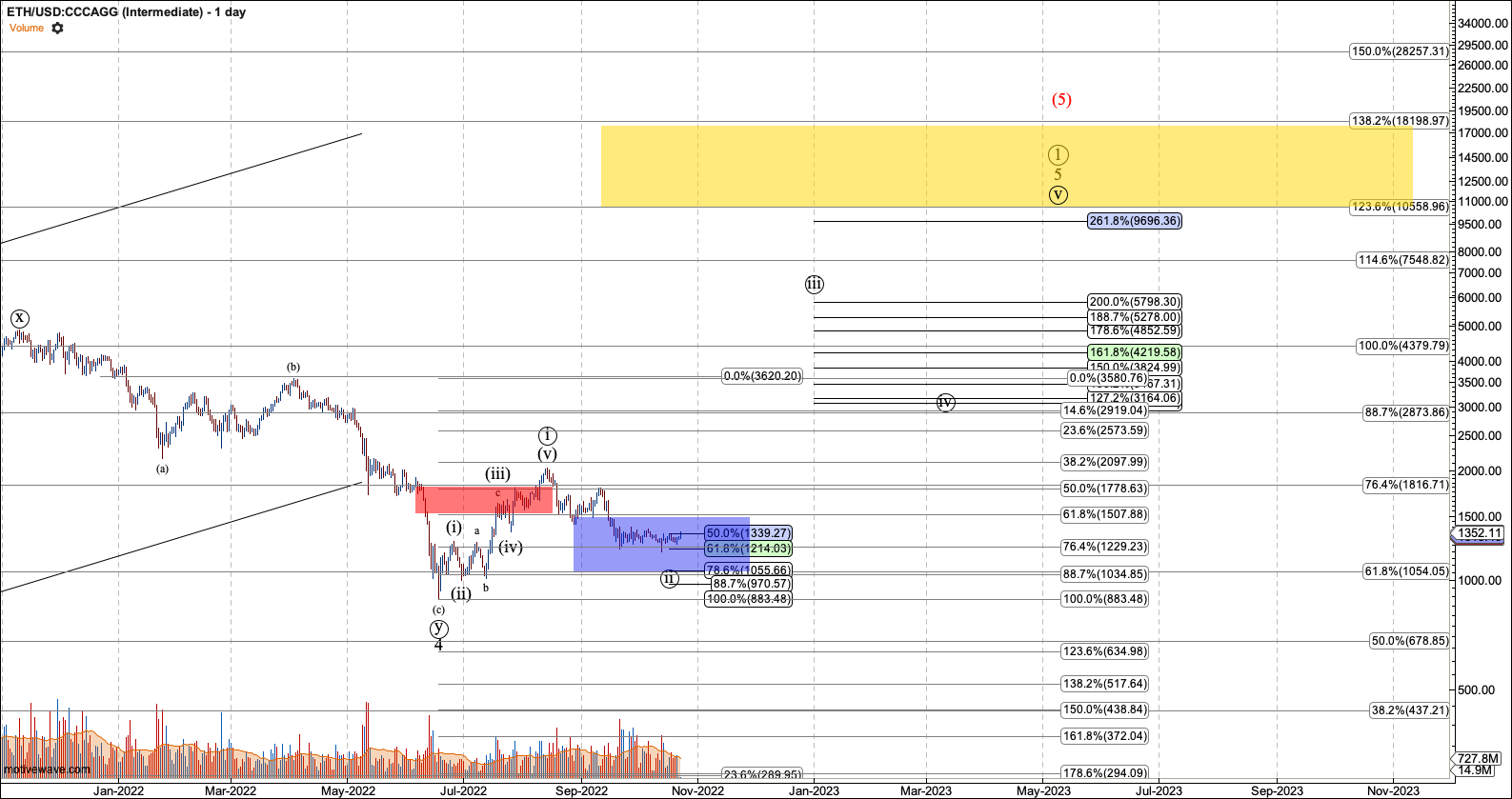 GBTC Intermediate
GBTC has now fully overlapped its wave 1 confirming a diagonal structure. Ideally, it is able to muster a fifth wave in the $113 to 149 region, however, that likely requires some snapback in the discount. If GBTC breaks below $5, it will present a three-wave top off the 2018 low.