Weekly Altcoin and Crypto Equity Charts
Here are the weekly altcoin and crypto equity charts I am watching most closely.
General:
Many altcoin charts, like BNB, AAVE, and a few others may bottom here with Ether and Bitcoin doing so soon. So, the first question is whether they will. Then, the question is whether they will pull up charts that look like they need to go lower.
Coin Charts I'm Trading
1. BNB is right on the line for a larger wave (4) so needs to turn up to $335 or it may already be in the red (B), which has support at $243.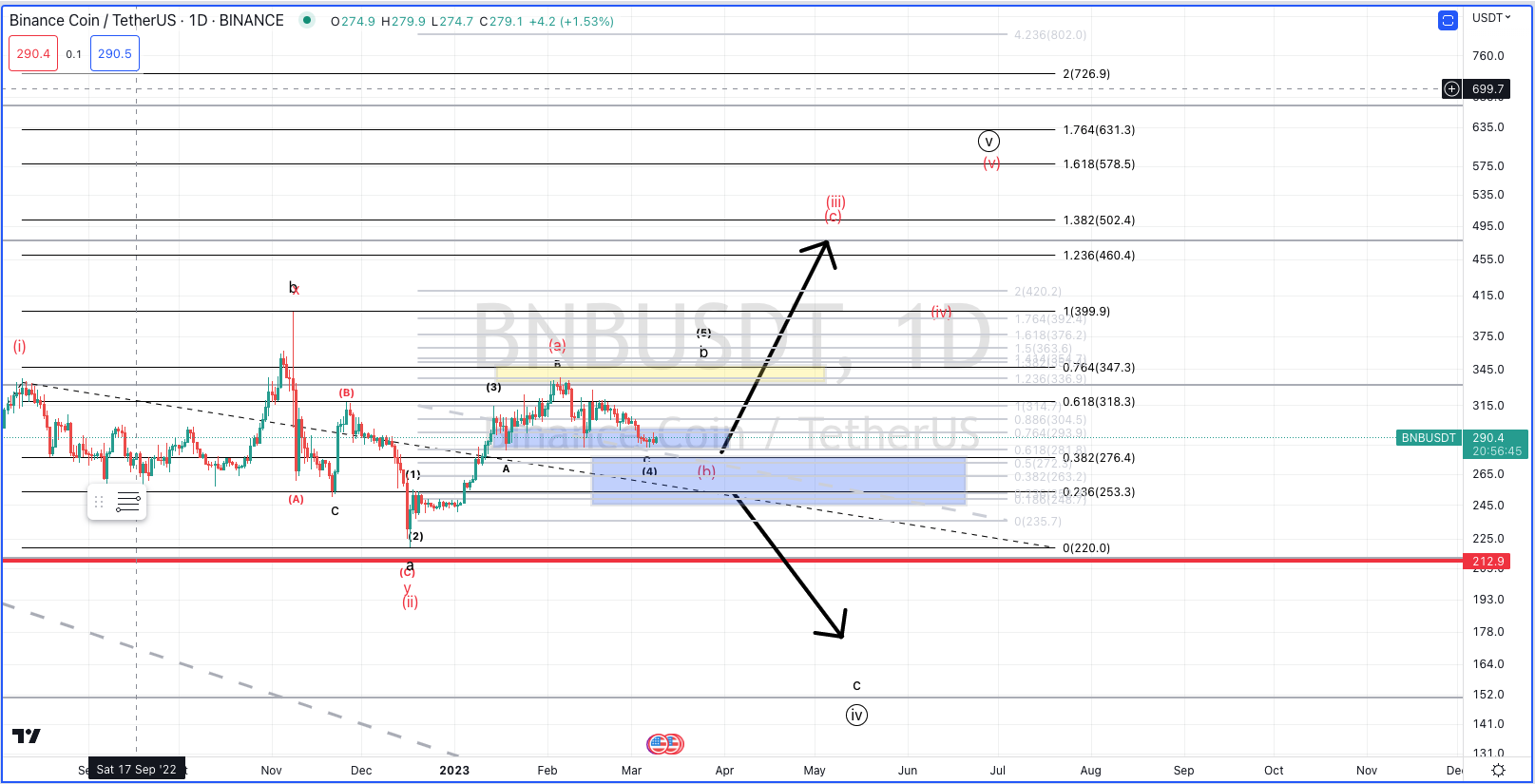 2. RUNE has filled in a solid, extended third of C, so should start wave (4). Support is still $1.15, which if it doesn't hold, brings 90 cents into focus.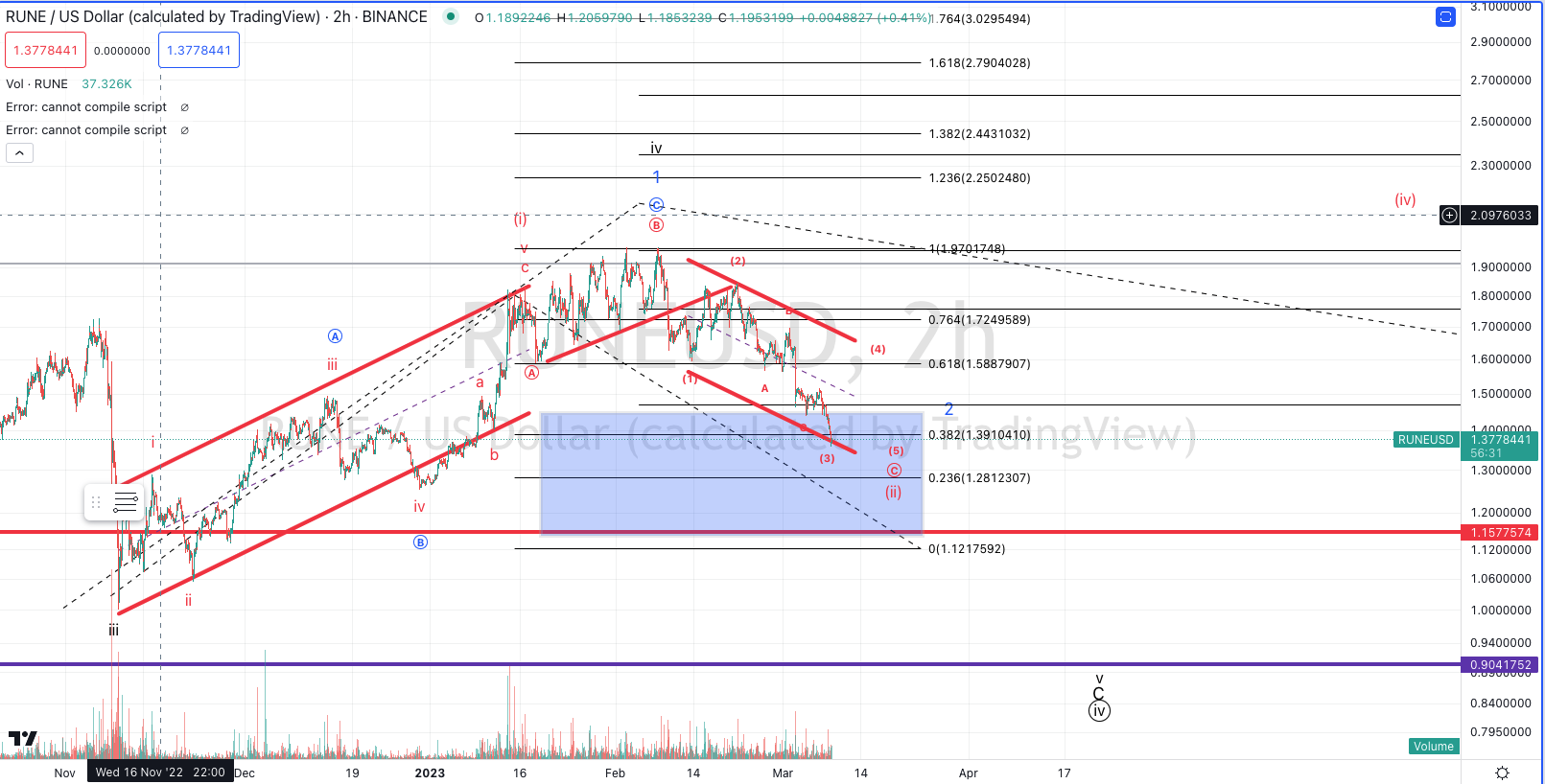 3. AAVE has come very near to $70 support now, and ideally turns back up towards $105. Breaking and sustaining below $70 opens the door to the mid $50's.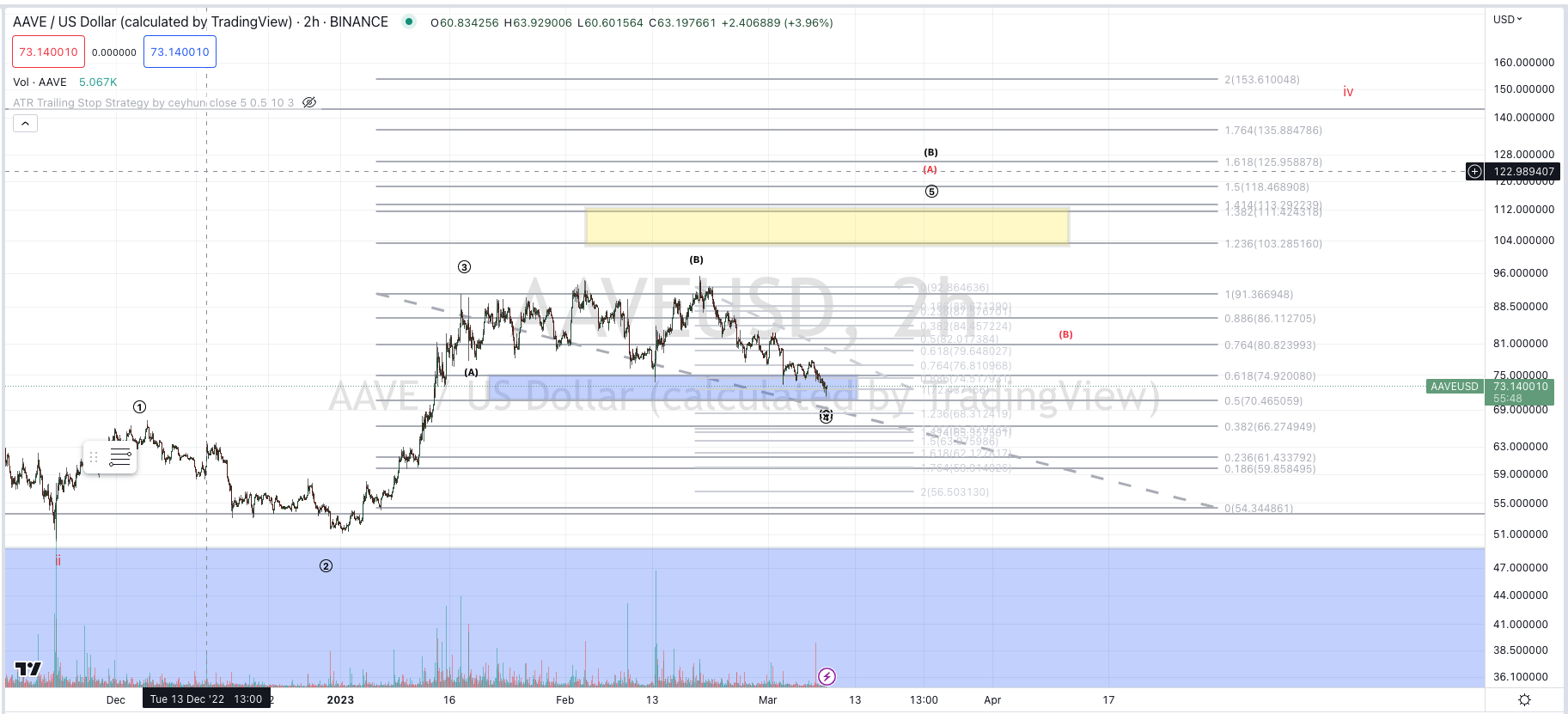 4. HBAR has reached its support region with a complete-looking structure but it takes an impulsive break over 0.074 to indicate a bottom. Sustaining below 0.054 leaves me with final support at 0.041.
5. LINK now has five waves down off (2), and should rally in wave-2, while remaining under $8.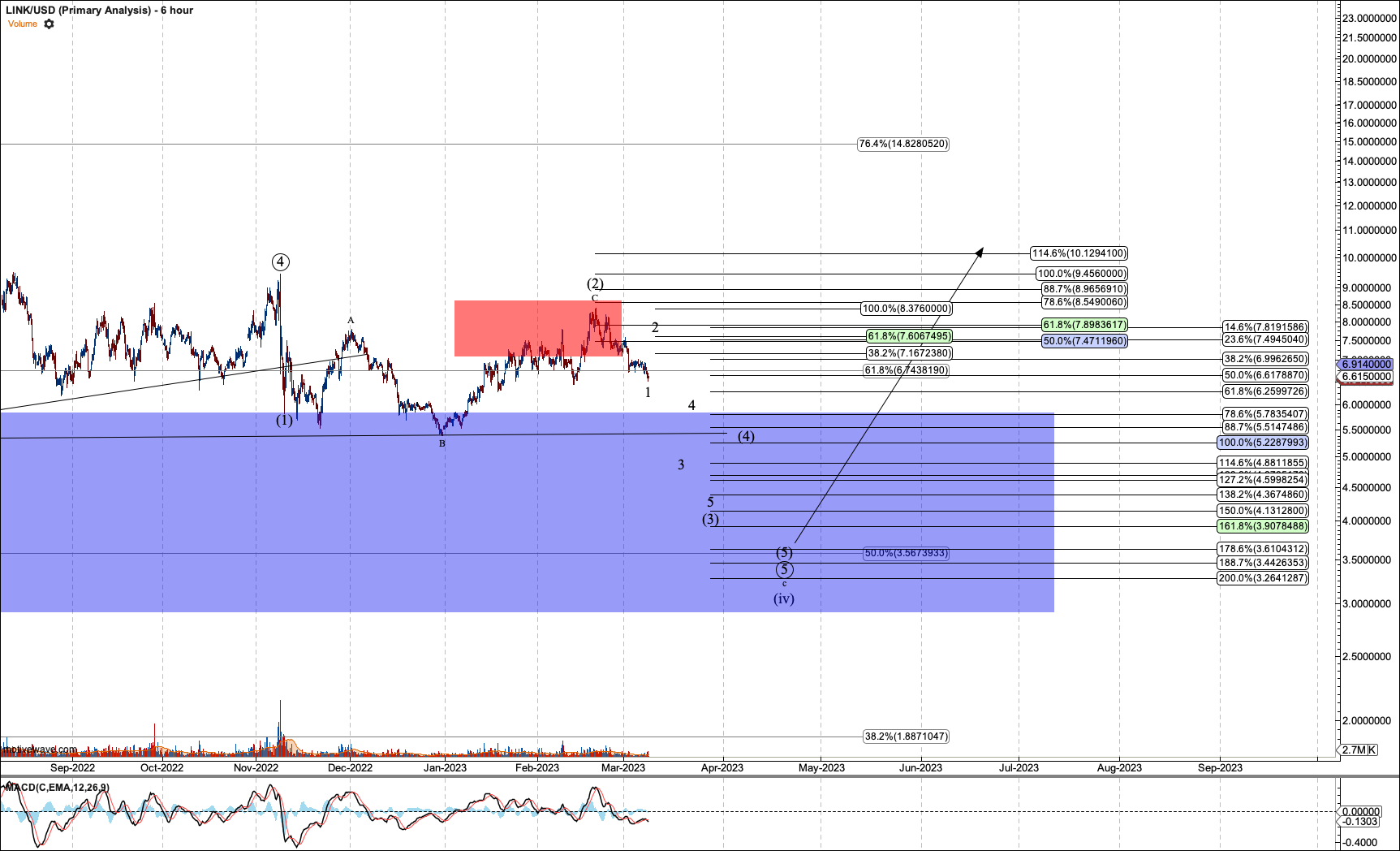 6. MATIC now has five waves down from b, so the black count is definitely primary barring an impulsive reversal over 88 cents.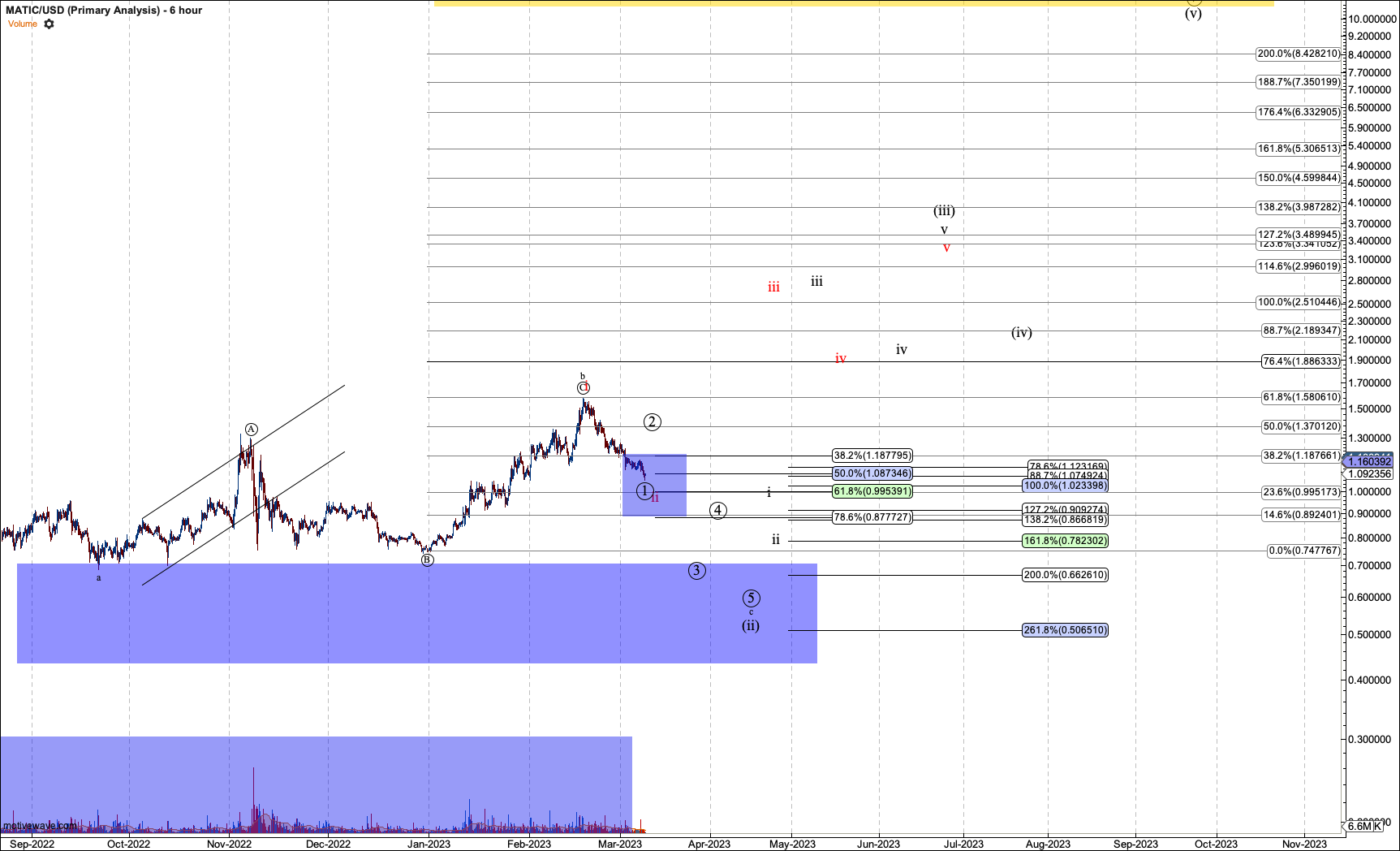 7. LDO now has a top in b and needs to hold $1.15 to give the red count a chance. Until then, I expect a drop to its final support near 64 cents.
.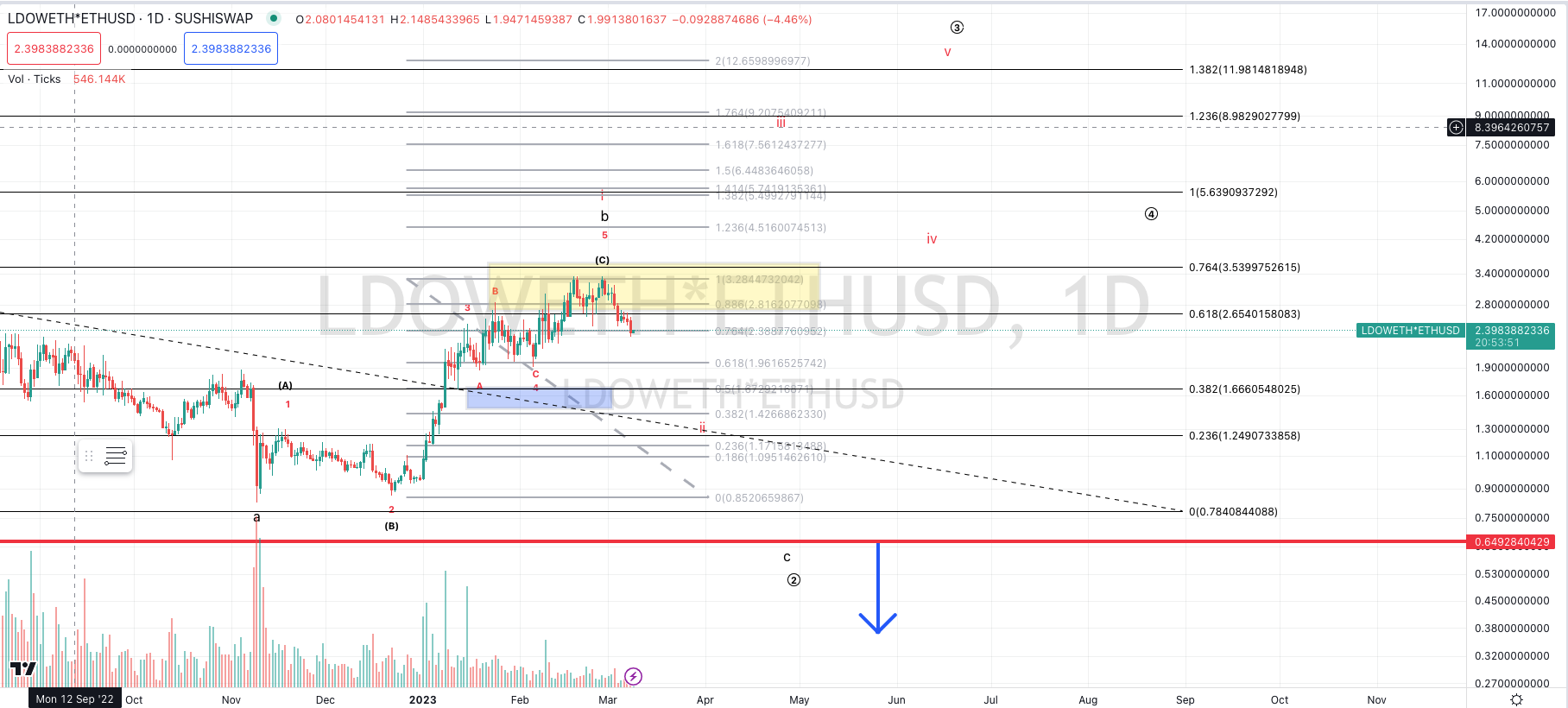 8. GMX topped in b of (3) and as long as below $73 it should be on the path to the mid $50's before reversing. $49 is key support.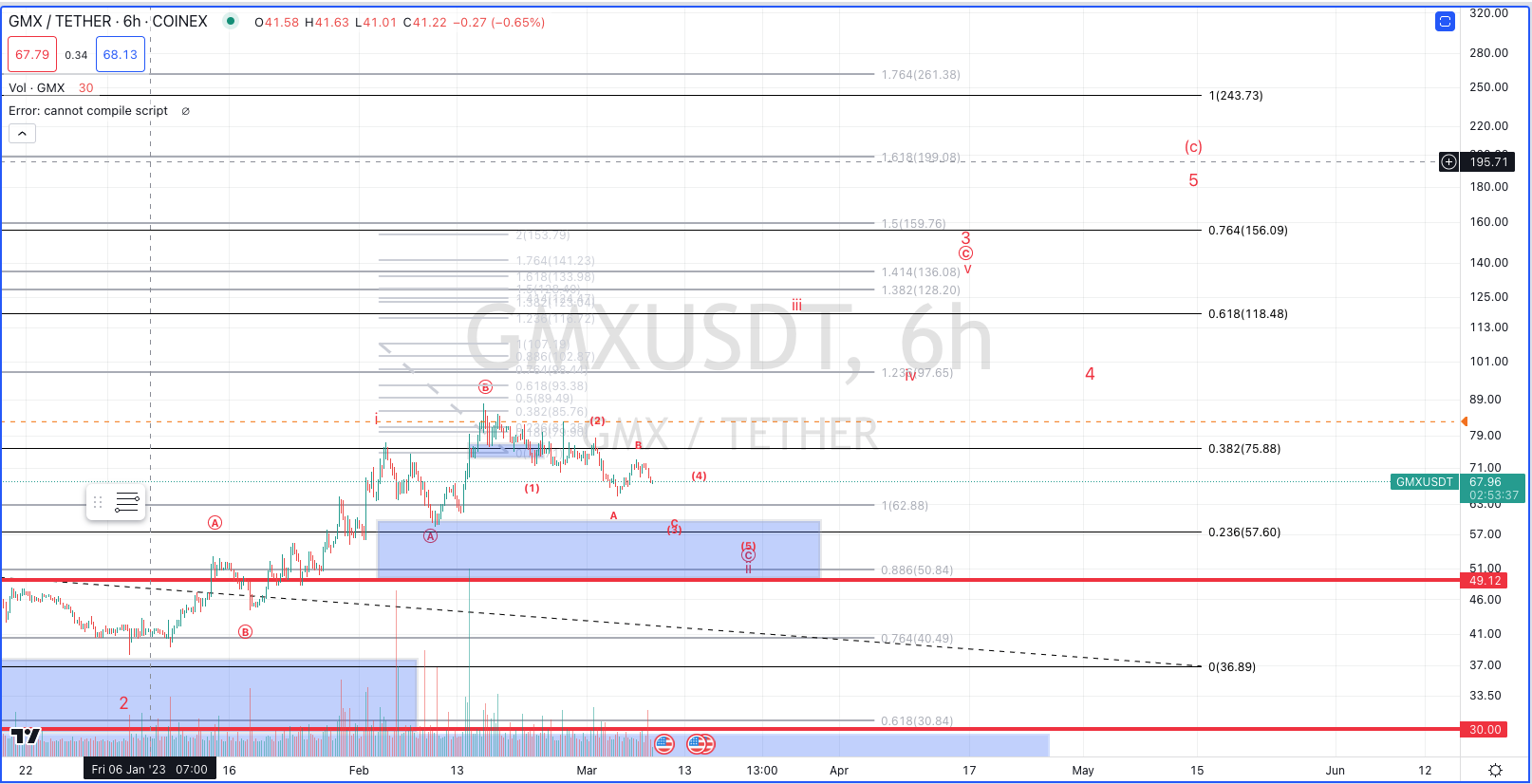 9. MASK continues to put in lower lows and has made the red alternate bullish path invalid over the last week. Barring a surprise, it should head to $1.80.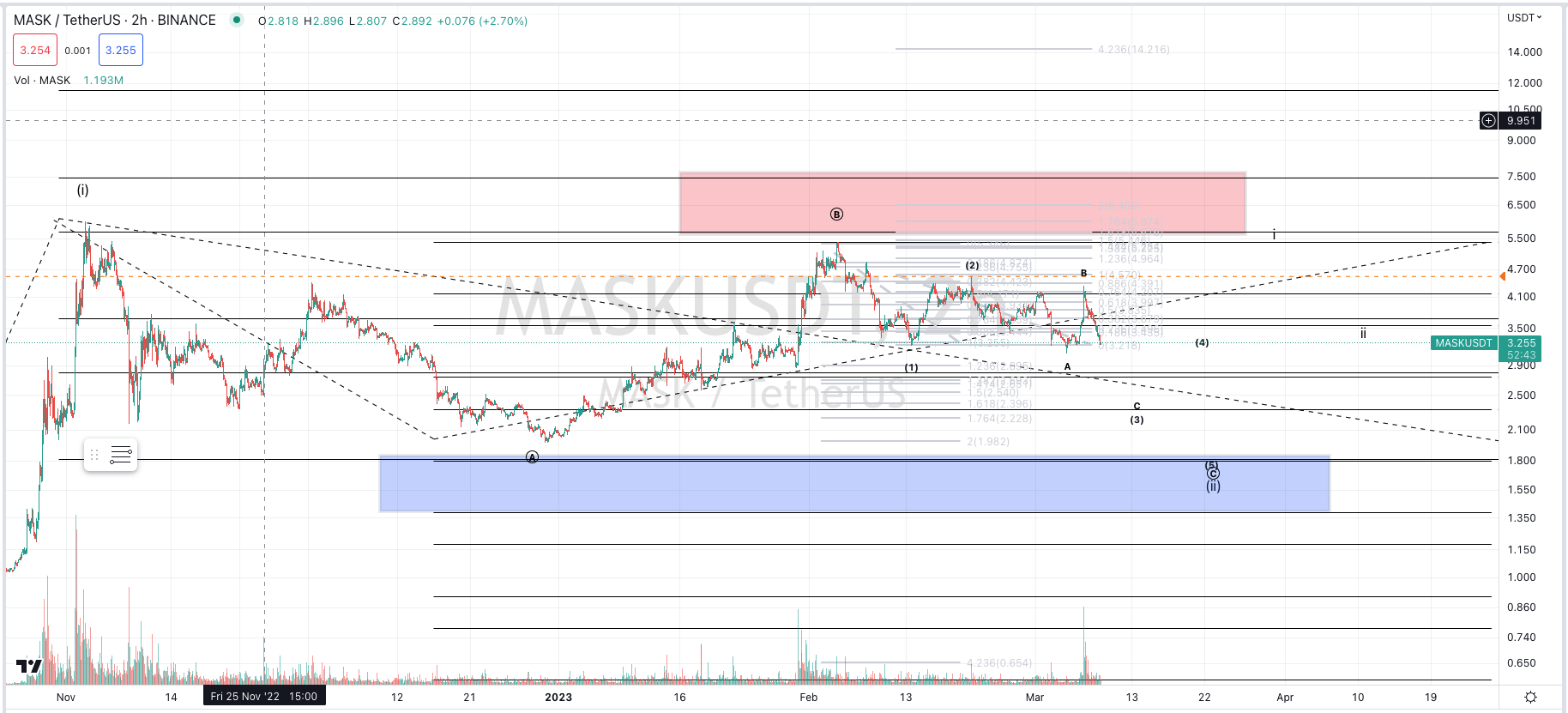 10: RPL is right at support, threatening a confirmed top in B. I need a break below $30 to say that it has.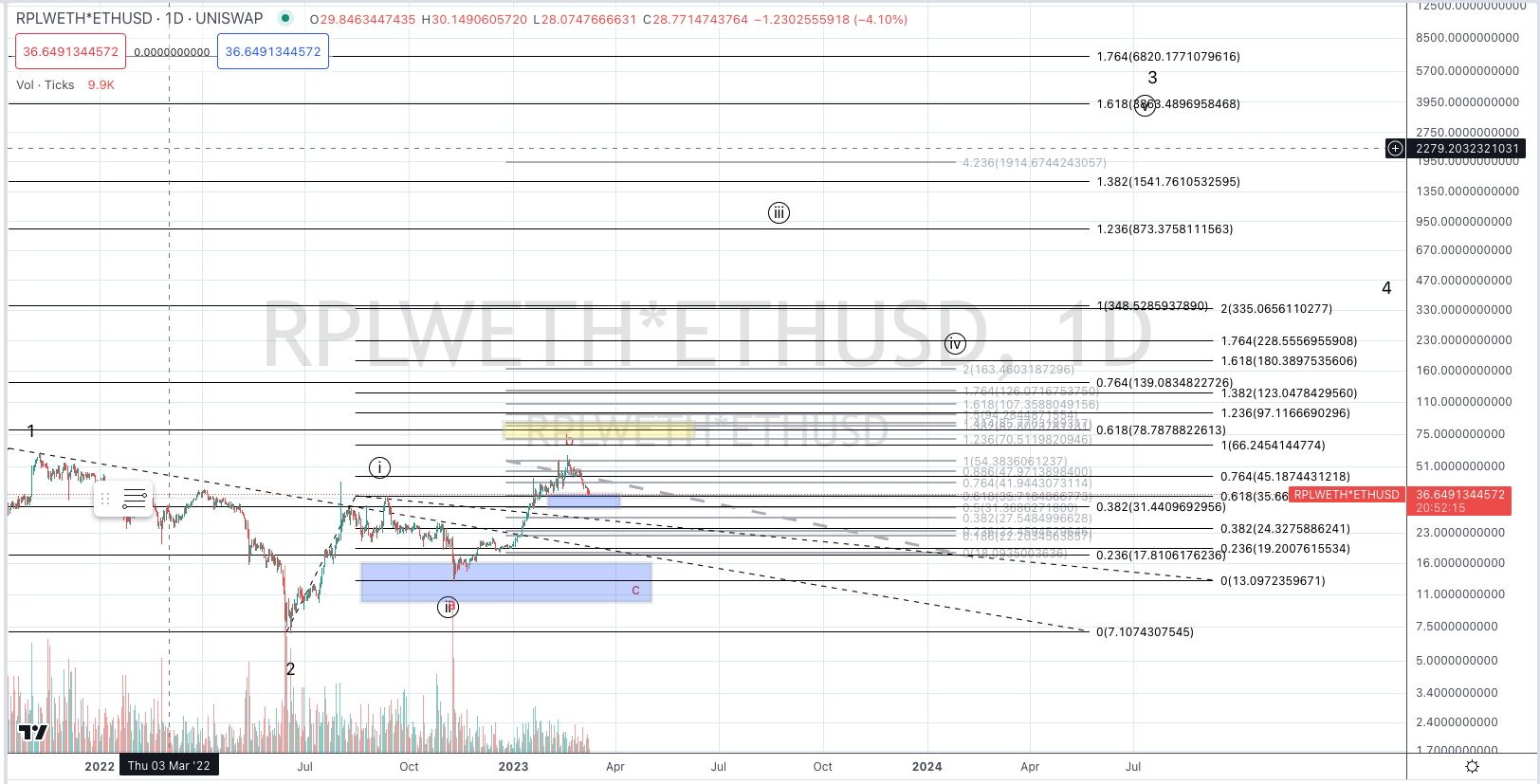 11. SOL looks like it should complete the third of circle-C shortly and start a rally in wave-4. Then it should put in another low near $16.30. $15 is key support.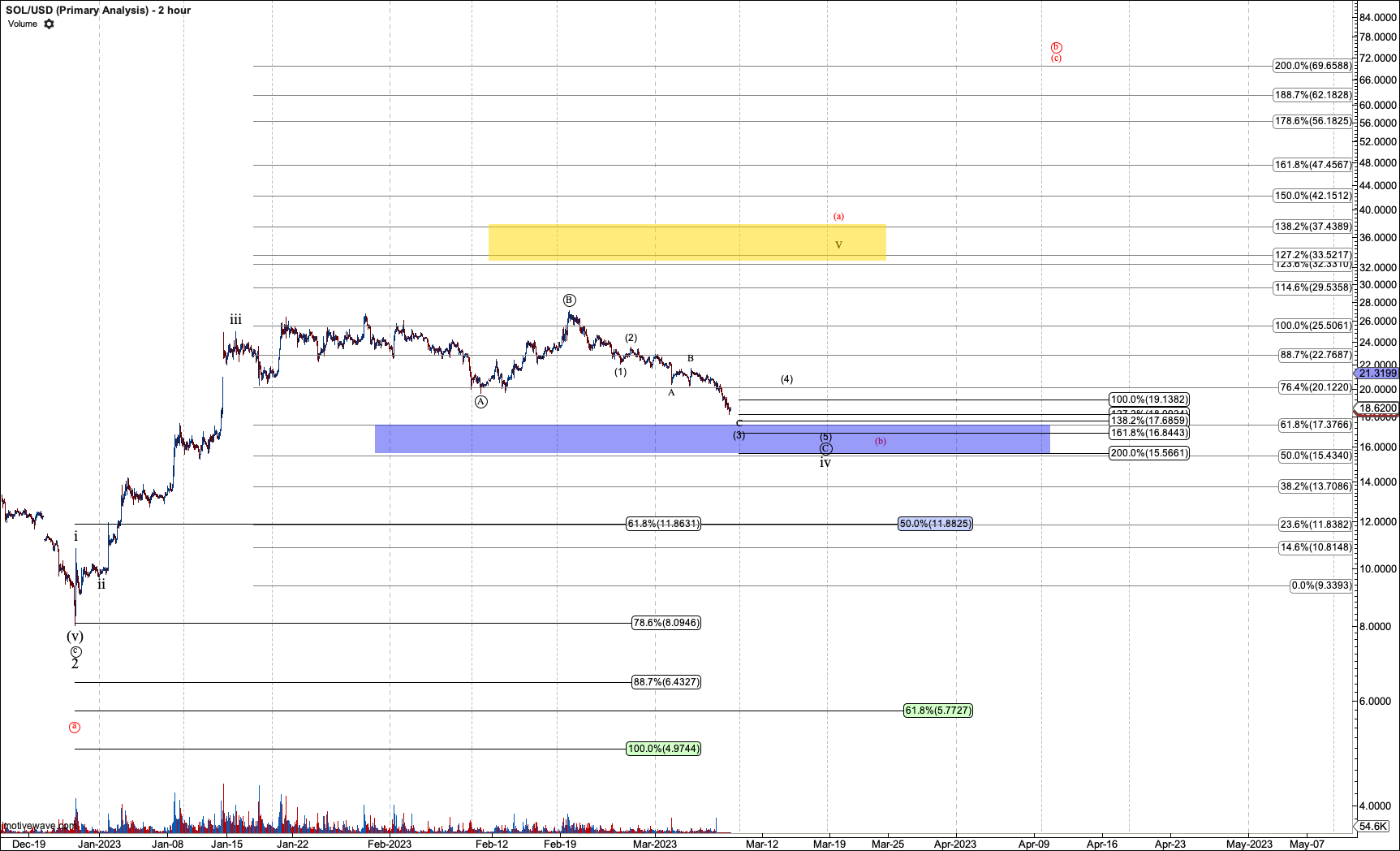 12. APT has enough wave to call it complete but is short of the A=C at $8.50. Nevertheless, an impulsive move through $12.50 should indicate the lows are in.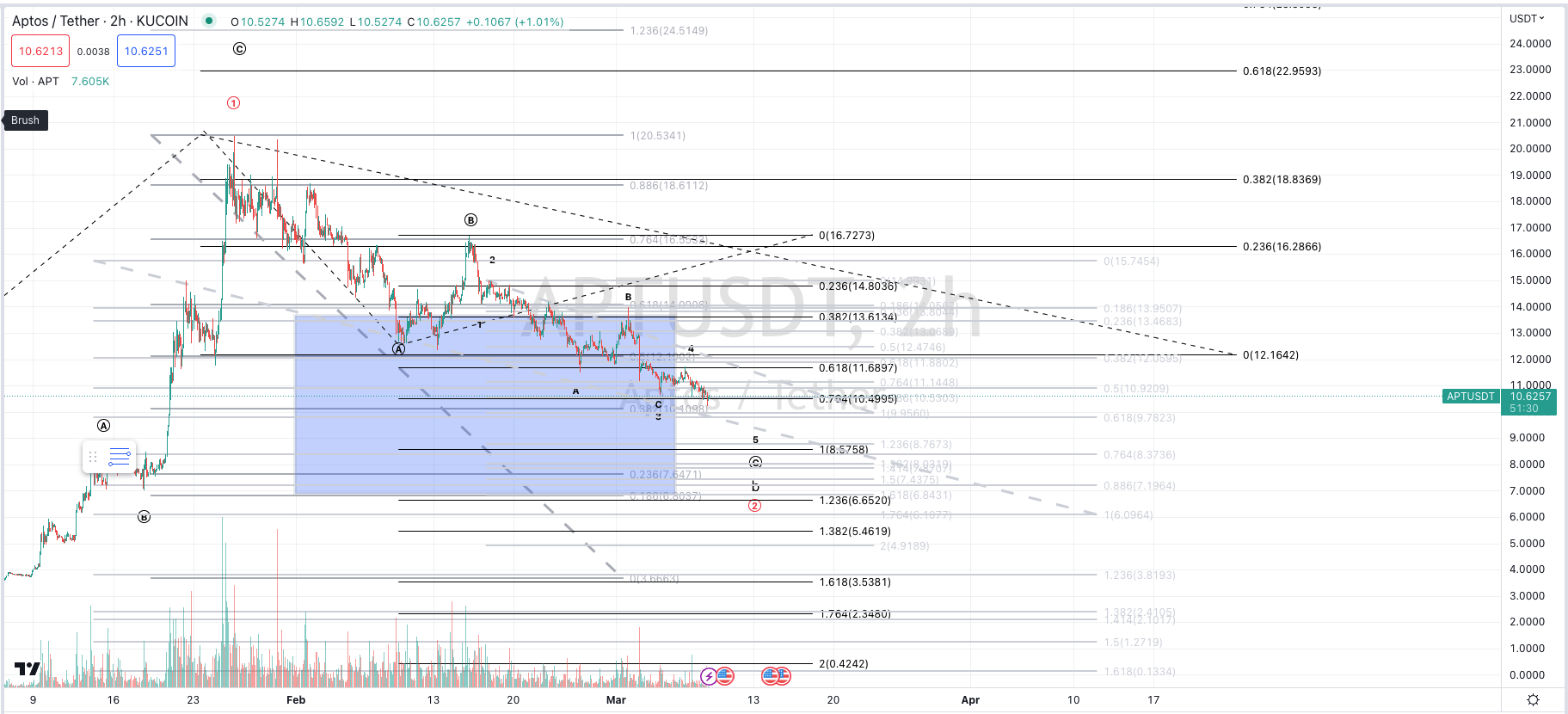 13. ONE is pulling back in wave-(2). It needs to hold 0.012. Per the report last week, it hit the level where I am willing to scale in so I engaged a grid bot with a stop below 0.012.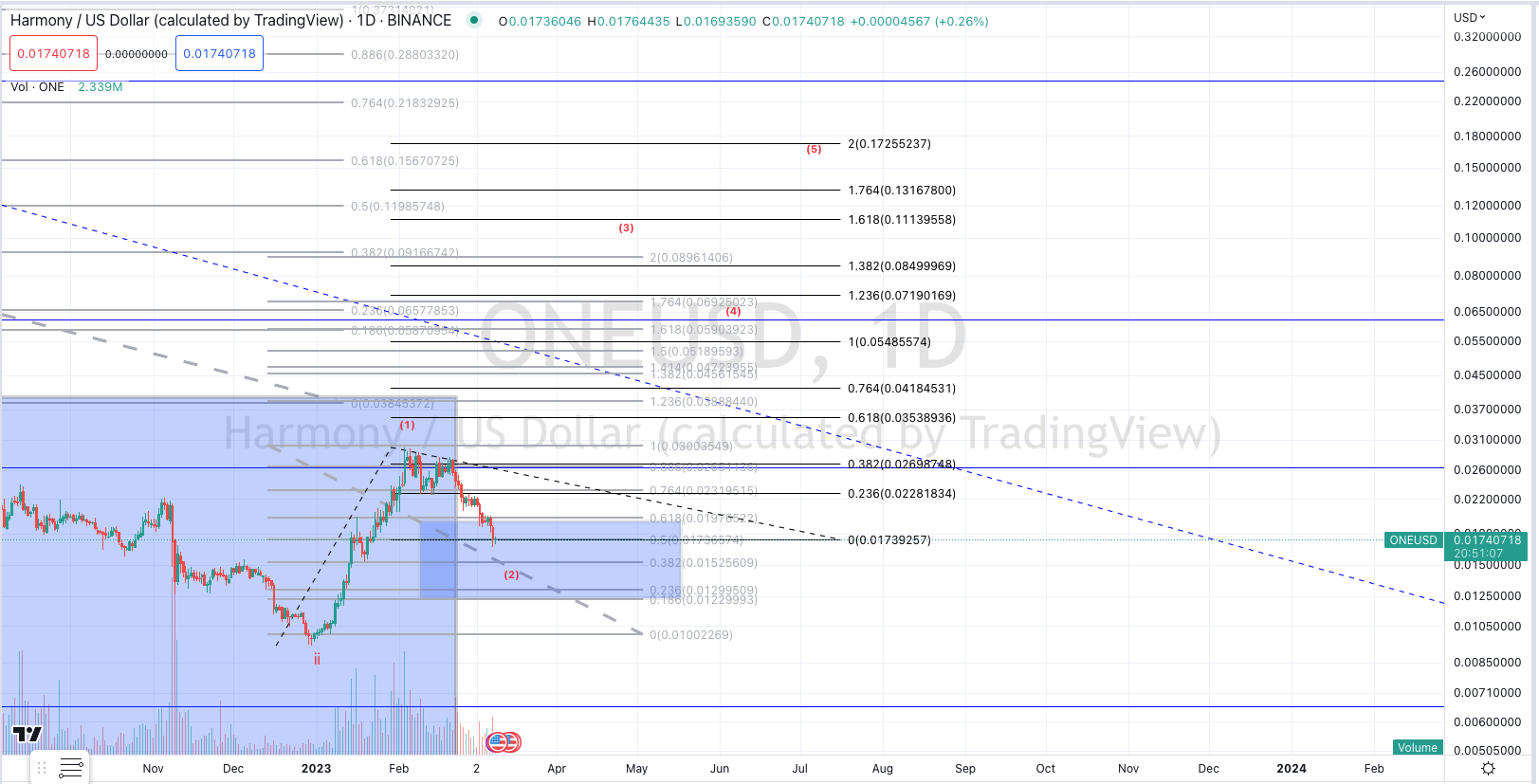 14. MX appears to have rallied correctively so I expect it drop to the 70 cent region (at least) in red (C). I haven't taken a position yet, but am watching for a pullback. 
Coin Charts I'm Stalking
2. XTZ is pulling back in its potential circle-ii and must hold 82 cents or not only is the i-ii not probable, but the chart should move into a lifetime downtrend. I intend to take a position but haven't been on top of it.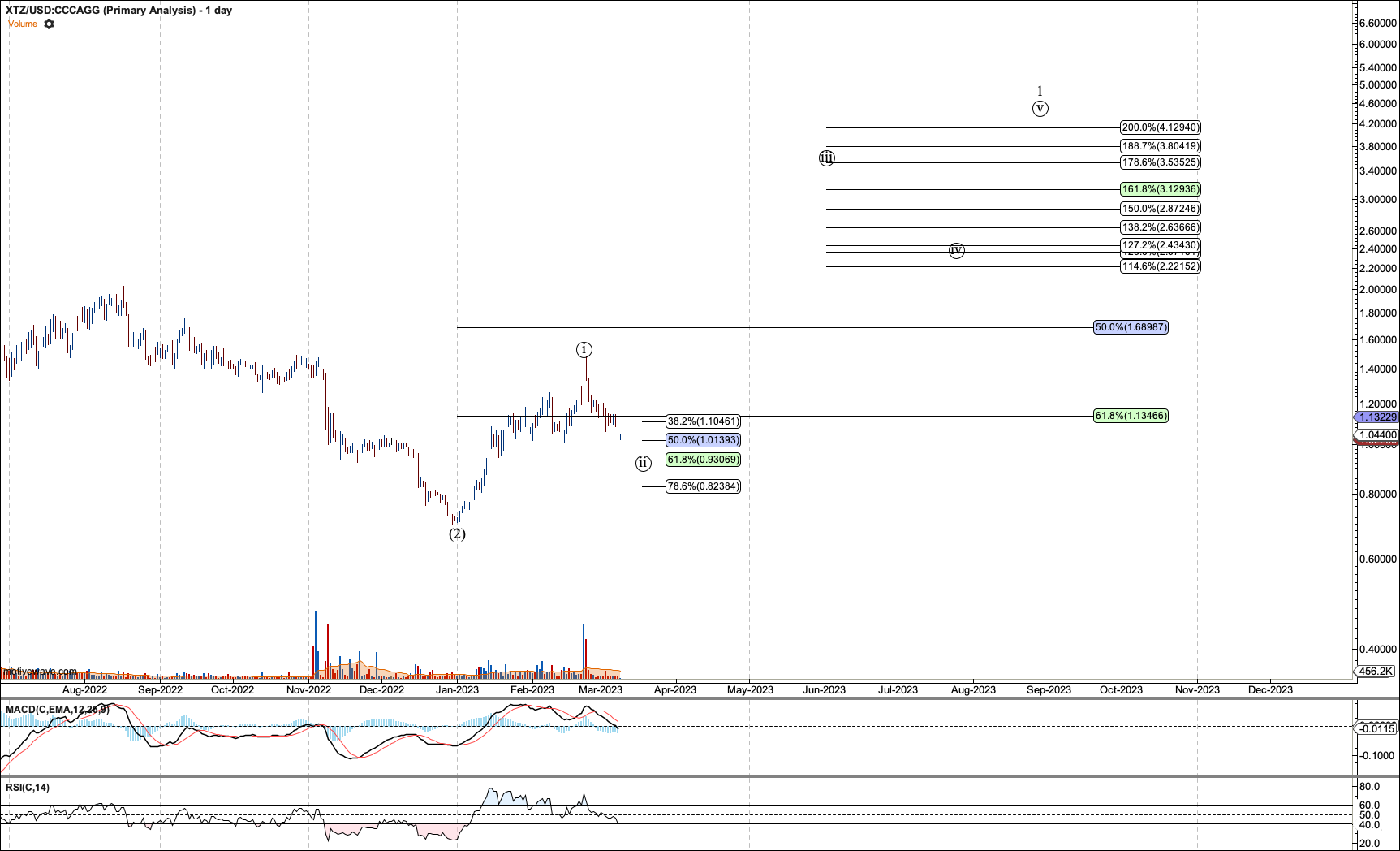 Equity Charts I'm Trading
1. SQ- Currently, I'm more confident in another low near $49, before this chart can turn bullish. It becomes dead money if it sustains below that level.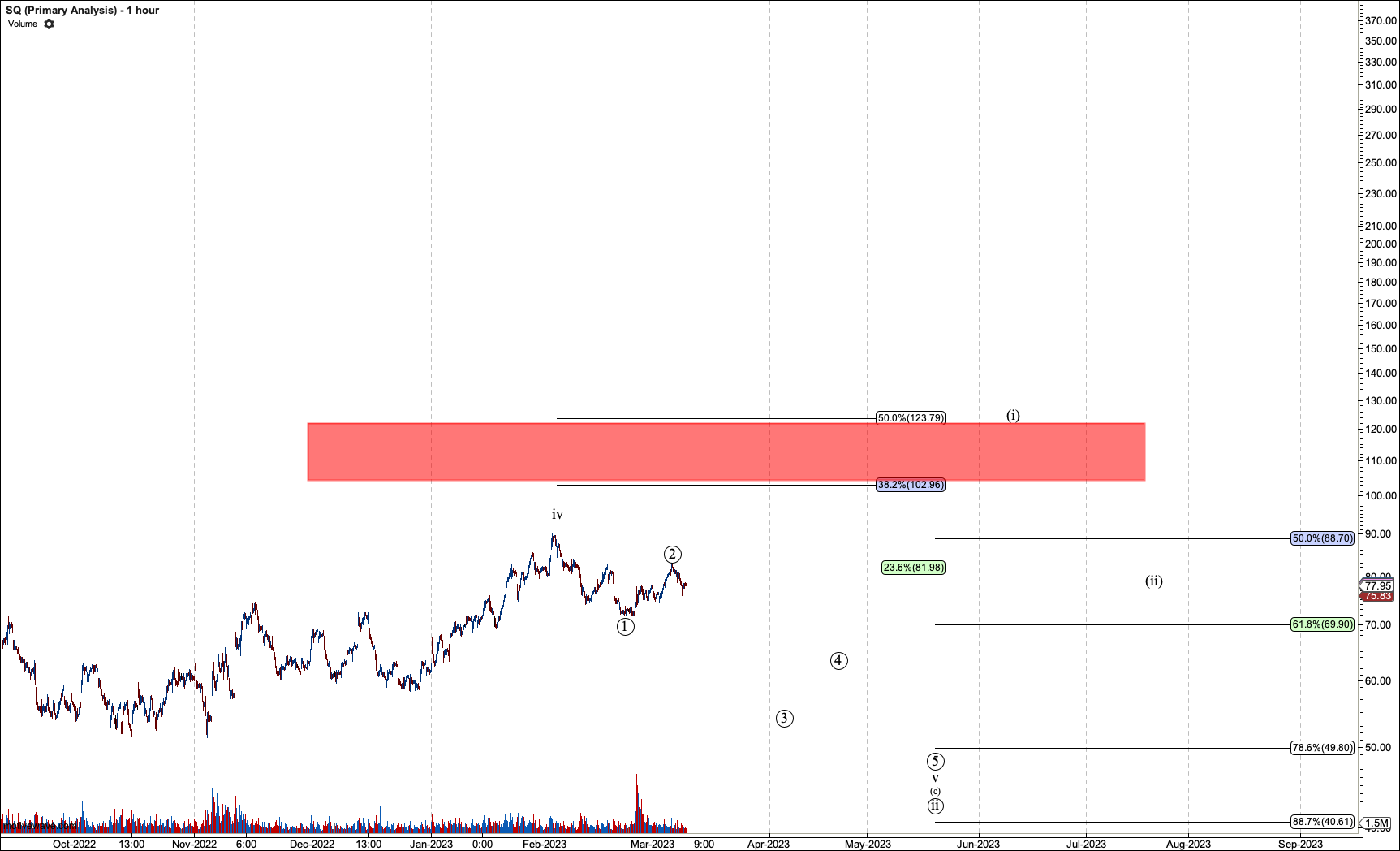 2.COIN appears to be working on red (c). It must hold $37 or it is likely to drop to new all-time lows.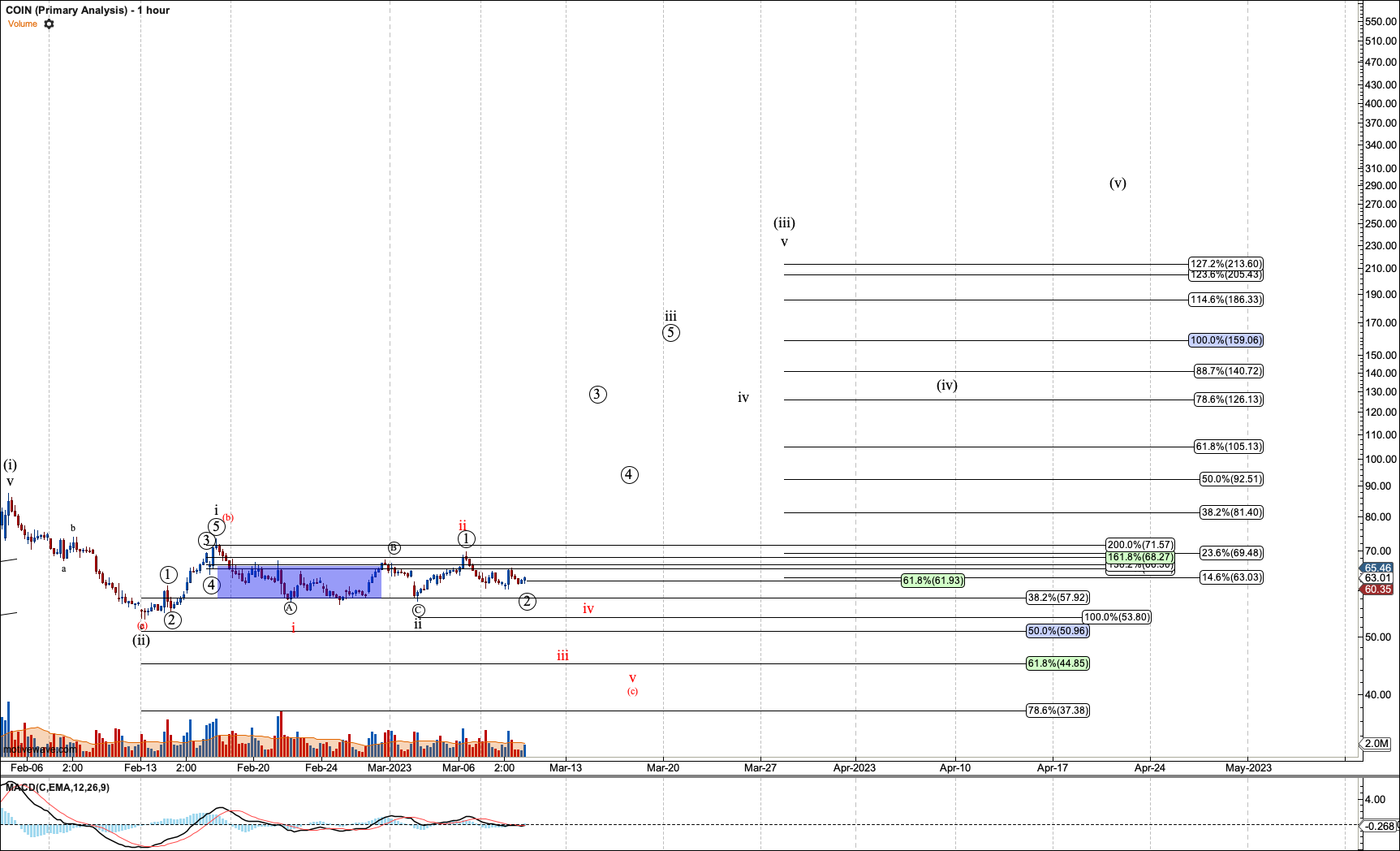 3. MARA is the only miner I've been trading. Note MARA is something I am only trading for the C wave target at $17+. I trade a lot of charts short term that never make it to this report. If by chance it forms a full five waves, I'll consider it as a longer-duration swing trade. But my view is that miner charts hold too much technical damage. And, they questionable businesses long term, in my view.
Zoomed in, MARA is likely taking the red count down to the $5. I have scaled in and sold puts over the last few weeks.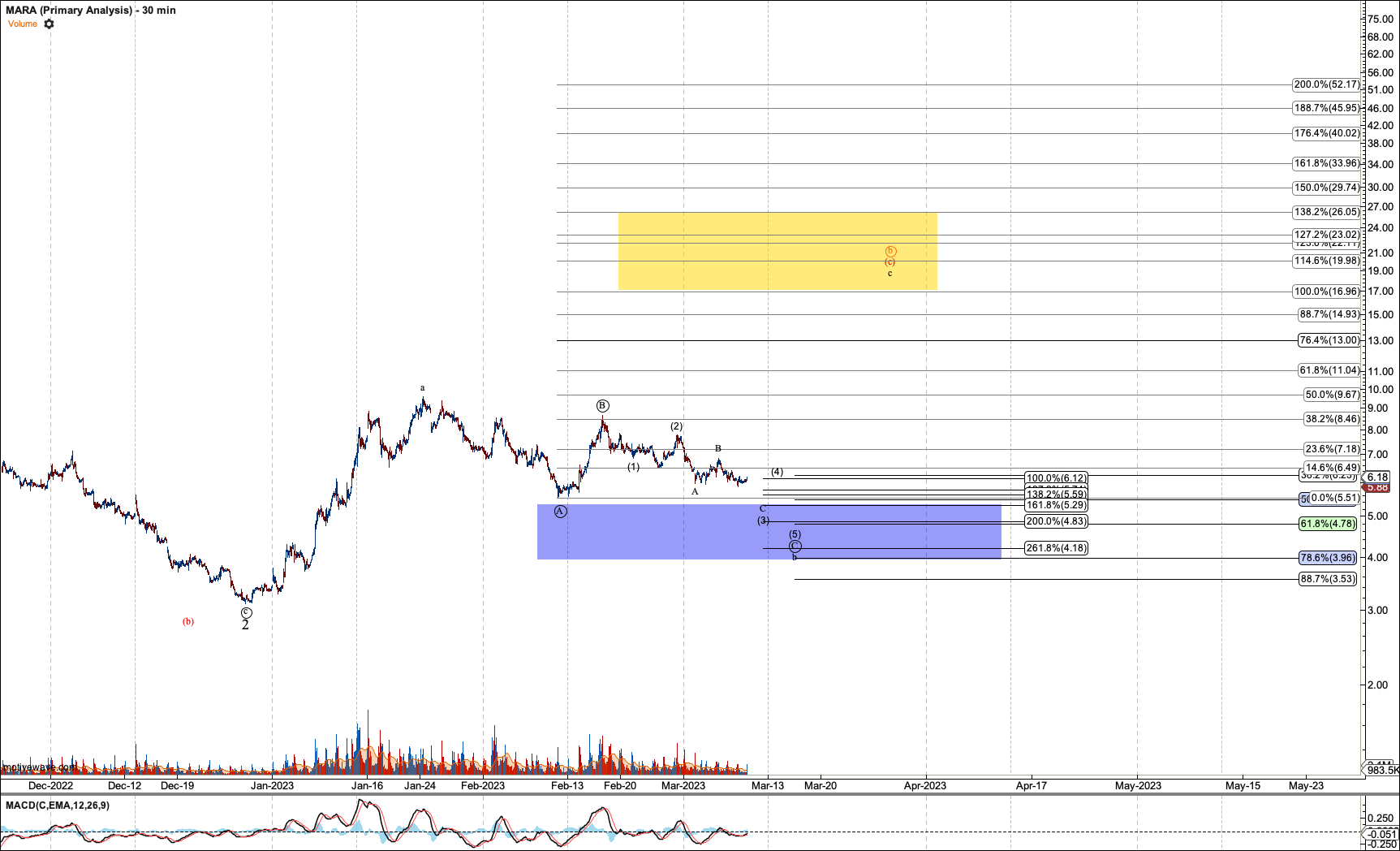 Equity Charts I'm Stalking
1. SBNY appears to intend to stay lightly engaged in the crypto market. But is a long way from being a buy. I am going to dollar cost average with other profits but won't hold a major position until it has possibly completed this wave 2.