VXX: Looking for Local Bottom Sooner Than Later
After only getting a three wave move up off of the lows yesterday, the iPath S&P 500 VIX ST Futures ETN (VXX) is trading lower again this morning having broken back under the previous low. It has so far held the 176.4 extension at the 36.68 level, and bigger picture my base case remains that we are still following the green path which is suggestive that we are in a wave A of a larger wave (B).
Under this case I am still looking for that wave A to find a local bottom sooner rather than later, and we are seeing some nice positive divergence form on the 60min MACD. Upside resistance remains at the 41.91-43.52 zone, and it would take a move through that zone to suggest that a bottom has been struck in the green wave A.
Should we continue to move deeper into the green retrace zone, then it would become more probable that we are already in wave C of the larger wave (B), which I am now showing in yellow. From a proportional perspective, the green count does still work much better than the yellow count, but we are now moving deep enough into the retracement zone that I do have to allow for the yellow count at this point in time.
It would, however, take a very clean five wave move back to the upside for me to consider this yellow pattern in play. Anything less than that and I will assume that any move back to the upside is simply part of the larger wave B of (B) as shown in green.
As noted previously I will re-iterate from a trading perspective I am planning on being selective and patient as this part of the pattern is really not terribly reliable as we may very well be inside a series of b waves which tend to morph and get very little quality follow-through. Furthermore while sitting on the sidelines is one of the most difficult parts of trading but also one of the most important. Transitioning to sitting after a period high volatility frequent setups is also very difficult. Knowing where you are likely to be in the count helps to know when to make that shift and to take things more slowly and when to attempt more aggressive trades. Right now we are in that part of the count (likely in a wave B of (B)) when the setups are less reliable and the action more difficult. Therefore being patient and waiting for clear setups, as hard as that is, will pay off over the longer term.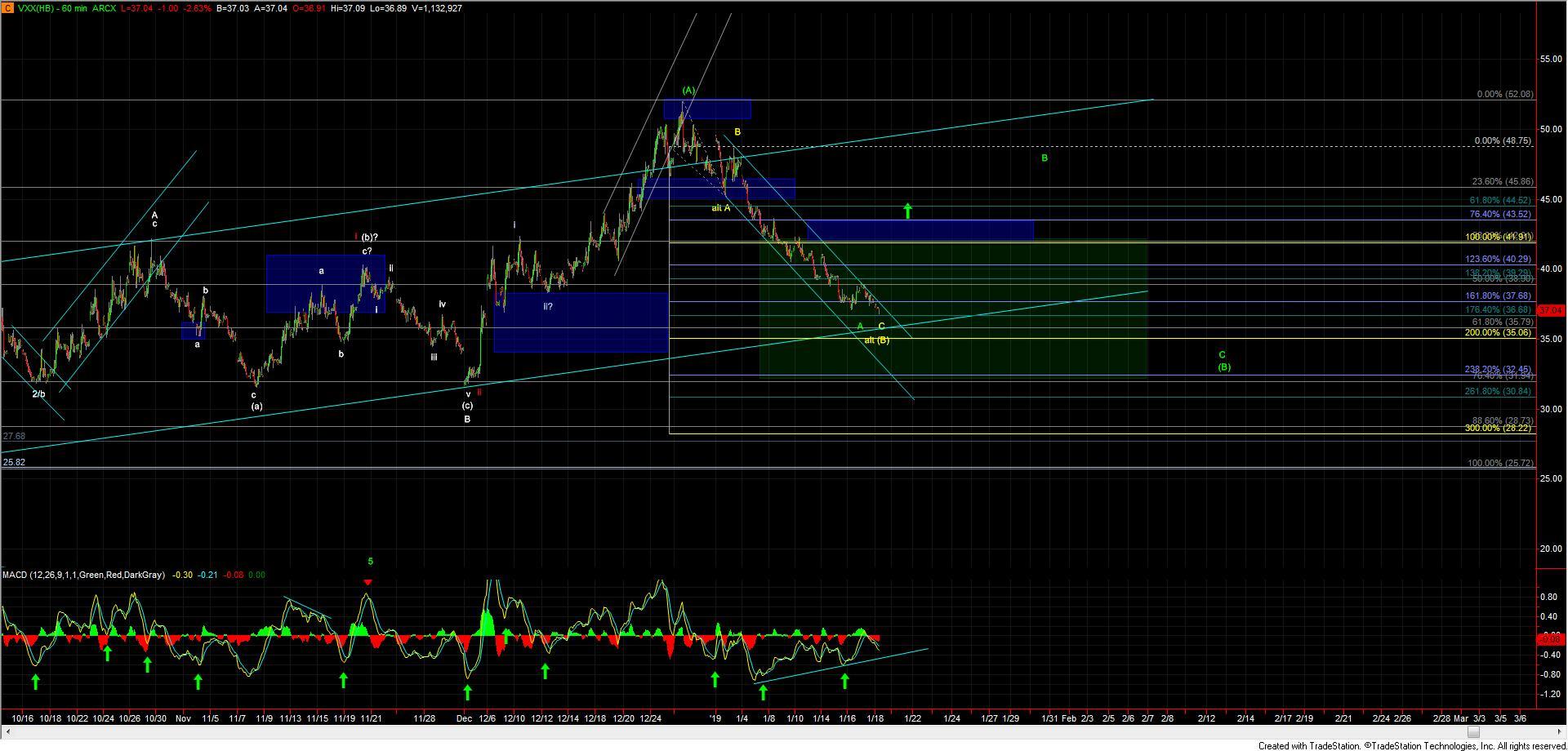 VXX 60