U.S. Dollar Is Still Over Smaller Degree Support
There is not too much to add to what I have been noting over the past several weeks on the DXY from a larger degree perspective and as Avi laid out some additional thoughts on his bigger picture view I am going to focus on the smaller timeframes. While the counts that we are watching are a bit different we both are looking for the most recent rally to be nearing at least a local top but still with the potential to push a bit higher before that top is seen.
So with that and zooming into the smaller degree chart as seen on the one-hour timeframe I still think that the move up off of the May lows counts best as only still being a three-wave move. So with that, it would look better to still see at least one more higher high to finish off the wave (v) off of that May low before calling any move completed. This would potentially target the 106-108 zone overhead before finding that top in the wave (v). I will note shower that the structure of the move up off of the lows that were struck on June 16th is not clearly impulsive which is making it a bit more problematic to have a high degree of confidence in seeing that higher high directly from here. With that being said the larger structure off of the May lows does still look incomplete so with that I am going to lean towards seeing that higher high as long as we can hold over the 103.63-103.07 support zone below. If we are unable to hold that zone but rather break down below it then it would suggest that we may have already put in at least a local top however as long as that zone holds I do still think this would look better to finish off the pattern from that May low with another higher high.
As I noted the pattern on this in the past few months has morphed into something that is not ideal we do still have some fairly clear parameters to watch in the near term. This along with the structure of the next move down will also help to give us additional guidance as we move into the weeks and months ahead.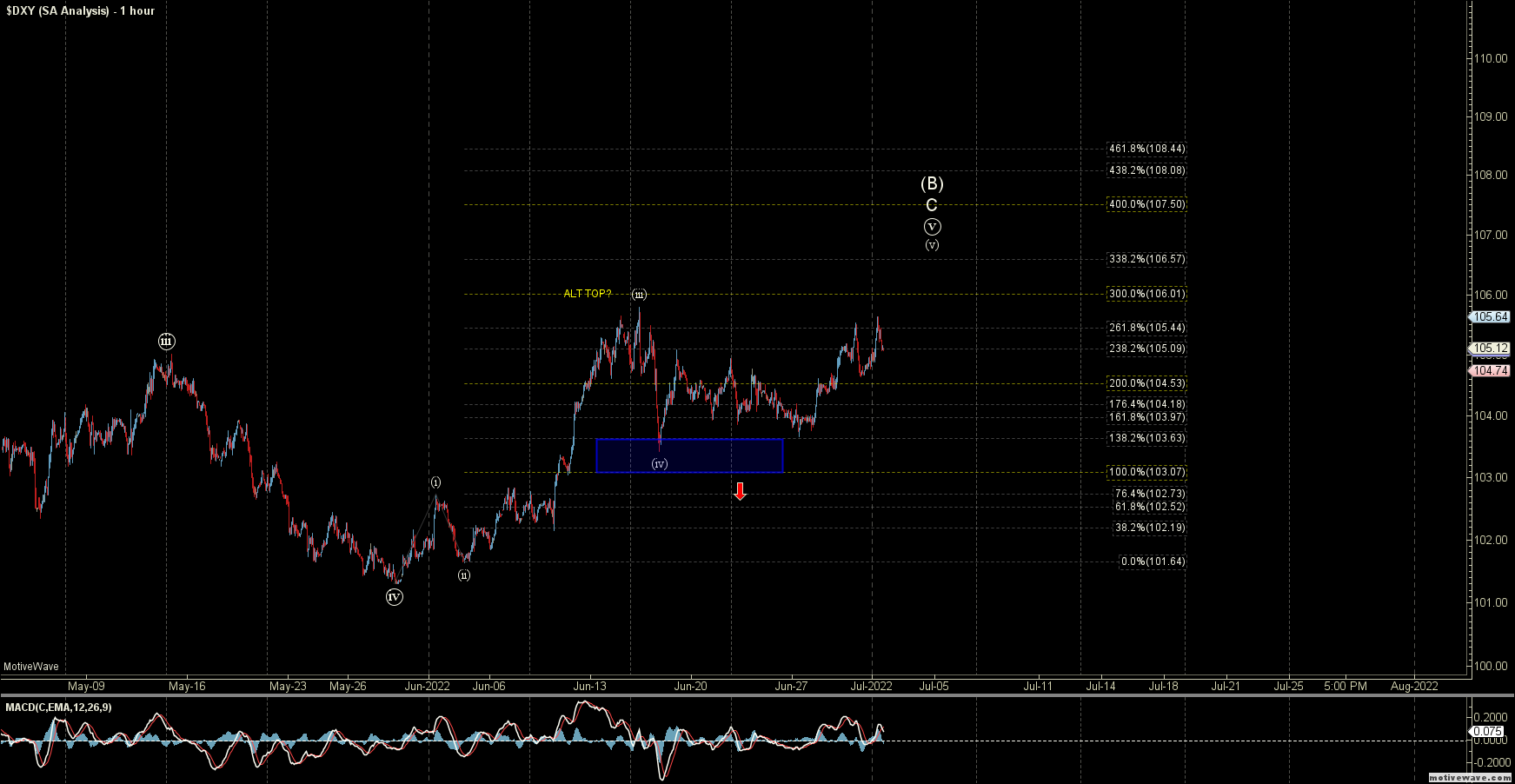 $DXY (1 hour)