Two Preferred Stocks for Safer Income
Retirement: 2 Great Picks for Safer Income
Retirement is a much-anticipated phase in life that offers a well-deserved break to enjoy the rewards of years of hard work. It's an ideal time to explore new destinations, pursue passions, create memories with family and friends, and simply relax. Along with these joys, investing in "preferred stocks" provides retirees with an excellent opportunity to earn a reliable income stream. With a combination of the features of bonds and common stock, preferred stock offers investors an ownership stake and a guaranteed dividend payment similar to a bond's interest. The price of preferred stock can vary based on the company's perceived value and call/maturity prices, but it typically offers higher yields than bonds and the potential for price gains. Overall, investing in preferred stock can offer a dependable income source, making it a wise choice for retirees looking to enjoy their golden years stress-free.
Today we look at 2 preferred stocks with big dividends:
Pick #1: SiriusPoint Preferreds - Yield 8.7%
SiriusPoint Ltd. is a globally licensed insurer with strong financial ratings and $2.9 billion in total capital. Discussions of the company being taken private by a 9% shareholder have raised concerns for holders of its 8% Resettable Fixed Rate Preference Shares (SPNT.PB). If not redeemed by the call date in 2026, the coupon rate will switch to a floating rate based on the 5-year U.S. Treasury Rate plus 7.298%, resetting every five years. With the likelihood of higher coupon rates in the future and a call opportunity not until 2031, there is a greater chance of the preferred shares being redeemed in three years.

Author's Calculations
SPNT-B was created as part of an agreement with major institutional investors and has a distinctive investment structure with a generous 8% coupon and several protective features. It offers a qualified yield of 8.7% and a potential 9% increase in value to par. SPNT is well positioned to continue its success, and its preferred offers a bountiful yield.
Pick #2: PRIF-L Preferred Stock – Yield 7.1%
Priority Income Fund Inc - 6.375% Series L Cumulative Redeemable Term-Preferred Stock (PRIF.PL)
Several closed-end funds (CEFs) invest in collateralized loan obligations (CLOs) and offer "term-preferred stocks" with a maturity date. Five such CLO CEFs are ECC, OXLC, OCCI, XFLT, and Priority Income Fund . PRIF's preferred stock, (PRIF-L), has a maturity date of 3/31/2029 and can be called at $25 on/after 2/28/2025. Despite trading below par, a call would be a good thing. PRIF-L provides yields similar to ECC's issue (ECCC) and additional diversification across more CLOs and CLO managers. 
Based on its financial data, PRIF's distribution is covered by 151% according to its net investment income (NII) calculation. This means that even after paying the distributions for its preferred shares, there is still a significant cushion in place, making this preferred stock a very stable investment option.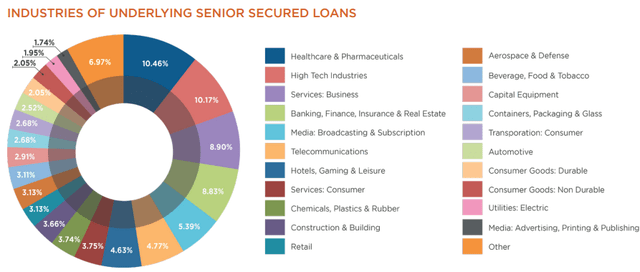 Priority Income Find
PRIF has a well-diversified portfolio that includes debt holdings in industries with potential for growth. The banking and finance sector makes up less than 9% of the fund's assets, and any potential issues in that sector are unlikely to affect the distributions on the preferred shares. Similarly, the impact of a potential recession on the hotel sector would be limited. With PRIF-L trading at around 10% below par, it presents a good opportunity for investors to gain diversification in the CLO sector while enjoying a relatively safe distribution.
Conclusion
Retirement is the time to relax and enjoy the fruits of your labor. Take the time to pursue your passions and spend time with loved ones. Invest wisely to retire safely.
This is why at HDI we are investing today in safer asset classes that are currently available at discounted prices such as the 2 preferred stocks discussed above. Our Preferred Stock portfolio contains over 45 solid investments and carries an overall yield of +9%. Now is the best time to invest in dividend stocks and bonds. Interest rates have most likely peaked and locking in those high yields will likely generate both high income in addition to big capital gains!
HDI, described as the 'Must Own' Service for Income Investors and Retirees, offers a "model portfolio" targeting a yield of +9%  Learn more here.