Two Discounted Gems - Market Analysis for Apr 30th, 2023
2 Discounted Gems I am loading up on
As we have learned from nature that Diamonds weren't formed overnight - it took over 3 billion years under intense heat and pressure deep within Earth's to crystallize carbon atoms to form diamonds. They are the most beautiful and desirable stones in our ecosystem.
Similarity, market gyrations sometimes put undue downward pressure on stocks and certain sectors. This can significantly stress an investor's emotions. Often, these result in poor investors' decisions whereby more and more people are selling the stock. Many questions arise: Should I sell now and buy in another month? How is the employment data going to look? Will Chairman Powell have a dovish tone in the next meeting? The greater the price pressure, the more opportunities we can find. When the pressure lets up, you will find a portfolio full of glittering dividend-paying gems.
Diamonds are so powerful that can only be cut by other diamonds. That is the constant philosophy behind our picks; Picks that can withhold the stress of almost all external factors. Combining that with the 3 parallel C's of color, cut, and clarity to evaluate diamonds, the 3 D's of diversification, dividends, and discipline results in the following suggestions for this week;
Pick#1: SLRC - Yield 10.8%
According to the Equipment Leasing and Financing Association, nearly 8 in 10 U.S. businesses use equipment leasing and financing to acquire the productive assets they need to operate and grow. These businesses are expected to maintain stability in demand through economic pressures as companies try to reduce dependence on labor and increase the use of automation and other labor-saving equipment.
SLR Investment Corporation (SLRC) is a Business Development Company ("BDC") specializing in asset-based lending to US companies, primarily through senior secured loans and financing leases. SLRC was born during the Great Financial Crisis and became a public-listed BDC in 2011.
Several of SLRC's asset-based lending programs focused on servicing mid-sized companies that big banks are not interested in following the the 2008 credit crisis. As such, SLRC has a large and captive customer base that provide stability for theit business model. Importantly, SLRC is time-tested BDC that takes advantage of a dislocated lending market.
SLRC's investment portfolio is diversified across 800 unique businesses operating in +120 industries, with an average exposure of $3.7 million or 0.1% per issuer. Their credit quality remains strong, indicating SLRC's high degree of selectivity and a rigorous underwriting process. As of December 2022, 98.3% of SLRC's portfolio was performing well or above expectations.
With a 10.8% yield and high insider ownership 8% of the market cap, SLRC is an attractive investment for income seekers!
Pick #2: RNP - Yield 8.5%
REITs (real estate investment trusts) and fixed income have both tubbled as a result of higher interest rates.
The REIT industry's operating performances and fundamentals remain robust despite rising rates because real estate prices and rents benefit in an inflationary environment.
REITs across the board and preferreds stocks issued by REITs are notably on sale and present compelling long-term buy-and-hold-for-income opportunities. This is why we like Cohen & Steers REIT and Preferred Income Fund (RNP) as an attractive and undervalued investment today. RNP invests in both common stocks and preferred stocks of REITs at the same time, offering high income to investors. Furthermore, RNP offers instant diversification in the REIT sector.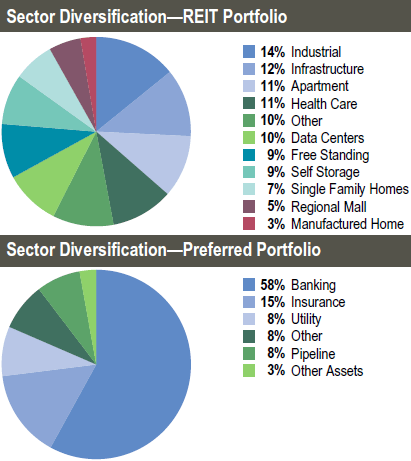 RNP's top 10 holdings are some of North America's most prominent and high-quality Property REITs.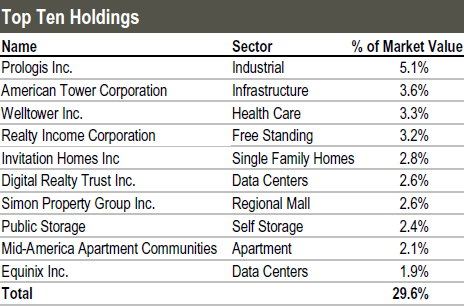 The manger, Cohen & Steers, is arguably the best in classe asset managers in the REIT sector, with an impressive track record. In the past 15 years, RNP has strongly outperformed the Vanguard Real Estate ETF (VNQ).
RNP offers substantial flexibility to income investors with $0.136/share in monthly distributions and currently carries an 8.5% distribution rate.
Conclusion
At HDI, we emphasize the 3 Ds of investing. We stress on the immediate diversification provided by SLRC and RNP. With a yield of +8% these 2 discounted gems offer a great start for your retirement portfolio.
HDI, described as the 'Must Own' Service for Income Investors and Retirees, offers a "model portfolio" targeting a yield of +9% Learn more here.