Today's Market Volatility: Liquidity Will Reign Supreme
Good Afternoon HDO Family
The market indexes are falling due to the likely collapse of Evergrande in China, which might have a material impact on the Chinese economy. Evergrande is the largest real estate company in China, and is expected to default on over $300 billion in debt. The US market is responding with a widespread sell-off of almost everything. Most of our picks are holding up better than the broader market, but in such a wide-scale sell-off nothing is spared. 
Market Direction
To use a word that has become vogue, we expect this dip to be transient. The impact on Chinese exposed stocks could be longer and in a globalized world, a negative impact to an economy as large as China is not going to be isolated. However, the fundamentals of the US economy remain strong and that is not going to change.
We expect the S&P 500 will recover and hit 4600 sooner rather than later, about 6% up from here. I expect the next target of 4800 (up 10%) to be hit within 6-months.
The market was looking for an excuse to pull back, and now it has it. We noted in the Market Outlook a few weeks ago that the market was overdue for a 10% correction. It typically has one every 12-months or so, but the Bubble of Cash has been preventing it. 
We noted yesterday that the S&P has been bouncing off of the 50-day moving average. It broke below that, in a manner that is very similar to how it broke below it in October 2020.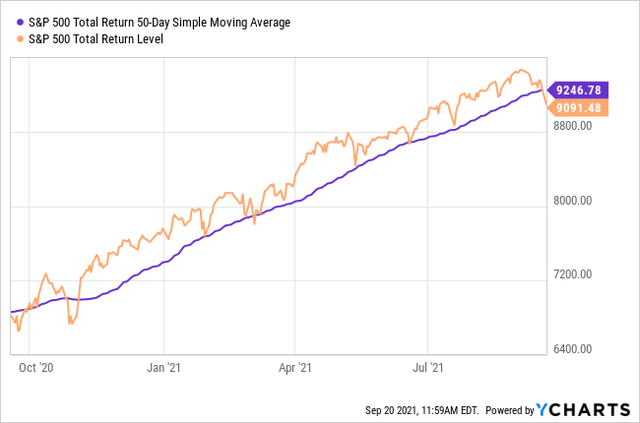 The S&P is now down approximately 5% from the peak. With the amount of liquidity, it will be a struggle to get there, but with some more "bad" news we could see that 10% pullback. 
As mentioned before, I do not recommend trying to sell and buy back in this market. The Bubble of Liquidity means that the market will be very biased towards going up. One of the main impacts of this situation is that it likely takes tapering off the table at Wednesday's Fed meeting. The Fed will remain dovish and continue pumping liquidity into the financial system. The Bubble of Liquidity is going to get larger, and we have already seen how bullish that is for equities.
In October last year, we saw a full recovery within weeks. I expect the same this year. 
What This Means For Our Holdings 
Our portfolio has minimal direct exposure to China, and even minimal secondary exposure. US treasury rates are responding and heading down. We do have material exposure to interest rate movements, so this will have an impact.
However, so far the treasury markets are being much less reactive than the equity markets with the 10-year only rallying to where it was last Thursday. Bond investors are taking a more holistic and less fearful view than equity investors. It could take some time to shake out, but overall investments that are focused on US activity will remain strong, and that is where the majority of our portfolio is focused on. The vast majority of our holdings are US businesses that conduct the majority of their business within US borders. 
Areas Of Risk
The hardest-hit stocks in our portfolio have been those with exposure to emerging market debt - specifically PTY and PDO.
AWP has some exposure to Hong Kong and Chinese real estate, making up about 5% of its portfolio. With its diversification, this will be a speedbump. AWP invests in large premium REITs, which are positioned to take advantage of the turmoil in the real estate market and be buyers when others are forced to be distressed sellers. 
Energy and commodities are falling on fears of a decrease in demand from China. So we are seeing a fall in most of these. Much of this is a kneejerk reaction as the price of oil is being sustained above $70.
Areas Of Opportunity    
Some opportunities that are jumping out at me: 
Antero Midstream (AM) is down 2% today, even though they are 100% in Natural Gas which is up to $5.15 today. It is being sold off simply because it is "energy", even though the price of NG is dramatically different when you start crossing the ocean. The NG demand that AM benefits from is US demand, and there is every reason to believe that the market will continue to have high demand and limited supply.  Enterprise Products Partners L.P. (EPD) is another opportunity with high NG exposure that is selling off today. 
CLOs were discussed in our Weekly Picks. OXLC, ECC and XFLT are all on my target list. With the Fed likely to maintain pumping, default risk is going to remain very low. 
BDCs and mREITs are also very strong holdings. These are seeing a sympathy impact, but these are companies that operate exclusively within US borders. The US economy is still pushing forward, and inflation is going to accelerate even more since the Fed is very unlikely to even start tapering. ACRE, BRSP, ARCC, CSWC, SLRC, ORCC and SAR are all great options to pick up on the dip. 
Don't Forget The Fixed Income
During days like today, it is really nice to have 30-40% exposure to preferred shares. Our preferred portfolio isn't blinking. Our common equities are generally outperforming the market, our preferred equities are like a rock. Most importantly, even if the situation in China continues to deteriorate our preferred portfolio can be expected to continue producing the same amount of income no matter how bad it gets.
So if you are seeing more volatility than you care to see in a day, this is a good test of your risk tolerance to see if you should consider tweaking your allocation to preferred. 
Action To Take
For today, stay calm, and remain selective. Focus on taking advantage of opportunities to buy income at a lower price! 
The best course of action: If you have cash available, buy the dip, be a long-term investor and take advantage of volatility to build your income! If you are fully invested, hold tight and wait for some dividends to come in.
If you haven't already, check out our Weekly Picks, all of those are great options for shopping today.