This Week: Nearing the End of Upside
MarketMood Weekly Preview: Week Ending March 23, 2018
Last week's picture: "The week ahead is looking less bullish then the week before, and possibly somewhat bearish. The news cycle is likely to be viewed more negatively than the previous week's." There was news of additional tariffs, personnel turnover in the White House, and more developments in the various soap opera-reality TV dramas of late. The market had a difficult time figuring out which way it wanted to go on several days, but ended the week down 1.2%-- definitely less bullish than the week before!
This week: The week ahead is somewhat ambiguous as there is a more bullish quality about it than the previous week, but there are several things about it that signal caution. 1) It's week 3 of 3 highly news and data driven weeks. The final week of a multi-week mood pattern is going to be the most intense whether positive or negative. 2) Looking at the momentum chart, the recent corrective bounce appears to be peaking. With weekly resolution, a topping could be sometime this week or next week.
Market Charts: The weekly forecast charts (below) continue to show an overbought condition versus the mood generated forecast, but much less so than two months ago. The weekly chart shows a peak this week followed by a dip. The Momentum chart implies a more bullish week than last week followed by a sharp drop.


Trend Indicators-- the Weekly MM WTI and MM MACD:
The MM Weekly Trend Indicator (MM WTI) remains in extremely strong bullish territory. It would take a close (this week) below 2661 to signal "exit long positions," and a close below 2649 (this week) to signal a bearish trend change to the weekly trend. The weekly MM MACD would need a weekly close below 2625 for a clear "SELL" signal.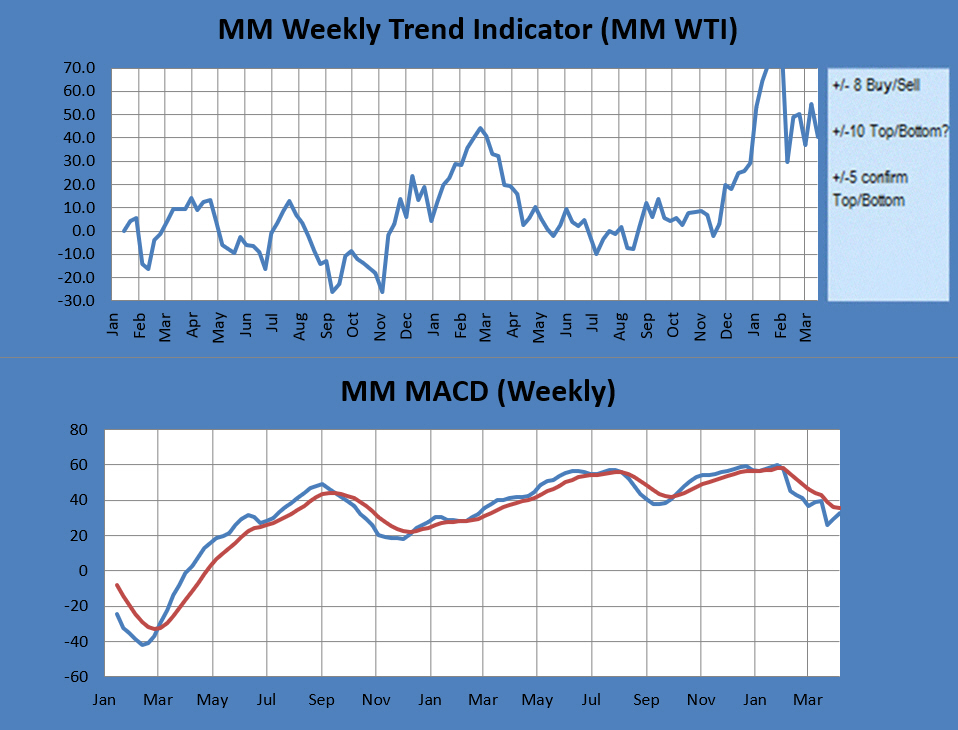 Momentum Indicator: The weekly momentum indicator is showing a choppy upward move nearing completion. An abrupt downward change should soon follow.

Qualitative Analysis Notes: This week's identified social mood components: 1) Manic/Vulnerable nearly equal & low (with inversion) => news/data intensive week. 2) Vulnerable lower than Manic (with inversion) => news/data/facts more likely to be seen as positive.