This Week: Governmental and Global Crises
MarketMood Weekly Preview: Week Ending Jan. 18, 2018
This week's mood pattern is pointing to government related instability and/or geopolitical crises.  This is not surprising with the U.S. shutdown going on and the Brexit vote coming up.  There is another component associated with strong emotions-- again, not surprising with everything going on.  Markets are likely to be down this week.  If so, bears would really have to prove they are serious, or move over.
Market Charts: The SPX forecast charts (immediately below) are showing a market that is just about touching a strong resistance line, returning to it since the big breakdown from underneath.  They also imply more downside ahead.  The derivative indicators are mixed.  The Momentum Indicator shows an imminent resumption of downtrend, but implies it won't last more than a week.  The Weekly Trend Indicator has just entered bullish territory, and the Weekly MM MACD is neutral.  However, they both agree that unless the market closes sharply down for the week (> 2-3%), they will both be pointing up the following week.


Trend Indicators-- the Weekly MM WTI and MM MACD:
The MM Weekly Trend Indicator (MM WTI) has just entered bullish territory.  The market would have to close down over 3% this week for it to turn neutral from bullish.  The weekly MM MACD is neutral.  However, it would take a drop over 2% this week to keep it from turning bullish for the following week.

The MM WTI measures trend strength using the divergence between the market trend and the forecast trend.  A move above +8 or below -8 is bullish or bearish respectively.  A value over 10 or under -10 followed by a move back through +/-8 signals a high or low is likely in.  A subsequent move below +5 (or above-5) signals a trend change to bearish (or bullish). 

The MM MACD is similar to a standard MACD, except that it uses the MMI signal data to extend several weeks beyond today, while the standard MACD relies solely on historical market data.  
Momentum Indicator:  The weekly momentum indicator shows shows an immediate, but brief resumption of downtrend is likely.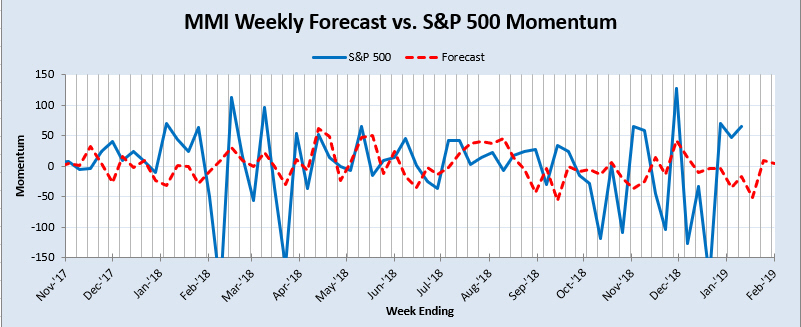 Qualitative Analysis Notes:  This week's identified mood components: 1) Controlled/Manic in parallel => Government related instability and/or global crisis. 2) High Expansive/Controlled => Irrational, emotional.