The Week Ahead: Crisis Intervention
Clearly the "government intervention" phase has started. The VIX seems to be getting it, but the stock market hasn't caught on yet. The primary mood pattern for all next week is "government intervention." This meant huge rallies in 2008-2009, and several times since then. We'll see what it means this time. In the chart below, I've also shown the patterns for the two weeks after the coming week. There's a completion pattern for the week ending April 3. Perhaps that would be a last push down after whatever gains might occur in the coming week. Finally, for the week ending April 10, the pattern implies the beginning of a new bullish EW sometime during that week that should last a week or more.
Of course, all of this is based on what these things usually mean, and have meant in the past. We are in a context that is unlike anything in my experience or in my data. I can say that for months the charts were showing a large crash was being set up, and I can say that I was able to identify an upcoming scary looking "global crisis" period in the mood data, but I could not have imagined the scale of this as it plays out. And, I don't know if what's ahead will require rescaling everything to some crazy new normal. I hope not.

The weekly charts show an oversold market that should be bouncing at any time now.

The Weekly Momemtum chart is showing an extremely oversold market ripe for a bounce.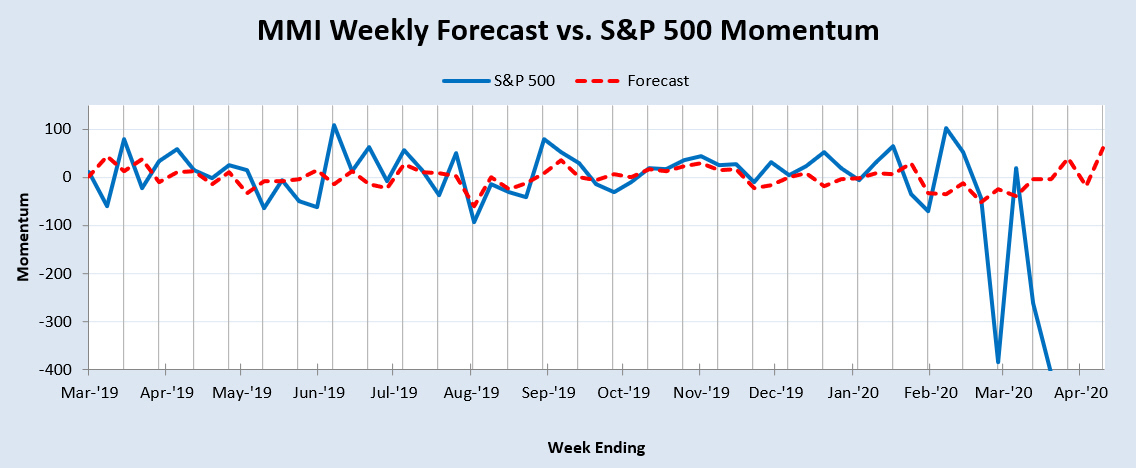 The Weekly Trend Indicator has changed this week from bullish to as strongly bearish as it was in December 2018. This is truly incredible. "Unprecedented" doesn't do it justice.

Finally, the Weekly MM MACD has moved from neutral to sell for next week at or below 2301 SPX. It is not uncommon for the first MACD change in trend to be followed by a reversal. I am hopeful that this is the case, but regardless, the signal is bearish below 2301.