The U.S. Dollar Barely Holding On To Support
The DXY pushed lower into the early part of this week breaking slightly under the lower end of support at the 89.65 level. This minor break under support was however quickly recovered and we move higher into the end of the week. So with that, we still are barely holding on to the immediate bottoming count as shown in white on the charts. If this is unable to hold over the low that was struck this week at the 89.50 level then it would shift the odds to the red count that I have been laying out as an alternate for several weeks.
That red path would still allow for another lower low in the form of a wave ((v)) of C of (A). While I still do not love the size of this potential wave ((iv)) in comparison with the wave ((ii)) of the same degree, if we are indeed able to break last week's low here, I will have to adopt the red count as the primary path forward.
For the white count to begin to confirm a bottom we really need to see a full five-wave move up off of the lows and a push over the 90.80 level overhead. Until that occurs there is still quite a bit of risk here for the DXY to continue to push lower per the red path into the Summer.
Bigger picture, once we fill out the wave B of (B), the larger wave C of (B) should ultimately target the 95.96-101.31 zone before turning back lower again to finish off the wave (C) of the larger wave ((B)) which I am showing on the weekly chart. Support if we do indeed make another lower low would initially come in at the 87.30 level with the 86.18 level acting as support below that.
While we are still following the expected path down into these levels we still are at a key inflection point that needs to be resolved before we have a high degree of confidence as to which of these two paths are playing out in the near term.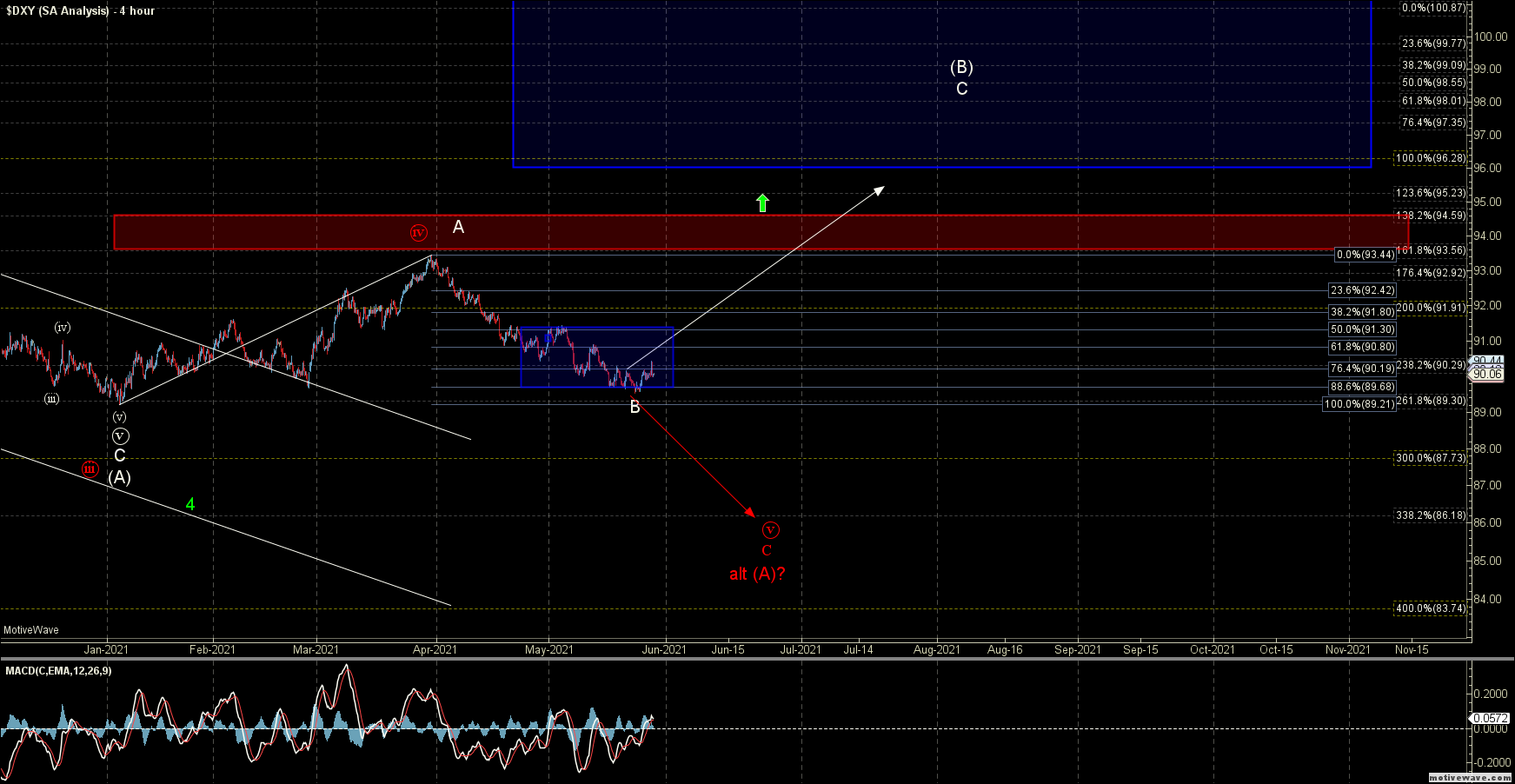 $DXY - SA Analysis - May-29 1813 PM (4 hour)
$DXY - SA Analysis Weekly - May-29 1813 PM (1 week)