The #CABpIPO & BYND - Market Analysis for May 7th, 2020
BYND IPOed in May 1yr ago.
Our default assumption is that with astonishing consistency IPOs fill out a CABpIPO pattern, that is after an initial move higher the get a large ABC retrace often to a point ~50% (or lower) from where they started trading on the exchanges (not the actual "IPO" price).
We had some GREAT upside trades in BYND in June and July last year as it filled out a larger than normal initial 5up, and then as expected it started down in a bigger way.
The bounce into Jan easily counted as the B wave so we were looking for a C wave down from there toward 20s as a measured move and to potentiall complete the CABpIPO since it started trading ~45.
The drop into March did not reach those targets and was not a 5 down to reliably complete the "C" wave, so I began to speculat that it might be only the wave i of a larger ED for C. That orange path allowed for a much bigger bounce as circle ii though, so as we were holding support in early April we started to look for a (c) wave up in that larger orange ii toward the 90s. When BYND failed to turn down from ~93 we started to lean more toward the purple alt that had been hiding on the chart in plain view. That purple c wave was for an expanded flat as a wider "B". VERY similar to what we saw play out on SHAK. At the end of April while not technically invalidating the orange i-ii yet I said it was much more likely to see a purple (iv)-(v) of c of B higher toward 130s if we could hold support for the (iv) in the 90 region. Heading into earnings it did in fact look like the purple (iv) was holding and set for an attempt higher in the (v).
132.43 is the 50% retrace of the initial A wave down from 2019 counted into the Dec low.
153.25 is the 61.8%.
134.65 is the 161.8% extension though also for the c of that B, and we do have a proportionate looking 5up in the purple path.
It can stretch higher but this 132-135 region is the optimal resistance for BYND to start down again.
The C wave from here has a 100% ext ~39 so if this is to be ALL of the CABpIPO we would really want the subwaves to stretch that toward the 138.2% extension closer to ~24.
Keep in mind that most of the market has a more bullish posture, but "Each chart on its own".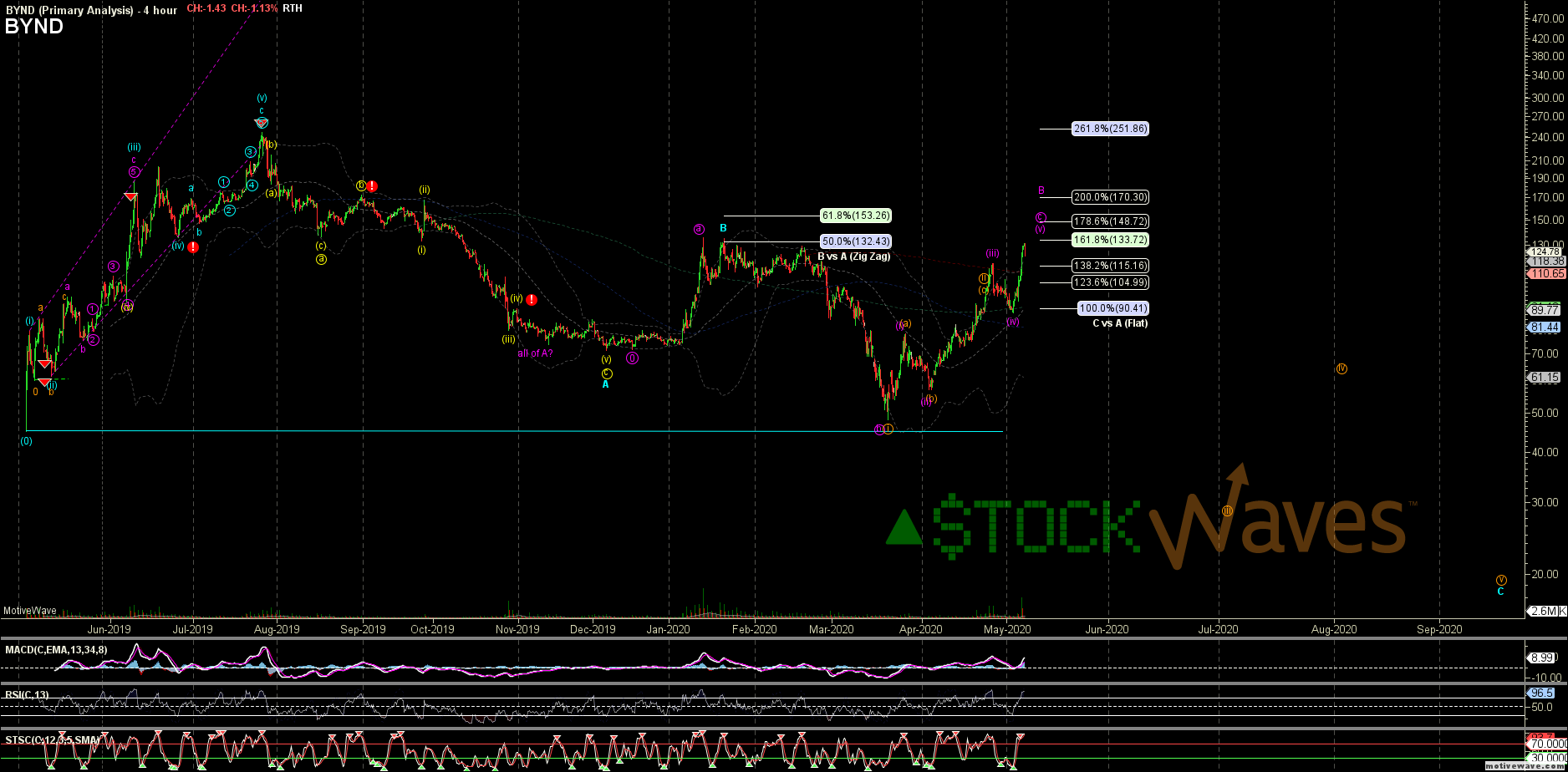 BYND - Primary Analysis - May-07 0800 AM (4 hour)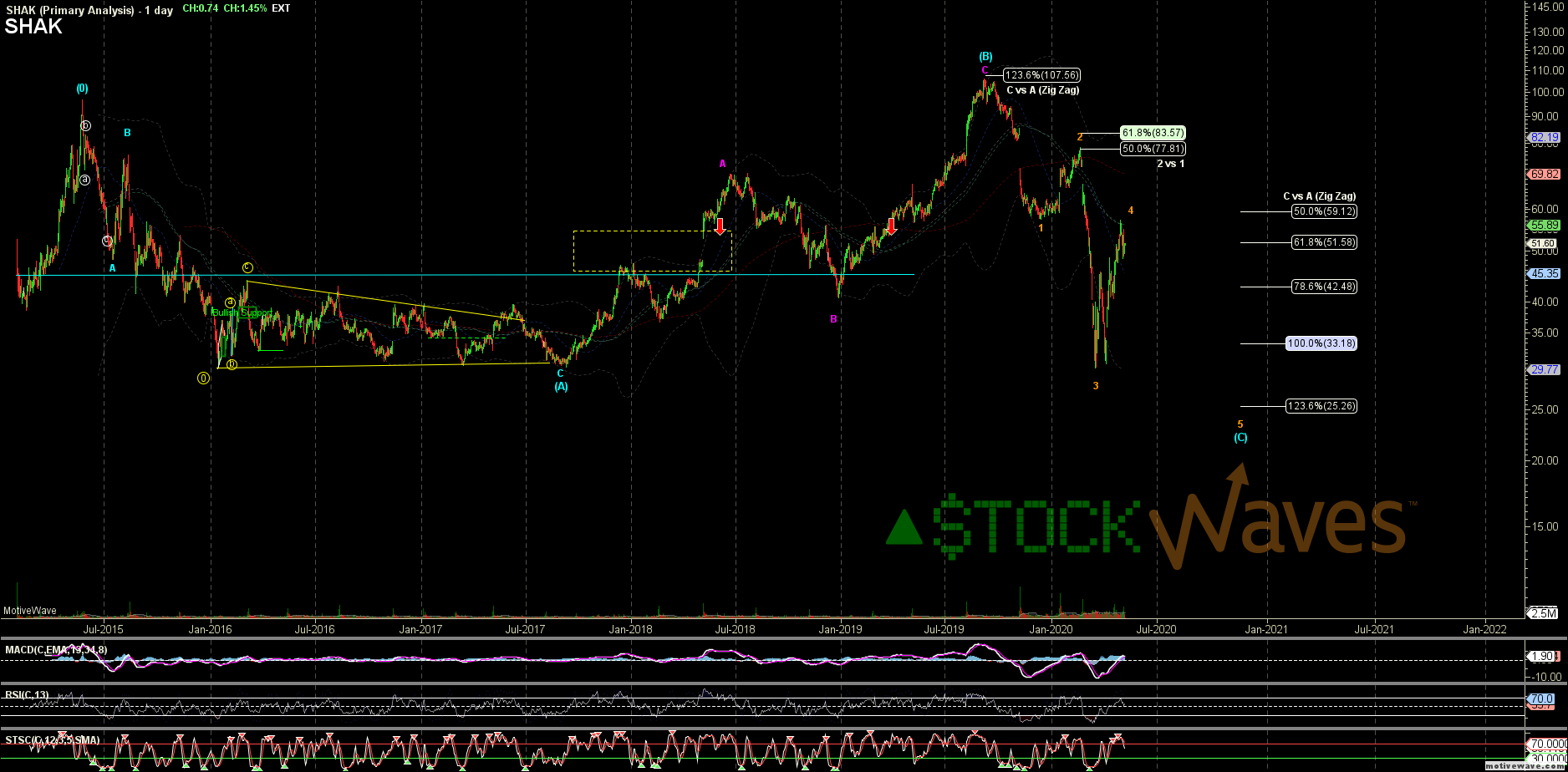 SHAK - Primary Analysis - May-07 0800 AM (1 day)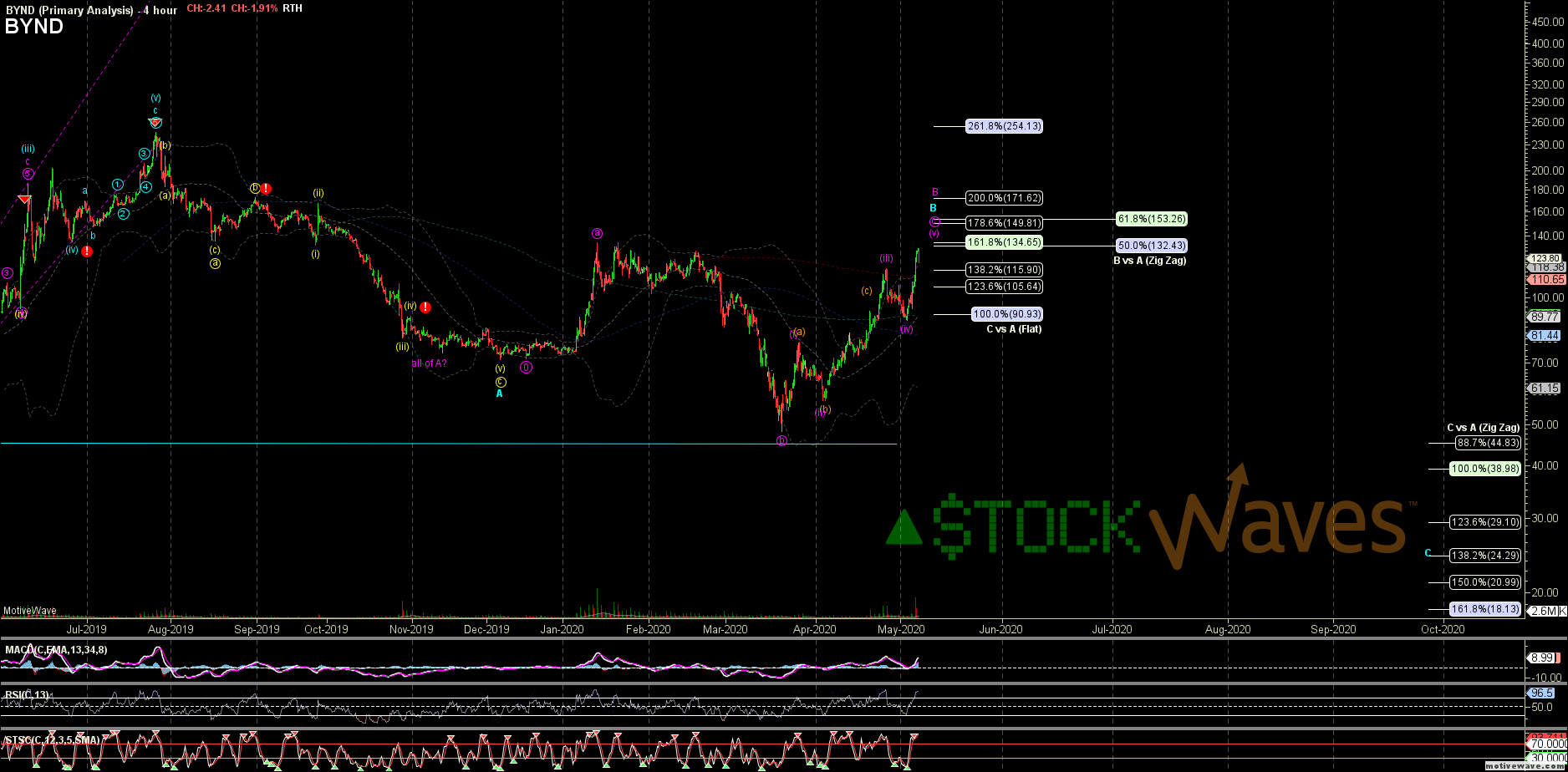 BYND - Primary Analysis - May-07 0825 AM (4 hour)