So, we had a topping target for wave 5 of iii of [iii[ for GLD, which we struck, and then we had an expectation for a wave iv pullback back to the 180/181 region, which we have also struck. In fact, the topping came just as everyone was getting a bit too bullish of the metals complex. And, that is just how it always happens.
But, the drop just seems a bit too fast to be all of wave iv. Yet, I am not going to argue with the market if we complete all of wave iv this week. For now, I am calling this drop as all of wave iv, but will keep an eye out for an alternative more protracted a-b-c wave iv, as shown on the 60-minute chart. If the rally off this support is corrective in nature, then we will maintain that as a very strong consideration. If the rally off support is clearly impulsive, well, then we should be focusing upon our next upside target region, with a minimum of 202GLD.
As for me, I am going to wait a day or two to see how this shakes out down here before I begin looking for aggressive long-side positions using options. I want to be a bit more certain that this wave iv is done. Moreover, I prefer to trade the 3rd wave of the next rally with options more than trying to bottom pick this wave iv. I think that is a more profitable use of options strategies.
Moving on to GDX, our ideal target for wave [4] on GDX was in the 37 region, so GDX seems to suggest this may have only been an a-wave of wave [4]. But, I must warn you, I do not think it to be prudent to be shorting the GDX unless there is a CLEAR corrective rally off today's low, followed by a clear 1-2 downside structure for the c-wave of [4].
Lastly, silver is giving me a bit of a hard time with its micro structure. As I highlighted over the weekend, I really did not have enough waves in place to consider all of wave v of [3] to be complete. So, we have two options to consider. The first is that this is a deep wave [iv] of [3] for an ending diagonal for wave v of [3], or this is the c-wave of iv, with a 4-5 to still take us lower before this c-wave completes. Neither structure presents a pattern for which I am comfortable, so I am going to maintain a bit more patience in silver.
With silver, keep in mind that the target for wave (3) remains the same – 30.75-32 – so consider that when you start hunting for long positions.
Overall, the metals complex has provided us with the pullback we have been expecting. Whether this pullback is going to be more protracted (with the b-wave and c-wave yet to come) or if it has completed rather quickly is not something of which I am strongly certain. But, I am still very much looking higher in 2020 in the metals complex, and this pullback is offering an opportunity to add to long positions.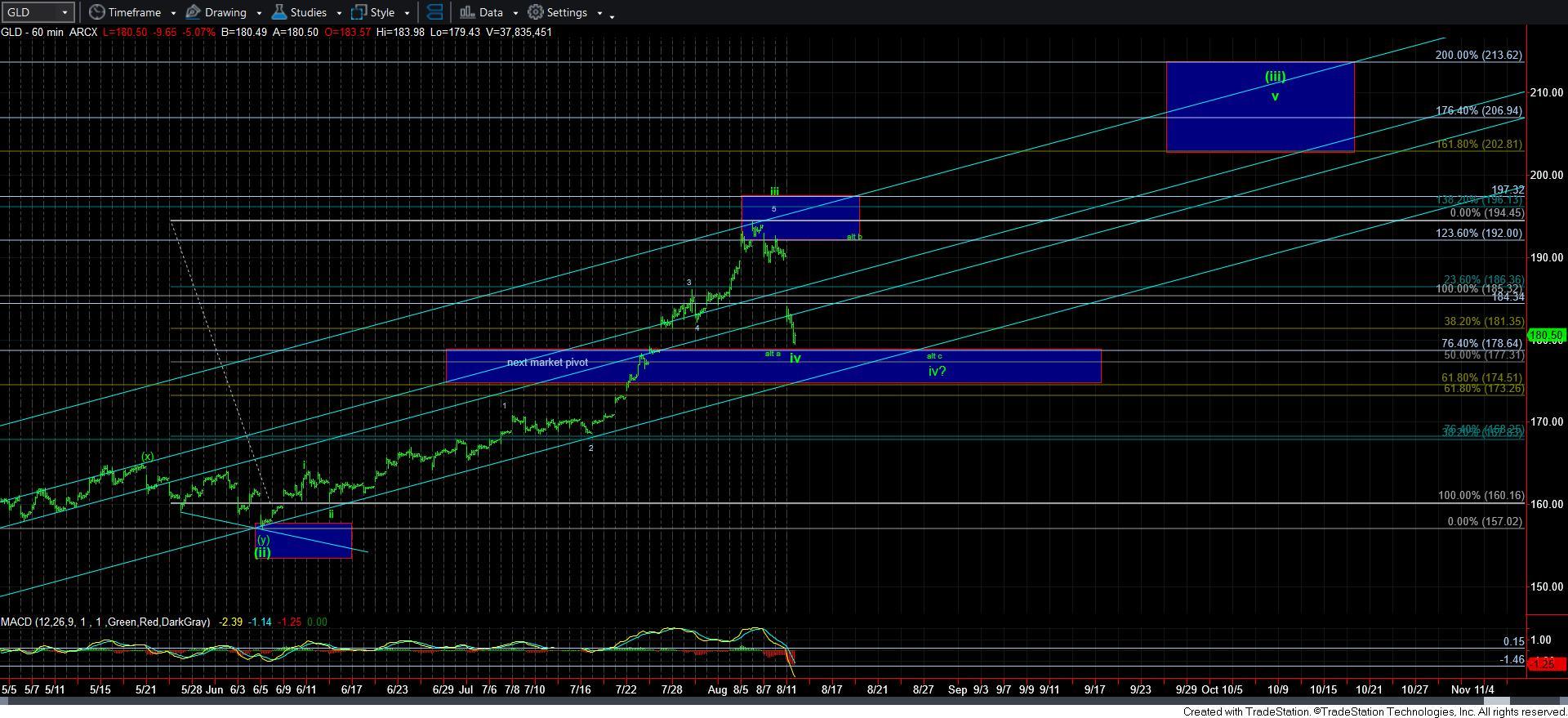 GLD60min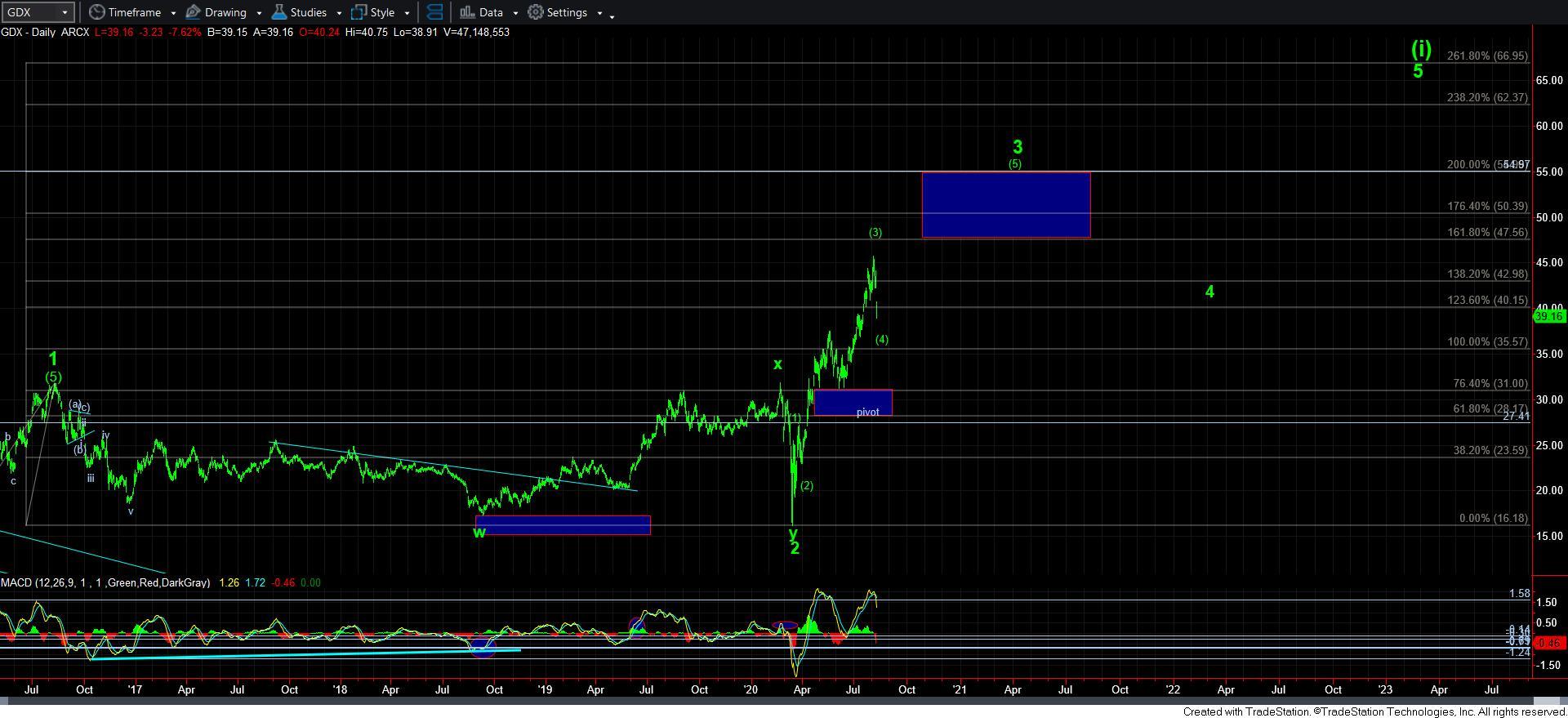 GDXdaily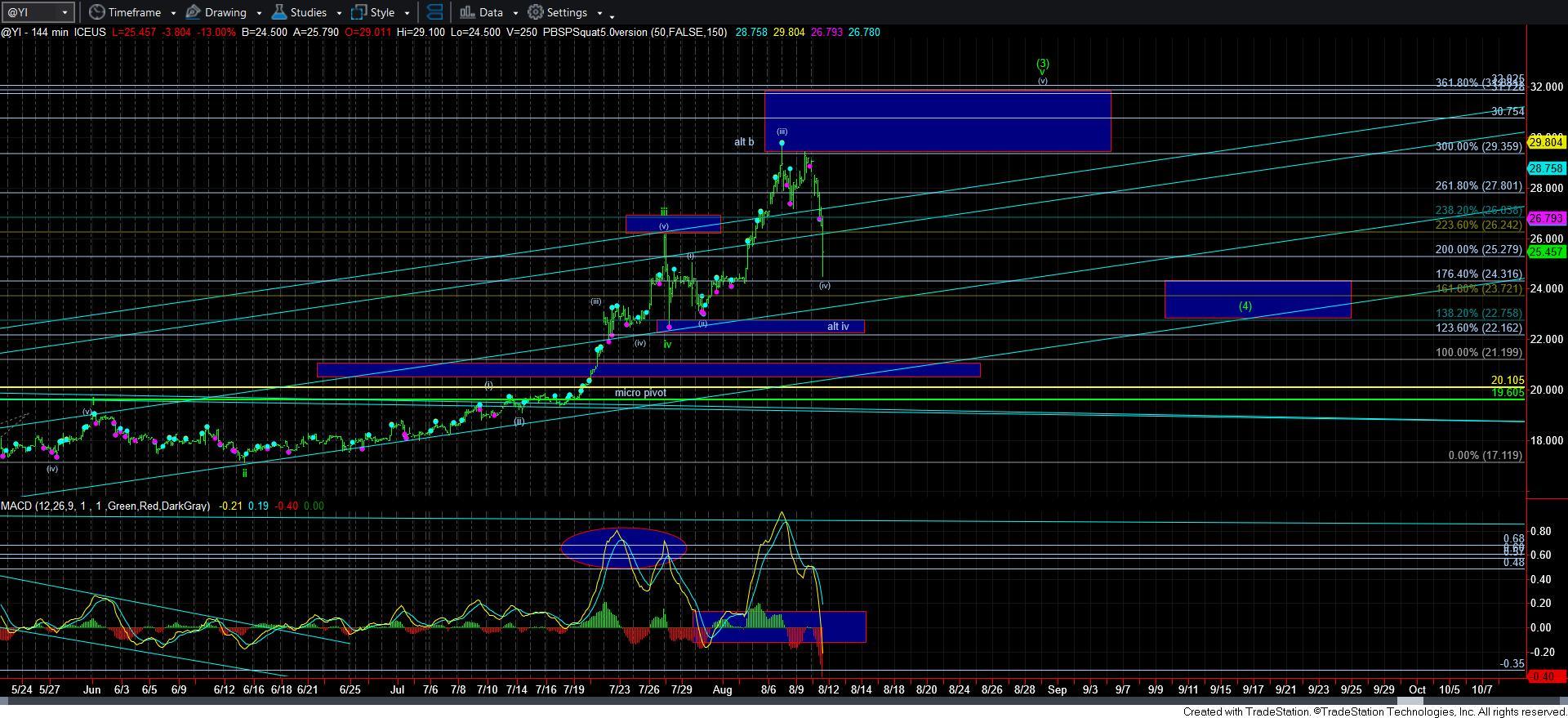 silver144min