Still Presenting Bullishly - Market Analysis for Mar 23rd, 2017
As I have been saying since the bottoming in the market back in 2015, the market continues to provide us 5 wave structures off lows, and as long as that continues, I will continue to maintain an immediate bullish bias until the market tells me otherwise.
This week, the GLD, silver and GDX all made higher highs and completed 5 waves up off the recent lows. While this set up has really taken its time to finally break out in a meaningful way, and it still may take a little longer, I am going to expect that such a break out take hold if we now see a corrective pullback in the complex, followed by a strong move of the highs we now struck within the last 24 hours in the complex.
The pattern that has been most instructive is the GDX. As you can see on the attached 8 minute chart, we seem to have completed the a-wave of wave (ii). Normally, the a-wave of a 2nd wave often targets the .382 retracement of the prior 5 wave structure. While we did come up a little short, I would expect the b-wave to ideally take us another day or so before we see the c-wave down in wave (ii).
But, when I look at the GLD, it only looks like we are in the (a)-wave of the a-wave of (ii), that is, unless the GLD will finally give us the shallow retracements for which they are known during extremely bullish patterns.
Along those lines, I would like to provide an overall comment about the depth of the last pullbacks we have seen in the market, but it is purely conjecture on my part. Ordinarily, when the metals are VERY bullish, you only see very shallow retracements. The retracements since the bottom has been struck in 2015 have been quite deep in the complex. I am wondering out loud of the market is simply training us to expect deep retracements right before it start taking off in a feverish pace to the upside in the heart of a 3rd wave without much in the way of further pullbacks. This would clearly add to the FOMO in the market, which would then cause the serious chasing one sees during the heart of a 3rd wave. Again, I want to note this is simply conjecture on my part, but it does align well with the potential we can see in the market later this year.
For now, I am going to expect several days of downside consolidation in the complex. And, as long as the downside structure remains corrective in nature, I will be preparing for the next major break out setting up.
And, since I will not be back in the office until Tuesday of next week, please continue to follow Arkady's and Garrett's excellent guidance in the complex during the trading day.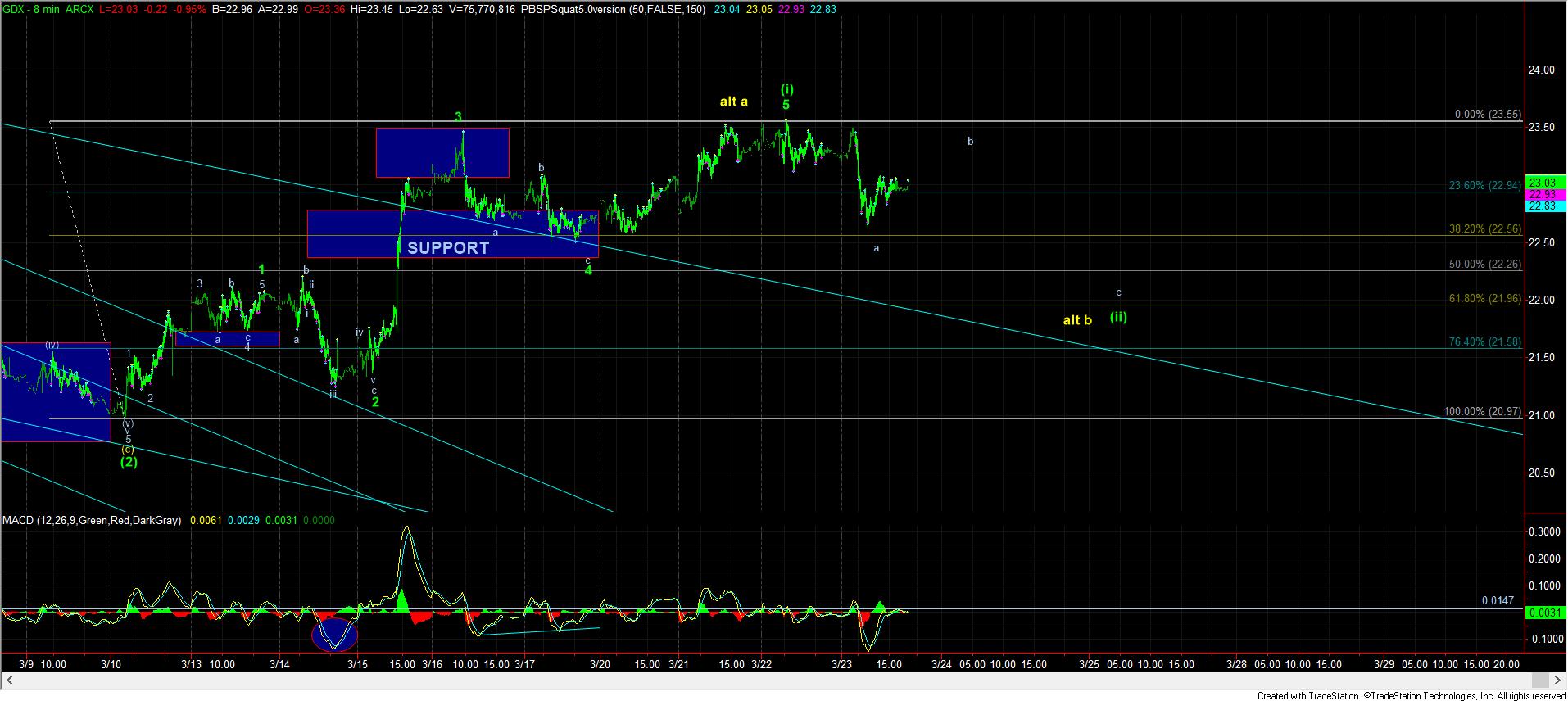 GDX-8min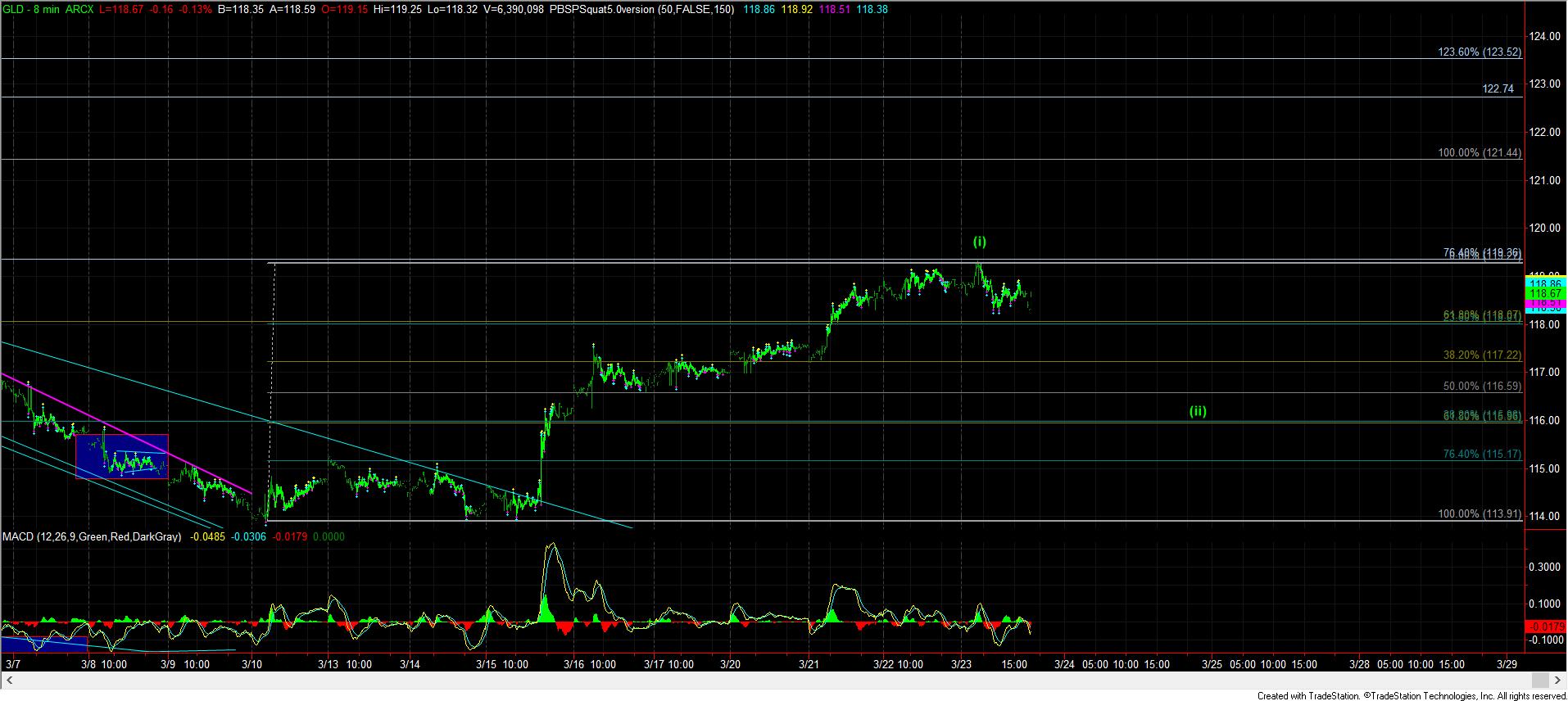 GLD 8min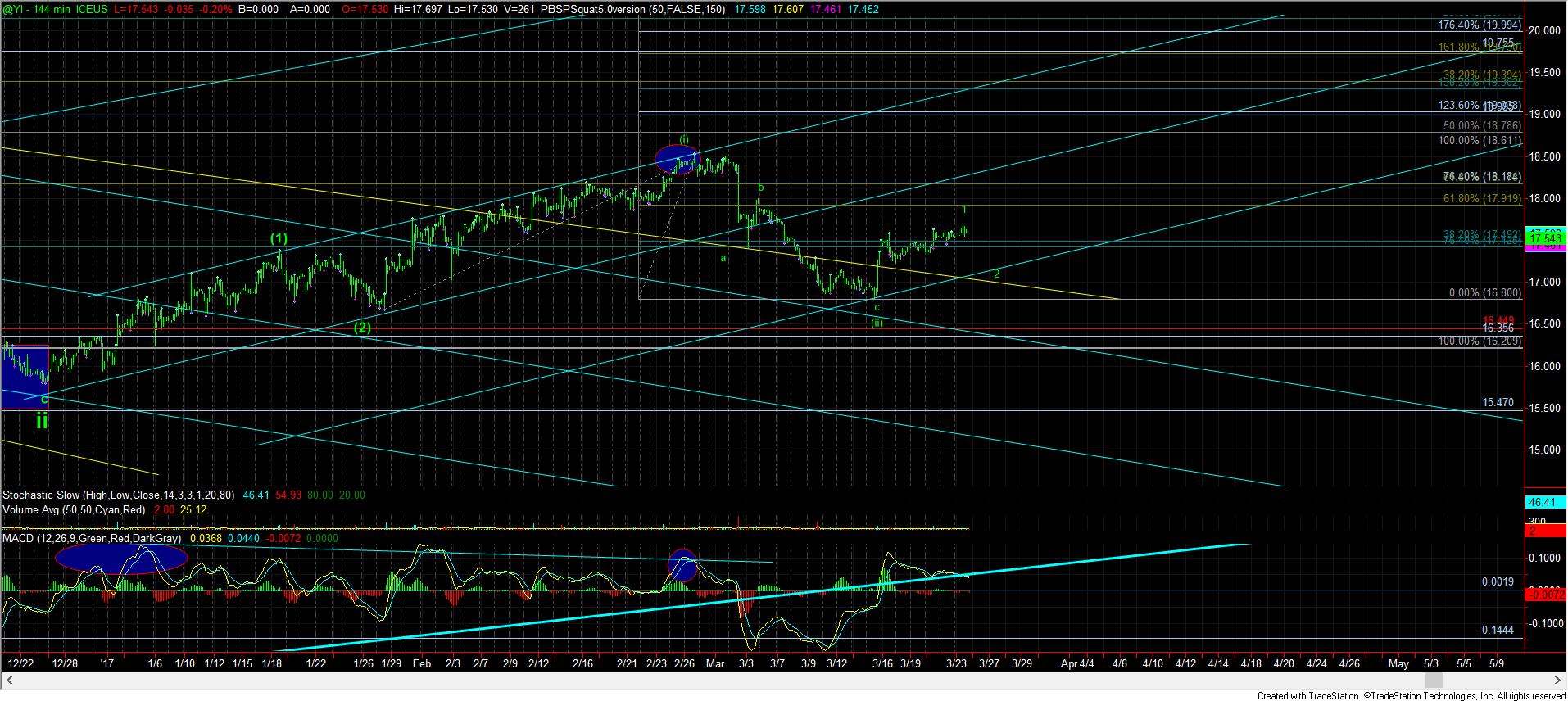 silver144min