Still Looking For That Lower Low
While the market often does complete its wave patterns quite nicely, and provides us with the final waves in an ideal structure, sometimes that does not happen. And, today, the market tested our patience as to whether that would happen this time.
While silver and gold did push a little higher than expected, GDX came within a penny of the upside resistance. And, what that tells me is that we had an a=c rally into that high for the GDX. To me, that is a strong indication of corrective action.
As I know some of you have a bullish 5-wave pattern you have fashioned off the lows, I would classify those as much lower probability specifically because the rally was an exact a=c into the high. You see, it is a VERY rare pattern where a 5th wave in a bullish pattern is equal to the size of waves 1-3, even in the metals complex. Again, the GREAT MAJORITY of time it is indicative of a corrective rally, and we abide by probabilities here.
However, from the bullish perspective, I can buy the i-ii, (1)(2) off the lows as a potential count, which I have noted in green, with today's high being the wave (1) of iii, but not noted on the chart since I did not want it to look too busy. And, the only way I am able to accept this pattern is if we break out over the high we struck today in the GDX within the next trading day or two.
The more likely scenario still points to a final decline towards the 20-22 region, in a 5th wave of this c-wave. But, the issue with which we now have to grapple is that 5th wave would be part of an ending diagonal in this c-wave, since the GLD and GDX moved into the territory of their wave I down, which means the only way we can count 5 waves down would be in an ending diagonal. And, this adds significant complication, and potentially even more whipsaw as we move lower.
Where that leaves me now is looking down as long as today's high holds. A break out over today's high puts a much more bullish spin on the market, and, alternatively, would have me consider that rally as a b-wave if we cannot complete 5 waves up towards the 30 region.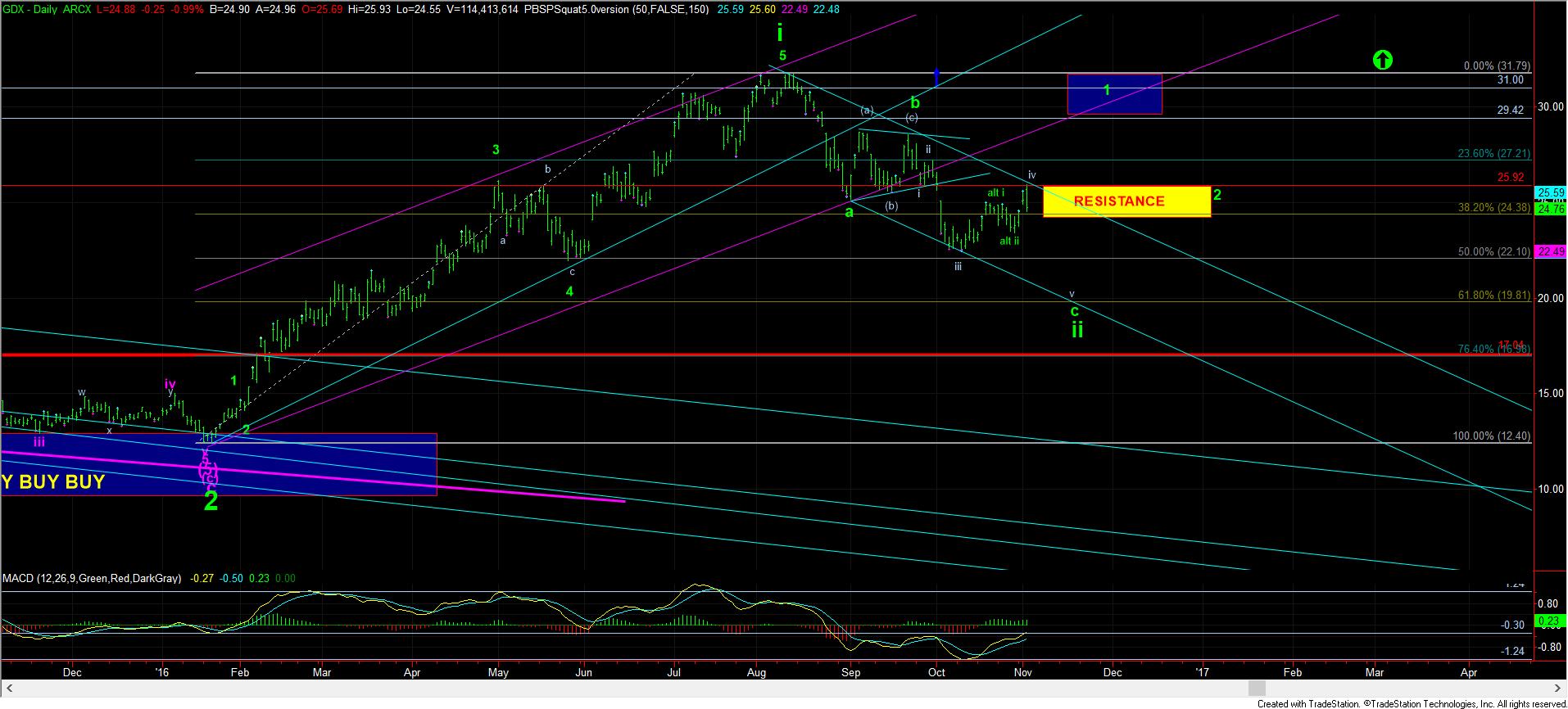 GDXdaily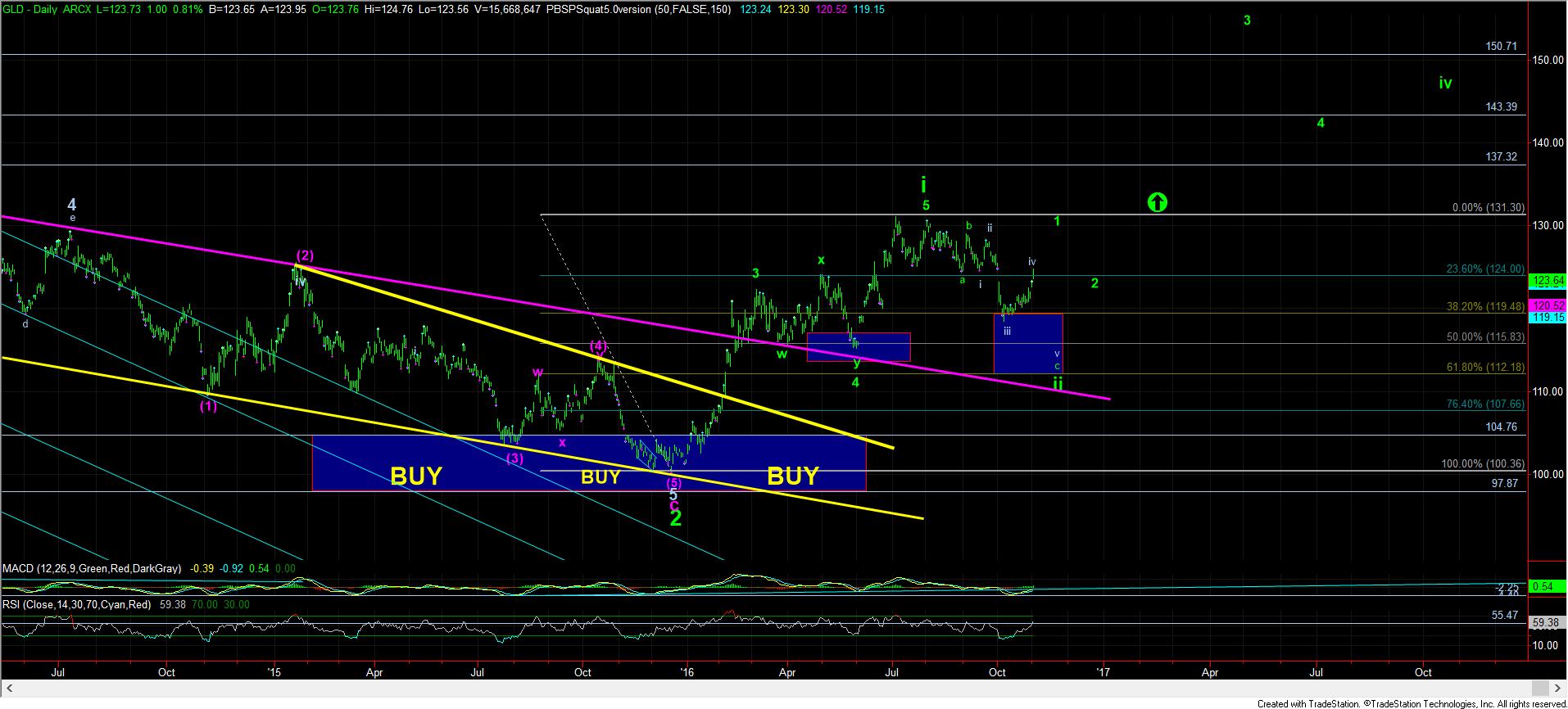 GLDdaily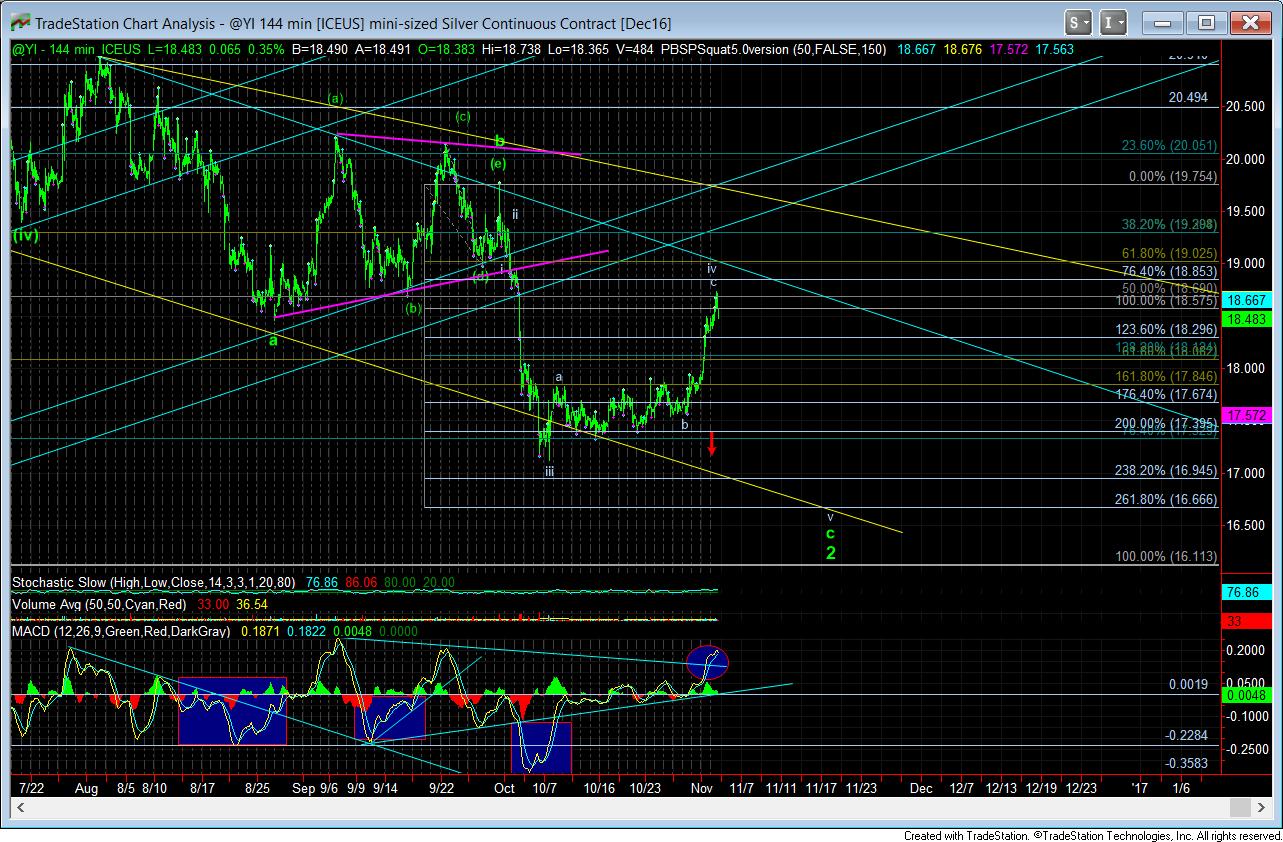 silver144min