SportsMood NFL: Super Bowl 54
49ers vs Chiefs – Super Bowl 54
February 2, 2020
Summary: The San Francisco 49ers and the Kansas City Chiefs come together for Super Bowl 54. Both teams have demonstrated complex nuanced offensive strategy throughout the season and both defenses are highly motivated. Our calculations indicate a tie game within the margin of error. It's probably noteworthy that we're showing a relatively good chance for a lower than expected total score. Enjoy the game!
| | SportsMood | Consensus Odds* |
| --- | --- | --- |
| Game Winner | NC | KC -120 (55%) |
| Handicap | | SF + 1.5 |
| Total Points | Under 54 (79% chance) | 54 |
*Average bookmaker odds at time of publication
In-Game Windows of Opportunity
Point Spread SF+15.5 (77%)
Point Spread KC+19.5 (66%)
What the numbers mean:
The consensus odds have the Chiefs installed as a 55% favorite to win the game, giving the 49ers a 1.5 point handicap. SportsMood sees no clear edge for either team.
There is a good chance (77%) that if Kansas City wins the game, they won't win by more than 15 points. This is relevant if the Chiefs take an early lead and the in-game odds move to give the 49ers 15.5 or more points.
If San Francisco wins the game, there is a good chance (66%) they will win by no more than 19 points. This is relevant if the 49ers take an early lead and the in-game odds move to give the Chiefs 19.5 or more points.
Performance:
Our average success rate for NFL for last season was about 59% for calling the winning team and 62% for our handicap being on the winning side of the consensus point spread. There is no data for over/under total points calls for last season. For the 2019-2020 season thus far, we're averaging 56% for calling the winning team, 59% against the spread, and 63% for over/under total points.
Relative Stat Projections – Supplemental Charts: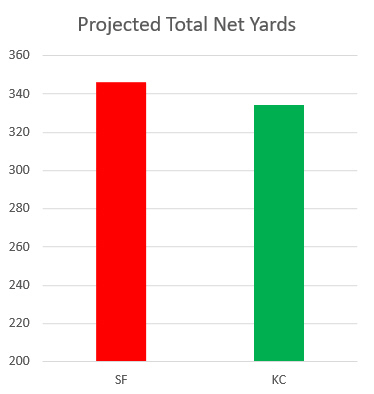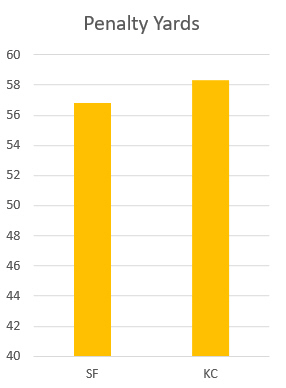 For the Extremely Curious:

Methodology: The game projection above was based on sentiment analysis of 8 mood qualities (the same 8 used for MarketMood) found in each team's public presentation and expression in the days prior to the game as posted in team social media. The included charts were built from correlations found with relative amounts of these 8 qualities in team sentiment prior to the game, and are relevant for this game only.
Data collection and analysis by Daniel Reader.
Note: this is being shared with the excitement of presenting our cutting edge research in systems and the relationship between sentiment and near future events. No inference should be made as to endorsement of gambling or wagering on sports events, and whether or not that is suitable for any individual.