So Dang Frustrating - Market Analysis for Dec 22nd, 2021
Yesterday, I wrote the following regarding the GDX structure:
"The GDX has now made something formerly straight forward infinitely more complex. The rally off that last low is looking like an impulse. So, it leaves me with several choices here.
You see, the rally we got off the potential wave ii low "looks" like a 3 wave rally. Yet, the gap up hides the wave count. So, it is possible there is 5 waves up in that for wave 1 already. But, due to the "look" and not really knowing what is in the gap, I am going to get a bit more cautious before I buy a break out. I have added an alternative on the chart showing a resistance region based upon a possible bigger wave ii. But, if we break out in a clearly impulsive manner through that b-wave resistance box, I will likely buy the break out."
With the way the market has been structing since then, I have modified my view of a buying opportunity to a break out over the micro pivot on the 8-minute GDX chart. I would then likely place a stop just below the pivot, and let it run. Of course, should we move higher, I would raise my stops.
But, before everyone jumps in on this potential, I want to warn you that this is less than an ideal smaller degree structure. While the bigger structure still looks ok, there are issues with the smaller degree structure, which I outlined above. So, please do not get hugely aggressive if you intend on taking this trade. In fact, mentally prepare to stop out if you do, since it really is less than ideal. But, the bigger picture structure makes the trade attempt worth it.
In the meantime, GLD also looks to be setting up as a 1-2 structure, which should trigger soon to begin wave iii, as you can see on the 60-minute chart. I will personally wait until the GLD is over the pivot before I begin trading this structure aggressively, especially considering that there will still be a lot of meat on that bone should that pattern break out.
As far as silver is concerned, I do not have a clear micro picture on it, so I am simply going to take a zoomed out view, and be looking for a bigger rally structure as long as this last low holds as support. Should I see anything in the micro structure in the coming days, I will certainly alert you.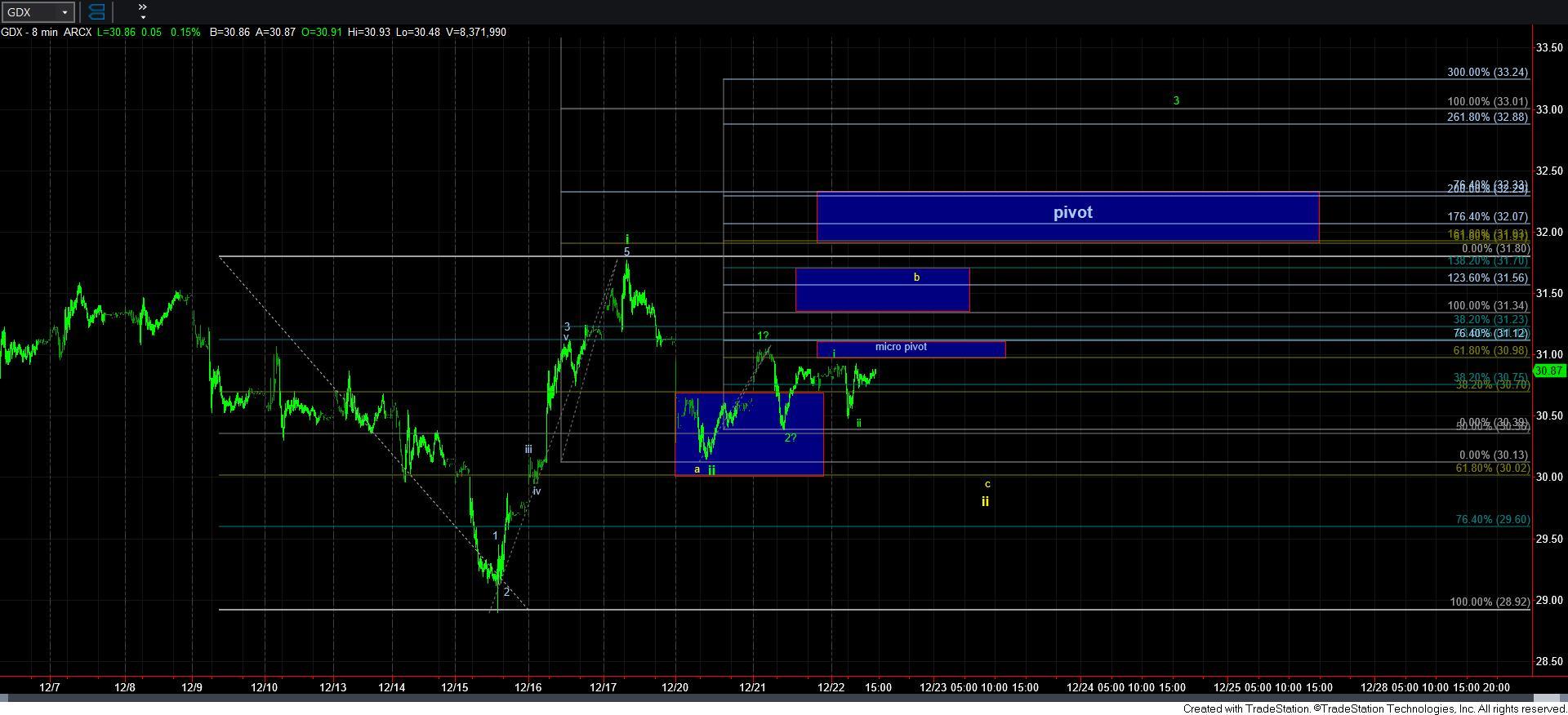 GDX8min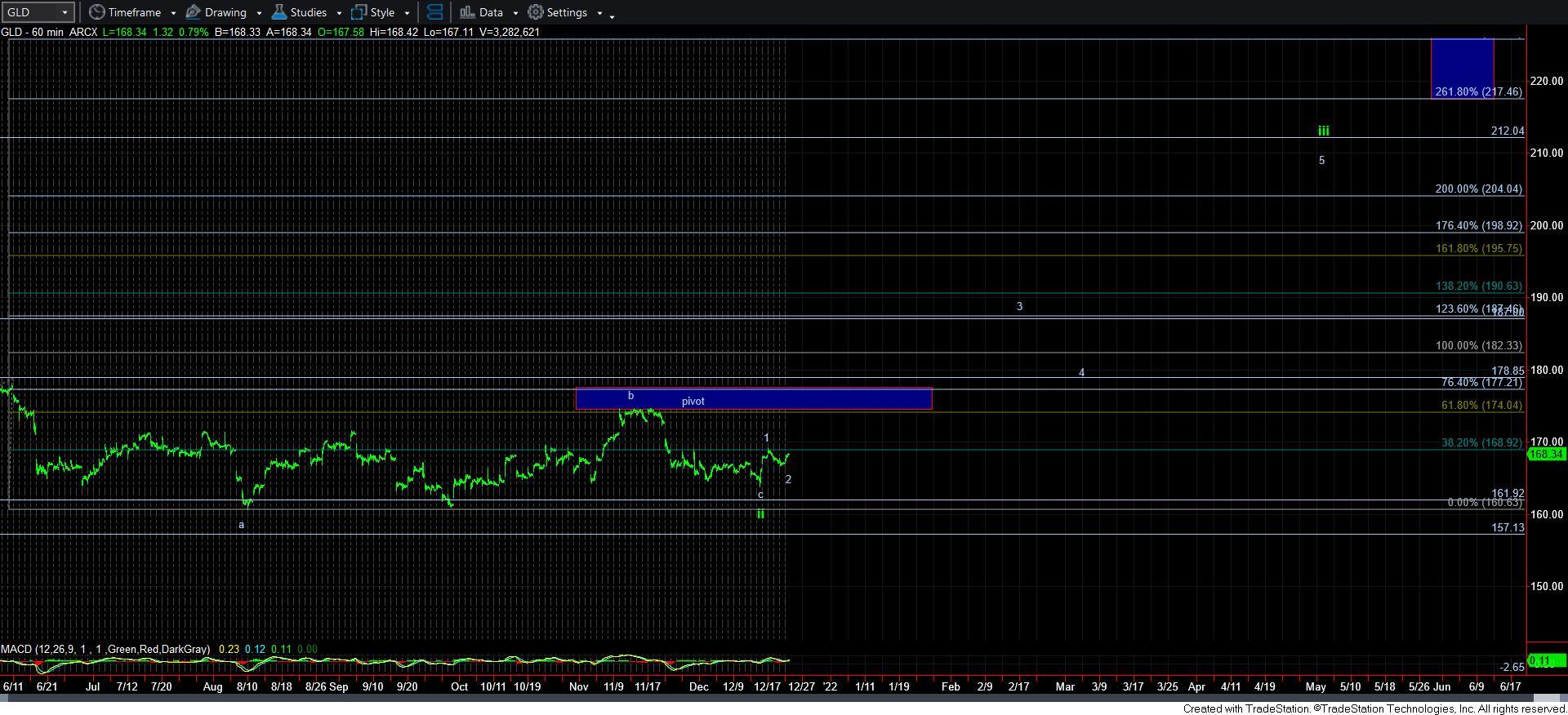 GLD60min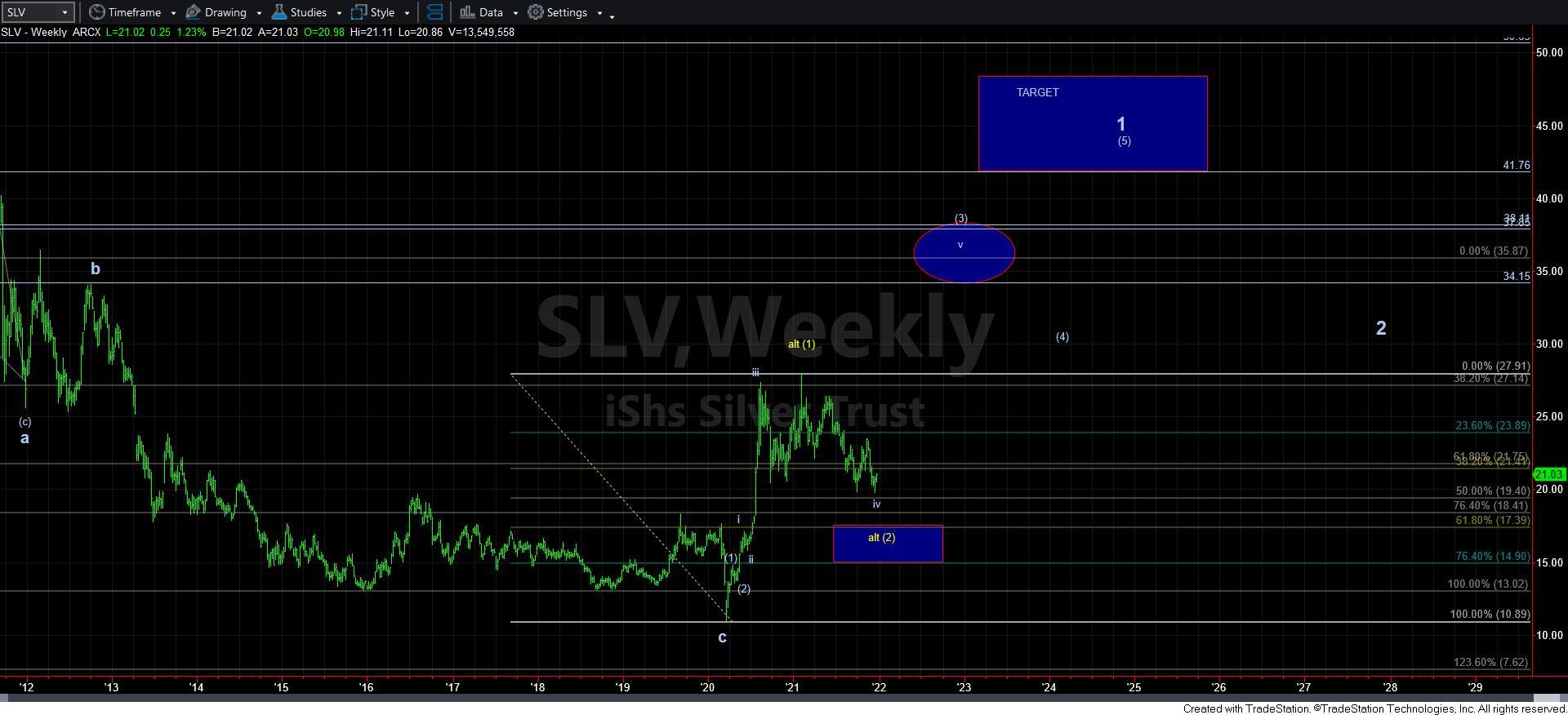 SLVweekly