Sentiment Analysis & NFL: Steelers - Saints
Dec. 23, 2018
Game Projections:  New Orleans will put on an outstanding show-- an exhibition of skill.  Their offensive efforts will be virtually unimpeded.  Pittsburgh will reel under the impact, and while they will try to make a stand, they can't hope to keep up. 
GameDay's point spread:  Saints by 14.
Projected Turnover % and Penalty Yards each team: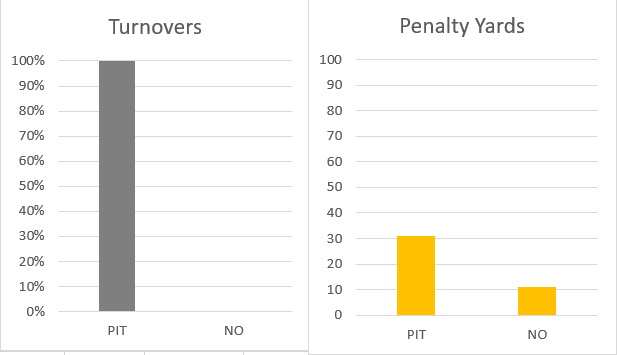 Methodology: The above was based on sentiment analysis of patterns in 8 factors (the same 8 used for MarketMood) found in the team's public presentation and expression.  The offensive – defensive relative strength chart was built from relative amounts of these factors in team sentiment prior to the game.
Data collection and analysis by Daniel Reader.