Riding The Stock Waves: Update On The Energy Sector
XLE up over 50% off the October 29 low.
Many key names in this space pay juicy dividends.
Substantial upside potential remains through 2021.
In the following video we discuss our current analysis of some key names in the energy sector and highlight some of the best examples of a similar chart pattern setup that most share.
https://www.elliottwavetrader.net/videos/Stock-Waves-Live-Video-202101079326.html
Most charts in the energy sectors followed through in deeper corrections we warned our subscribers about off the June and August highs, then reversed as expected, rallying more than 50% in November and December in merely the start of a larger swing. We follow two popular ETFs, Energy Select Sector SPDR ETF (XLE) and the SPDR S&P Oil & Gas Exploration & Production ETF (XOP), very closely in our Stock Waves service along with many individual component stocks.
(XLE 8/06)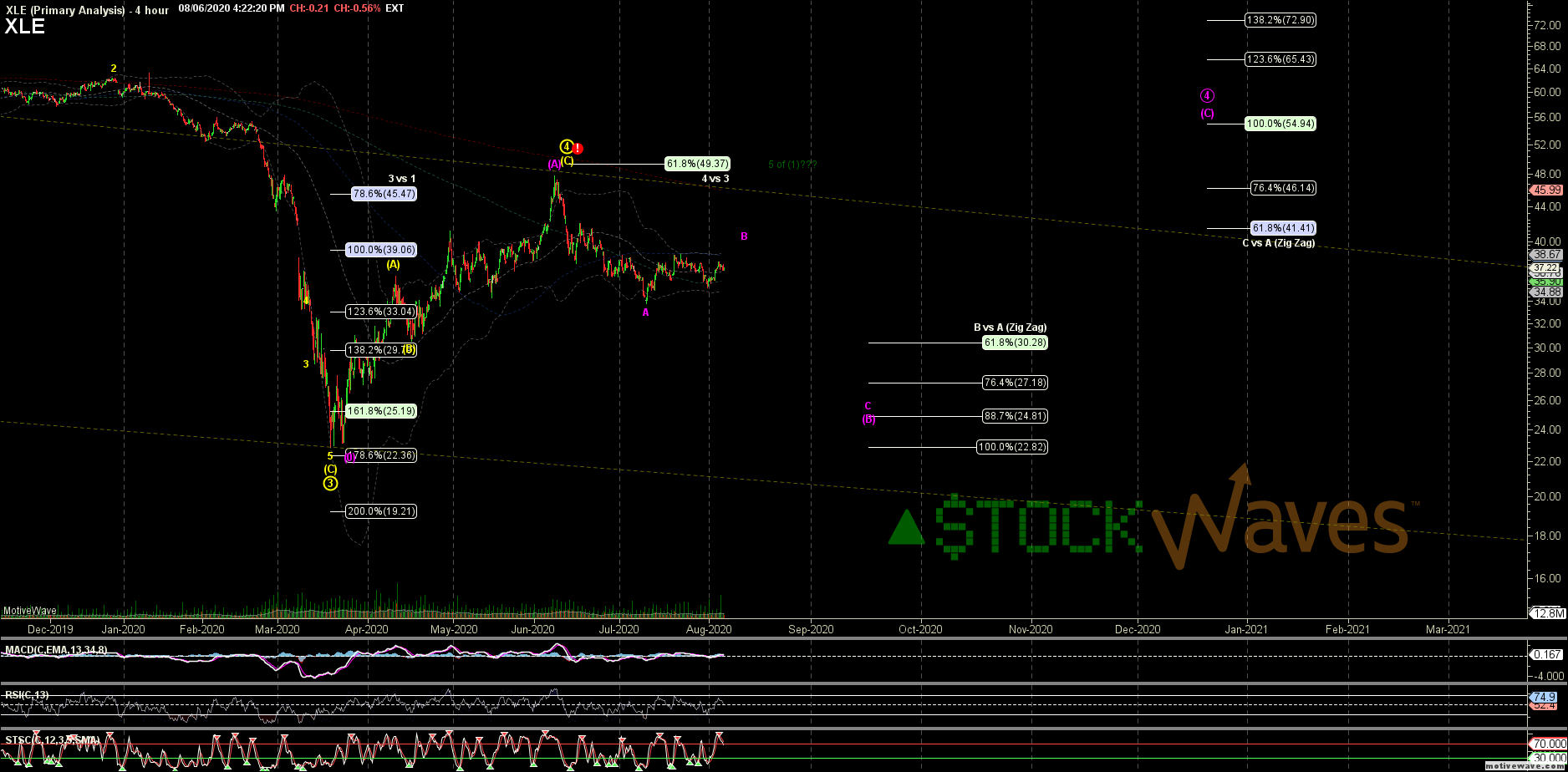 As many of these charts neared targets for the C-wave of a corrective retrace into targeted Intermediate degree support regions in early October we began to get cautiously bullish. However, many charts did not look quite complete allowing room for "OML" (One More Low). This is usually pretty standard and a slight extension of a C-wave for "OML" does not hurt the pattern. However, a few of the charts and in particular Exxon Mobil (XOM) were getting dangerously close to breaking under their March/April 2020 lows. With XOM comprising such a substantial percentage of XLE there was significant risk of entering into a "negative feedback loop." Allow me to explain: XOM is getting sold as the price drops, dragging on the price of XLE. XLE investors get spooked and sell XLE requiring XLE managers to sell proportionate amounts of XOM to meet redemptions - rinse and repeat.
(XLE 10/01)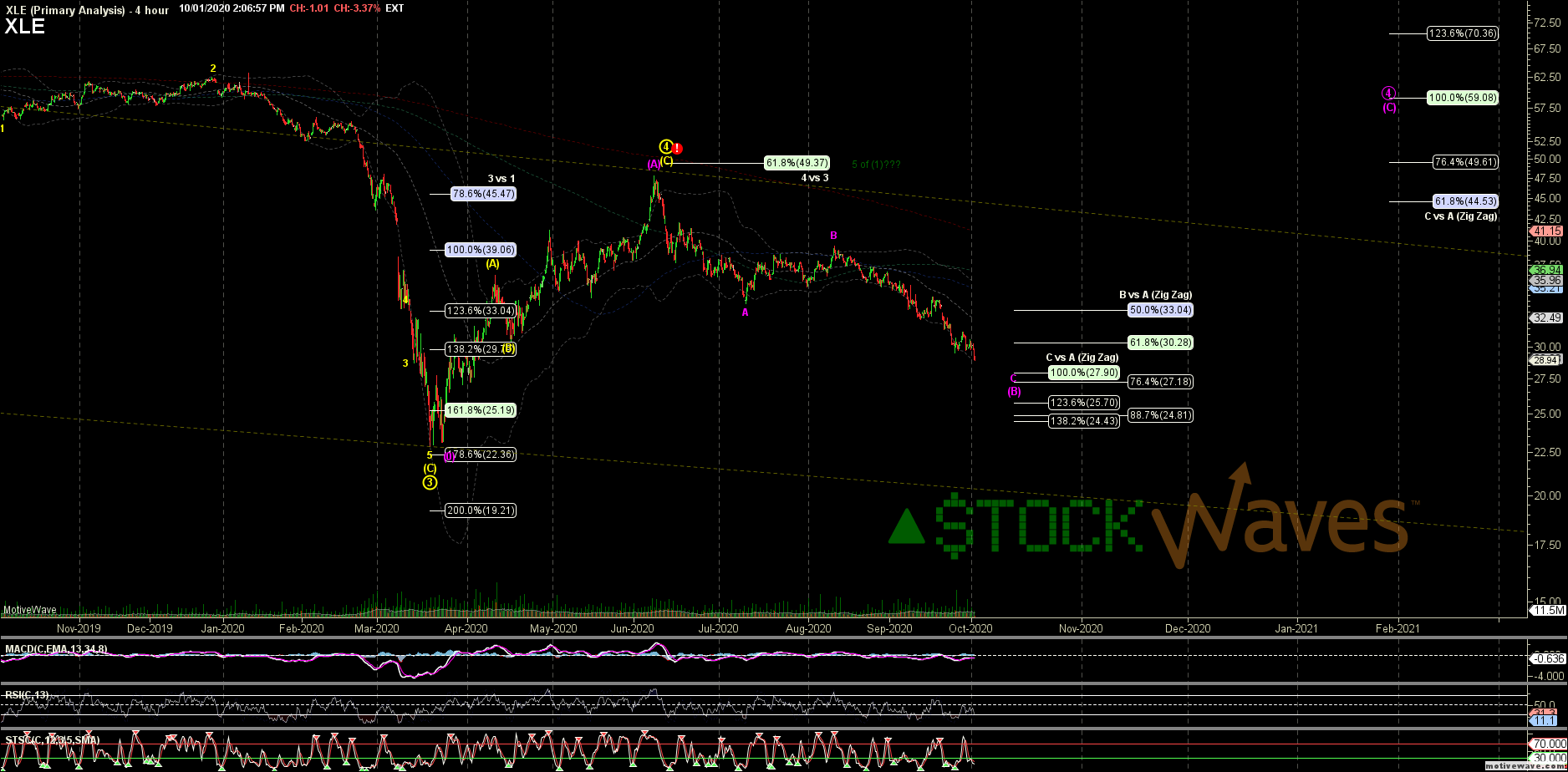 While we did extend lower into later October in most of the sector XOM held on by the skin-of-its-teeth and did not enter negative feedback loop territory. We had all the ingredients for the start of a strong rally but we try really hard in Stock Waves to analyze the #Sentiment and not get swept up with it. We needed to see the later October lows hold and start to clear the first small levels of resistance.
(XLE 11/02)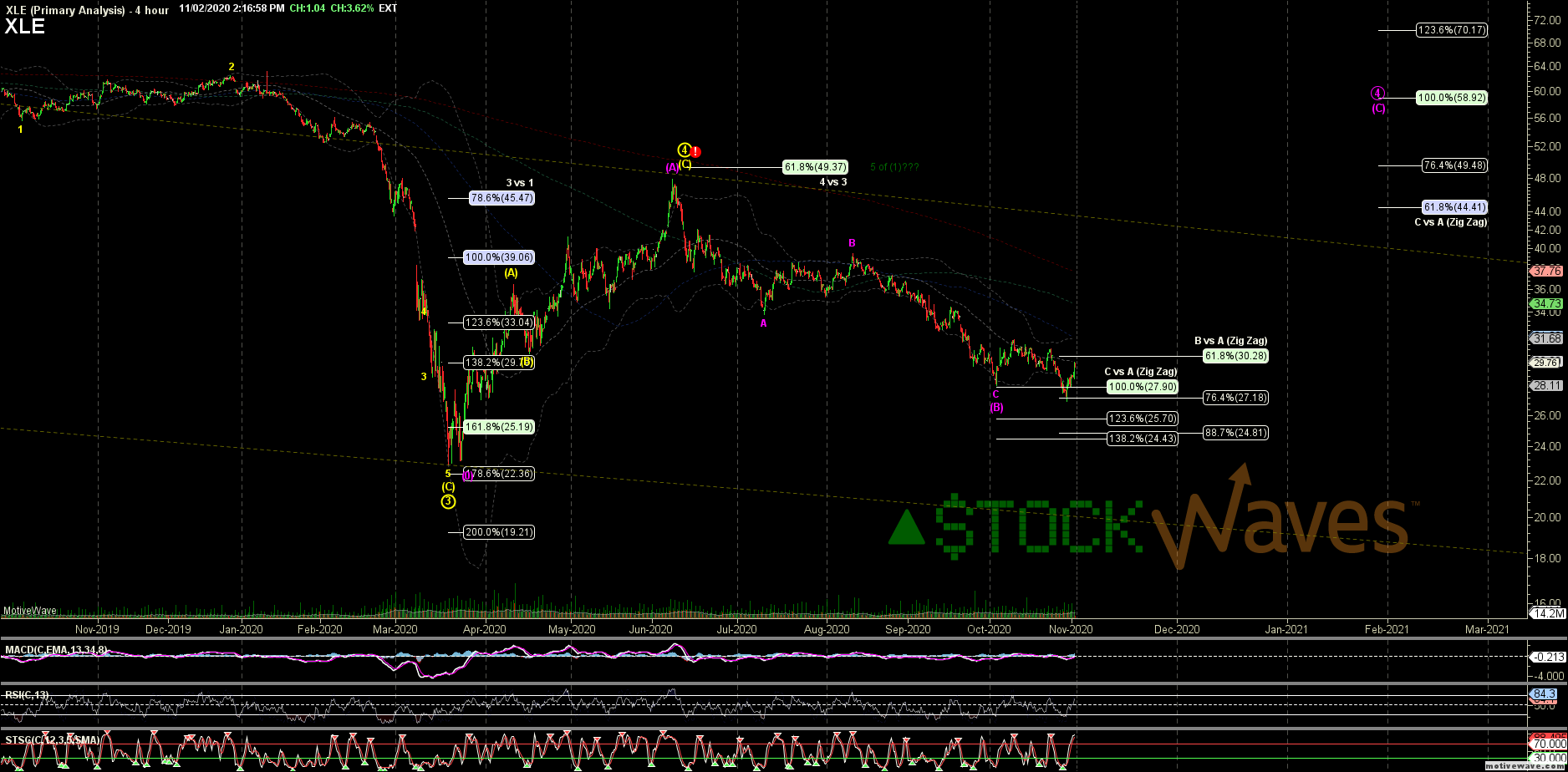 The entire month of November we enjoyed riding those entries higher as most charts filled out and extended in their respective wave ones inside our larger Intermediate degree waves (C) or (3). We then watched for consolidation setting up for the next advance, the coveted "third of a third." While some of these charts allow for a bit more consolidation within the support zone many clearly have enough to be reliably complete with their two and many others are beginning to cross pivot points breaking into the 3rds. Based on the larger sieve for many of the respective wave 1s across the sector and the fact that many count as (3)rd and not merely (C) waves the initial "Pirate Ninja" (measured move) targets, highlighted in purple initially to show how similar everything was, have been moved further out to the "northeast" of the charts.
As mentioned in the video above, the following are the projections for XLE and XOP from here along with seven names we have isolated that we feel are the best examples of that common pattern exhibiting the cleanest, strongest, and most reliable wave structure. As hinted in this clip we are sharing with you we also went on to discuss many of the other names we follow with potential to outperform but these standouts should be the leaders.
(XLE 1/08)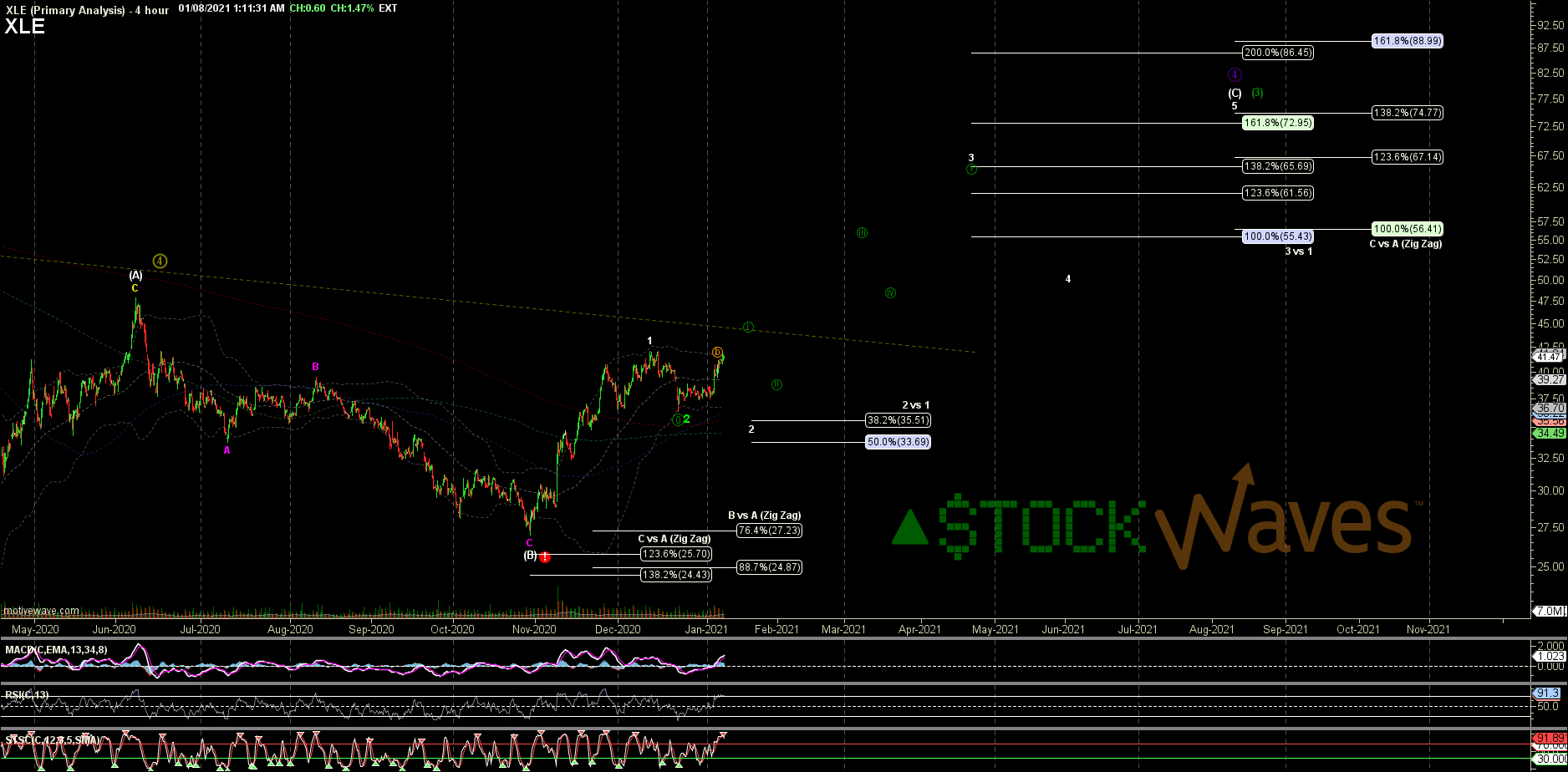 The initial "Pirate Ninja" target in XLE pointed to the 55-60 region, while the same possible "(C)" wave in XOP pointed toward the 95-100 region. Based on the size of the wave 1 extending beyond the 39 level in XLE it not only makes it more probable that the 3-4-5 will target the 138.2% Fibonacci extension near 75, but increases the probability that this move at least in many of the component names can be a (3)rd rather than merely a "(C)" wave allow for further upside into 2022 after holding a (4)th wave consolidation. That equivalent 138.2% extension for the (Intermediate) degree move in XOP is 136.
(XOP 1/08)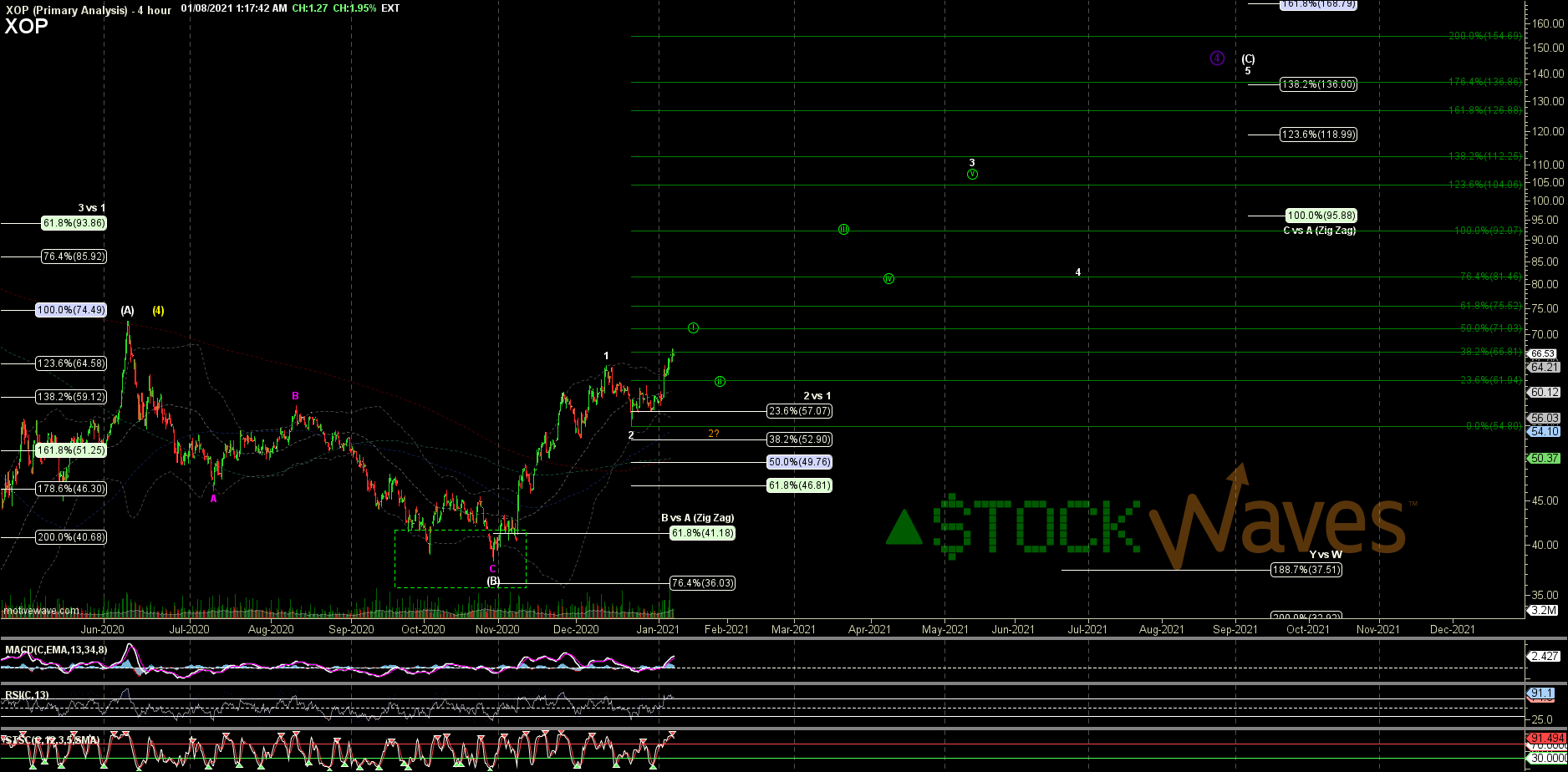 As mentioned, both XLE and XOP allow for an attempt at more consolidation in the wave 2, but there's some nuanced differences. Because XOP is already further past the top of 1 it looks more like the start of wave i inside 3, but XLE looks a little more at risk of a short-term drop as the c of a wider flat for 2 toward the 35s again. Those slight differences in the near-term potential can be seen even more pronounced in the individual names.
First up, Chevron (CVX). The ABC retrace into the end of October at a 61.8% Fib support and the perfect five wave impulse off that should be in a textbook on Elliott Wave. It just does not get any more perfect. Not only was it a perfect five waves up from 65s to 96s, but it stopped just past the .500 Fib extension which is also textbook for Avi's #FibonacciPinBall. Not only that but CVX has one of the cleanest and most reliable abc retraces for wave 2. Since we only touched the top of the normal Fib retrace zone at a 38.2% retrace we do need to consider the potential still of a deeper 2 toward 75s. Just the 3 inside the larger Intermediate move here should target 144.75 off the 83 support, and CVX also has the benefit of an even larger degree move up starting. Current dividend yield is 5.75%.
(CVX 1/08)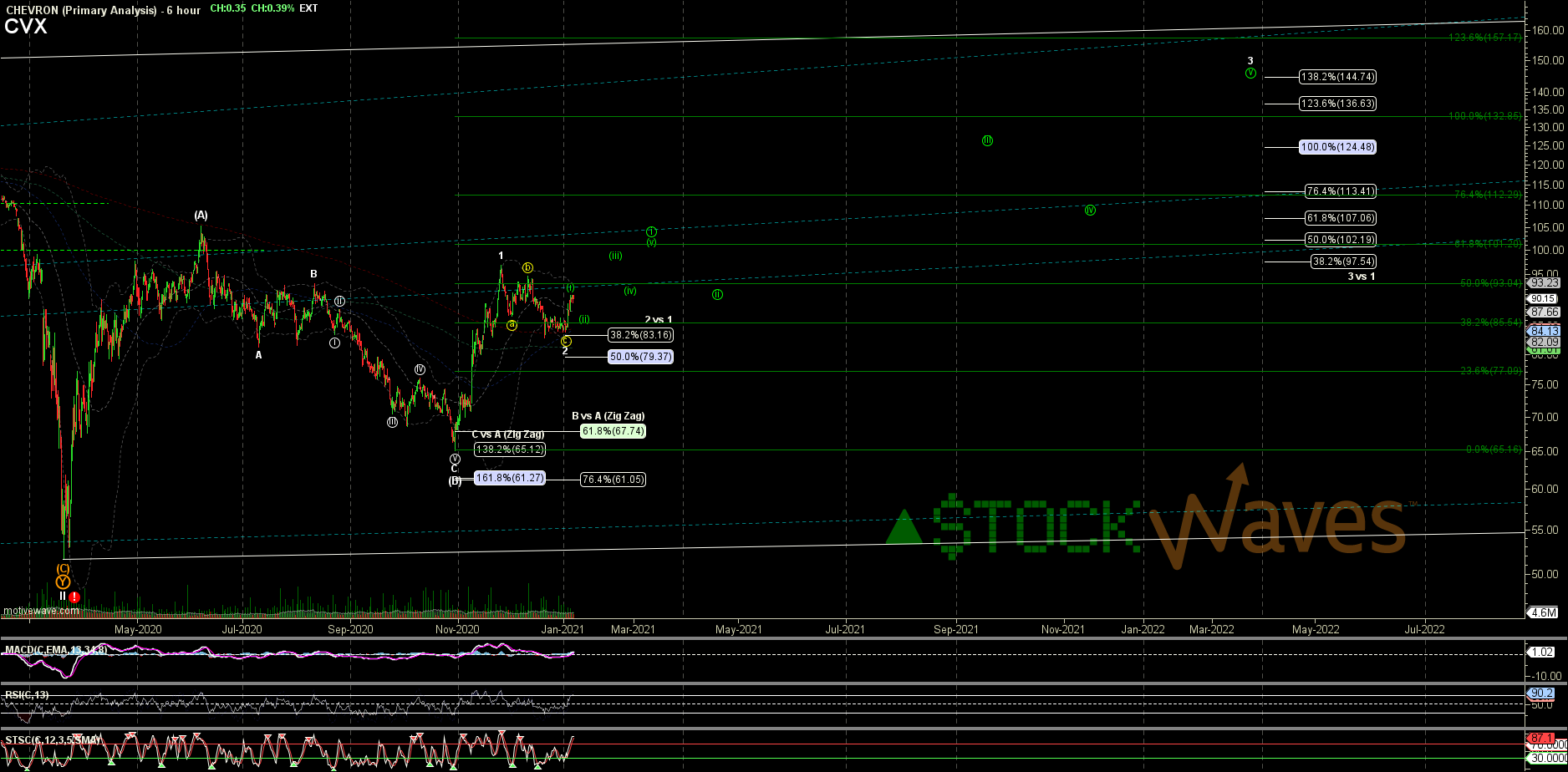 Marathon Petroleum (MPC) is our next pick for the Dean's Honor List. The ABC into October is not as text book here but the initial move off March 2020 is more clearly 5up so we are more comfortable calling this a (1)-(2), additionally the B of (2) made a higher high over (1) implying a very bullish underlying trend. The strong wave 1 went right to the .500 of the yellow Fib extension for (3) and it has retraced close to the top of that ideal zone. Like the XLE chart there might be an opportunity to fill out positions a bit more with a short-term fade back down toward 36s as the c of a wider 2, but much over the 46 region and the 3 is likely starting. The next target for the wave 3 of (3) is the yellow 100% Fib at 78. Current dividend yield is 5.40%
(MPC 1/08)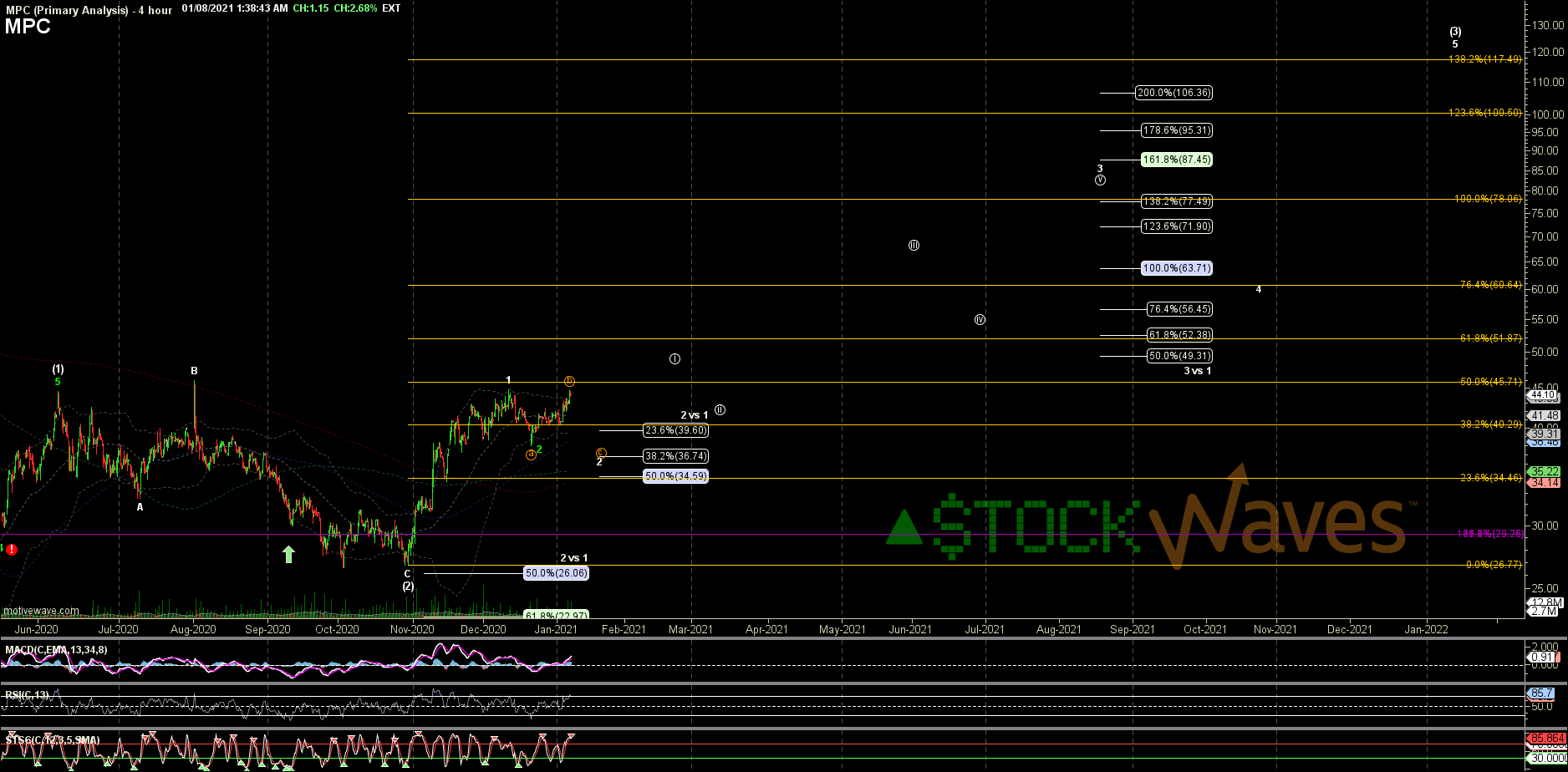 Kinder Morgan (KMI) might compete with CVX for perfect subwaves inside the C-wave. It retraced a bit more than both CVX and MPC, but like MPC counts best as a (1)-(2). That means the 138.2% extension for (3) is the standard target with wave 3 pointing to the 100% at 21.88. The vth of 1 getting a tiny bit higher would have been more ideal but also like CVX it has a more reliable retrace for 2 already. Current dividend yield is whopping 7.31%.
(KMI 1/08)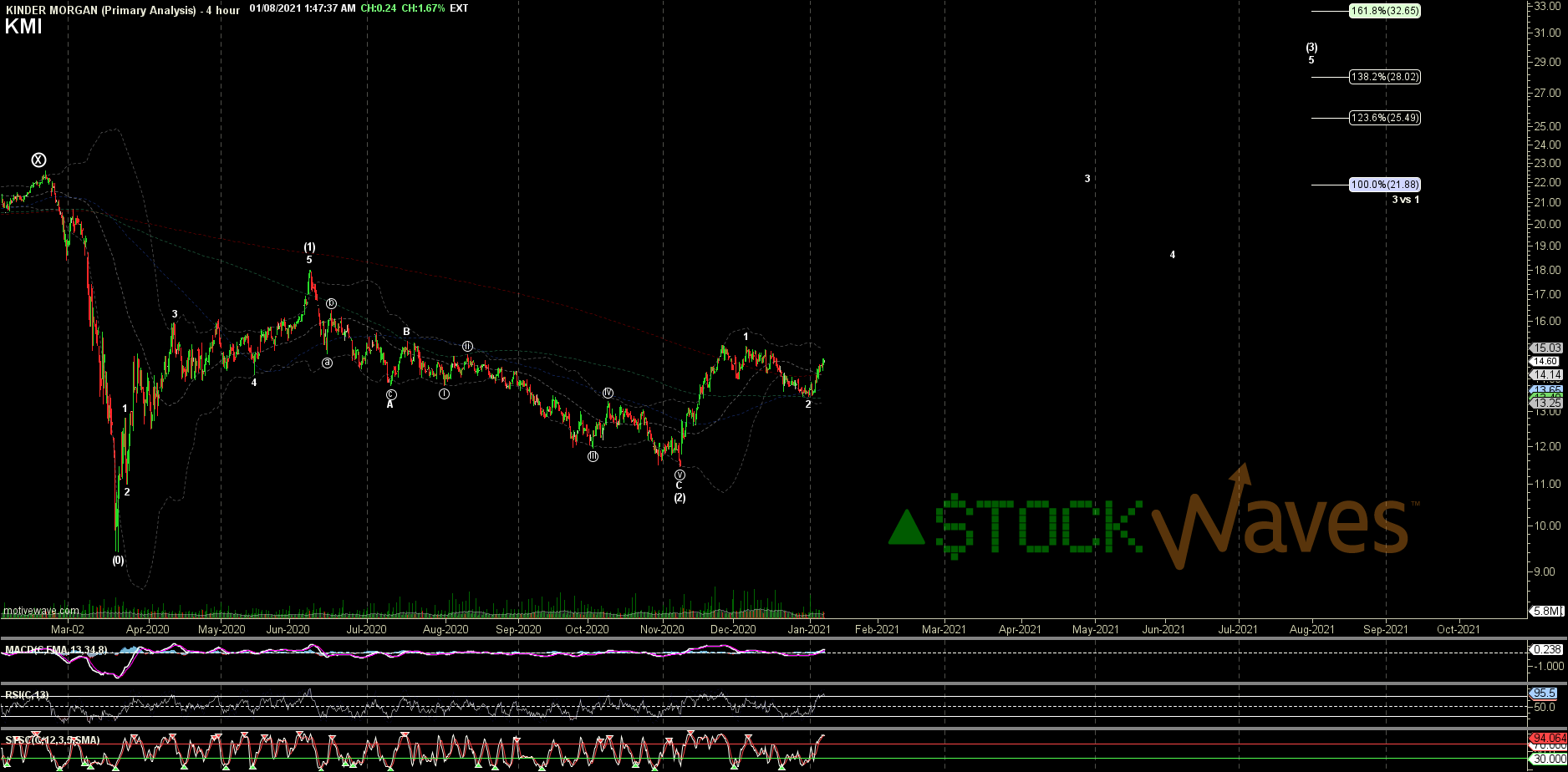 Hess Corp. (HES) is another great (1)-(2) candidate. Since the wave 1 of (3) here went all the way to the .618 of the yellow Fibs it's more probable now that the 3 of (3) will target the 123.6% (instead of only the 100%) and then the 5 of (3) will head to the 161.8% rather than the more standard 138.2%. Those Fibs translate to 101 and 141 respectively. Since those targets are based on the larger degree FibonacciPinBall projection for the (3) even if HES were to attempt more of a 2 they would remain unchanged. HES does not look like it's going to attempt more of a 2 though, it's already advancing not only beyond the top of 1, but also past the .618 making it far more probable that it is starting the i of 3. Current dividend yield is 1.67%.
(HES 1/08)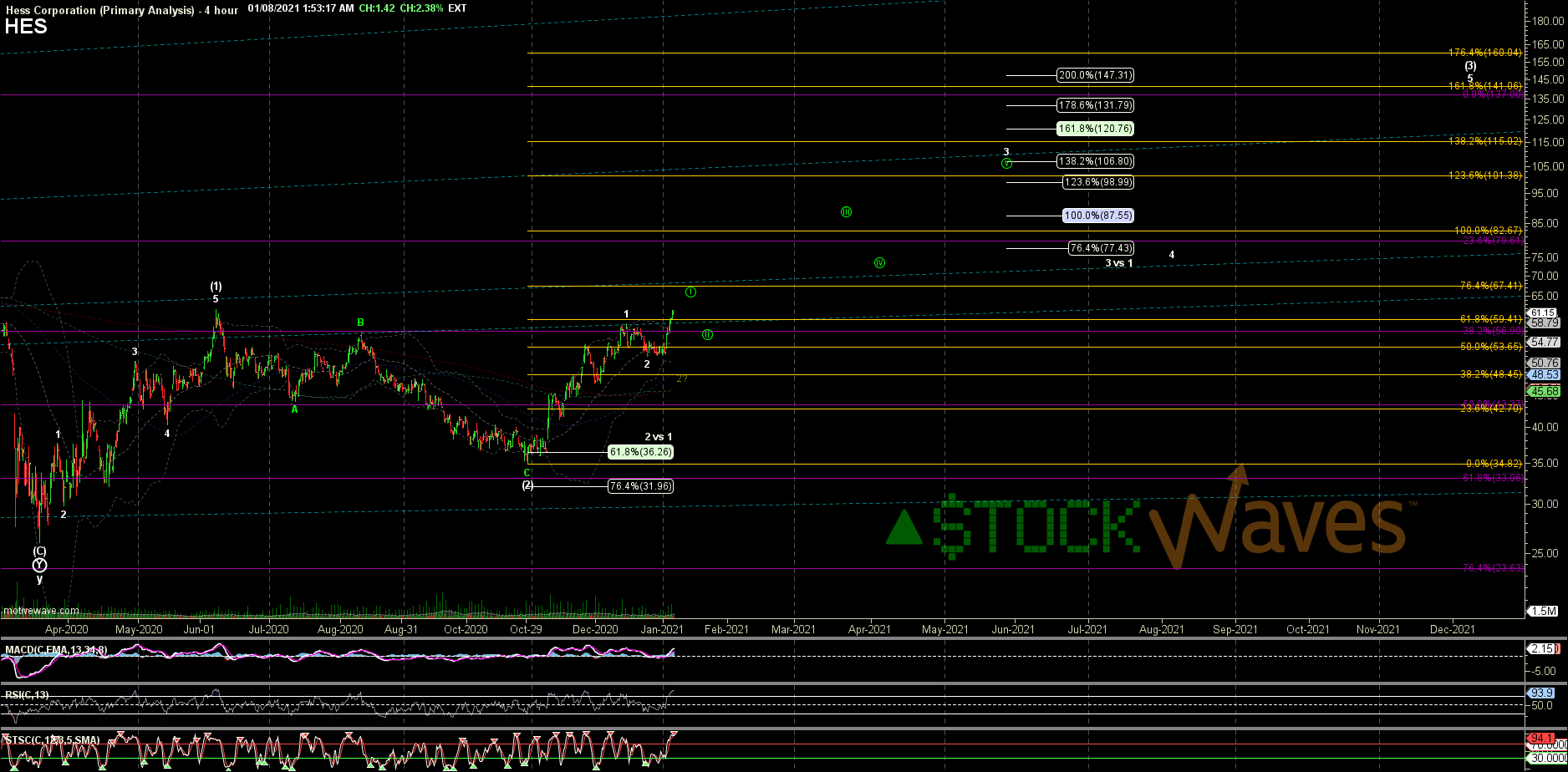 I have learned a lot from our Resident Options Guru, Leo Valencia, who runs the Gamma Optimizer service at EWT. When I saw on December 1 that June 80/85 vertical spreads were priced at only .26 I might have mentioned it a few times. Leo's general rule-of-thumb is that anything under $1 is a great deal for a 5 wide spread, and under .50 is stellar Risk - Reward. These have already grown to .69 and this move is just getting started. I trimmed some recently as per original plan and will look to trim more into that 80-85 zone ideally in April and then roll the rest further out in price and time. This "juice" more than made up for its less stellar divy.
EOG Resources (EOG) much like HES is advancing enough past the .618 and prior top of 1 that it should certainly have starting its 3. Even though I'm still counting this as a (C .) wave up based on some ambiguity inside the "(A)" and how deep the (B) faded, it easily projection past the 138.2% extension shown. Wave 1 hit the .618 so PinBall suggests that the 3 will target the 123.6% extension at 90.72. Current dividend yield is 2.72%.
(EOG 1/08)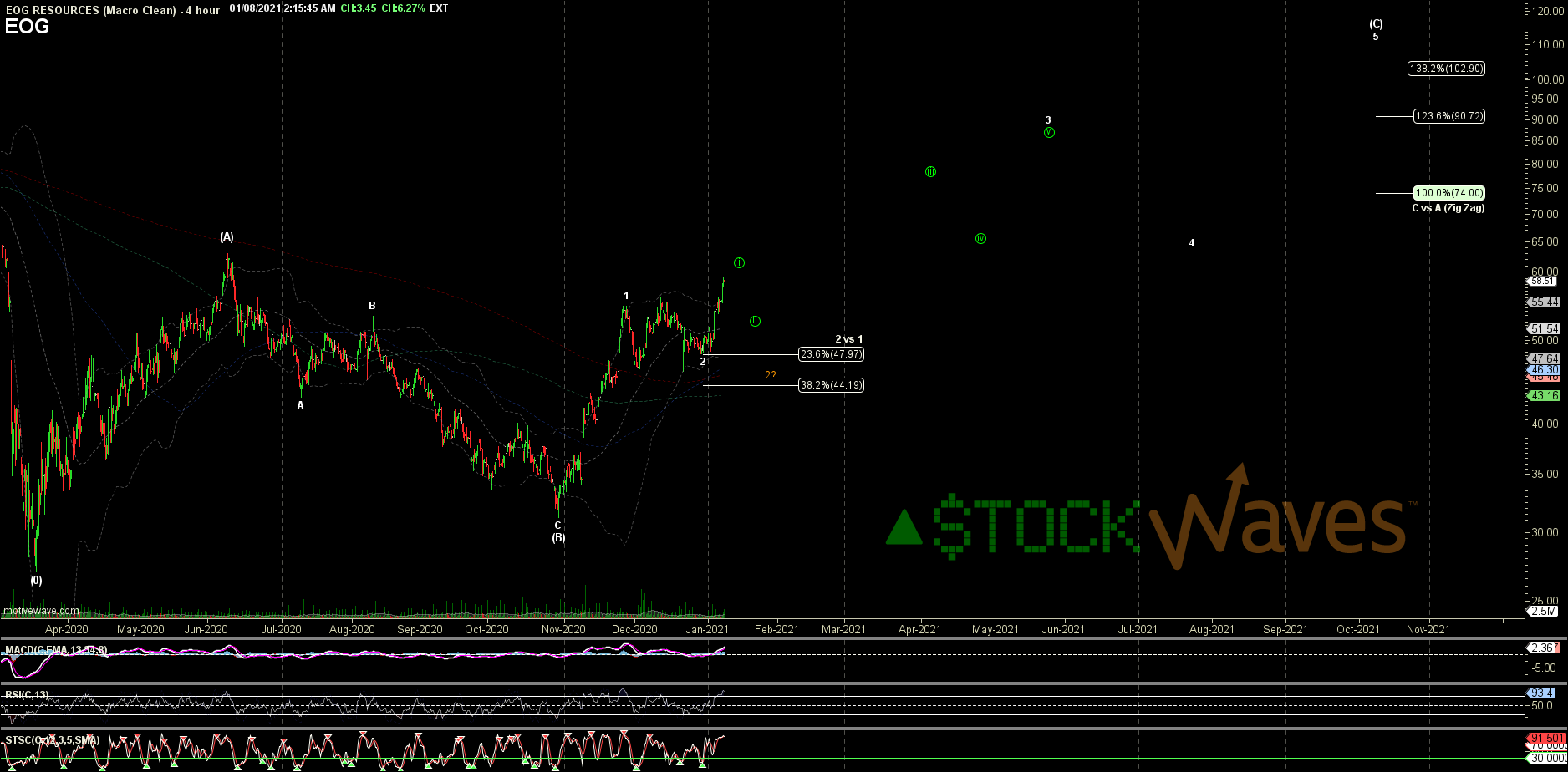 ConocoPhillips (COP) as our next pick is another great example of a (1)-(2) and 1-2 start to the (3). We can easily see 5up in the 1 and while only reaching the top of that ideal zone for 2 we have a distinct 3down flat consolidation as an "abc." The 100% extension would our 3 of (3) is heading is at 68.69, and the 138.2% for (3) is at 97.41. It has not advanced as much, but if it were to attempt more of the 2 from here it would likely hold the 37 region. Not only is that the region of the recent low, but also the 100 and 200 Day Moving Averages. Current dividend yield is 3.95%.
(COP 1/08)
Our last pick in the 2021 Stock Waves Large Cap Energy Draft is Valero Energy (VLO). Shown here as a (C) wave, mostly due to the deep (B), the wave 1 hit the .618 so we are looking at extensions for the rest of the 3-4-5 more in-line with that of a (3). The current 2 is shallow so we should allow for an attempt still toward 49. But as discussed on other names above, 62.74 is the .618 pushing past that now would likely act as a "pivot" and make it more probable that the 3 is starting with a target of 111.08. That is over +85% from right here! But the risk is a possible short-term dip of -18-20% first. Current dividend yield is 6.69%.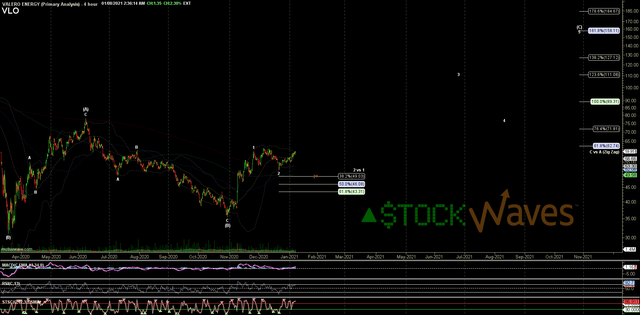 Due to the longer-term potential and the nice dividends on these I am happily sitting in shares but looking for a few more opportunities to add. Many do have very nice liquid options as well allowing for some trading around core positions.