PTY: Unique Buy-The-Dip Opportunity For This 8.0% Yielder
PIMCO Corporate & Income Opportunity Fund (PTY) with a current yield of 8.0% pulled back significantly after reducing its dividends. Investors dumped the stock because they thought it was not covering the dividend.  In fact, it has been fully covering its dividend and has routinely outperformed the coupons of its holdings.
This isn't the first time PTY reduced its dividend. In 2006, it cut the dividend to $0.115/month and didn't raise it back until 2012. The period where PTY's dividend was reduced was a period of dramatic outperformance.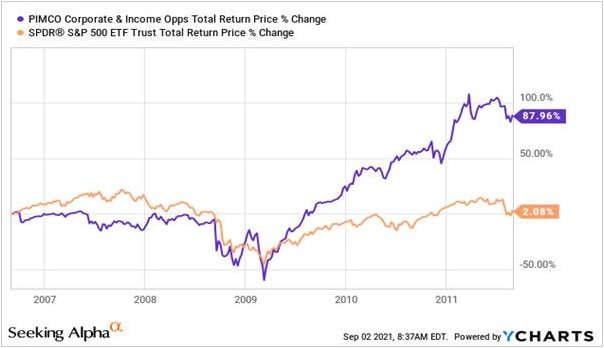 Reasons to Reduce the Dividend
Preserve/build NAV - "NAV" is the muscle that a CEF has. What is a CEF without assets to invest? By reducing the dividend, a CEF will see its NAV climb faster, because it isn't paying out as much. NAV goes up, and the share price usually follows. The higher NAV is, the higher the earning power. Since the dividend comes directly out of NAV, the manager has some control over how high NAV is by changing the dividend.
Preserve/build cash - In investing, there are times to be pushing the limit and be fully invested, and there are times to back off and build cash. PTY is a fixed-income CEF, it invests in bonds. Bonds are very expensive right now and it doesn't take a time machine to know that they will likely come down. When there are potential opportunities on the horizon, it is best to build up some cash so that you can take advantage of them when they arise. In 2006, PTY cut the dividend in anticipation of a volatile bond market. In hindsight, it was a brilliant decision that served shareholders well when the collapse came, though I remember PTY shareholders being upset back then too.
A Unique Buying Opportunity!
PIMCO has developed its reputation by being wise stewards of shareholder's capital and making decisions that are best for the long-term total return. What is best in the long-term, isn't always popular in the short term. I have complete faith in the management of PIMCO.
I personally have added a large number of shares last Friday following the big dip, and am prepared to buy some more in case the price sees any further pullback. Today, the yield is close to where it was before the distribution reduction so any downside risk should very limited.
PTY is a great pick I have held, and added to, for decades. I love when the market turns bearish, as it is an opportunity for me to add more shares at cheaper prices!
It is only a matter of time until the price recovers in my opinion, as the hunt for yield continues!