Nightly KISS Report: CPI Timing Catalyst, Waiting For A Decisive Range Expansion
Wednesday played out as another consolidation/balance session. For the past 3 days, price is repeating the same pattern of morning selloff into prior day's low area and then noon bounce into resistance. Basically, grabbing liquidity on both ends of the range and then not doing anything decisive for the closing print
The price action continues to consolidate within our pre-determined range of 4550 resistance on the Emini S&P 500 vs. 4490-4500 support on a daily closing basis. If you recall, these are the exact parameters from the weekly report.
Going into the CPI timing catalyst today, nothing has changed in the overall parameters; the market needs to answer the same questions from the weekend report. The market needs a daily close above 4550 or below 4490-4500 in order to expand the range further. Otherwise, we will remain stuck trapping both sides before the eventual big move.
Immediate resistances are 4525/4535/4550 with the latter being the key resistance for this week given last week's decisive breakdown below that multi-day support
If intraday momentum persists, a break and hold above 4550 opens 4565/4580.
Immediate supports are 4490-4500. Break and hold below it, then 4473-4465 next zone. (For reference, Tuesday + Wednesday temp lows = ES 4482 and 4478.25)
If intraday momentum shifts, a break and hold below the 4473-4465 zone, opens the 4410 July monthly low area (major support)
Bonus: traders also need to observe NQ, it tested 15140s low yesterday, which came very close to its July monthly lows of 15060s-15100s. Need to see if responsive buyers continue to defend this area or they fail. An important reference point to gauge momentum and react accordingly.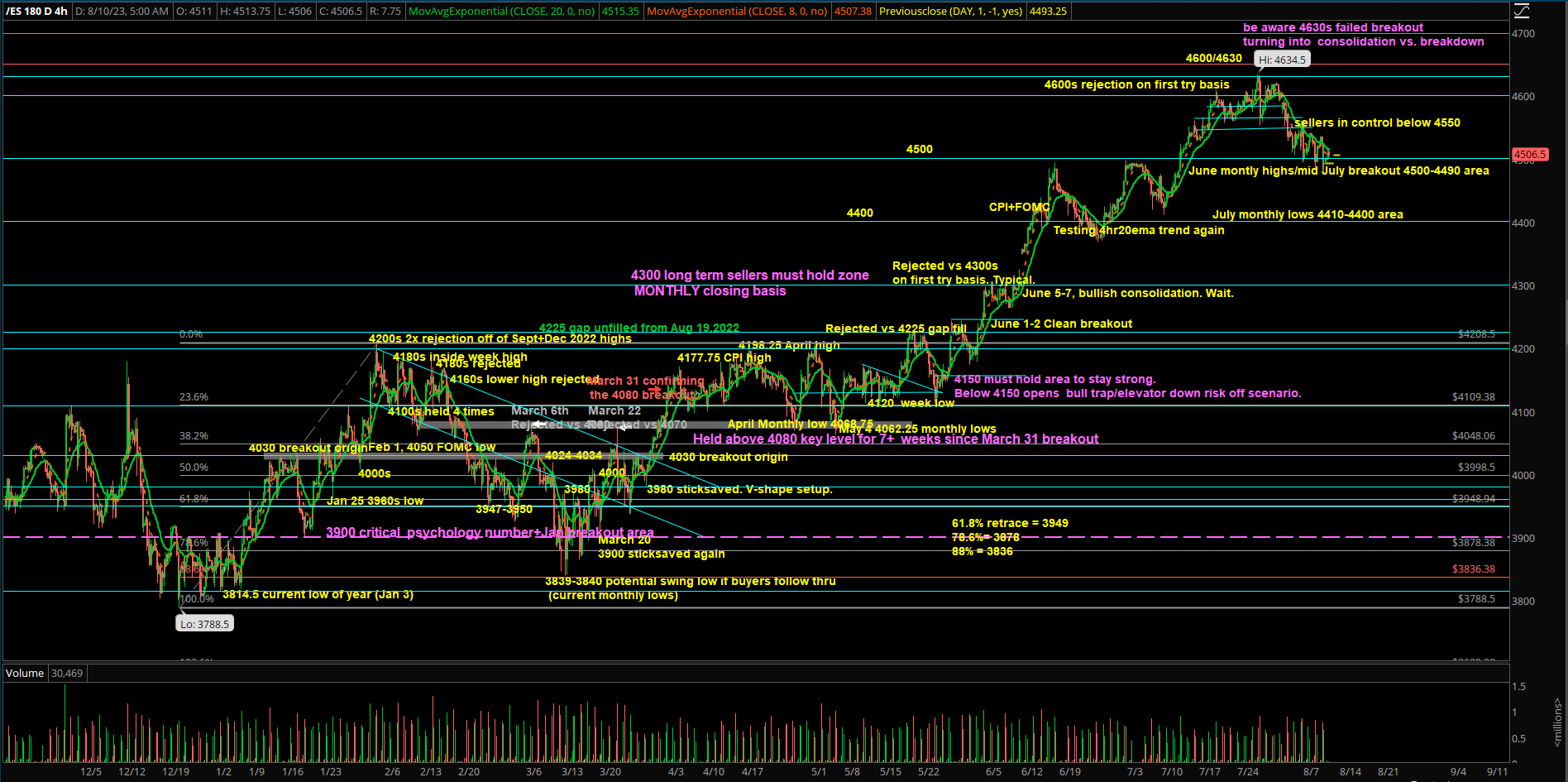 ES AUG10_REVIEW2023