Nightly Crypto Report: Winding Up
General
Bitcoin and Ether are pulling back within their bearish counts. As long as this rally is corrective it is viewed as a windup for the next drop. 
Bitcoin
Bitcoin is deep in the resistance level so I am watching for a setup to short. Given that we are looking at a diagonal it would not be strange for it to break resistance and hit or slightly breach the upper channel as drawn. Either way, if a bearish 1-2 setup shows during my waking hours, I will go short MBT.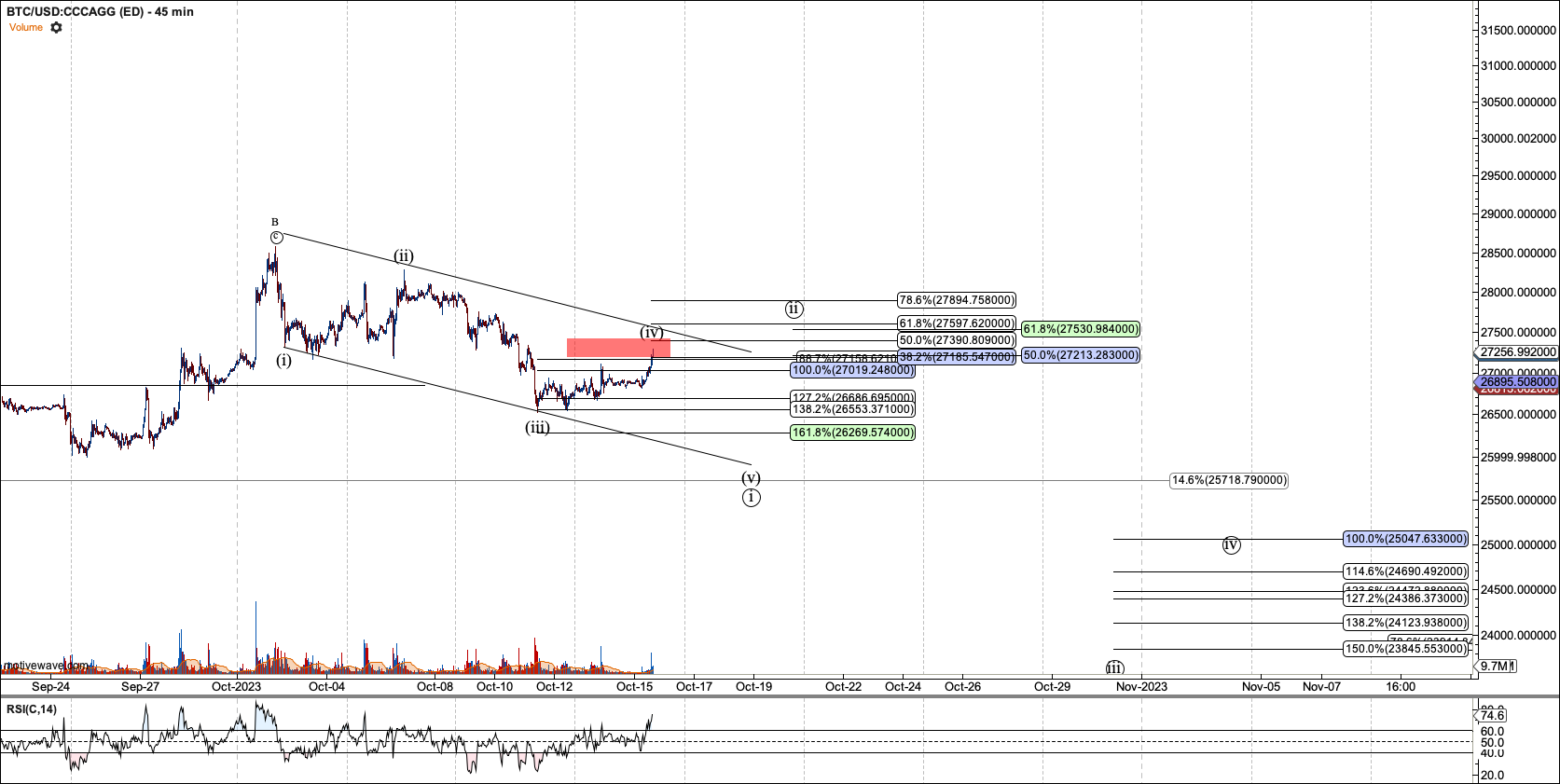 Ethereum
As expressed in this weekend's webinar, I was increasingly uneasy with my microstructure. I like a diagonal as shown better. It changes very little regarding the target. However, I can suggest that it is likely to hit the higher end of my micro box in the $1400 region rather than drop to $1325 on the lower end of the box. 
This B wave of circle-3 can go as high $1650, though it would be better if it tops by $1640.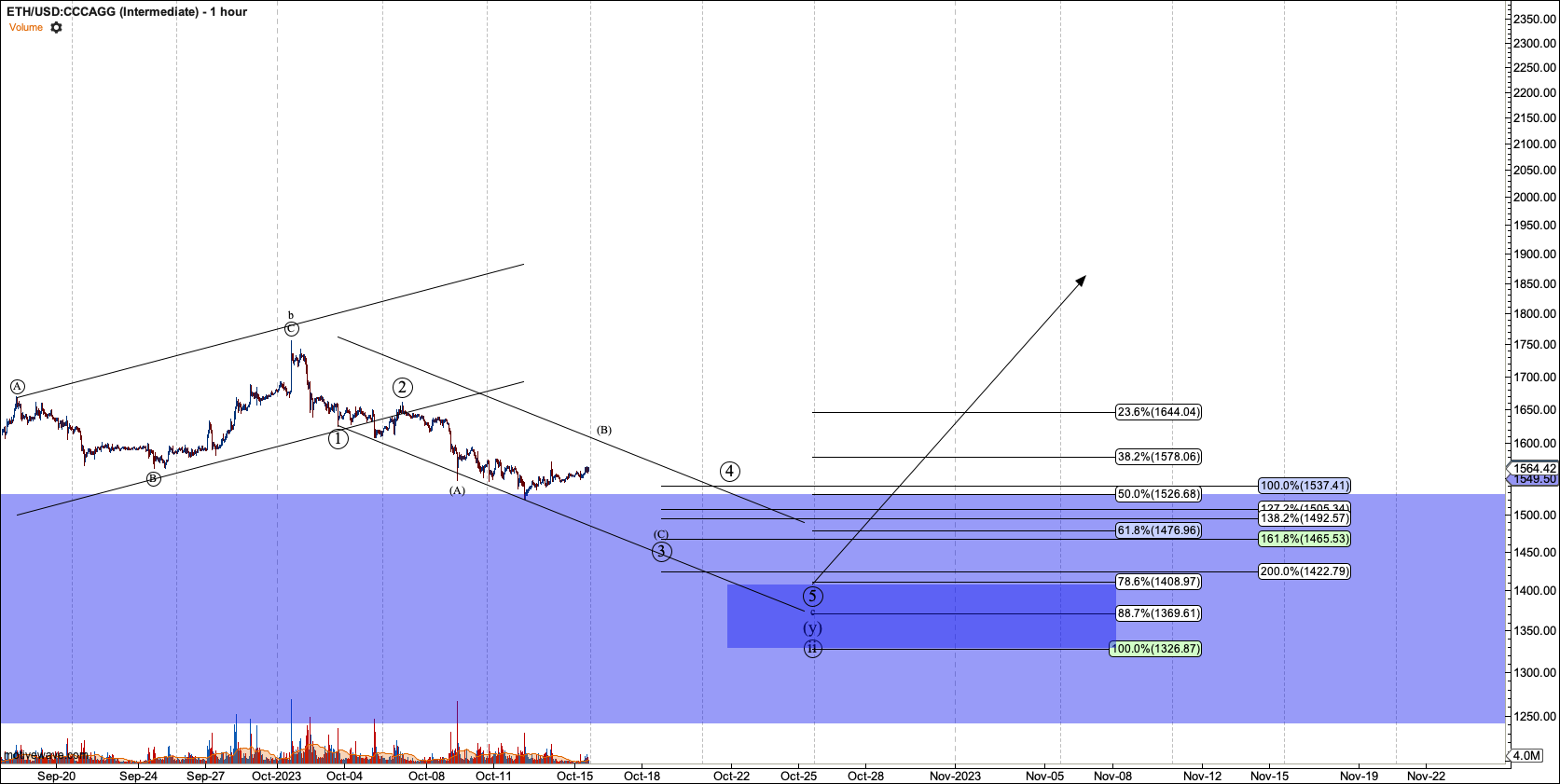 ETHBTC
I removed the red count and expect this pair to test support at 0.055. If it sustains below 0.055, 0.036 is the next level of support.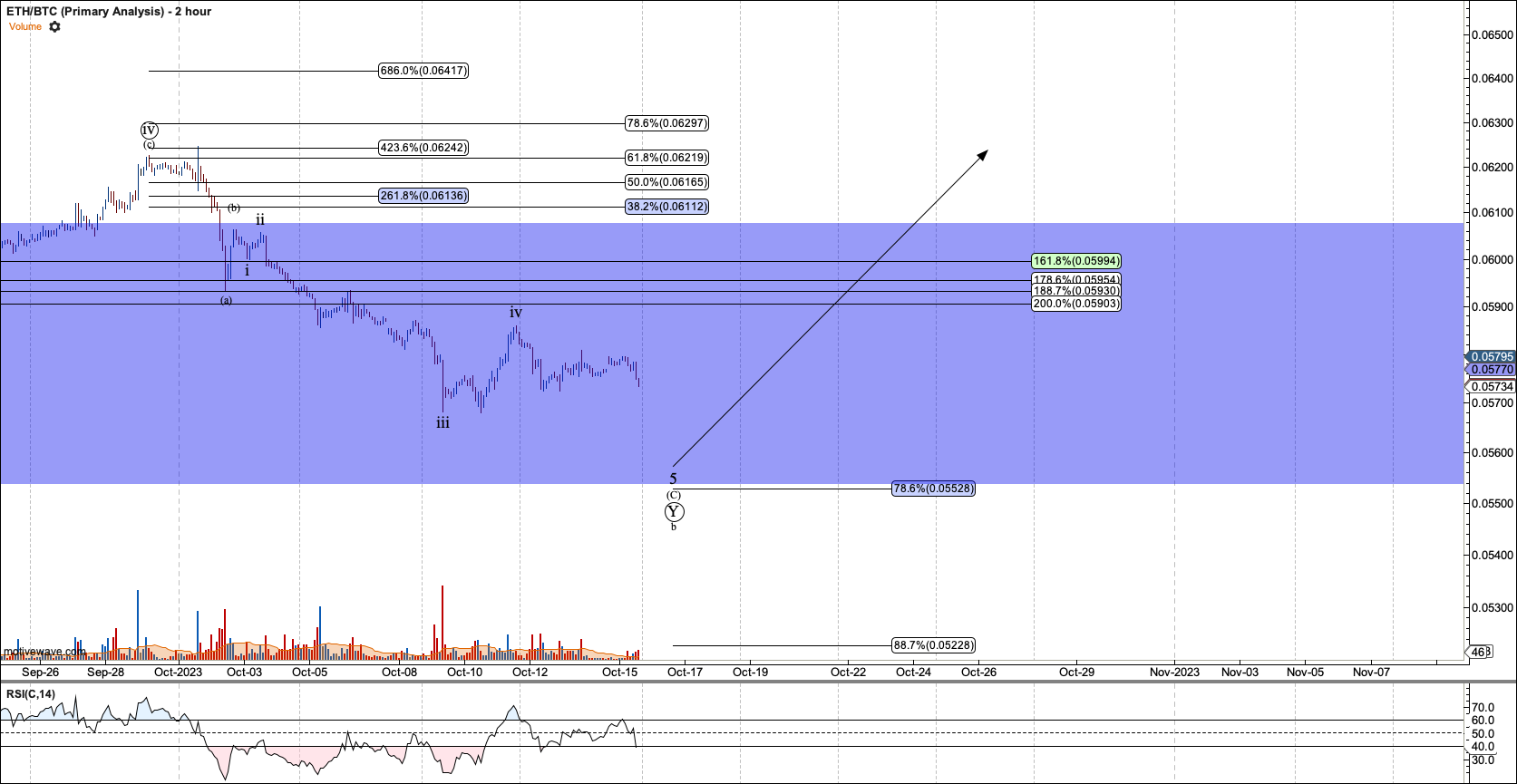 GBTC
GBTC will be covered tomorrow when the stock market opens.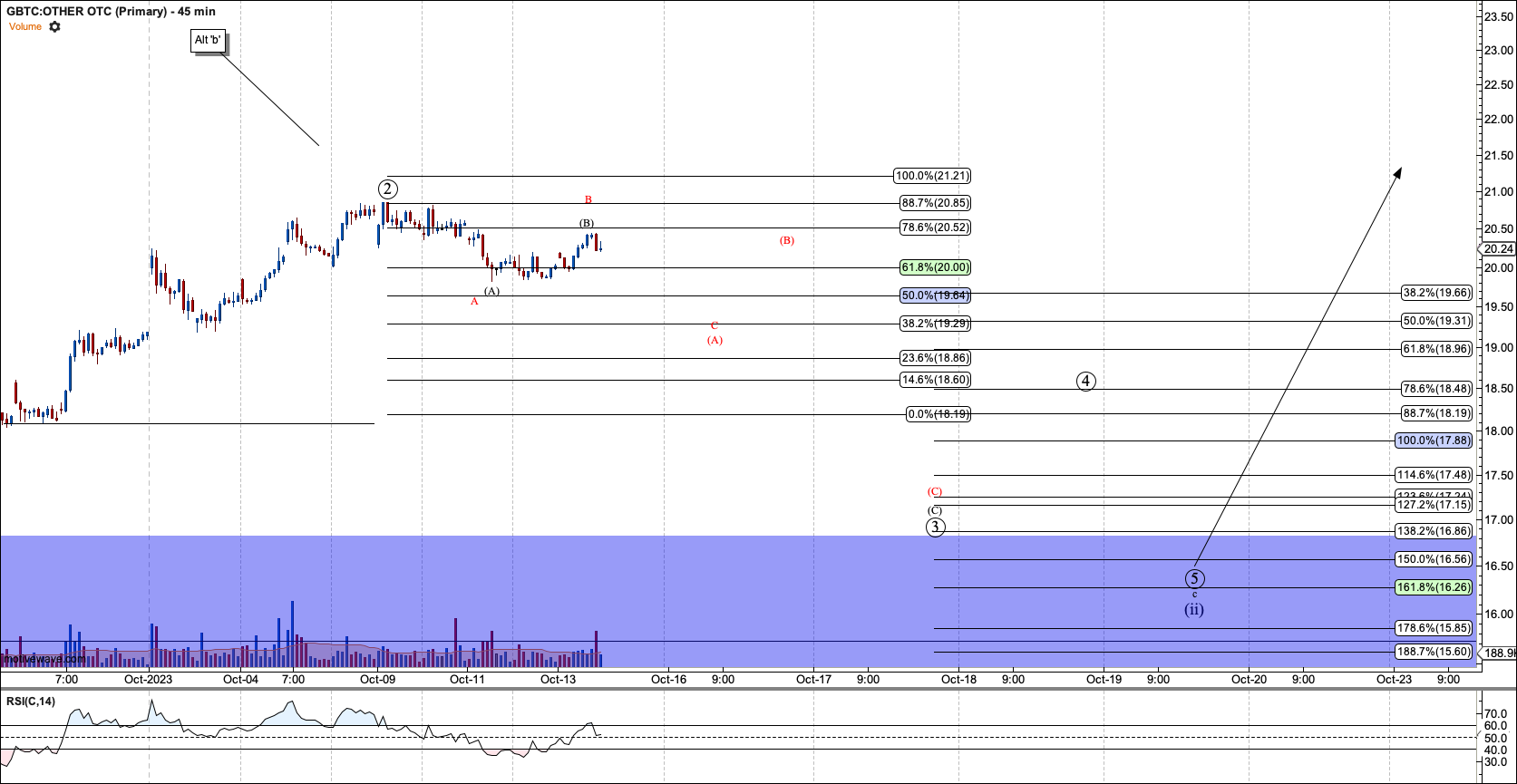 Intermediate Views
Bitcoin Intermediate
Bitcoin is in a bullish cycle that should take it to the $125K region, as long as over $17,800. The routing that crypto experienced on August 17th. 2023 dropped through micro support, leaving only the critical .764 retrace of the entire 2023 rally at that $17,800 level.
I debate internally whether the move to $125K should be five waves or an ABC. The question is whether the move off the 2018 low is an impulse or a diagonal. It has characteristics of both, so I am tracking both potentials.
If $17,800 breaks, I expect a breakdown to at least $7K before another bullish cycle starts.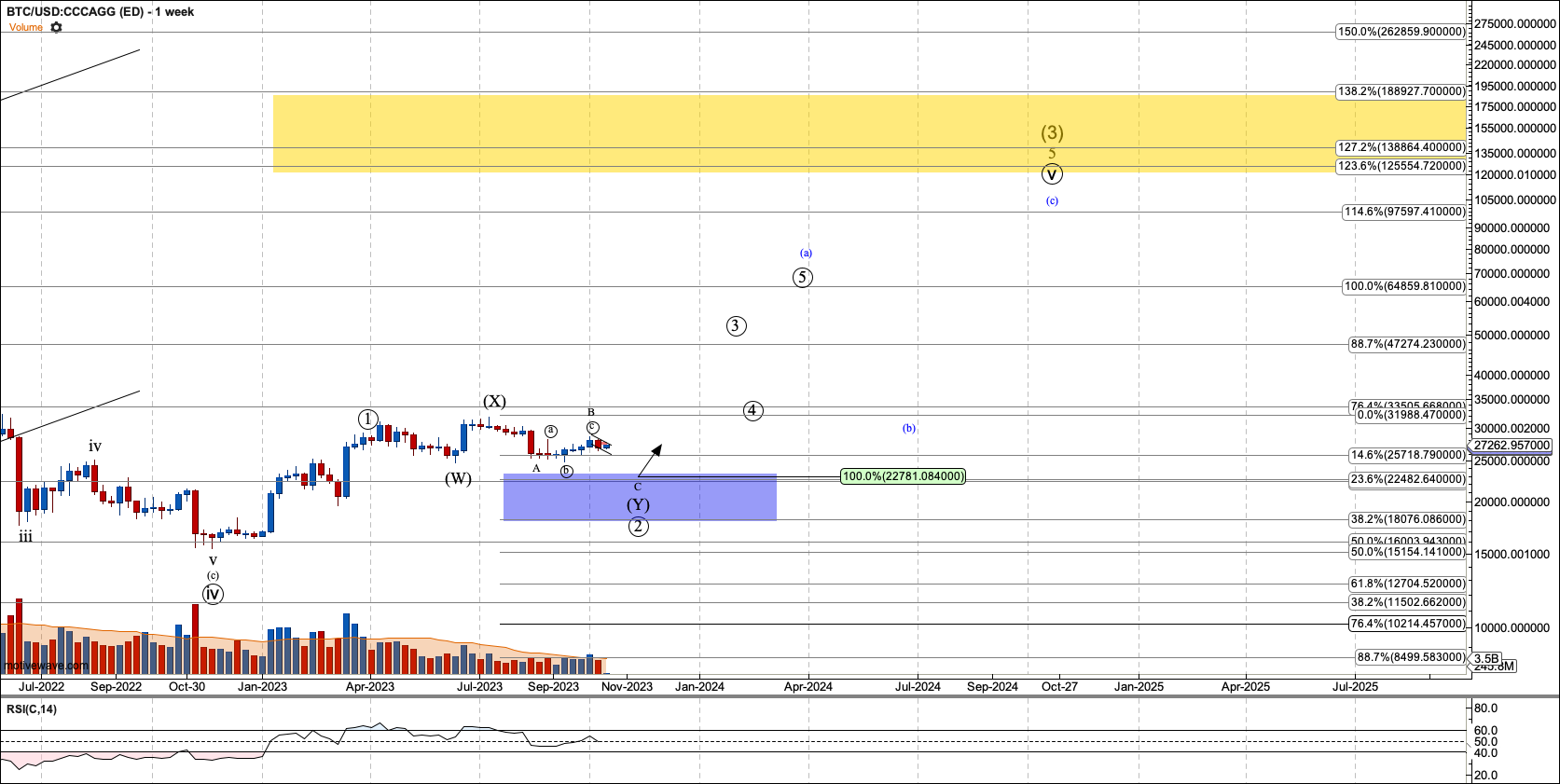 Ethereum Intermediate
Ether is in a bullish cycle that should take it to $10,500 provided it holds over $1250. Where Bitcoin doesn't have other support between $17,800 and a bearish cycle, Ether has one support level below $1250. That level is $675, the 50% retrace of the third wave off of the 2018 low. However, at this point, I consider that support level less reliable than $1250. And, if $675 breaks, Ether should drop to $300 before another bullish cycle can begin.
GBTC Intermediate
As long as Bitcoin is over $18K, I expect GBTC to rally toward $100 in a fifth wave. Unfortunately, this leaves us with an expanded diagonal, a very uncommon pattern. I can chalk it up to the deep discount to NAV in GBTC. Breaking $5 invalidates this count, and makes the red count the only remaining candidate for a functional bullish long-term count.