Nightly Crypto Report: Trying To Push It
Key levels:
Bitcoin has now sustained under $24K to confirm that the next daily target of over 100K should be the last high before an extended bear market. Breaking $24K also opens the door to $10K and $3K, suggesting this bull cycle is already over. However, so far the micro doesn't support those low levels.
Now that Ether has broken and sustained below $1074 I view a high at $10K plus as the terminal move in the bullish cycle that started in 2018. Now, it must hold $675 or the door opens to a longer bear market and risk of seeing the 2018 low at $83 taken out.
GBTC confirmed it is in a diagonal at best and must hold $5 or will present a three-wave top in this bullish cycle off the 2018 low.
Short-term Traders:
Bitcoin and Ether are attempting to break out, though it is still possible that they top in high B waves and retest wave 2 support. As I look across many charts I see a rather bullish market. Many altcoins we watch, including BNB and RUNE have high B waves that broke over the previous five wave top. That portends a breakout. And, B waves can morph into leading diagonals to give us a more direct breakout. 
Just note that we are still under key resistance and really need the next degree five wave structure, in almost all charts, to assume the correction is over. 
To remind, the overall trend is down until we have a solid reversal. The necessary steps to a solid reversal are:
1. Did we fill in a full count? We can skip this one if we have steps two and three complete. And, a count short of an ideal fourth and fifth is common in overextended crypto moves.
2. Five waves through resistance. (aka wave 1).
3. After five waves hold over the low, ideally over the .764 retrace of wave 1, in a wave 2.
4. Break over the top of wave 1.
Bitcoin
Bitcoin is pushing against putting in a deeper wave 2. However, in my view, action off the recent low is corrective so a B wave is still probable. If instead it gives us five waves, likely as a diagonal into the $21,400 region my view will be that it set up the red (1).
Regardless, I see this as an opportunity for a short-term long trade by carefully scaling in with a stop at the recent low ($17,100). 
Should Bitcoin move into a deeper wave 2, $18,400 is still support.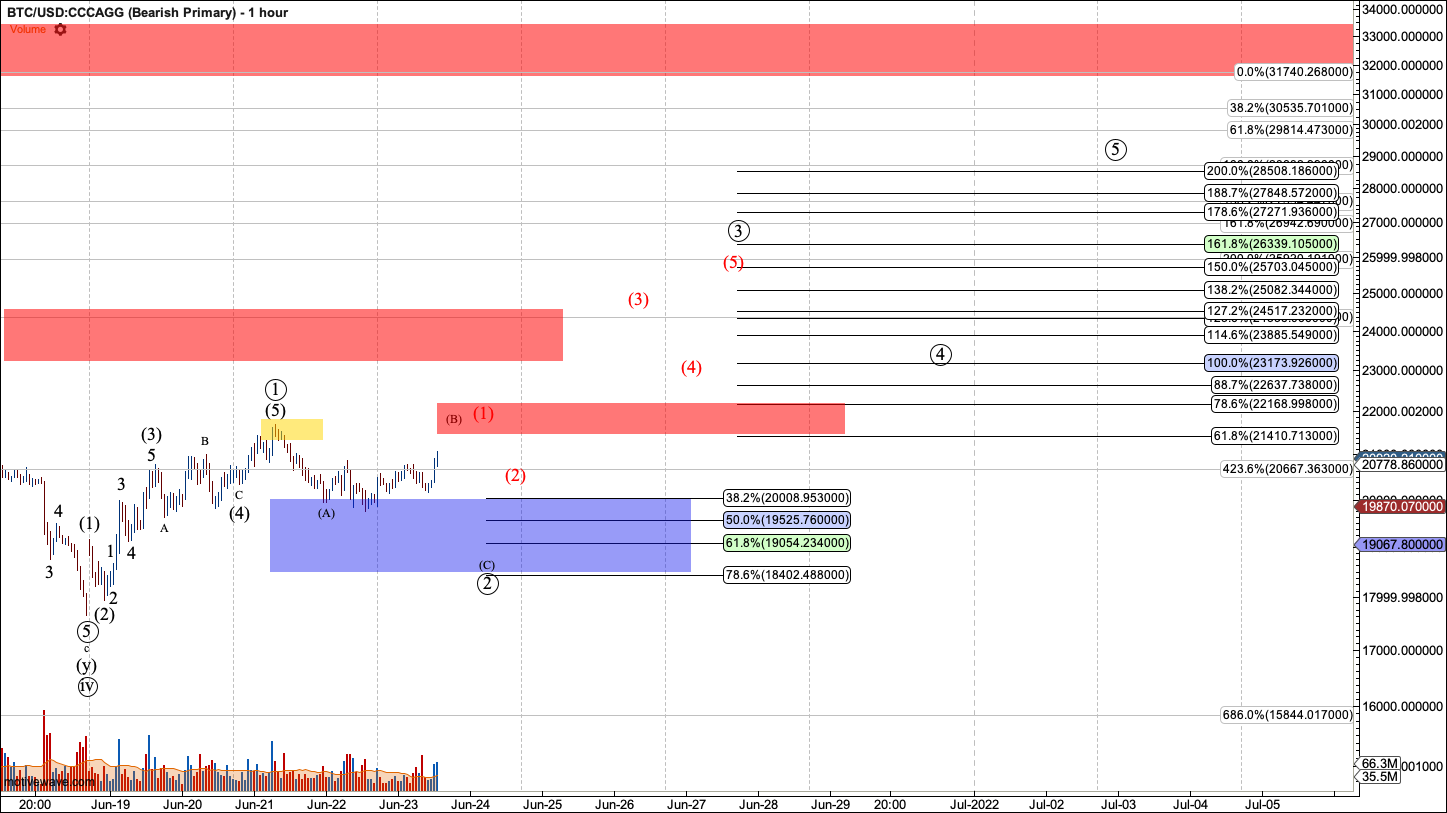 Ether may also give us a high B in wave 2.  However, if it presents five waves to $1250, I'll view it as a leading diagonal for red (1). Should it turn and put in that deep wave 2, $940 is support. 
Like Bitcoin, this is a long opportunity for Ether, as long as you scale in slowly with a stop at the $880 low.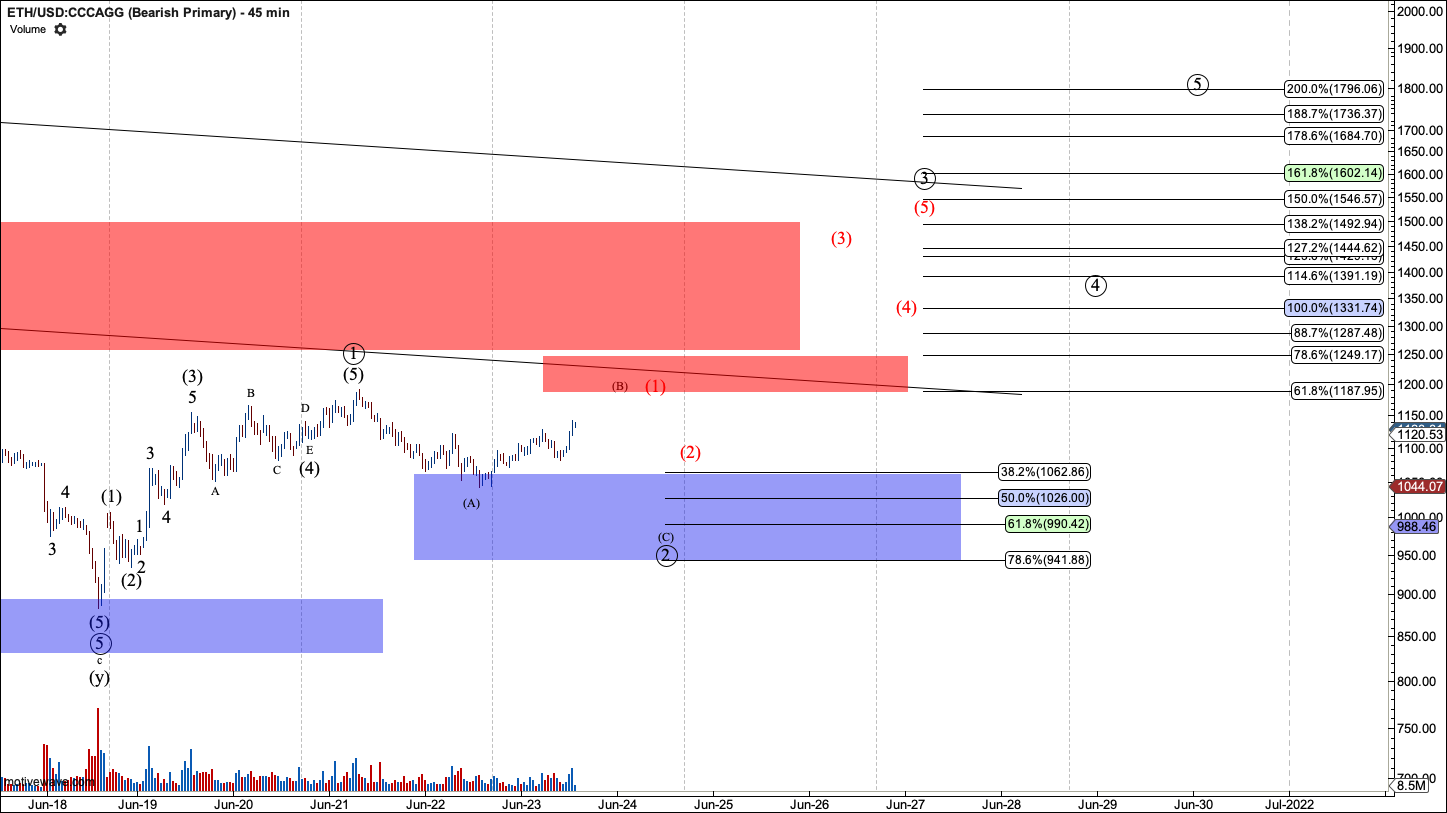 ETHBTC
So far the move off the lows for this pair appears corrective. However, if we see five waves over 0.063 I'll view the lows as in. That may occur as a diagonal. As long as below 0.063, one more wave down to 0.045 is reasonable.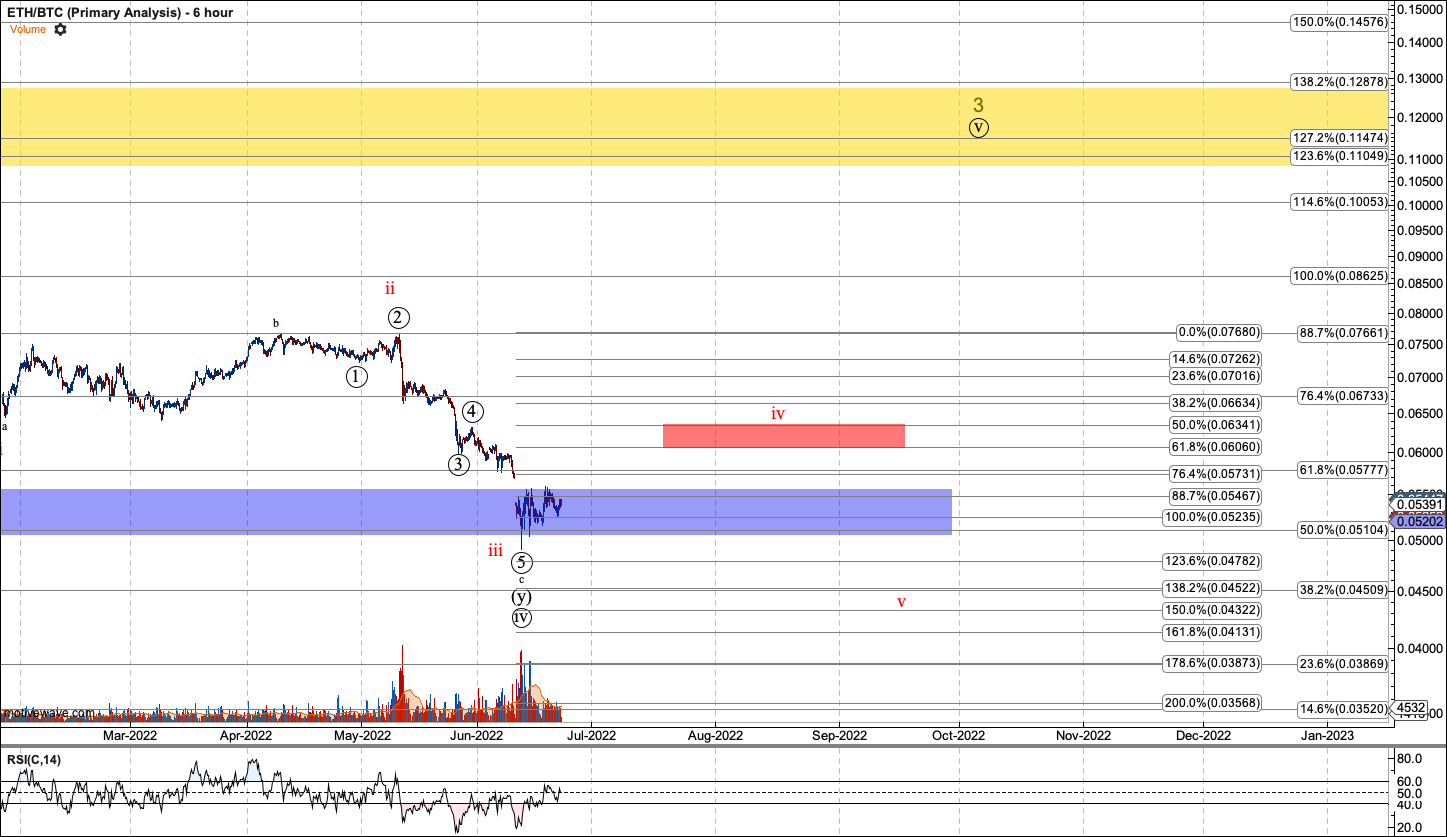 GBTC
GBTC has come off a very healthy wave 2. Breaking over $14.30 should put it on its way in the third. Note that if Bitcoin puts in a lower wave-2 I don't assume GBTC will. It will depend on whether Bitcoin makes its move after hours.