Nightly Crypto Report: Trying To Flush
Bitcoin and Ether are finally dropping out of their days-old ranges. Supports have not changed and each chart still has a little room before even reaching the deep support of their respective red 1-2, i-ii setups. However, in those more immediate setups, rendered in red, both charts can bottom with a couple more squiggles down. 
Bitcoin
Bitcoin is finally breaking its local range and forming a larger pullback. Support for wave-ii is $21,200. If that level breaks, the last bullish swing support lies in the $17K region. $34,700 is the next important level above $30,170 once it breaks upward.
I would be surprised if we see less than a pullback to $24,700, the .382 retrace of wave-1.
Red expresses a more immediately bullish nested-2 setup. While it isn't my preference, it is plausible. However, I personally am not adjusting tactics based on its potential. If it is going to play out, it should hold $24,600 and may hold $26K. I'm giving my more aggressive trades room down to $21K.
I attached this more immediate setup to the red count but the immediate setup can kick off a third in either count.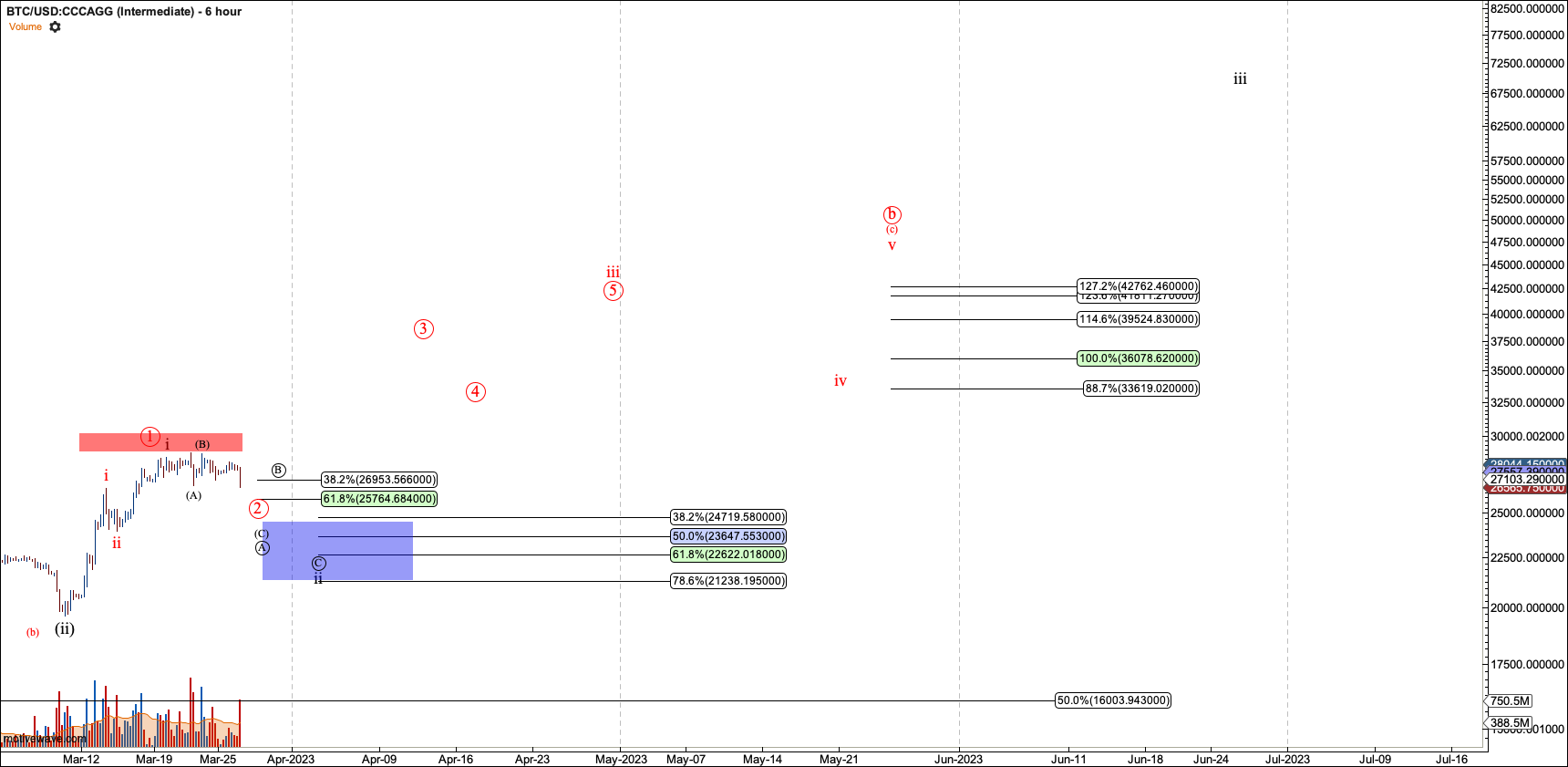 Ethereum
Ether is slowly pulling back in wave-ii. $1450 is support. However, if it turns and breaks through $1975, I will no longer expect a more substantial pullback than the sideways micro action we've already seen.
Breaking below $1450, brings $1200 support into focus. Over $1975, $2230 and $2470 are the next key levels.
Zoomed in, we ideally get a hit on $1650 at a minimum. That is the .382 retrace of wave-1. It is possible that it subdivides deeper, toward $150 support.
The same 1-2, circle-i-ii setup can exist in Ether. It is shown in red but can exist as a sub-wave set in the black count. From here, it should hold $1660.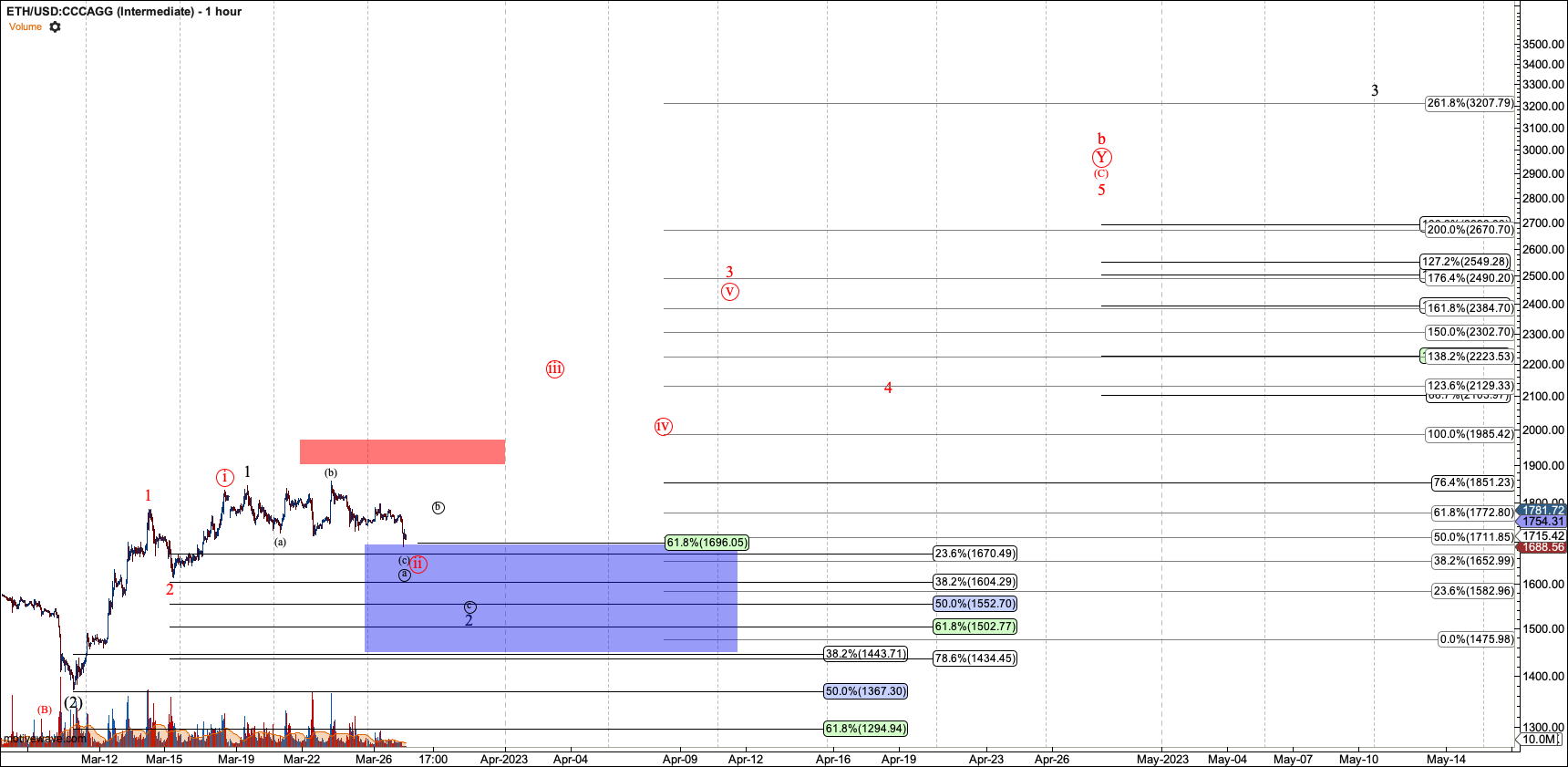 ETHBTC
ETHBTC may have topped in wave-2 of (3). I also see circle-c as a potential diagonal and its forming a B-wave triangle for B of (3), shown in red.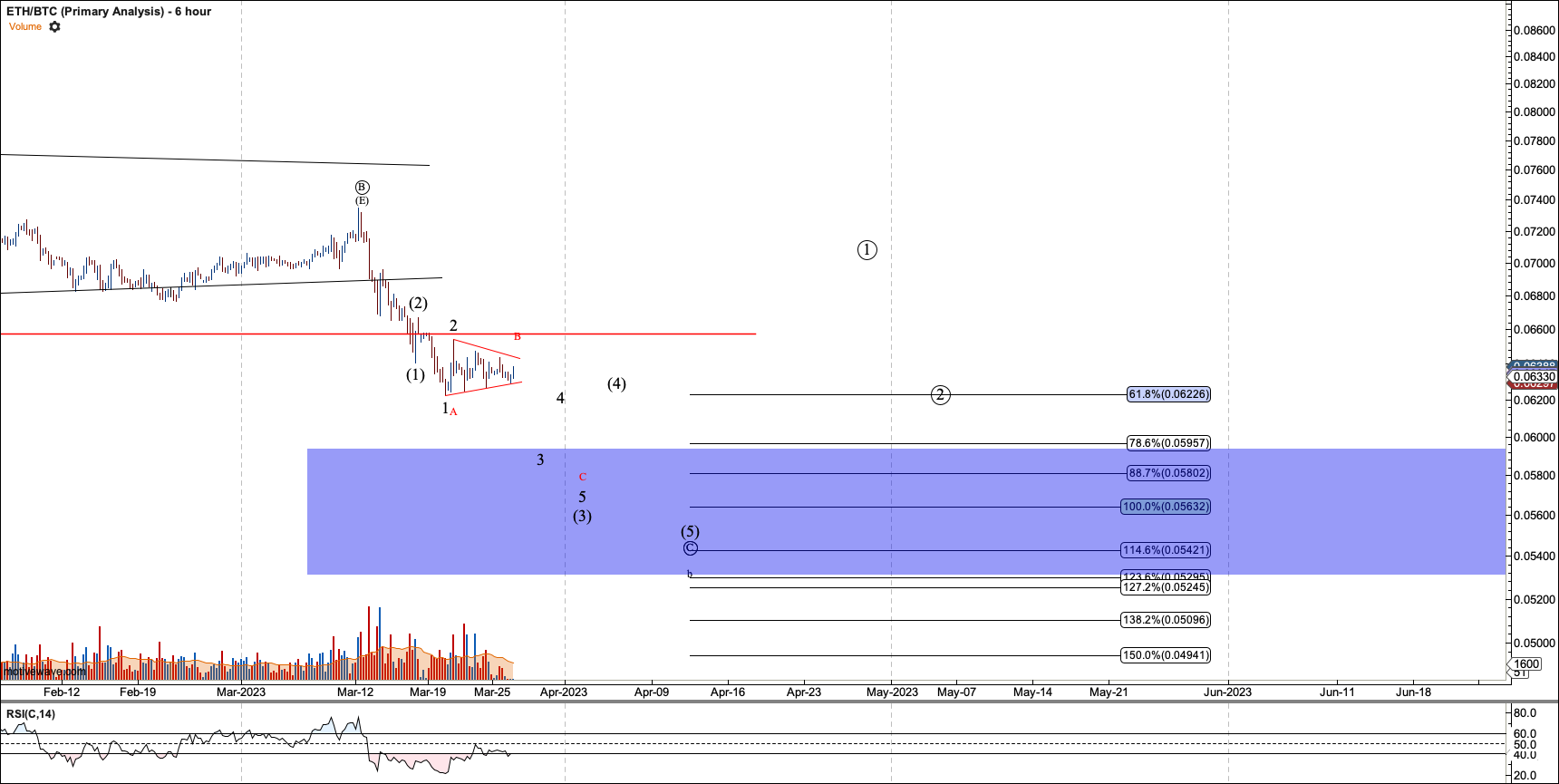 GBTC
GBTC is still holding the potential red count with support at $14.70. But the fourth in the red count morphed into a flat if it holds. The triangle I was tracking was invalidated.