Nightly Crypto Report: Flailing and Failing
Flailing and Failing
Long-term Traders:
Intermediate charts and write-ups are included on Sunday's reports.
Housekeeping:
I will post the altcoin and equity report tonight.
Key levels:
Bitcoin: The daily chart trend is considered down below $24,600. If Bitcoin sustains below $16,000 the door to a much longer bear market opens with the following support levels: $10,000, $3000, and $1800.
Ethereum Supports: The daily chart trend is considered down below $1440. $675 needs to hold or the door to a much longer bear market that may not find a low until the $80's.
GBTC Supports: The daily chart trend is down below $20. GBTC already broke impulsive support off the 2019 low, confirming it is a diagonal at best.
Short-term Traders:
General
Note that tonight is the merger around 9pm Pacific. I plan to stay up for it and I'll be on the board. I'm curious to see if it increases volatility. 
Bitcoin, being consistent with its behavior in the second half of 2022, is starting to fail at holding the bullish red setup.
Bitcoin
$19,400 needs to break for me to remove the red count. However, we now have five waves into $19,600. That leaves very little room for a B and C wave, after red (A). From this low, Bitcoin needs to rally through $22,100 to give red a chance. The black count is favored, but not confirmed.
Note that I had to move black wave (1) back and mark the bottom as a low B-wave. This is the only way to make the current setup bearish. Though this isn't forcing an unreliable count, provided Bitcoin breaks and sustains below $19,400. 
The bottom line is we have two pivots: $22,100 above which Bitcoin can break out, and $19,400 below which Bitcoin should break down.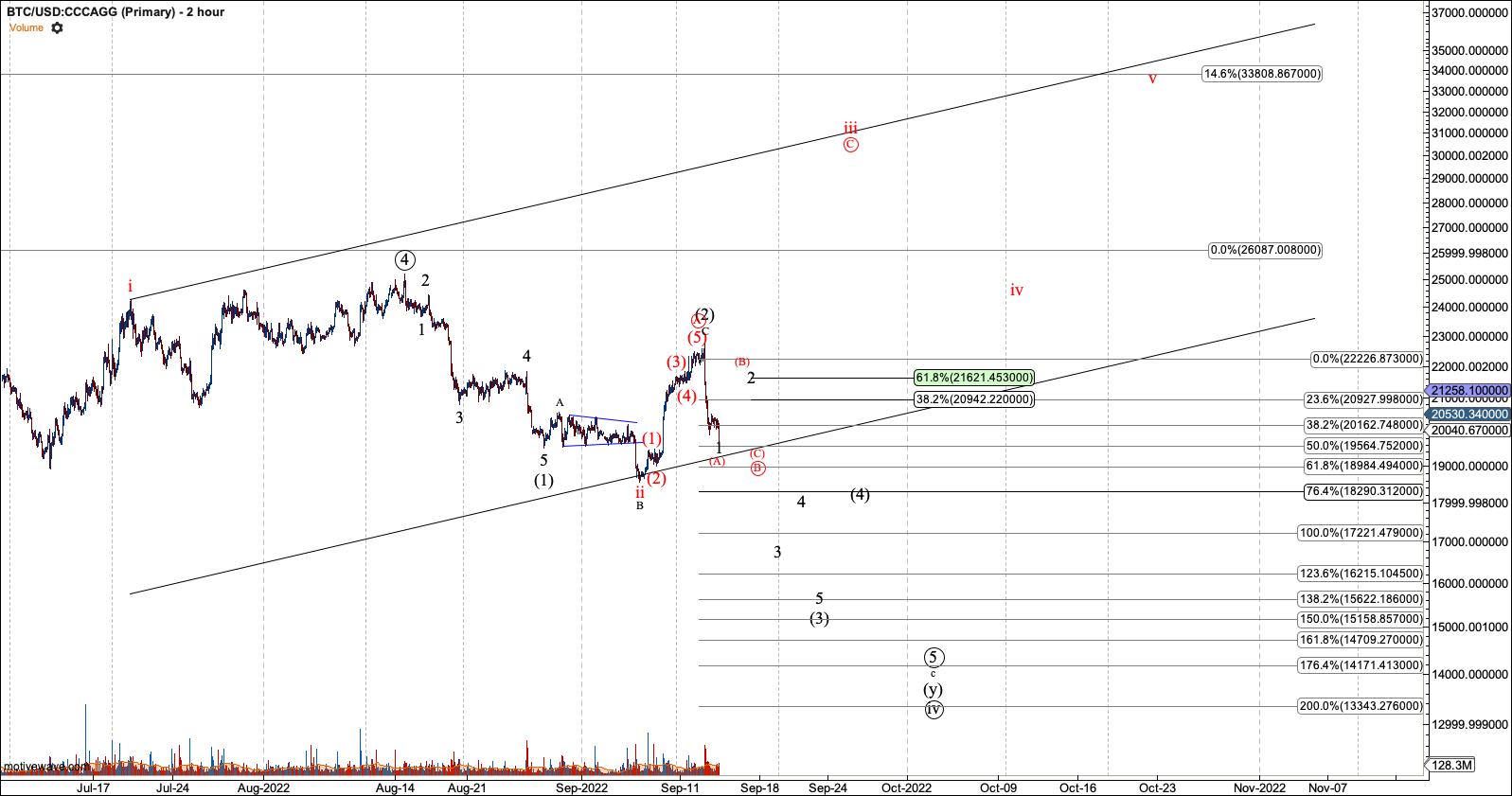 Ethereum
If Ether breaks yesterday's low at $1550, I will have five waves down off the recent high. That's enough to favor the direct black path to the $1200 region. Short of that, Ether needs to confirm the black count with a break below $1490. Above $1490, Ether can push higher in the red count.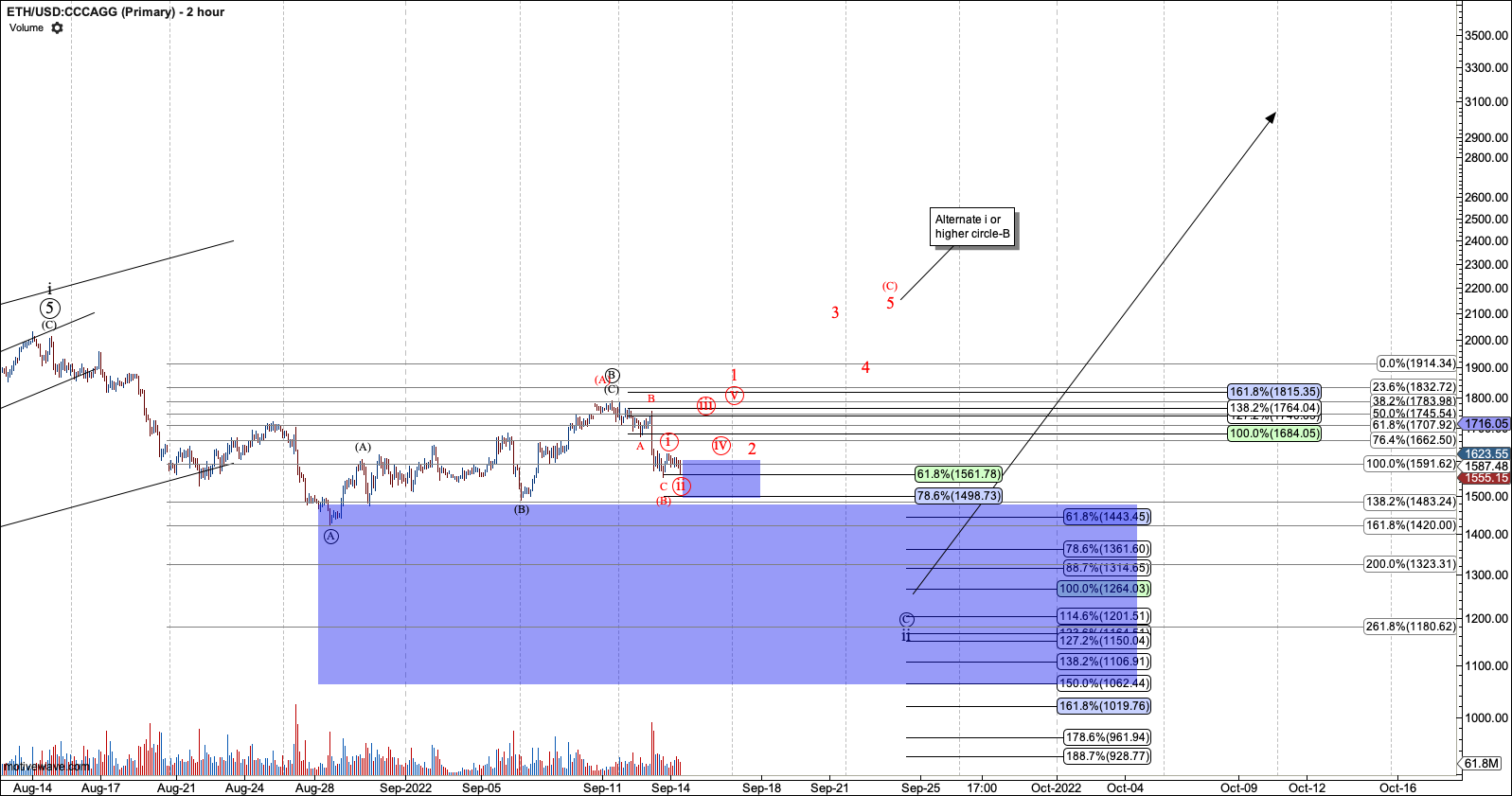 ETHBTC
ETHBTC did break 0.075 but in three waves and quickly reversed without invalidating the red count. Therefore I have to consider the red count alive, for now. Breaking the intraday low should lead to invalidation.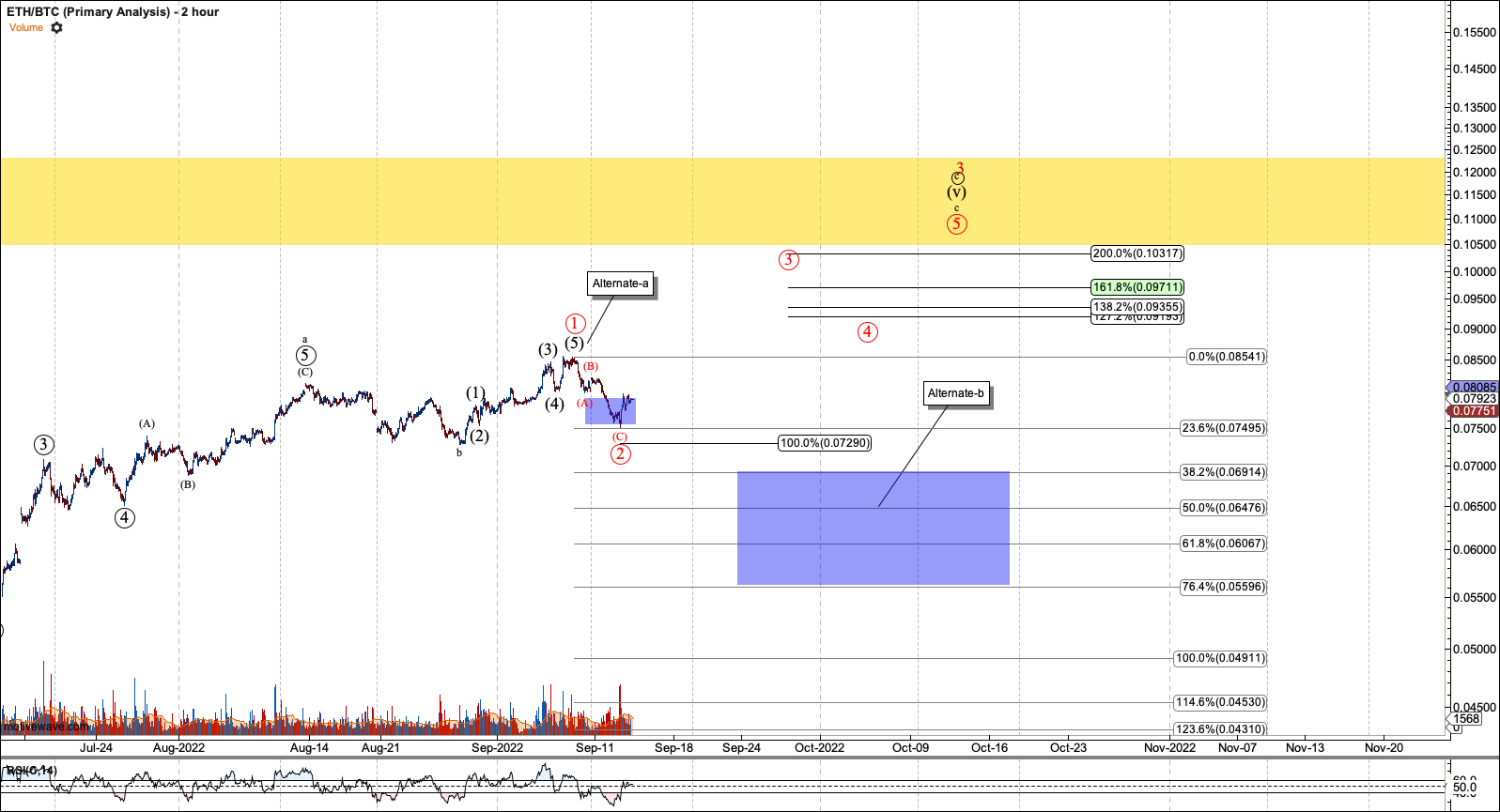 GBTC
GBTC is over $12 so its red set up is still intact. However, with Bitcoin unable to form an impulse, it obviously may break.