Nightly Crypto Report: Climbing Over the Worry Warts
Key levels:
Bitcoin: The daily chart trend is considered down below $24,600. If Bitcoin sustains below $16,000 the door to a much longer bear market opens with the following support levels: $10,000, $3000, and $1800.
Ethereum Supports: The daily chart trend is considered down below $1440. $675 needs to hold or the door to a much longer bear market that may not find a low until the $80's.
GBTC Supports: The daily chart trend is down below $20. GBTC already broke impulsive support off the 2019 low, confirming it is a diagonal at best.
Short-term Traders:
General
Crypto sentiment remains the pits. Over the weekend I listened to another round of bearish podcasts, and one host on the Alfalfa podcast explained how he was 'short all the things' including crypto and stocks. But yet the 2H trend is up. We just need to see the daily trend flip. And, for that, there is much work to do.
To remind, the overall trend is down until we have a solid reversal. The necessary steps to a solid reversal are:
1. Did we fill in a full count? We can skip this one if we have steps two and three complete. And, a count short of an ideal fourth and fifth is common in overextended crypto moves.
2. Five waves through resistance. (aka wave 1).
3. After five waves hold over the low, ideally over the .764 retrace of wave 1, in a wave 2.
4. Break over the top of wave 1.
Bitcoin
Bitcoin invalidated the bearish red 1-2 setup.
Bitcoin now needs to take out $23,600 needs to be taken out to help render a larger wave iv top in red improbable. Honestly, it topped in the red iv if it is going to play out, so taking out the intraday high would be good to see. In the bullish count, I want Bitcoin to hold $21,100.
I am watching for a nano impulse in this region to add an MBT long to my MET. Conversely, I'm I will watch for a short setup after it breaks $21,100, if it does.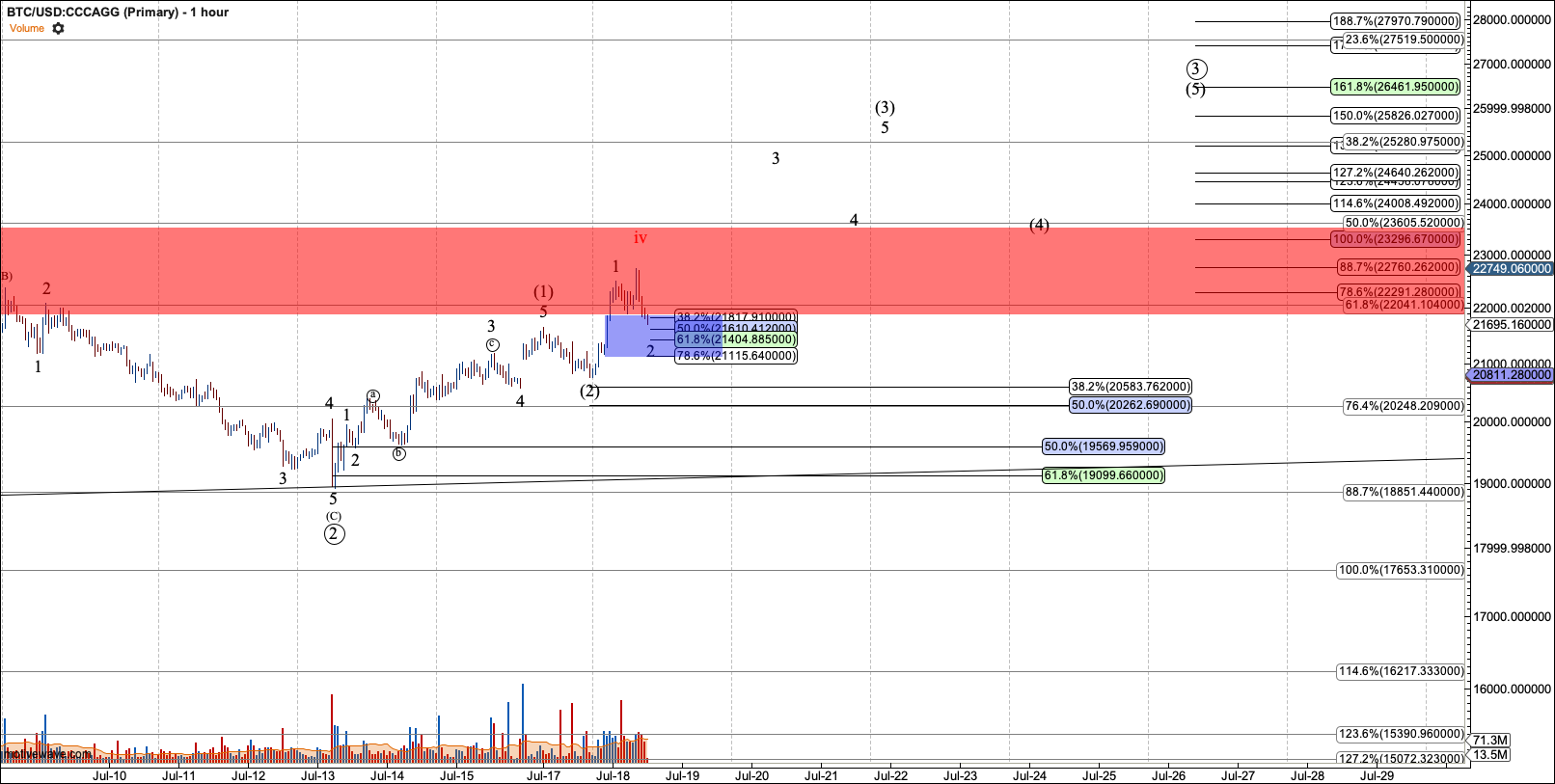 With this move to the high $1500's, I now see the red count highly improbable in Ether. However, we need five waves, and we need to see Bitcoin clear its resistance and naturally, put in five waves.
I have added an additional level of resistance just to be safe which is $1675. But to come up with this level I had to move my fib all the way to the beginning setup of the bearish move that started in April. If this level holds, it is likely to throw Ether into a larger-scale bear market. I am being safe until
Ether gives us five waves. 
In the bullish micro, I'd prefer for Ether to hold $1355.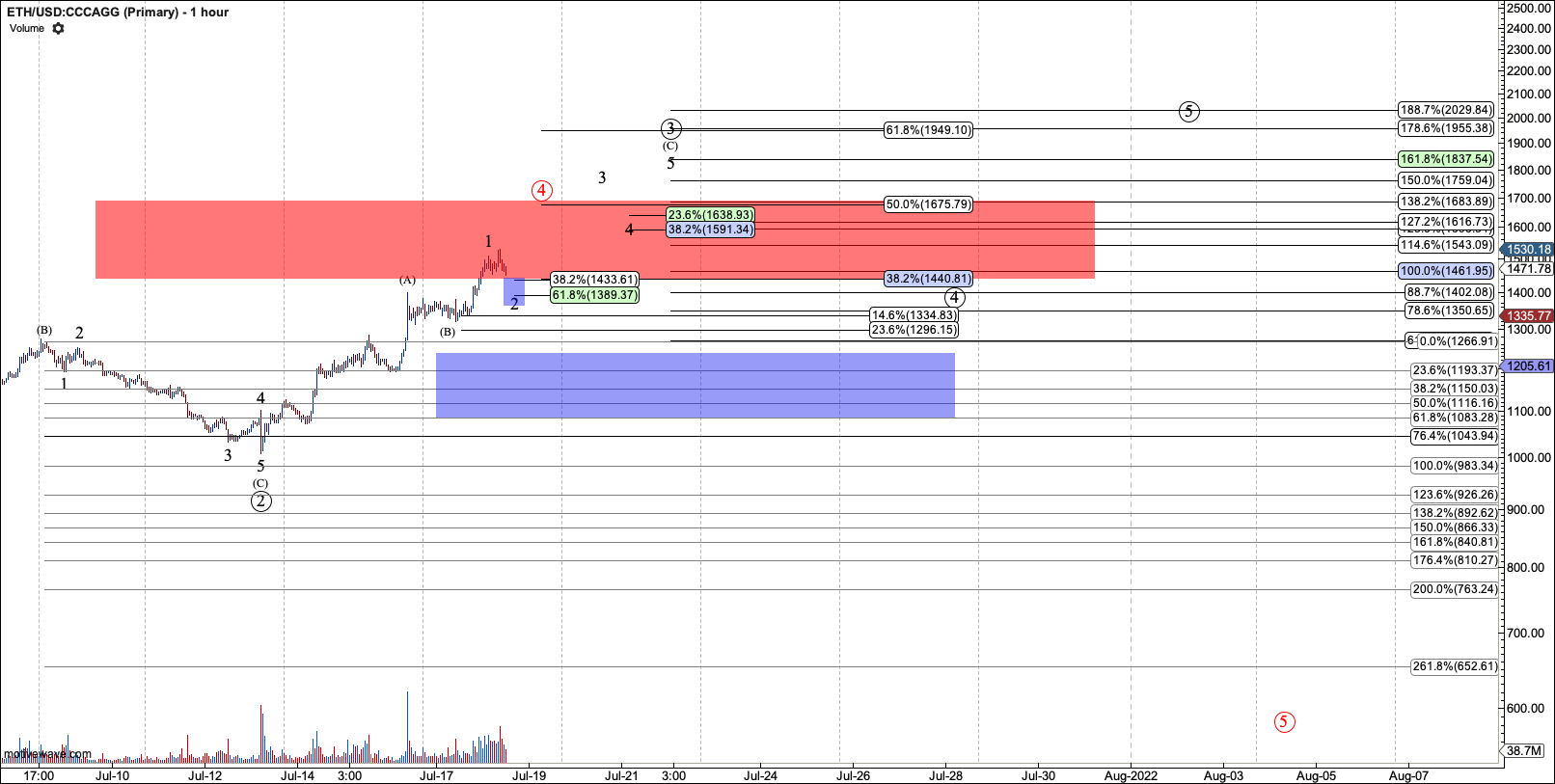 ETHBTC
I removed the red count as I see it improbable but need to see five waves before I can say the bottom is in.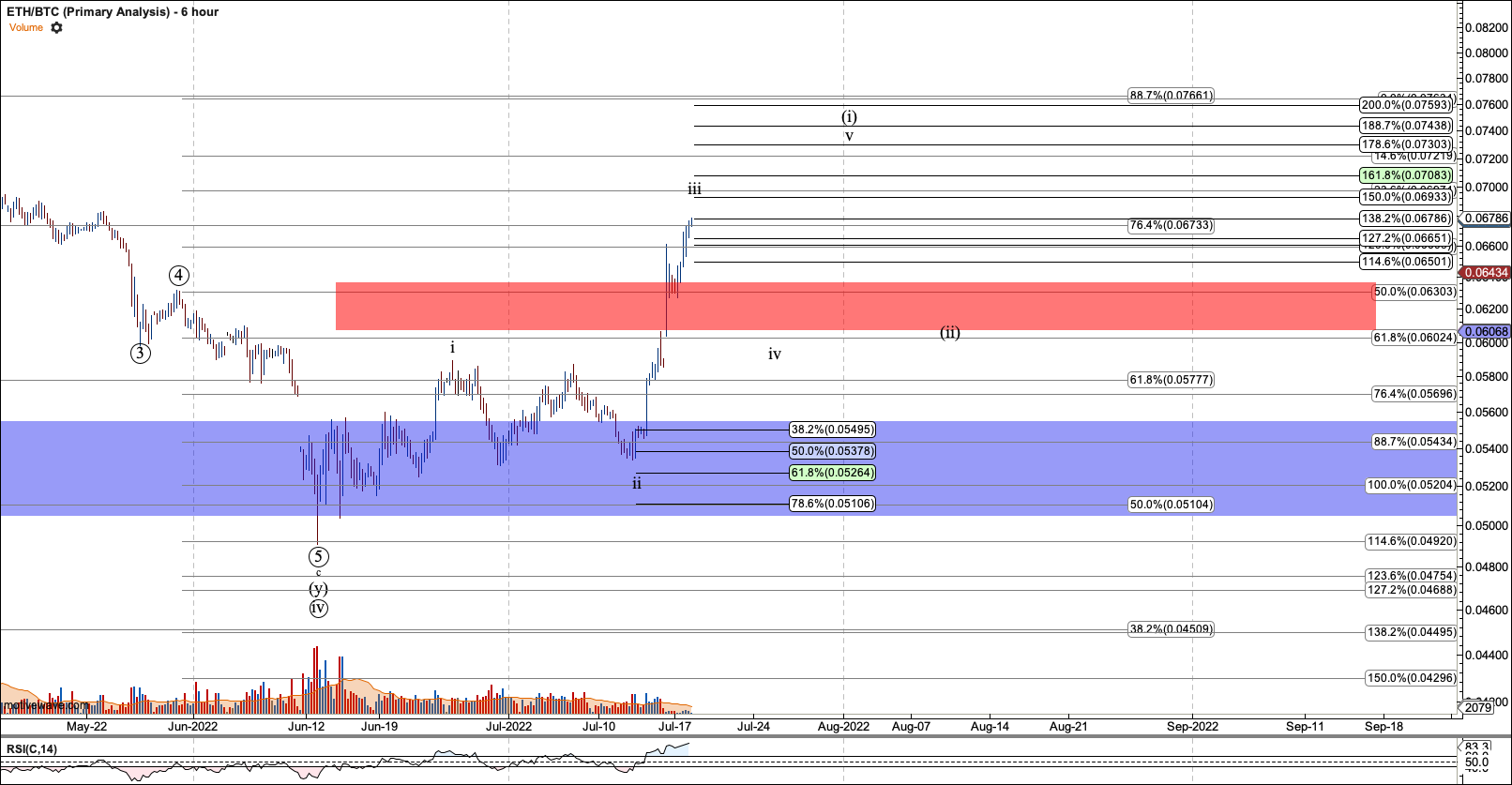 GBTC
GBTC invalidated the immediate bearish 1-2 setup, and now needs to take out $15.65.