Nightly Crypto Report: Can't Stop the Chop
Can't Stop the Chop
Long-term Traders:
Intermediate charts and write-ups are included on Sunday's reports.
Housekeeping:
1. I will post the altcoin and equity report tonight.
2. I will be off the board in the morning of Monday, August 15th. I'll be in CA for the day. But I'll return to my normal schedule on Tuesday.
Key levels:
Bitcoin: The daily chart trend is considered down below $24,600. If Bitcoin sustains below $16,000 the door to a much longer bear market opens with the following support levels: $10,000, $3000, and $1800.
Ethereum Supports: The daily chart trend is considered down below $1440. $675 needs to hold or the door to a much longer bear market that may not find a low until the $80's.
GBTC Supports: The daily chart trend is down below $20. GBTC already broke impulsive support off the 2019 low, confirming it is a diagonal at best.
Short-term Traders:
General
The CPI release this morning catalyzed a strong move in crypto. However, action is very low quality and choppy rendering reliable counts a bit fleeting. 
Bitcoin
Bitcoin made a nice jump in early morning action. However, by the end of the day, Bitcoin broke impulsive support. To be honest, the door is open to many potentials as action is quite low quality. I am simply taking this down to the two I favor.
The first is that Bitcoin put in a wider (B) running flat in black. The issue with this count is that the C is so foreshortened. Further with the impulsive potential of this move higher being undermined late in the day, I see (C) as a diagonal at best. The ending diagonal in (C) is only viable over $22,980.
Below $22,980 I favor the red WXY which would be a reset of the (B) wave and (C) would need to restart. This WXY would need to hold $21,400 to give room for the (C) higher.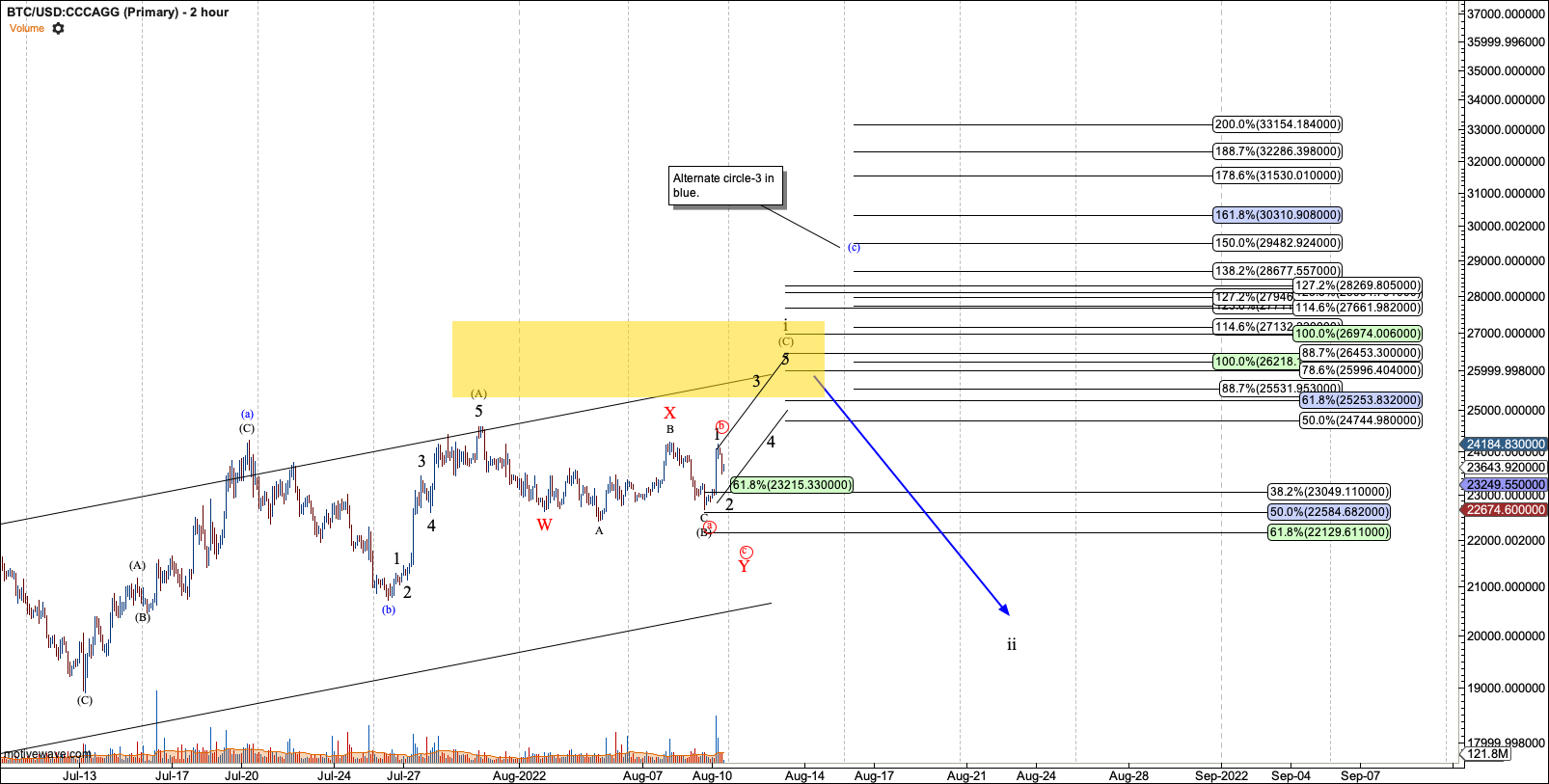 The push off the morning low in Ether aligns with my previous count. So, unlike Bitcoin, the Ether chart has not changed. Ideally, we see a few more waves higher into the $2000 region to complete wave 3 of (C).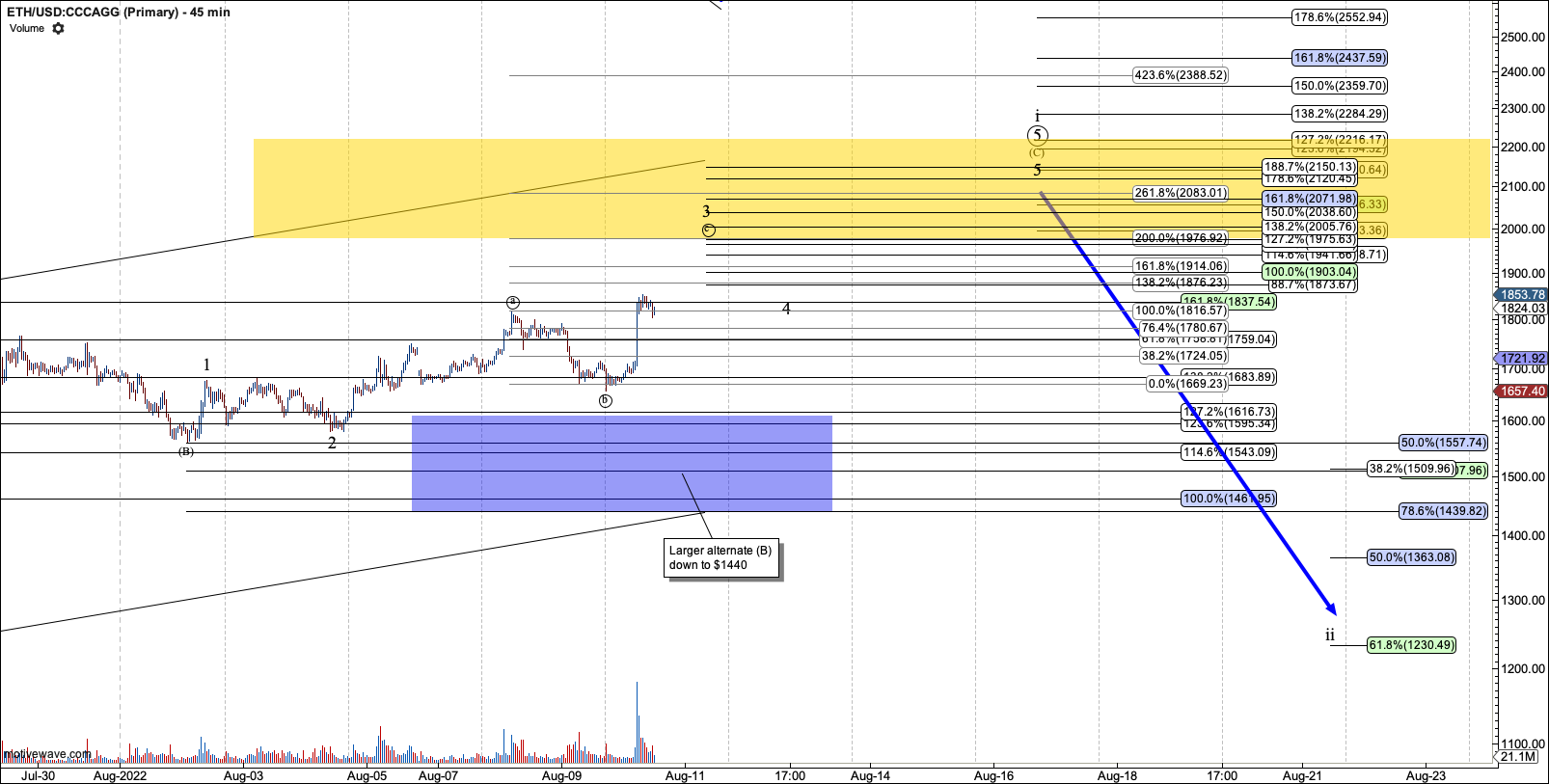 ETHBTC
ETHBTC should top in (3) shortly. Alternatively, since this pair has reached the ideal target for all of circle-C, it may have filled in all five waves.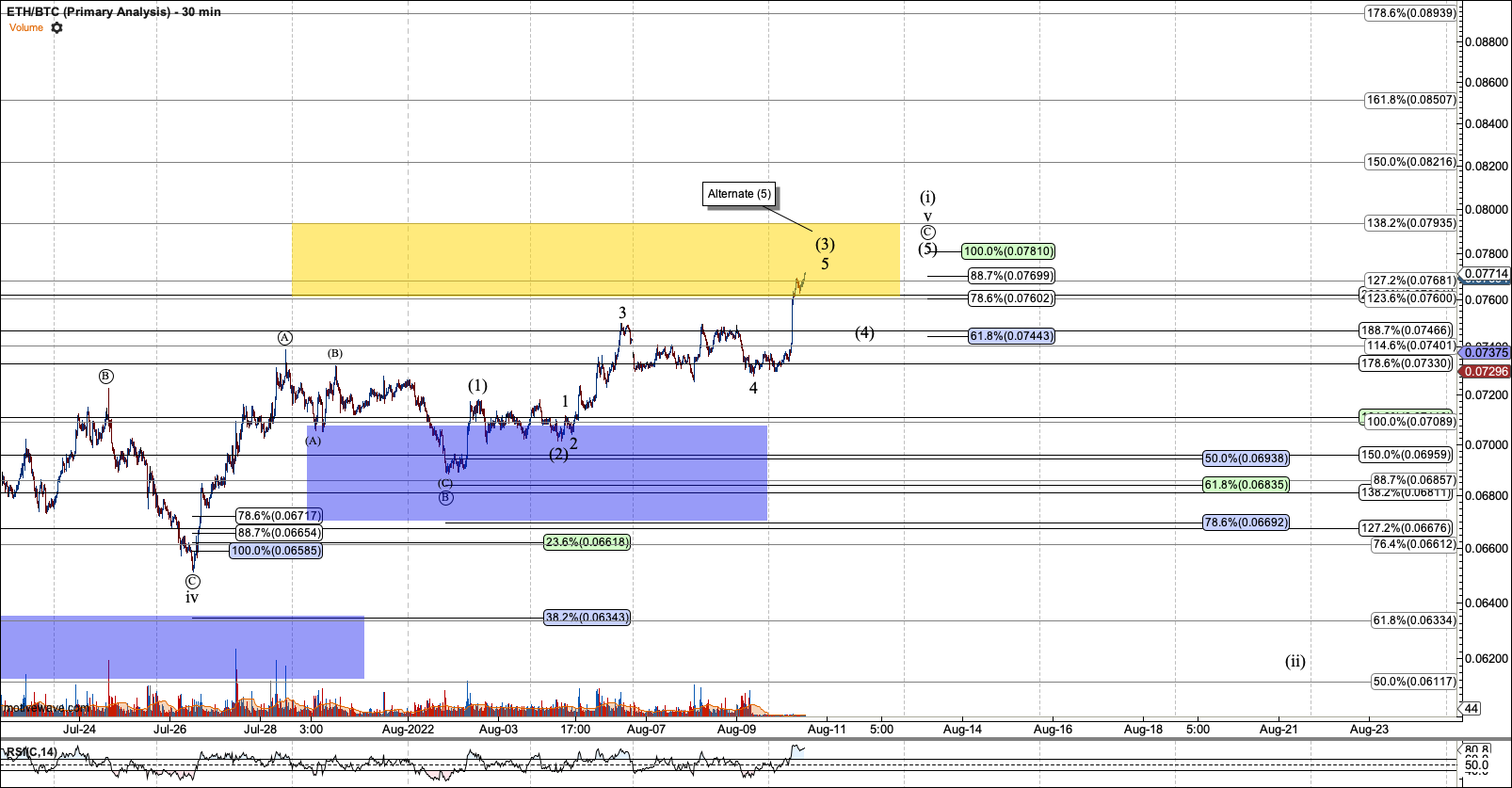 GBTC
Action in GBTC over the last 24 hours brings me to favor the blue count slightly. However, Blue circle-B may rally as high as $16. So, until Bitcoin clearly tops, I expect the blue count to push higher from here. The blue count is simply a detour in the red count with a larger circle-2. And, once through $16.30 the blue count is improbable.