Nightly Crypto Report: Bottom Expected
Long-term Traders:
Intermediate charts and write-ups are included but have not changed. Charts are refreshed. 
Housekeeping:
NA
Key levels:
Bitcoin: The daily chart trend is considered down below $24,600. If Bitcoin sustains below $16,000 the door to a much longer bear market opens with the following support levels: $10,000, $3000, and $1800.
Ethereum Supports: The daily chart trend is considered down below $1440. $675 needs to hold or the door to a much longer bear market that may not find a low until the $80's.
GBTC Supports: The daily chart trend is down below $20. GBTC already broke impulsive support off the 2019 low, confirming it is a diagonal at best.
Short-term Traders:
General
I expect Ether and Bitcoin to bottom in this region after showing a completed five waves off the August 13th top. Since both charts should rally correctively, it's possible that they have bottomed, but are just struggling to move higher. 
Bitcoin
I was looking for $20,100 in this fifth wave lower and that was finally met and then some. But so far we have little evidence of a local bottom. Breaking back over $20,200 should start a roll back up. 
If you watched the webinar Saturday you know I made some chart changes for the sake of simplicity. While there are many potential scenarios in this chart due to all its corrective structure, I reduced it to the most probable. 
In the bullish scenario, Bitcoin is working on a bottom in black two. In this count, I took my red my red diagonal count and made it the bullish primary since an impulse is less probable. But this count is not probable once Bitcoin sustains a break of $19K. 
In the bearish scenario, Bitcoin finds a bottom in this region, but tops in red (ii) in the $22-23K region before dropping to $16K to $14K. My primary trading intention is to put on a hedge in the $22K region, in case this trade plays out. But note if Bitcoin continues to break lower and sustains under $19K we may see an accelerated version of the bearish scenario.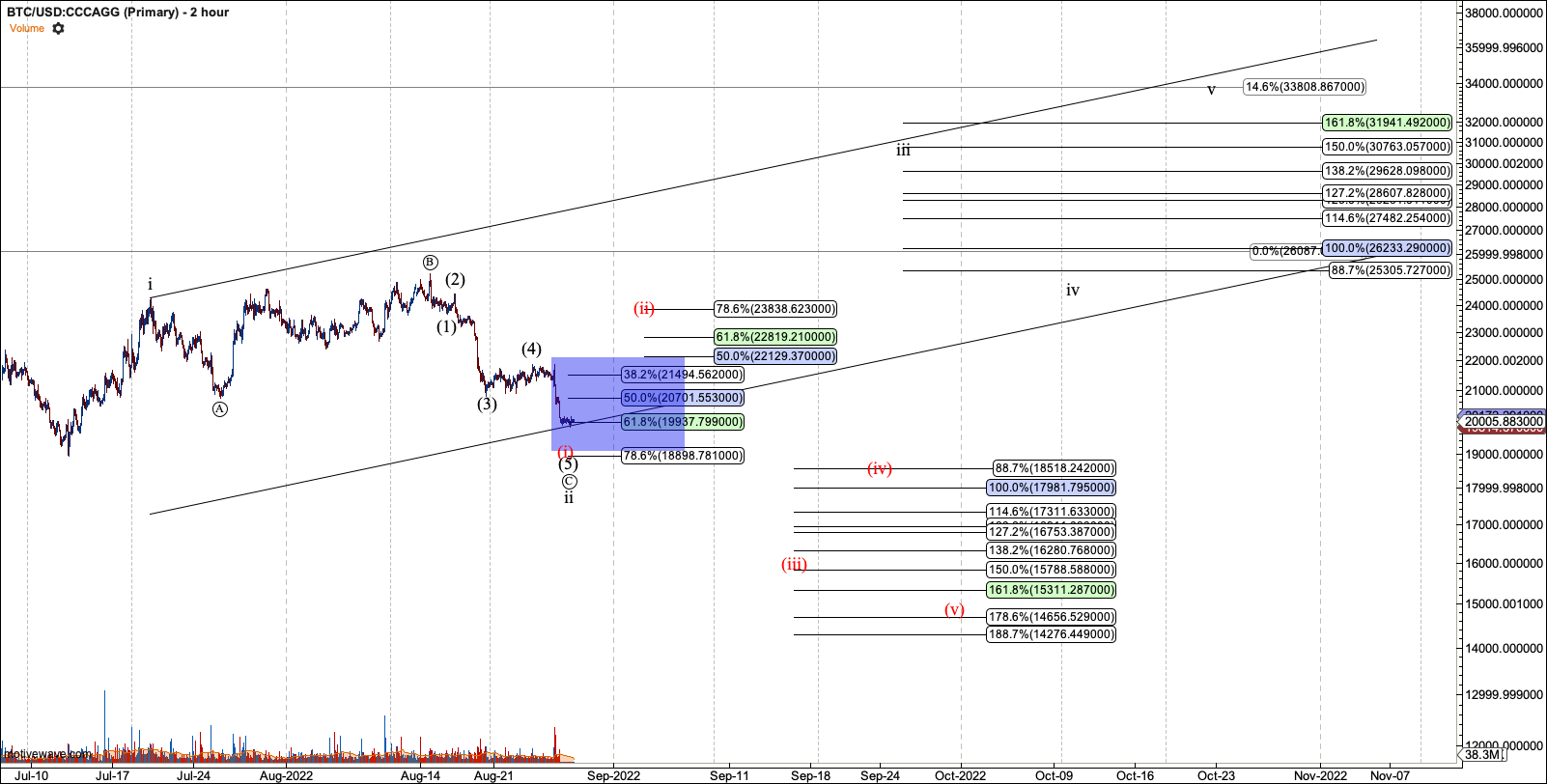 Ethereum
If you watched the webinar, you know that I have 'stripped' Ether to one count. I prefer to see an A wave bottom in this region before a B wave rally. I don't see the previous red count as viable. Just note that it is possible for the B to be very high, even higher than wave-i which may make all of wave ii very shallow. 
I expressed on the webinar how I struggle to see a bearish count in Ether base don how far it has come along off the June low. It takes a break of $1050 for me to expect another low before the June low.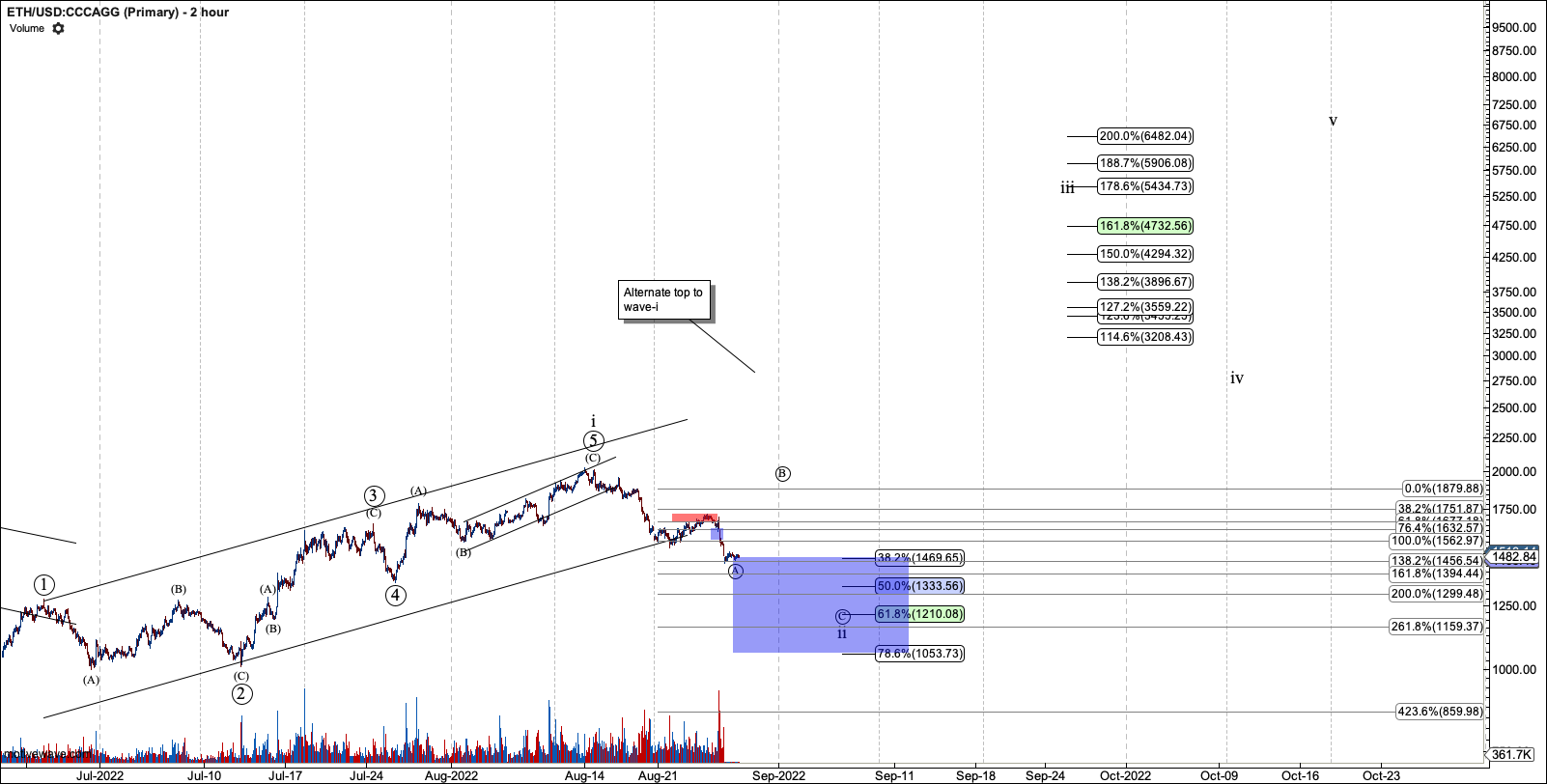 ETHBTC
ETHBTC likely topped in a B wave. I have a nominal projection of 0.06 to 0.07 for the C wave. Though that is shallow if all of the B/ii pullback. So, a stretched C wave or another ABC subdivision, as expressed in red, would not be surprising.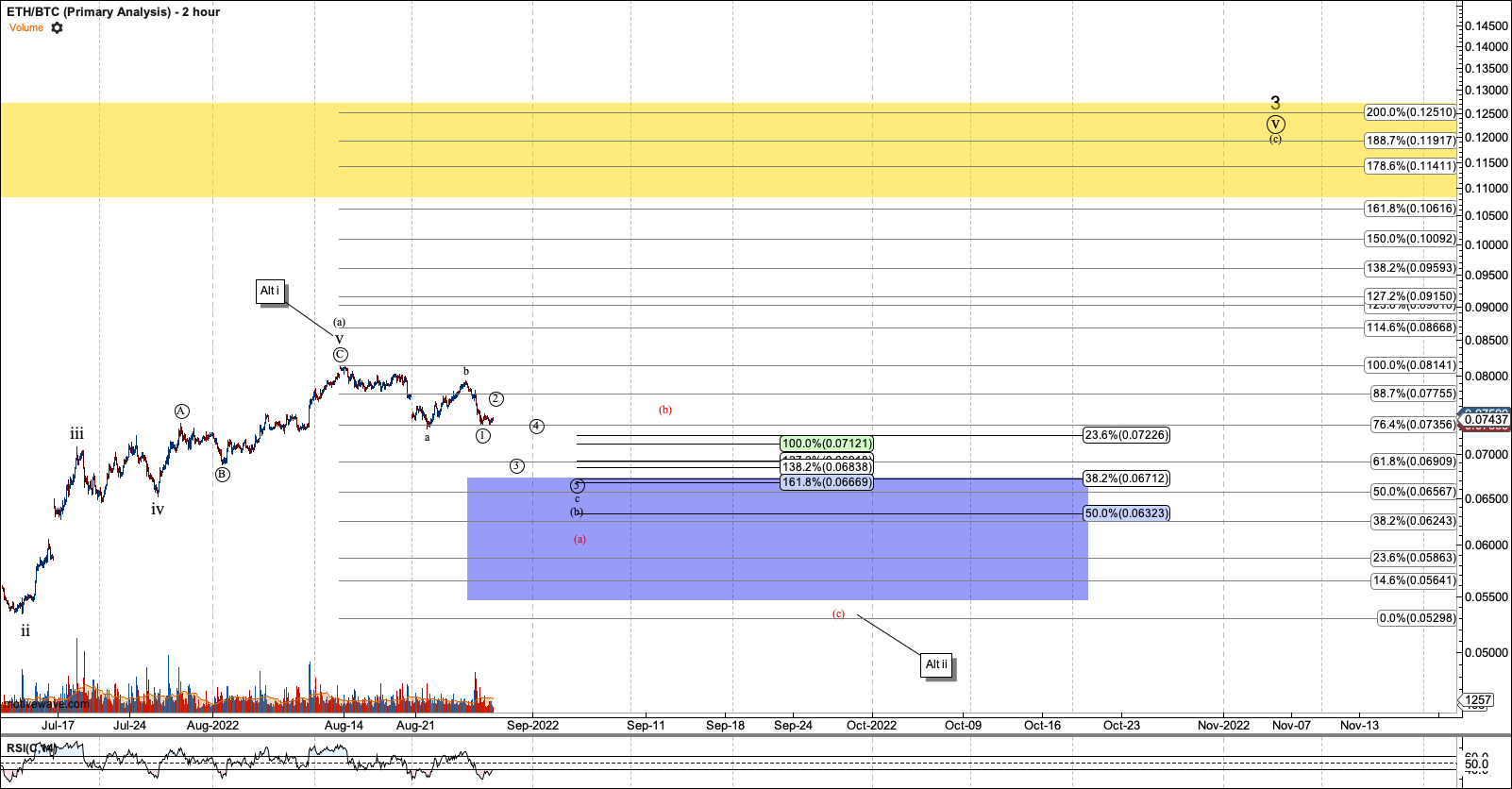 GBTC
GBTC will get an update tomorrow when the stock market is open. 
Immediate Term Views
Bitcoin Intermediate
The current bull cycle, which began with the ~$3000 bottom in December 2018, is not expected to end until Bitcoin fills out five waves off that low. Since early last year, my primary count was looking for the third to finish in the low six figures. However, the fourth wave that started in April has now dipped below $24K. This confirms my view that a move over $100K will give us the fifth wave and the end of this cycle. My ideal target is now $128K to $193K and it should hit lower in that range barring a euphoric extended fifth.
If $16K is breached and Bitcoin sustains below that level, the crypto market will likely be in a longer-term bear market. The next important levels below are $10K and 3K. However, the door will also open to several scenarios, therefore, several counts.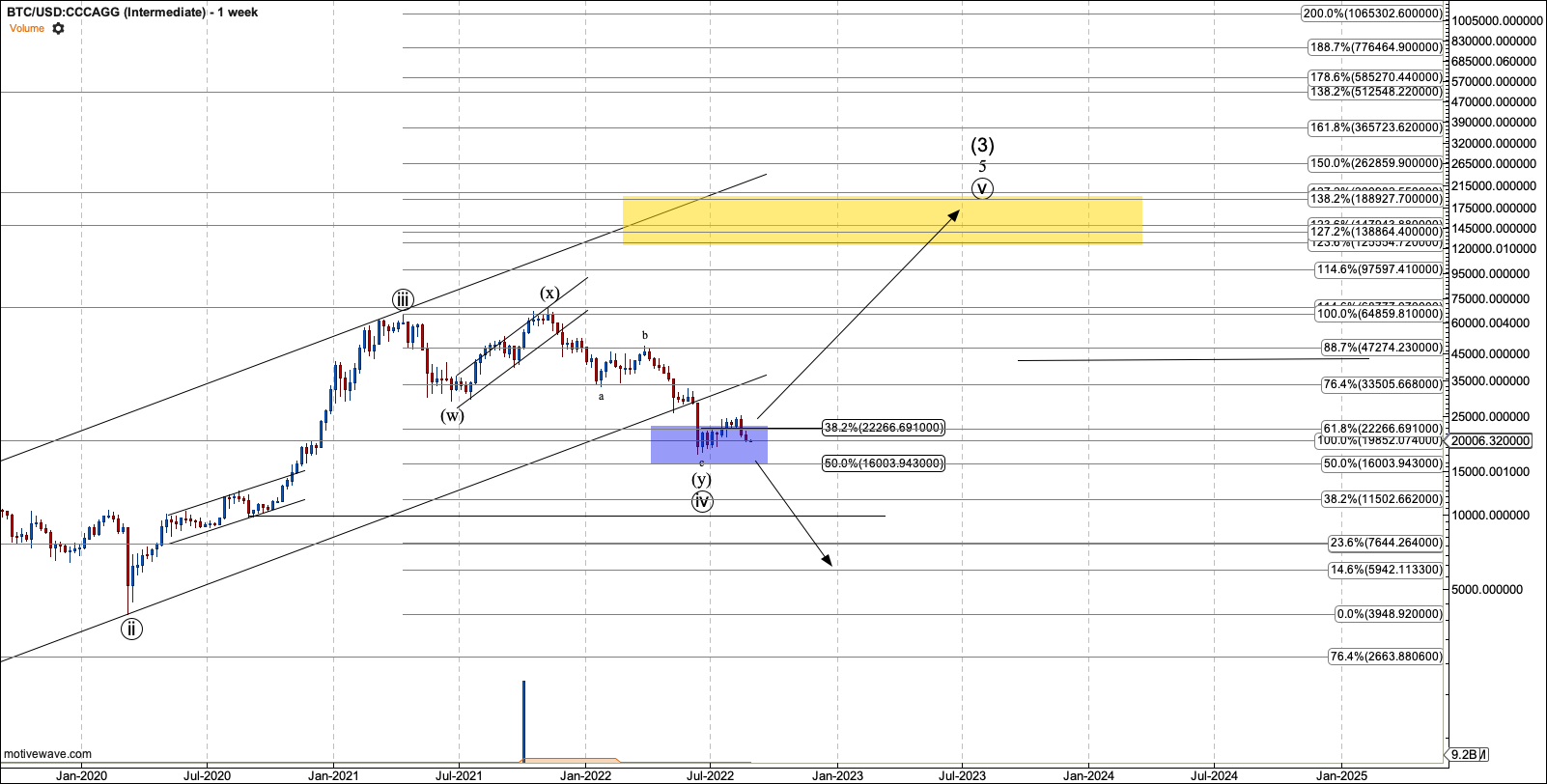 Ethereum Intermediate
In previous updates, I viewed Ether in the fifth of the third wave off the 2018 low. However, that view required Ether to hold $1074. Now that that level was breached, I view Ether as in the next degree fourth wave. That leaves Ether with one more wave in this cycle up to between $10,500 and $18,000, likely in the lower end of that range.
In the updated count $675 is key support, equivalent to $16K Bitcoin. This level, if broken, will put Ether in a higher degree bear market and it can easily drop below the 2018 low at $83.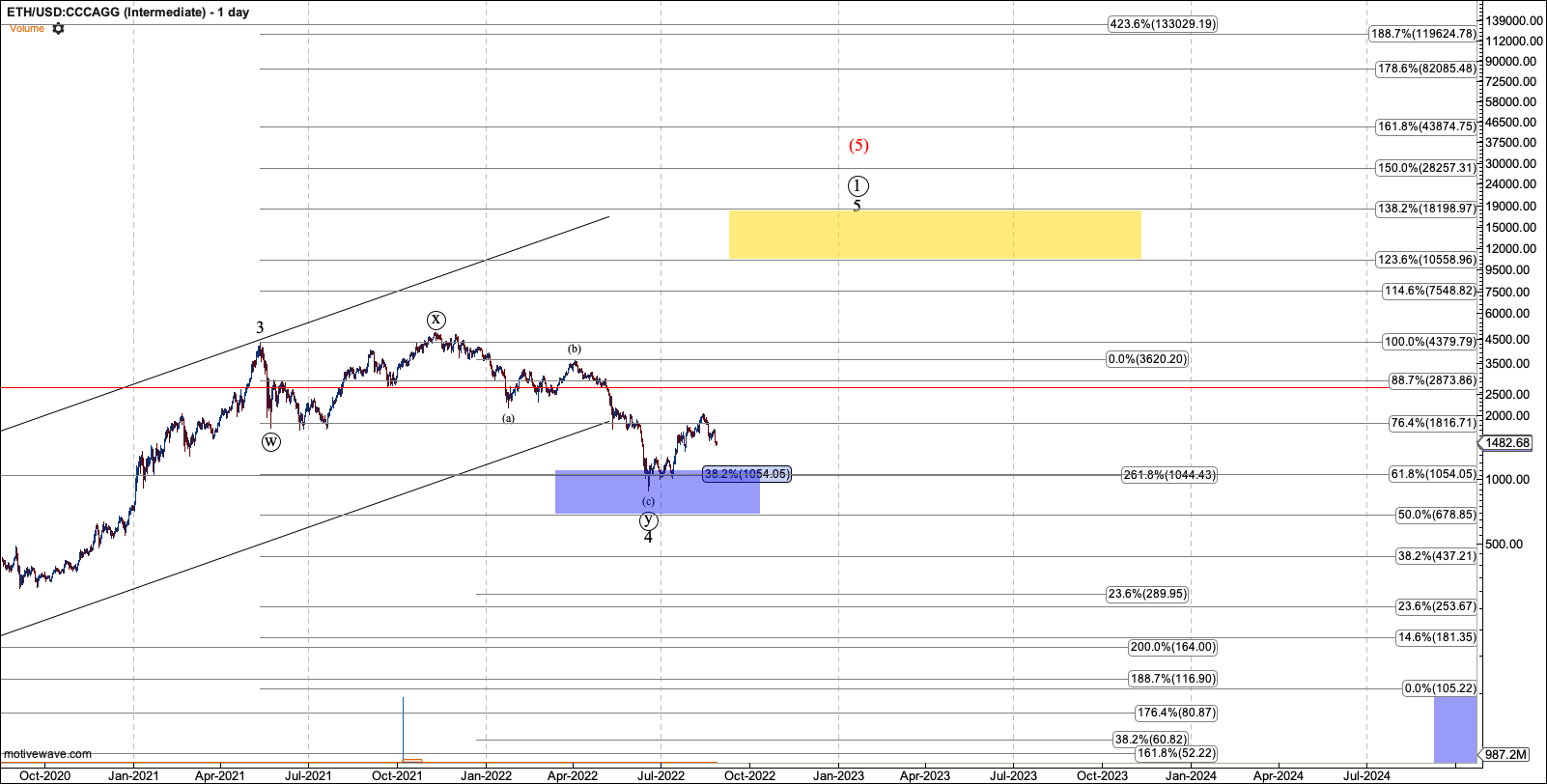 GBTC Intermediate
GBTC has now fully overlapped its wave 1 confirming a diagonal structure. Ideally, it is able to muster a fifth wave in the $113 to 149 region, however, that likely requires some snapback in the discount. If GBTC breaks below $5, it will present a three-wave top off the 2018 low.