Nightly Crypto Report: Arrival
Bitcoin, Ether, and GBTC are within range of their ideal targets. While I see them likely to squiggle higher, and GBTC particularly should, I have de-risked my short-term portfolios today.
Bitcoin
Bitcoin hit my target at $26K, but until it breaks below $23K, I can see one more wave into $27K to $27.5K. Breaking $23K should indicate a top is in. 
Today's action does not instruct regarding the scenarios I am tracking but I want to continue to post them until we have clarity: 
Scenario #1. Blue B can be coincident with the black wave-4, if the A wave formed in three waves.
Scenario #2. Blue B can be coincident with red (2), if A topped in five waves, with support around the $17K region.
What this means is that if B was coincident with black wave-4, we may be forming a 1-2 setup for a direct breakout to mid $30Ks to $40Ks in blue C.
Tactically, the way I manage this is to hold a core with a stop in the $17K region. I size the position according to that stop then scale in as it drops. But as I've been trading this zone fairly aggressively, I'm starting to de-risk down to a core as we pull into $26K.
Zoomed out, the blue count suggests the bear market continues into this year and a drop to the $10K region should occur after the B wave top. The red count, if all five waves are filled in, starts the path to $125K+.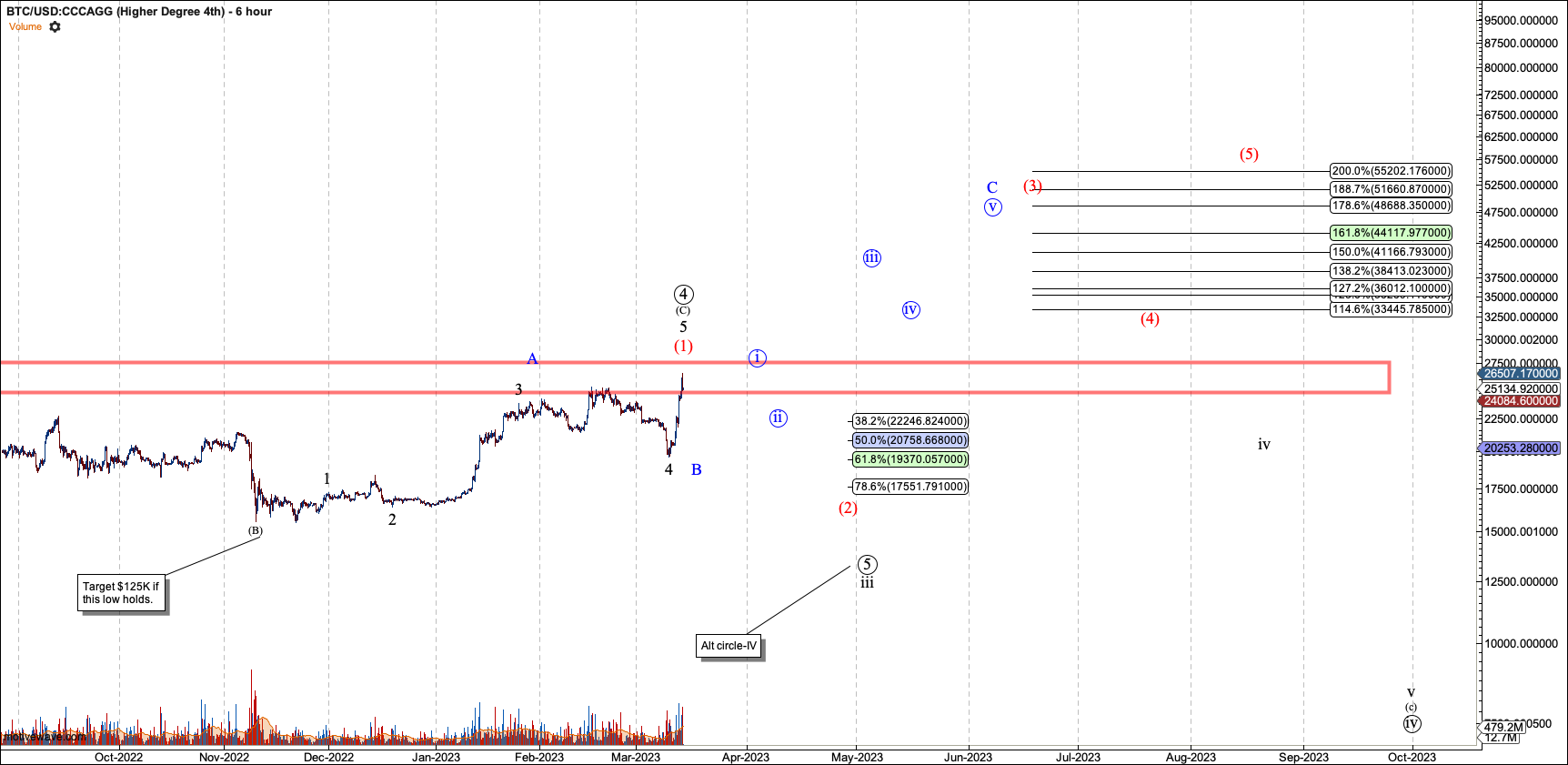 Ethereum
Ether reached just shy of my ideal target at $1800. But as long as above $1600, I can see a push to $1880.
Ether's scenarios are very similar to Bitcoin except with the characteristics embued by its higher low in November. Those are:
1. If we are going to see a B wave top above, the structure should be a WXY.
2. It has a more clear setup path to reach its weekly chart target at $10,500, which is the black count.
Otherwise, zoomed in Ether's micro has similar considerations:
Its red (B) can be coincident with wave 4 and can take a direct path from that wave 4, with a tight wave-1 and 2, before launching to $2500+
Or, Ether can lay in a deeper (B) coincident with its potential wave 2 with support at $1200.
Tactically, I use the same approach. I am letting off the gas into the $1800 region. Then I'll hold a core as it pulls back into its very support levels for either a tight 1-2 or deep B/2.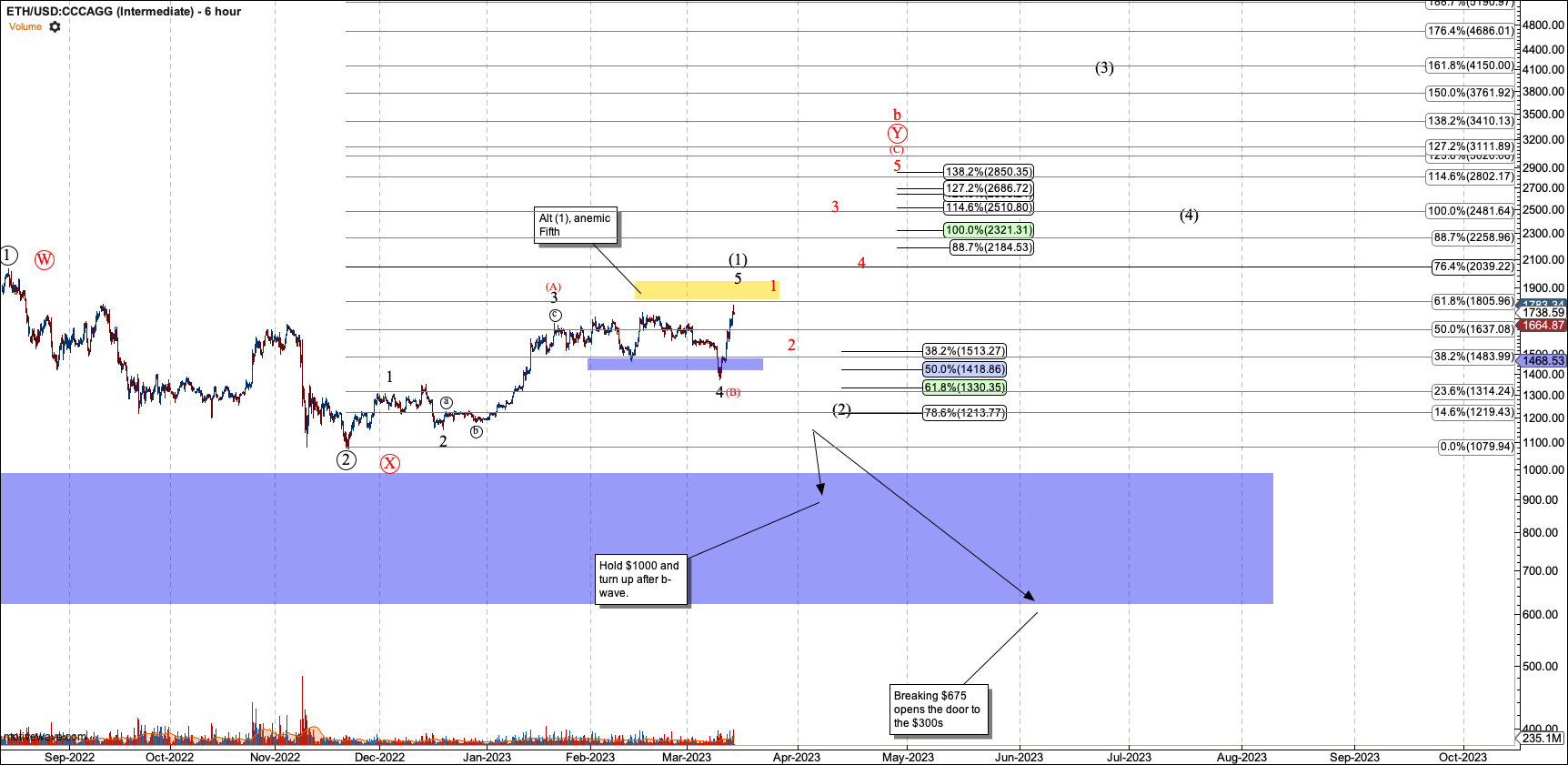 ETHBTC
ETHBTC has likely broken down from a larger E wave flat and finally should roll down to 0.06.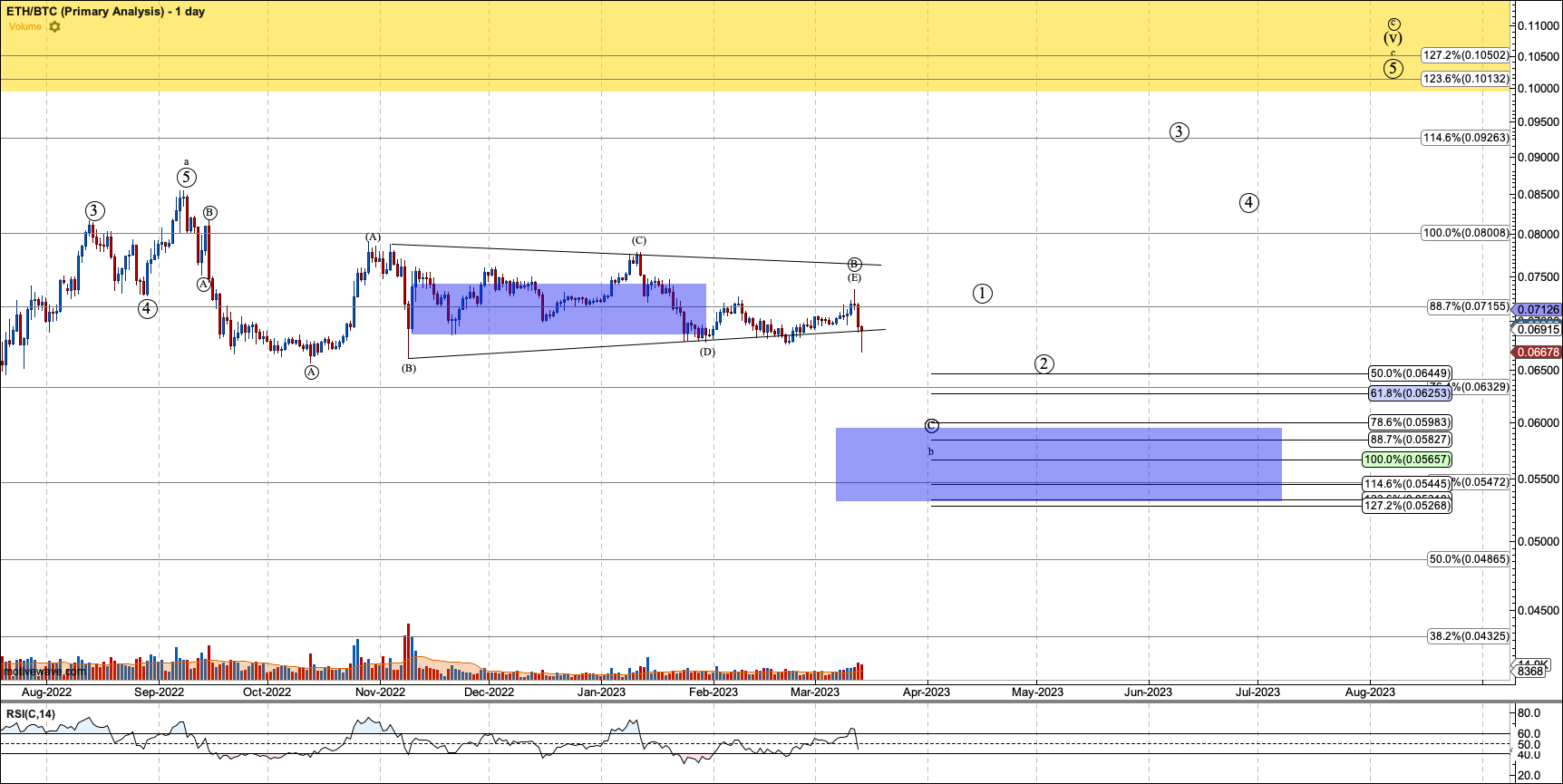 GBTC ideally squiggles its way to $14.25 before topping. Breaking $12.65 would give the first indication of a top.