Nice Pullback Clears It Up A Bit
Now, before you get all excited, I want to start by saying that silver is still very problematic. In fact, if this is a triangle that is taking shape in silver, I may be suggesting hedges to your long positions after the next rally. But, I am not going to discuss that yet. Just realize that a triangle here in silver is problematic since they really only occur in two positions – a b-wave, and a 4th wave. Since this is too big and really in the wrong place to be a 4th wave, it would be a b-wave triangle, which means that once we complete a c-wave rally, we will likely top in a corrective rally and come back down to a lower low. But, we have time to deal with that, and I am still not sure that is what it playing out. So, I am in a wait and see moment for silver.
As far as GDX and GLD, both came back up to their respective pivots, and turned right back down again. Yes, the power of math. But, the manner of the decline is looking more like an a-b-c pullback, which seems to suggest 2nd wave pullbacks in each. So, it means I am still stalking a long trade if we can get the trigger to the upside. I will need to see another smaller 5-wave rally when this pullback completes, a corrective pullback thereafter, and then a rally over the high of the 5-wave rally to trigger a long. And, once we move through the pivot, we can move those stops up to the bottom of the pivot.
So, while this decline has potentially cleared up some of the smaller degree structure, what this may portend for the larger degree structure is still very much a concern after the next 5-wave rally. And, yes, silver is the one that is getting me this concerned due to its triangle. So, while I still think we can see another rally in the coming weeks, as that rally nears its completion, we will likely have to be much more cautious, and I may even suggest hedges on your long positions. But, we are still a quite a ways away from that, and I want to see how the rally develops to be certain.
One final word of caution: PLEASE do not get overly bullish on the next rally. I will zoom out and see how it fits into the bigger picture as it develops, but it may only be a corrective rally based upon what I am seeing in silver.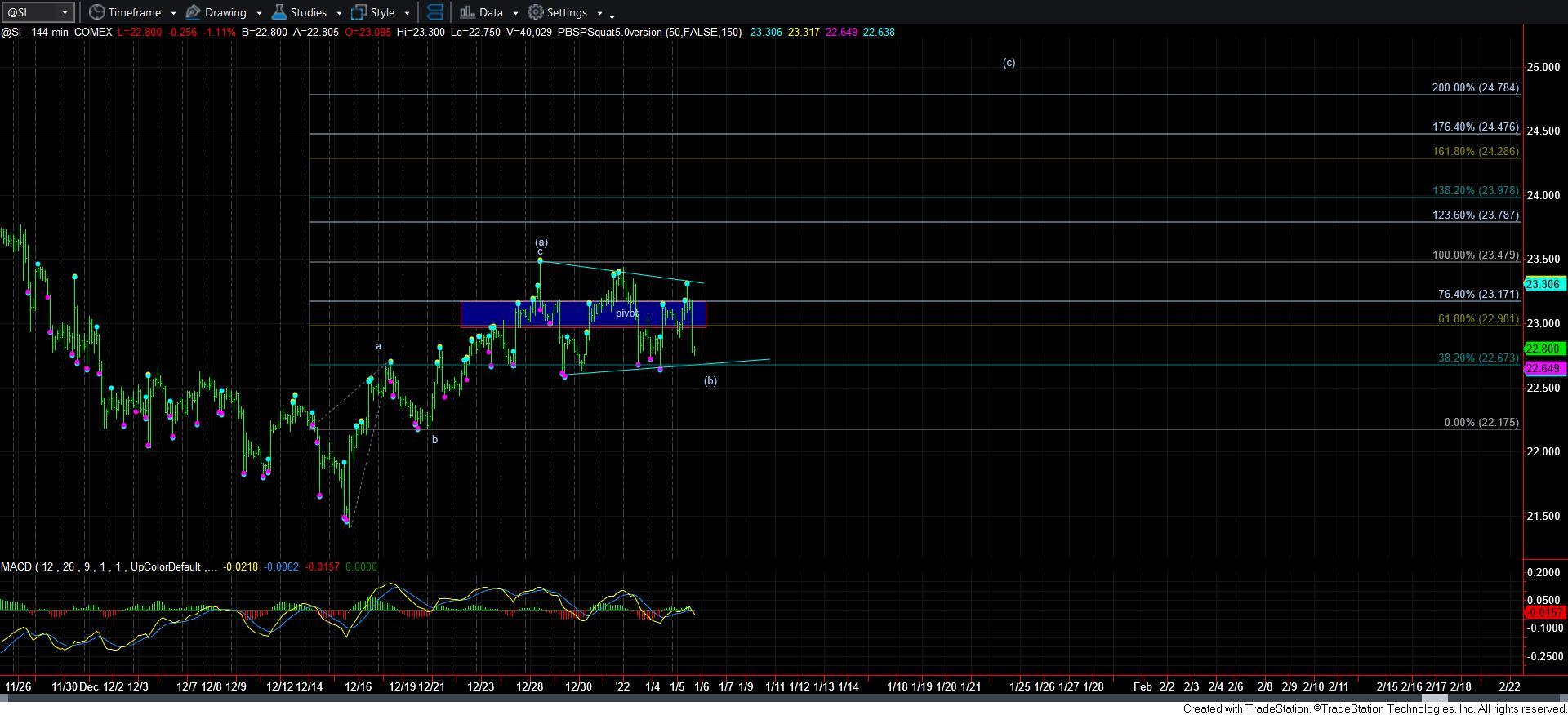 silver144min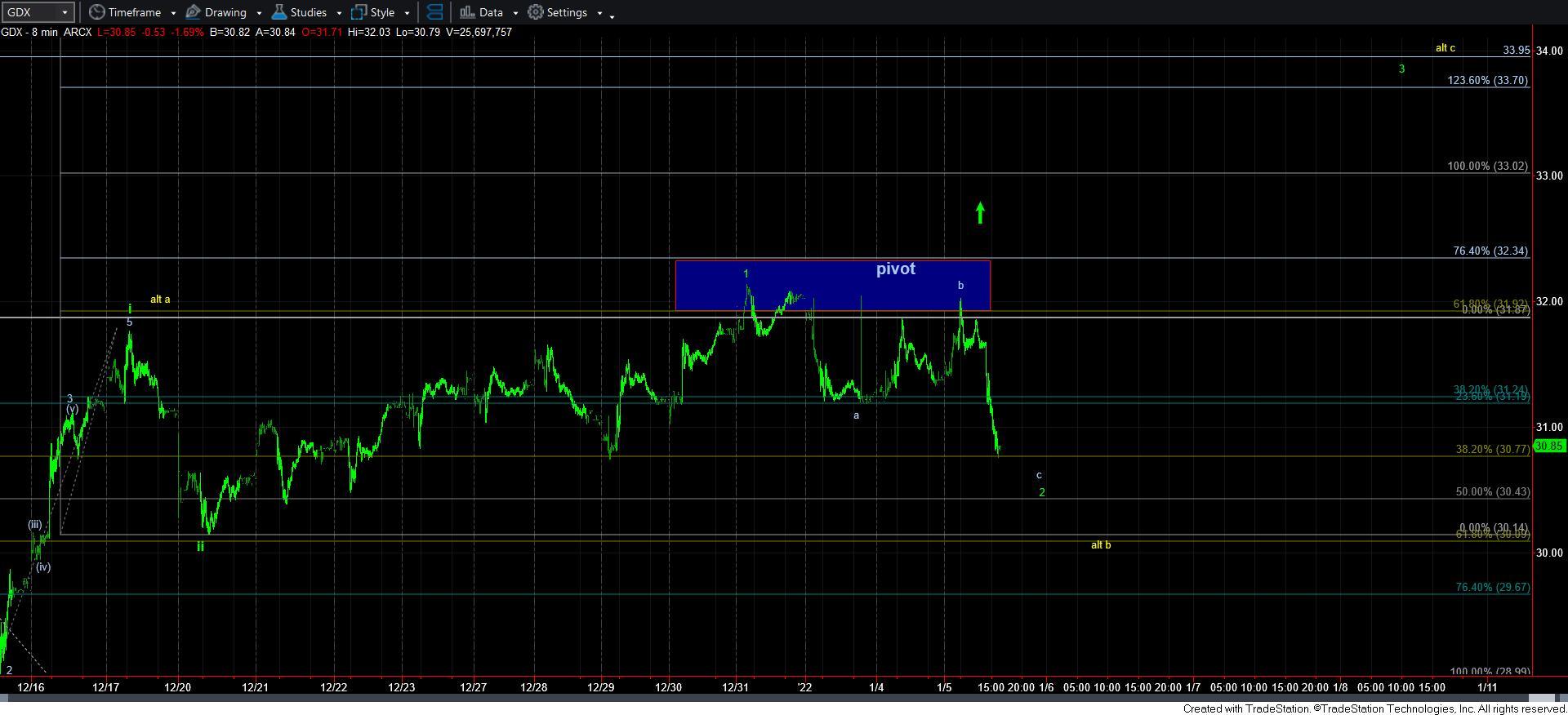 GDX8min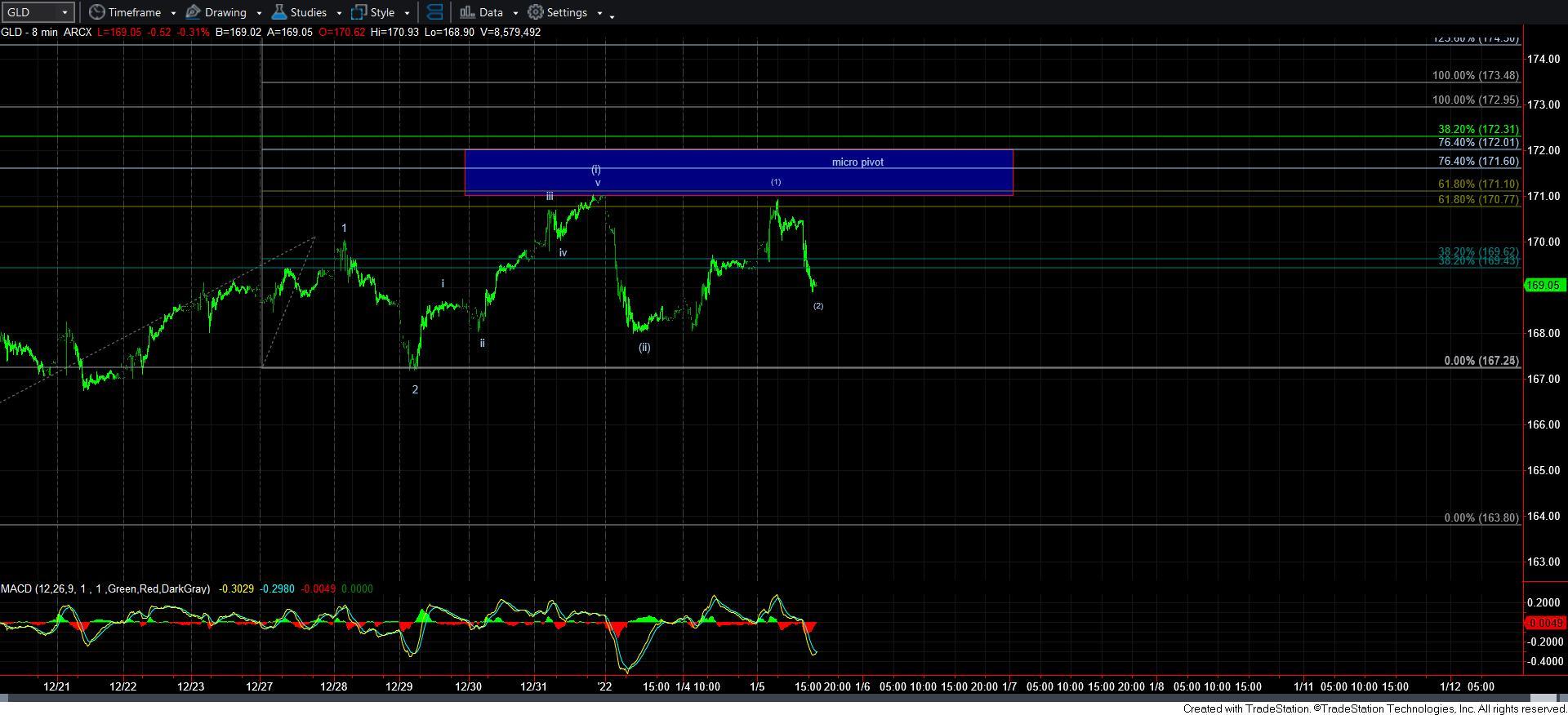 GLD 8min