MarketMood Weekly Preview - Market Analysis for Dec 20th, 2019
There was a clear mood pattern for this week pointing to presidential and geopolitical themes.  Because this was so clear and it was on a weekly scale, it was my hope that it would also make clear recent ambiguity in the orientation of the weekly signal.  There was an impeachment of the U.S. President and the Democratic Presidential debates, but it would depend on who you asked as to whether those were positive or negative.  There was also some positive fallout from the recent trade deals and a new trade deal was at least passed by the House.  The themes were clearly present, but their direction was less than clear.  However, because the market was up for the week, I will assume the more positive orientation unless there is some strikingly negative geopolitical event by Monday as that would still be covered within the timeframe of this week's mood pattern.  
Below are charts showing the two orientations.  What I find particularly interesting is that for either signal orientation, there is a Sharp Drop Alert from Dec. 27 through January 6.  This means that during this time period conditions are right for a sharp market drop (note: this is not a prediction that one *will* occur, but that risks are elevated).
Base case- negative governmental / geopolitical outlook through Monday.  Note in this case, a corrective downward move is expected over the next few weeks.  Also, while the momentum chart is clearly "off" (inverted), such an inversion has occurred previously just prior to increased volatility.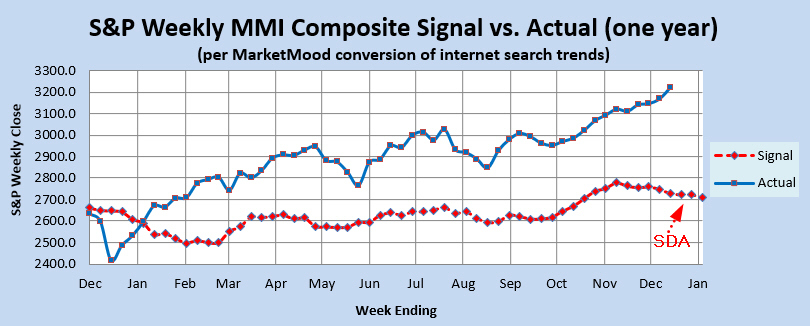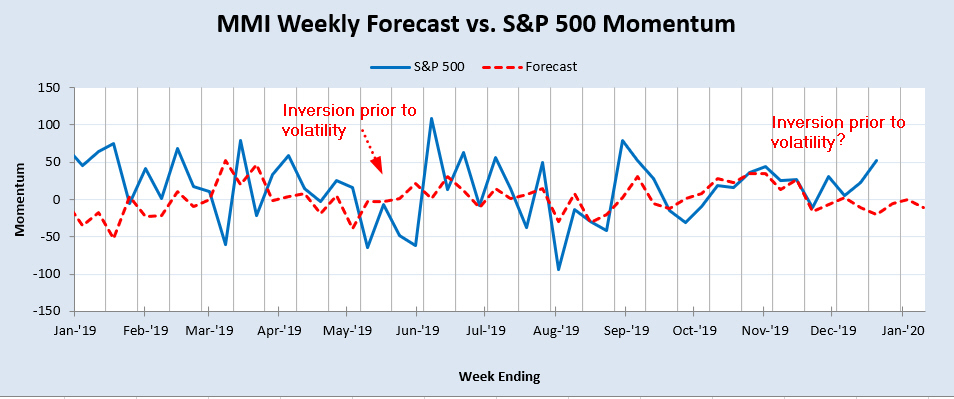 Alt Case: benign governmental / geopolitical outlook through Monday.  For this case, an overall slight upward trend would be expected over the next few weeks, even with the SDA.