MarketMood Friday: A Brief Crisis?
Where We've Been:
Thursday's pattern is usually accompanied by strong emotions, including fear/panic. In the midst of a strong market move up, the most the bears could conjure up was some hesitation. There was also a component suggesting a likely focus on international issues, and increasing seriousness about resolving tensions, but nothing out of the ordinary showed up on this in the news today.
MMI for Thursday was: close down; S&P 500 closed +0.69%
Where We're Heading:
Friday's pattern implies a low and beginning of a new leg up that would extend into the weekend (and Monday open). The pattern also implies a global or government associated crisis of some type. It there is a pullback Friday followed by the beginning of a good rally, one would suppose that whatever crisis there may be would have to be somewhat limited.
MMI for Friday: close down
MarketMood Data Info:
Internet search theme MMI inputs: man, history, inventor, honor, food, giveaway, business, relationship, ending, star, sports, winners, school
Short Term Forecast:

Next 3 Days:
| Date | Daily MMI |
| --- | --- |
| 4/6 | close down |
| 4/9 (open) | up |
| 4/9 | |
The Moving Average Momentum (MAM) Indicator last signaled a major trend change with a significant HIGH indication between March 6-13 (daily closing high was on March 9). There has been no new signal of a major trend change since then.

Note: Changes to next day MMI signals occur about 5% of the time, and will be announced in updates as well as the daily report should they occur. Same day signals will not change. Day 2 and 3 signals reflect the most current information, and are subject to change. The default trade per the daily signals is executed at market on close. except on Mondays, as there is a signal for Monday open (i.e. "weekend close") and Monday close. The daily MMI signals are correct as daily direction calls about 63% of the time. Please manage your trading risk accordingly.
Intermediate Term Forecast:
The primary outlook is that a countertrend corrective move is in progress. The weekly chart showed a high the week of 3/19, and no definitive low showing over the next few weeks. The monthly chart showed a low in February, and shows the next high sometime in April. The quarterly chart shows a mostly sideways, corrective pattern likely for Q2 2018.
MM MACD signal is BUY, and the intermediate trend is UP. The trade signal is hold long positions; add to long positions at or above 2667. Caution advised due to the overall outlook.

The MM MACD is similar to a standard MACD, except that it uses the MMI signal data to extend several days beyond today, while the standard MACD relies solely on historical market data.
Long Term Forecast:
The long term forecast remains strongly bullish. The bullish long term trend is indicated by the generally positive divergence between the stock market and the mood generated forecast (see long term chart below). The MM Long Term Trend Indicator (bottom chart) which is derived from this divergence, indicates: Bullish Trend, hold long positions. The MM LTTI has had this same bullish indication since 12 Sept., 2016.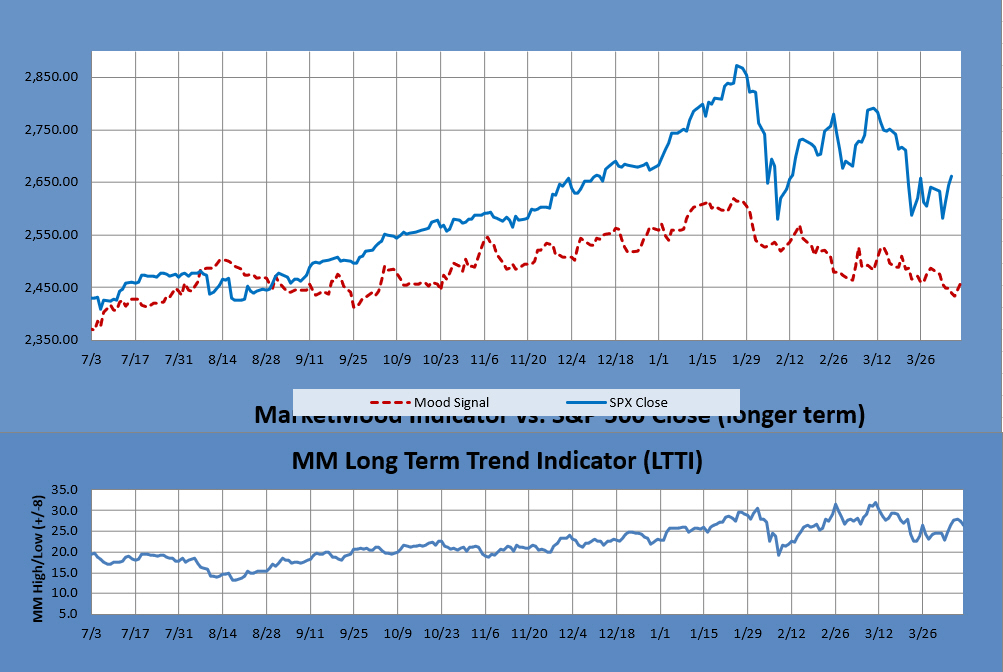 The MM LTTI measures trend strength using the divergence between the market trend and the forecast trend. A move above +8 or below -8 is bullish or bearish respectively. A value over 10 or under -10 followed by a move back through +/-8 signals a high or low is likely in. A subsequent move below +5 (or above-5) signals a trend change to bearish (or bullish).
- - -
Social Mood Prescription
The social mood patterns gleaned from internet search trends yesterday, give us a glimpse into what "everyone" is dealing with in a general sense tomorrow. This can also provide us with a general "key" or prescription into an optimal attitude for success in the day ahead. When appropriate, I'm also adding specific application in terms of the situation in the United States. This is what I'm getting from the social mood of the day. It's an interpretation, but not a personal opinion on how things should be.
For Friday-- Open to the Next Chapter:
It's a time of critical decision making, as a new chapter begins in "out there" matters (e.g. career, distant places, or news events). There are no doubt new unknowns or surprises to go along with this, but such is life. The best bet would be to keep eyes open and be ready for the new experiences this chapter will bring.
Message for the U.S.: There are decisions to be made, as focus shifts to the international arena. This could be of some benefit. Uncertainty, and wild cards would not be optimal right now.