The market has reversed back through 3400 SPX as anticipated.  Yet as the market has dropped, sentiment continues to steadily climb.  It hasn't risen quickly enough to catch up with the market yet, so sporadic sharp drops are still in order.  The monthly chart continues to show 3400 SPX to be important over the next couple of months.  As a standalone, the monthly chart shows 3400 is likely to be an important resistance level, and that the market may yet again try breaking back over it before the end of the year.

The weekly chart continues to show a steady climb, yet at the same time it's warning that the market is extremely and unsustainably overbought vs. sentiment and that it has no business being up this high.  Often the resolution to this is a sharp drop which could occur at any time.  However, it's also possible for sentiment to turn up and embrace a positive resolution which it has been trying to do, although so far inadequately.  While the market is currently more overbought per sentiment than it was in February just before the big drop, a major difference is that the sentiment trend continues to point in a generally upward direction while in February it was on its way down.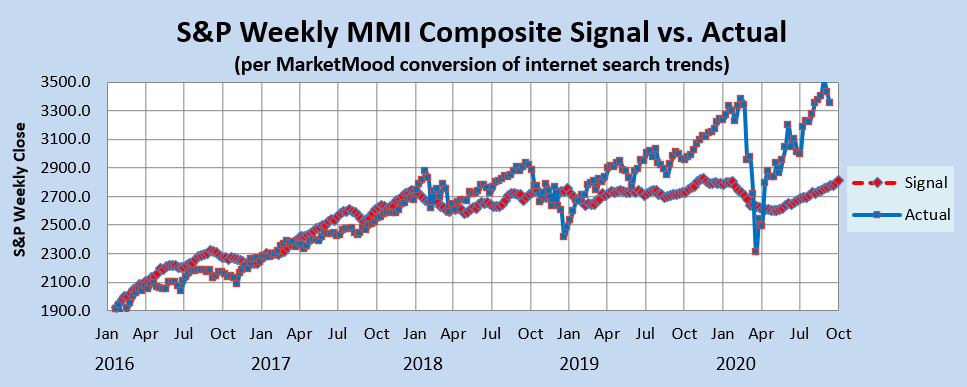 The weekly trend indicator continues to show an extremely strong, yet unsustainable bullish trend, only matched by the record extremity seen from December 2019 through mid February of this year.  This was then followed by record extremity on the bearish side in March.

Finally, the weekly MM MACD is at a crossroads and giving mixed signals.  It has been considering turning bearish, and is now flirting with turning bullish.

Taking all of this together, the market has gotten the breakout it wanted, resulting in the rubber band stretch and snap back effect.    The weekly data implies that a correction is long overdue.  The weekly charts show a market that has no business being up as high as it is right now, but sentiment continues to point in a generally bullish direction overall.  Either sentiment will need to start accelerating with further optimism to catch up with the market, or the market will soon enough give a further "snapped rubber-band" effect to reconnect with where sentiment would have it.  The trend is clearly bullish, yet the market is still overextended.  Whipsaw will likely be the name of the game through November.