Low-Volume Battle in Cryptos
Bitcoin (BTC) has a battle here at resistance at the upper trendline. This can be an indication of a leading diagonal forming for the beginning of a breakdown. What that should look like is labeled in red on the chart.
But we have a setup that IF we break above can have legs, with $6640 the initial breakout level, followed by $7045 to be sure. I don't view myself as having an edge either way. I just see a low volume battle.
When I look at Ethereum (ETH) I see 5 waves up off the red circle ii on the chart, so it more clearly gives room for the upside to occur. I also see less battle and just consolidation.
Who will win? I have no edge.
From July 5th: I am still giving a strong chance for further downside in this market. But I view Ethereum and Bitcoin in a holding pattern right in the resistance zone for the direct path to lower targets. Two things challenge this view: an inkling of positive technical signs in these two charts and other coins with price moves above signal levels.
But note that technical suggestions of a bottom can still break down, and the coins that are "signal levels" can still come down. I often use the term "first signal level," and what I mean by that is the level for a wave iv in a standard impulse. While a strong 5-up move through those levels can start a larger rally, we can also see a corrective wave in a higher iv for a diagonal, keeping downside intact. Charts that fall into this category include BTS, EOS, MCO, and NEO.
If ETH and BTC break down I believe we'll see completed ending diagonals in those charts. Some MIGHT give us wave ii in a burgeoning impulse. But in summary, I suggest being cautious here still.
So, trading wise, I believe the positional skew is still in favor of lower. However, if we a move over $7045 BTC and $485 we may see a larger rally ignite.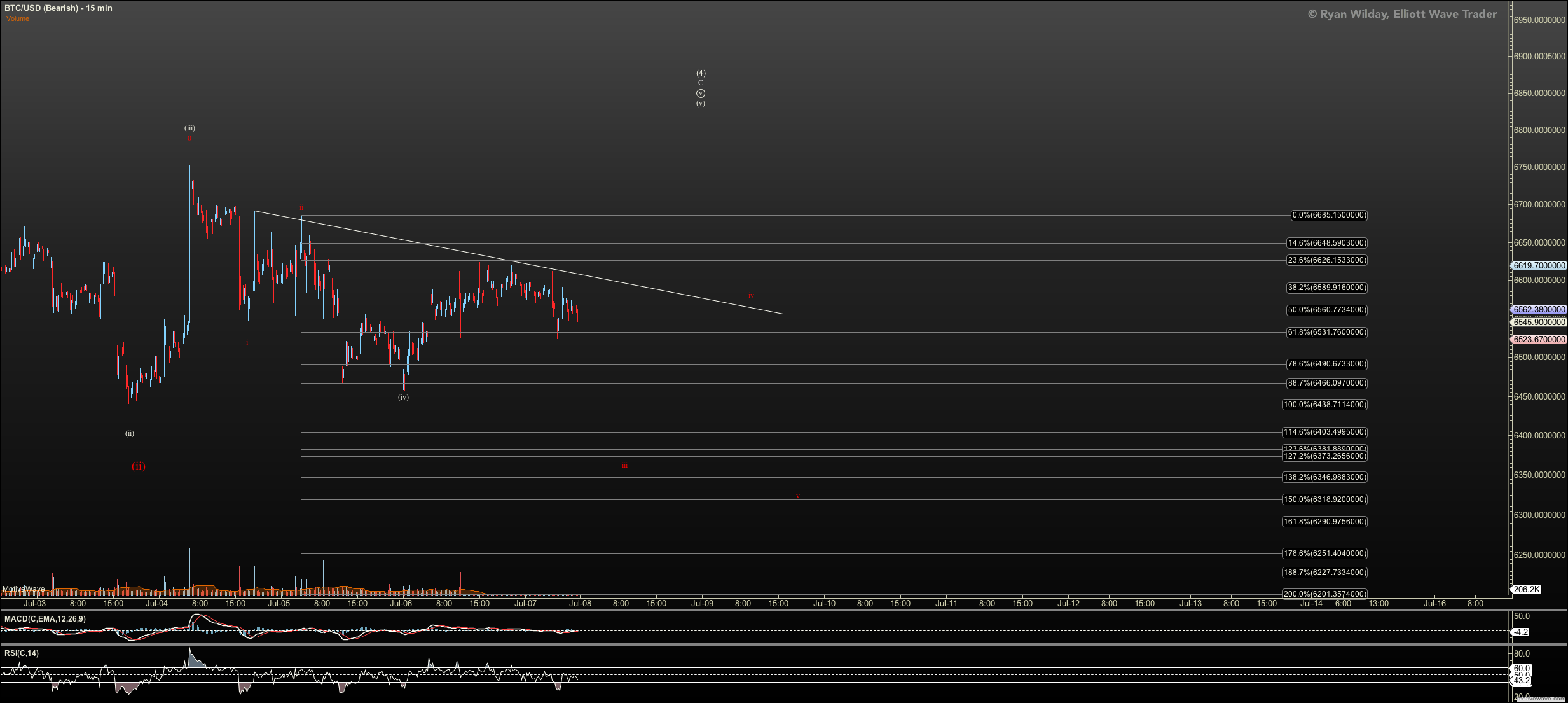 BTCUSD - Bearish - Jul-07 1042 AM (15 min)