Local Top Forming For Nasdaq?
There are still a number counts on the table for the Nasdaq 100, and I still see several paths forward from here. The big issue that I currently have is the structure of the move up off of the 8562 low. Unfortunately, the action up off of that low now counts better as a 3-wave move rather than a full 5 up. This with the fact that we have already exceeded the previous 4/29 high makes it very tough to narrow down the micro counts here in this region.
Furthermore, because the RUT and SPX have not yet exceeded that same 4/29 high, I still have to allow for this to be an expanded b wave rather than a larger degree 5-wave top, which is leaving yet one more less than ideal pattern on the board from a micro perspective.
So, with all of that said, and from what I am seeing on the other charts, I do still prefer to see this form a local top in at least the wave 1 per the yellow count. With the continued extension higher, I do have to now allow for what may have been a very shallow wave 2 as shown in green on this chart.
Under that green path we should hold over 9116 NQ, so breaking that level would give us the initial signal that we have topped in at least the yellow count with further confirmation coming with a break of 8983 NQ. That would then put us in the upper end of the support zone for the potential wave 2. Moving below that lower end of support for the yellow wave 2 would then open the door up to this having topped in either the purple wave B, still needing another lower under 8562 to finish off wave (4), or potentially a much larger degree top.
For now, however, I am taking this one step a time and first want to see how this handles the upper end of support to see if we even have a local top in place before getting ahead of myself looking for further downside action.
$NDX.X (1 hour)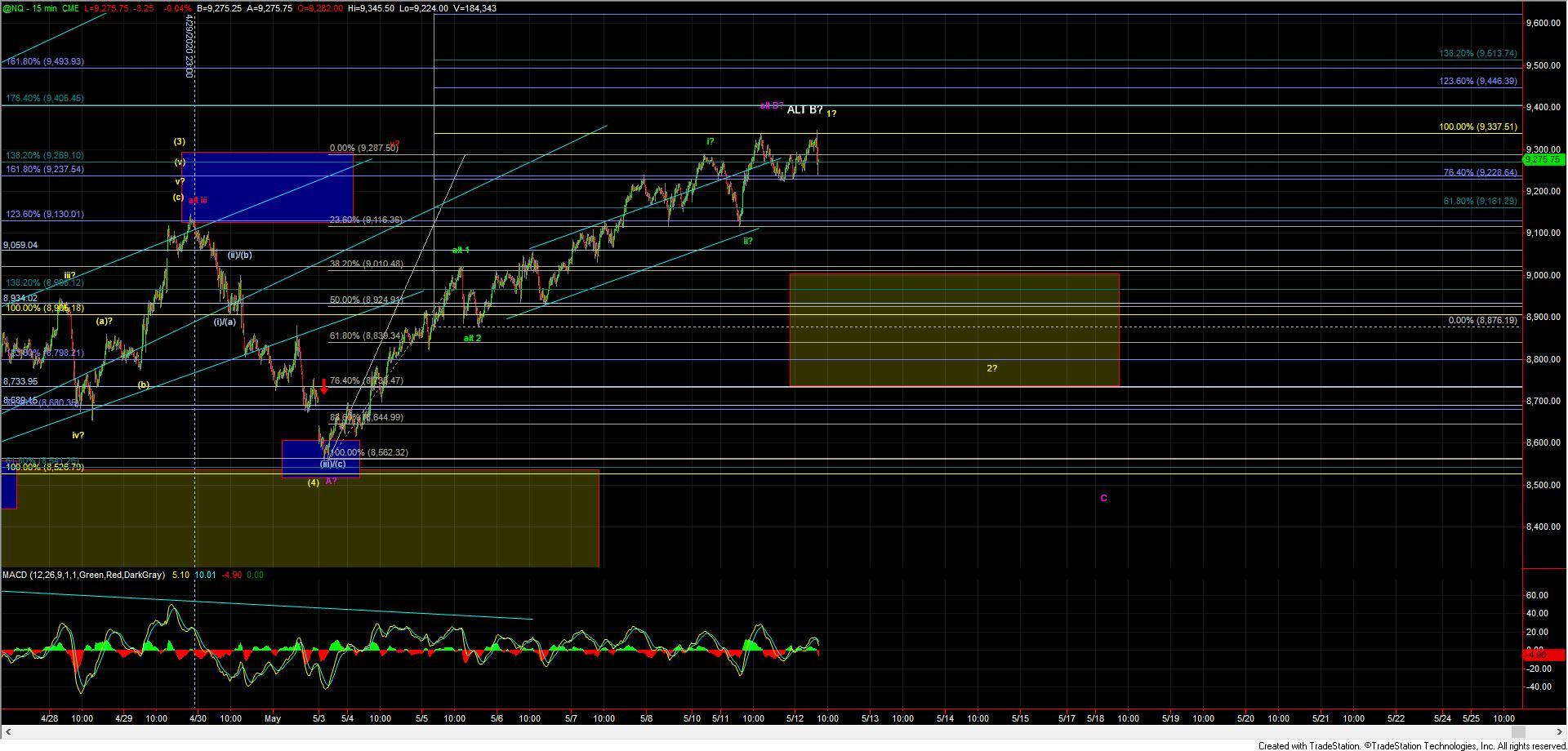 NQ 15