I Put Everyone On HIGH ALERT This Morning
When everyone was getting all excited about the strong rally in silver, I continued to explain that it was likely a [b] wave rally, and that we will likely see a downside move after that rally completed. As we know, that is exactly what happened.
Them, at 6:27 this morning, I put our full-time members on HIGH ALERT regarding silver as we were approaching the lows:
"It is now time to go on HIGH ALERT for silver. We now have enough to consider an almost completed a-b-c flat for a possible wave (ii). The other potential is that the 5-waves down that I would count as the c-wave in that flat is just wave 1 of the bigger (c) wave for the bigger wave 2 pullback.
So, the key now is to see a CORRECTIVE bounce. As long as the next bounce in silver is corrective, then I am looking down to the blue box below, which I slightly adjust lower.
But, if we begin an impulsive rally and take out yesterday's high, then we likely have completed this pullback and have begun a run to 28+, Yet, we will need to see the next (1)(2) develop first."
Then, at 9:35, as we hit the low, I posted the following up, with the chart attached below expecting a rally:
"I am looking for a 1-2 downside set up in silver. for a c-wave lower. But, if the rally takes shape as a clearly impulsive move, then I will shift gears and begin to look for a big break out. For now, I still am looking for downside resolution."
So, as silver MAY be trying to for a 5-wave rally off today's low, I posted the following only a few minutes ago:
"Well, this is where we play "what if" in silver. As I said, the drop we got into today's low was enough to consider a wave (ii) flat in silver. So, if we are bullish sooner rather than later, then one more push higher can be 5 waves up. If we then see a corrective wave ii pullback, followed by a rally through this resistance, I am giving up on the lower expectations, and looking up in a BIG way. This is the micro structure we are following for the next few days to tell us if we have lower to go or not.
So, PLEASE stay on your toes right now as per the HIGH ALERT in this morning's update."
For those that are not fulltime members, or that are not paying close attention to silver, you may want to move up to being fulltime members and pay close attention (and I don't recall that I have ever said anything similar in the last 11 years). The next few weeks will likely be among the most important we have seen in silver in many years.
If the wave [ii] flat is complete, we will likely begin a VERY strong rally sooner rather than later, and will fill in a micro i-ii, as shown on the 8-minute chart, and potentially break out in the heart of a 3rd wave.
However, if we break today's low, then we will likely be pointing down to the lower half of the support box on the 144-minute chart to complete a larger degree wave 2, and another buying opportunity.
Either way, it seems the next few days can be quite crucial.. And, if we do get a break out sooner rather than later, I will be looking for the (1)(2) structure around the next higher pivot to be the last point at which one may board the train before it leaves the station.
And, before you ask, I do not see the similar break out potential in GDX or GLD at this time. But, we know from prior updates what to look for.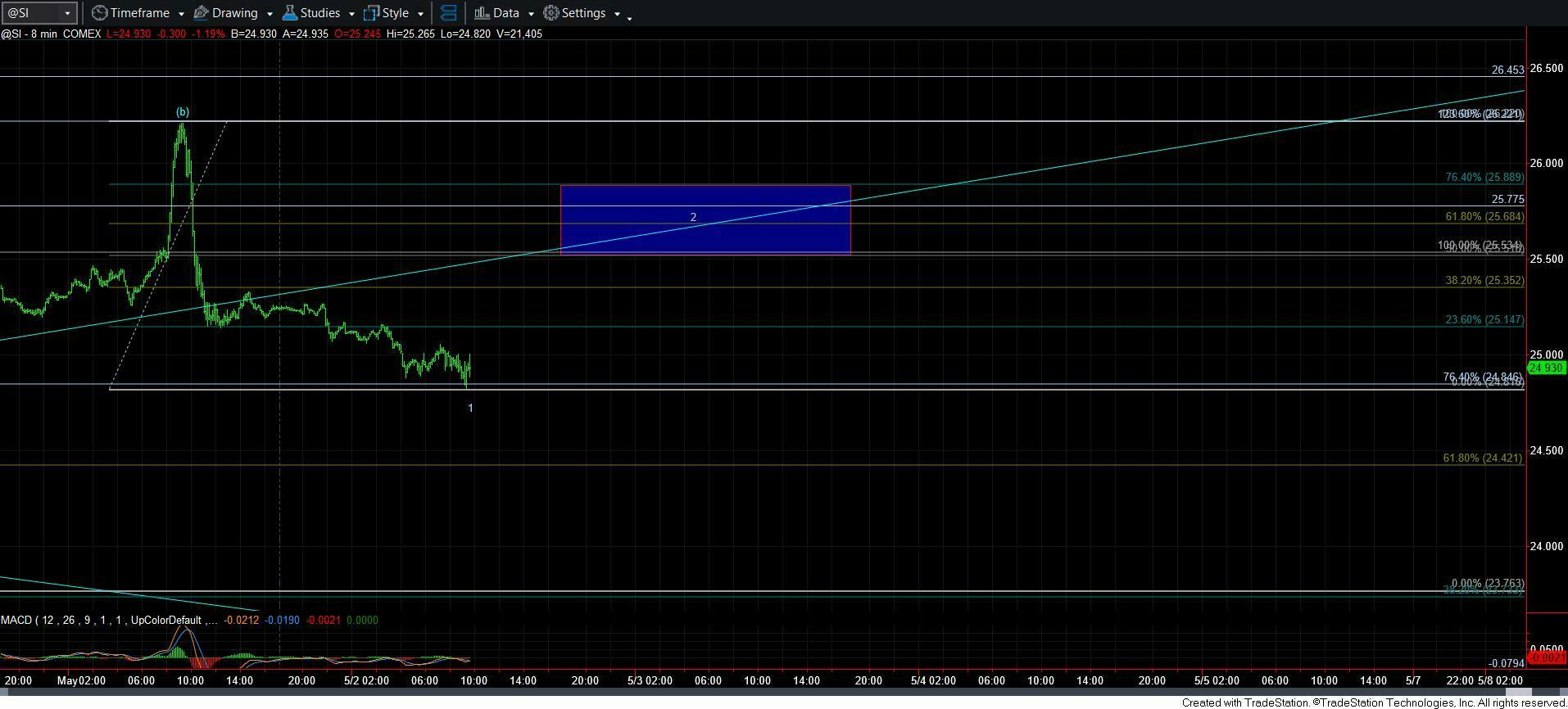 silver9-35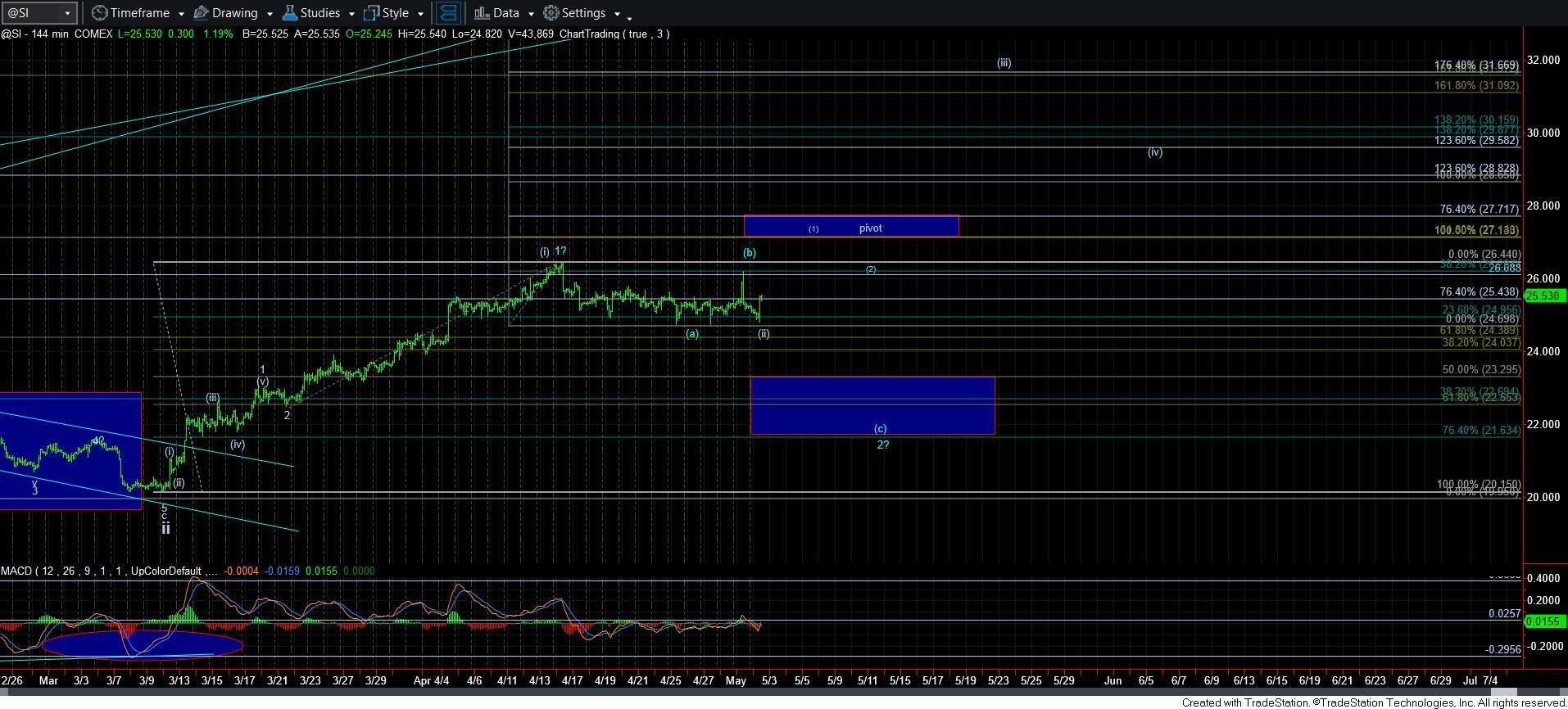 silver-8min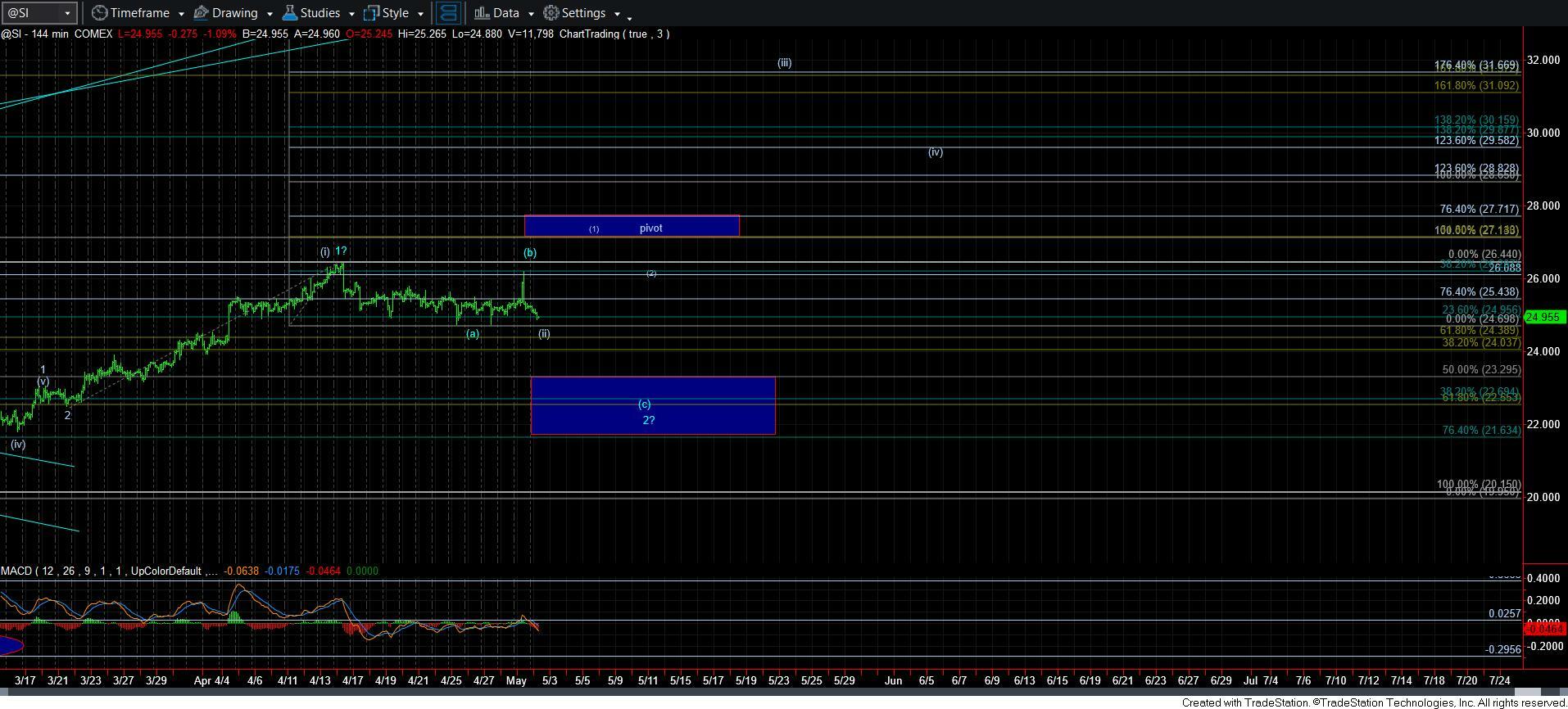 Silver-144min