Eyeing Rotation Opportunities & The Next Great Swing Entries
While StockWaves has maintained a firm bullish bias since the March and April 2020 lows for a larger Primary Wave 5 up in the broad markets, our view of those markets is influenced from a bottom-up approach of the hundreds of individual stocks and the sectors we examine. 
While regular coverage of the S&P and NASDAQ are outside of the scope of StockWaves because those are covered in-depth in other EWT services, we do keep eyes on the Equal Weight versions of those using RSP & QQEW, respectively. The look from these and indeed many of the stocks we cover regularly have been reaching important "way-points" inside that larger Primary 5 the last month or two and showing signs of at least some rotation coming if not an actual healthy consolidation. 
We have really been pointing to rotation opportunities for a few months now as small caps have continued their sideways chop while larger tech flies to the top of its wave (3), and our regular weekly focus on a particular sector at the start of our webinars further highlights some likely shifting of capital. 
But, more recently, it was the diverging look of the QQEW, specifically, while the S&P and other charts made new highs in December that had us on high alert for something sinister brewing in the near-term. 
The QQEW chart looked like a clear (a)(b)(c) corrective bounce in a b-wave off the December lows that was holding under the November high. That November high counted perfectly as completing an Ending Diagonal for the 5th wave of (3) inside its same Primary 5. 
QQEW dropped 6.5% this week in what can be just wave (i) of a c-wave down. The risk of this drop as well as the potential for the XLK (S&P 500 technology ETF) to be topping in the final move of a similar ED for its 5 of (3) had us on the look-out for things that could exacerbate weakness.  
One of those was MRNA, which can count as a larger 5up complete into the Aug high.  Along with BNTX, it had bullish potential off the the Nov low, but when both failed to hold higher support in early October we expressed concerns about a more bearish path for a deeper retrace and the possibility of "contagion" spreading to other charts. 
MRNA fell 36% from the 3up bounce in December as a wave 2 of (C) down. This "canary" yellow path on MRNA was indeed contagious and spread to BNTX, forcing that to invalidate any bullish potential off the November low.
We posted a number of bullish Wave Setups in early and late December, and many of those looked GREAT off the December lows into January.  But as we noted in Stock Waves along with warning about QQEW, many of these looked like they were completing the initial moves of larger swings and at least due for some consolidation. Many of our members have harvested some very nice gains and are sitting on nice dry powder as we hunt for the next great swing entries!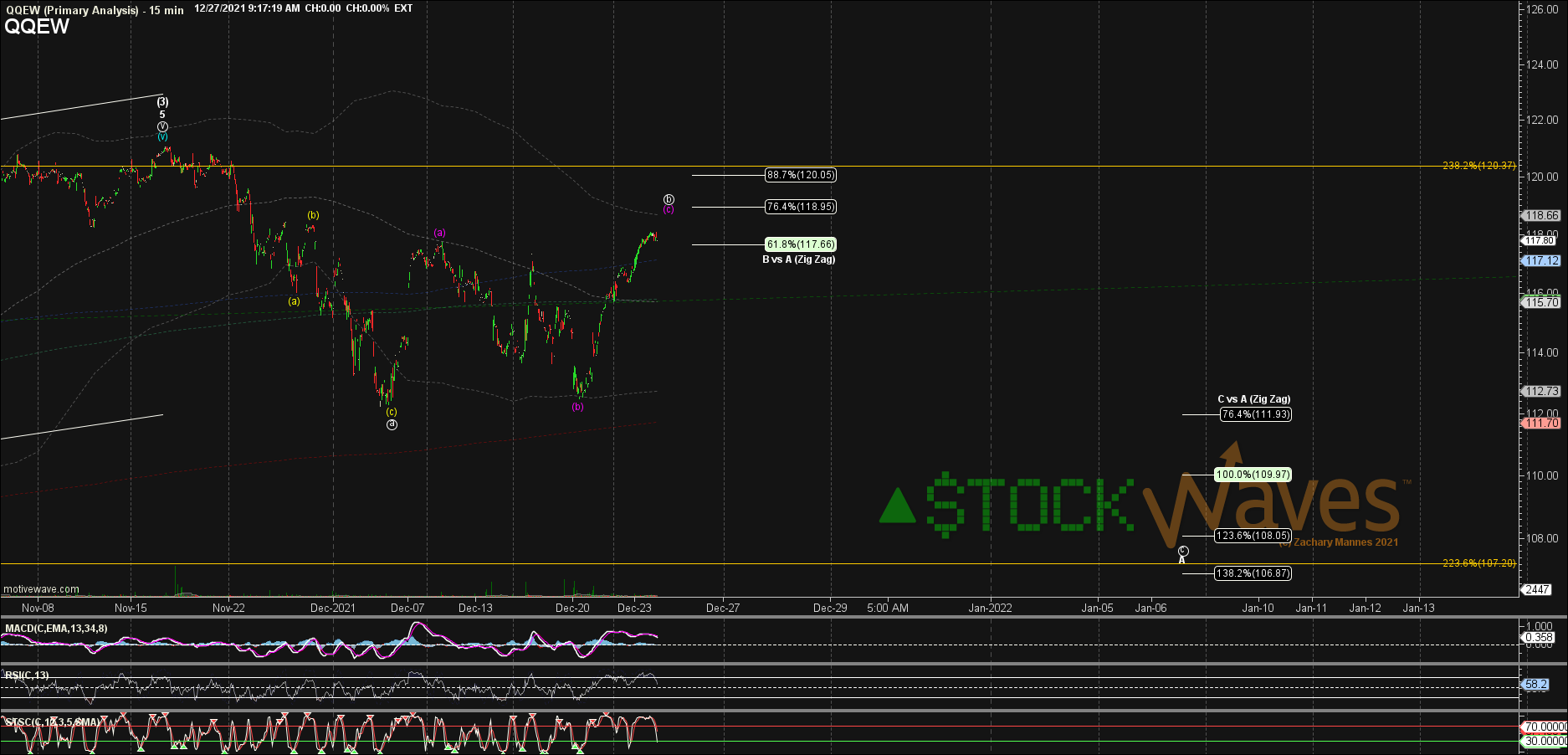 Since we had more conviction that at least the QQEW was due to attempt the start of a c-wave down, we were open to the same in NQ, so I posted in the Markets service a few times (specifically on Dec 30, Jan 3 and Jan 4) that we had a clear "nano" or "micro" corrective structures that setup "Pirate Ninja" (measured move) potentials.  These yielded some very nice moves in both directions, but primarily the move down from the Jan 4 high.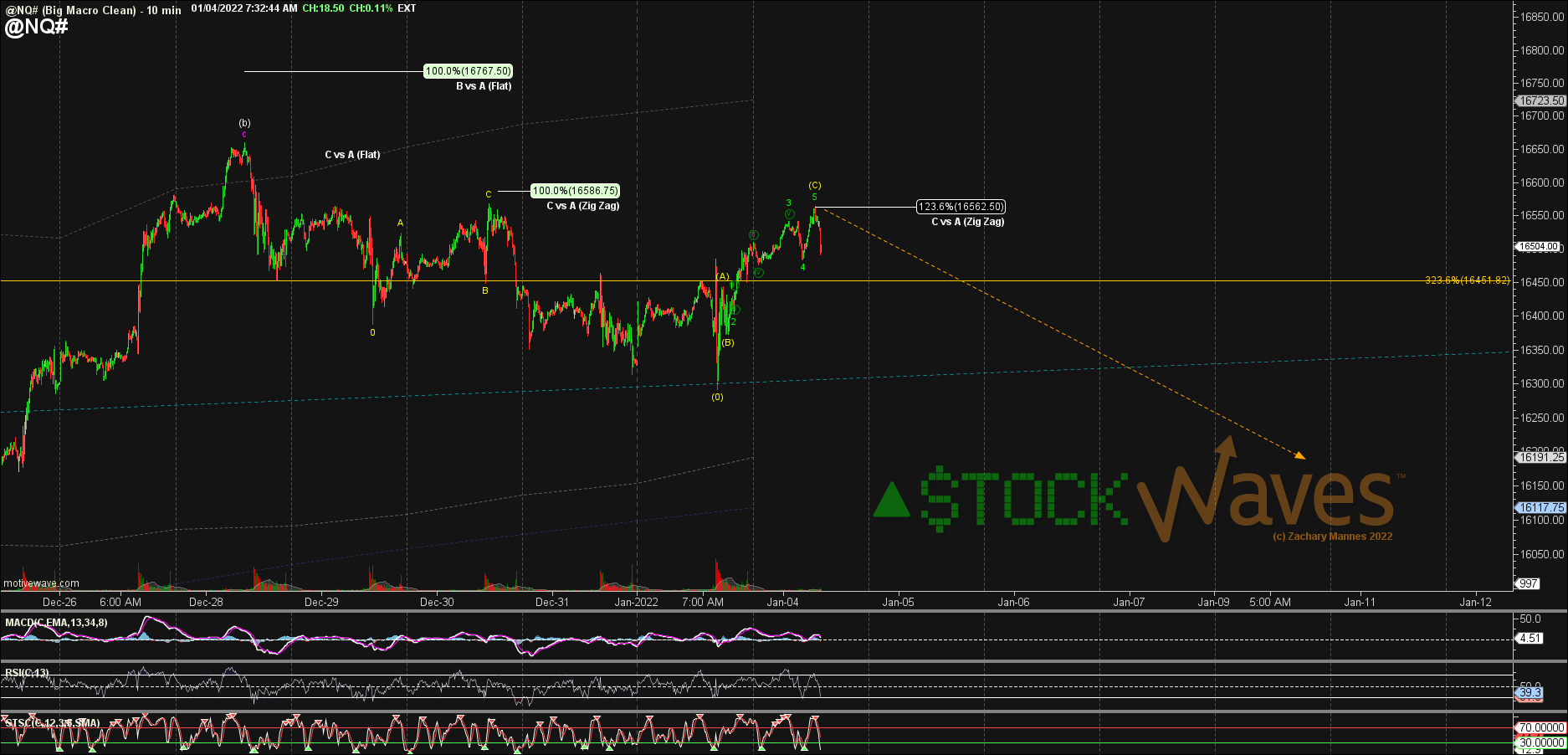 We have also been bullish again on energy names.  After they got strong initial moves up from our August lows as 4/B into October/November, many allowed for a digestion of that as a deeper wave ii. 
We started adding new energy Wave Setups in November & December as those names, along with XLE and XOP (which we always follow closely), came into their respective supports.  XLE is up 18% from December 20 as an a-wave inside the iii.  XOP hit +20% off the same low.  HAL, which was added as a Wave Setup on Nov 24, is up 22% since then, and OIH +20%. 
Many others like CDEV were still active Wave Setups from August.  We updated support to the December low at the end of December and showed that as a micro start to the iii, and it is up 17% from there and actually hit a micro target +24%.