Eyeing Near-Term Consolidation In Bigger-Picture Bullish Pattern for Miners
There is a delicate balance in Elliott Wave between degrees and understanding the context of the bigger picture and that of what the immediate small-degree price patterns are telling you.
I am still VERY bullish Miners and Metals at larger degrees, but more near-term consolidation would help solidify strong bullish potential to continue over the next months and even years. While grinding more immediately higher actually curbs some of that bullish potential as I have discussed. But let's push that aside for a moment.
In Monday's Webinar for members of our Mining Stocks Portfolio service, we discussed the move up off May 27 in the Gold Miners ETF (GDX) and many individual mining charts looking like a corrective bounce as some degree d-wave inside some larger abc pattern.
Yesterday we pointed out that the pattern had reached the 61.8% retrace and could turn down. We had planned to wait for a (i)-(ii) of the possible c down for a small DUST hedge, but the nature of the initial drop right after open made for a strong high probability initial tranche.
We now have what looks like 5 waves down in between the .382-.50 of the c ideal for a wave (i). Wave (ii) can bounce toward 34.20s-34.70s, but really should not exceed 35.20. On a clear abc bounce as (ii), we are likely to add another small tranche of DUST for the remainder of the c wave targeting just under the 31 region.
In some charts that will look like a possible 4, it could be all of a 2/(2), while in others it might be only A of (2). But in MOST charts it will be an abc correction off a high into some level of support and a setup for at least a bounce.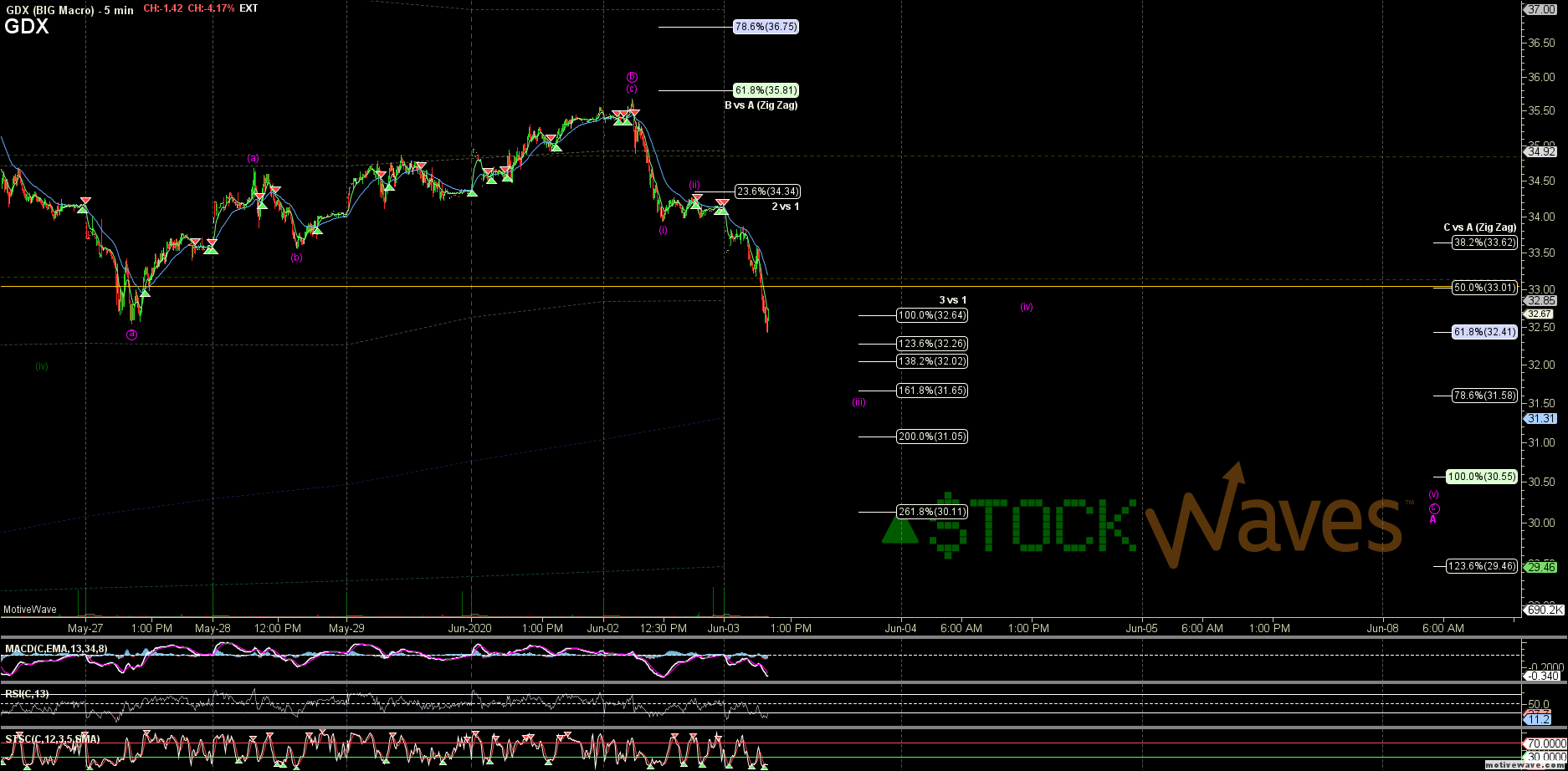 GDX - BIG Macro - Jun-03 1049 AM (5 min)