Eye on FEYE, HAL, NBEV & MS
Our Charts of the Day Video today covers FireEye, Inc. (FEYE), Halliburton Company (HAL), New Age Beverages Corporation (NBEV) and Morgan Stanley (MS).
FEYE is starting to act more in line with the white count on our chart as a leading diagonal to this circle wave 1. As such, it could get one more pop higher towards 18.50 as a 3rd of wave 1, come back deeper towards the 16's as a 4th wave, and making another move towards 19-20 as a 5th of wave 1.
HAL, which reported earnings today, started to get a little pop pre-market and then faded a lot. The low in wave (2) now looks like it may drop down to one more low in the 32.50 region. It's more likely now that instead of a w-x-y pattern, it could be in a 5th wave of the circle c wave down. As long as it holds the 32.50 region, it still looks bullish long-term.
NBEV has been getting some nice downside action in the blue C wave of alt wave (2). Support is in the mid-to-low 3's. The 4th wave up inside the blue C wave should not get much beyond 5 1/2-6 before heading ideally toward 3.50, which is a 50% retracement of wave (1).
MS is one of the very bearish charts we see. This larger b wave could have topped and started at least a bigger correction if not the start of primary wave 1 in a much larger cycle c wave. It appears to be in a leading diagonal down. If it holds in the 44's, and tries to come up the 50-52 resistance area, that would be another place from which to short.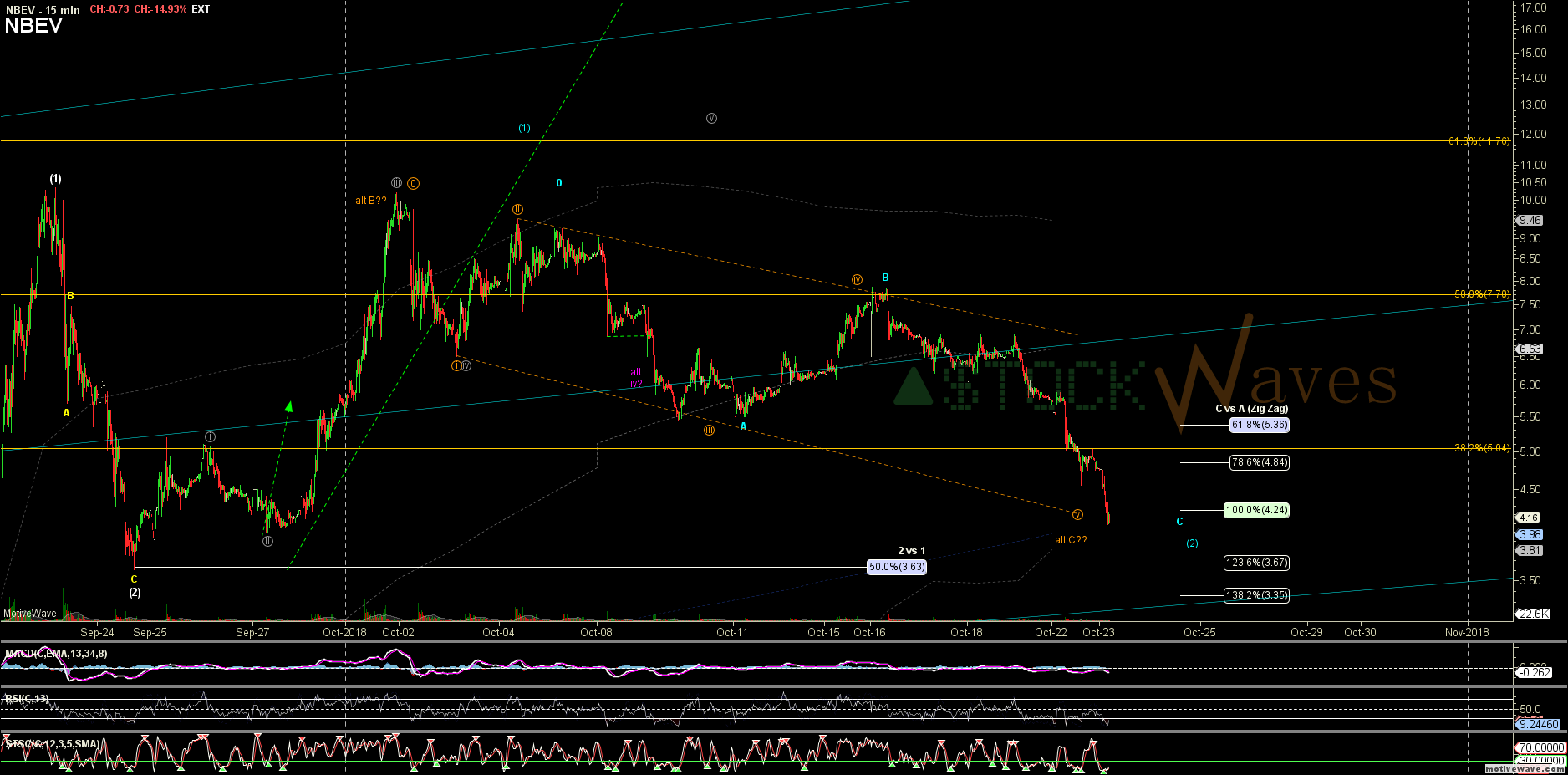 NBEV - Primary Analysis - Oct-23 0843 AM (15 min)