I noted over the weekend that I did not have a downside set up in metals just yet, and would send out a Market Update when we do have a set up. Well, the setup has not completed yet, but I did want to at least post a warning that the setup is likely in progress.
First, we seem to have a completed a-b-c for wave (2) now on our GLD chart, and I was wrong in not believing it completed last week, as it seems right now that it had. But, what I wanted to then see was another 5 waves down off a high, and this morning, we are just about there.
So, as long as the market remains over the 111.60 level (.618 extension down off the (1)(2) setup), I will be looking for the completion of this wave I of (3) to complete soon, and then provide us what can be a multiple day wave ii corrective rally. As that rally progresses, I will send another update.
The main reason I wanted to send this update is because I COULD be wrong about looking for a wave ii rally. There exists the "possibility" – but not high probability right now – that we have a i-ii, 1-2 set up to the downside already in wave (3) down, but it will take a break down below 111.60, with follow through below 110.65 to confirm that. Again, that is not what I am expecting at this time, but I did have to at least note the potential to prepare you in the event it does happen.
The targets on this set up should take us below 105 on the GLD, with the 2.00 extension at 102.50 and the 2.618 extension at 98.50. Both of these targets can act as the bottom to this 4 year long correction, but I will need to see how we progress to be more certain as we move down. Under all circumstances, do not allow an emotionally charged break down in the metals market prevent you from entering very long term long side positions.
Lastly, a break out over 115.70 would invalidate this IMMEDIATE downside set up.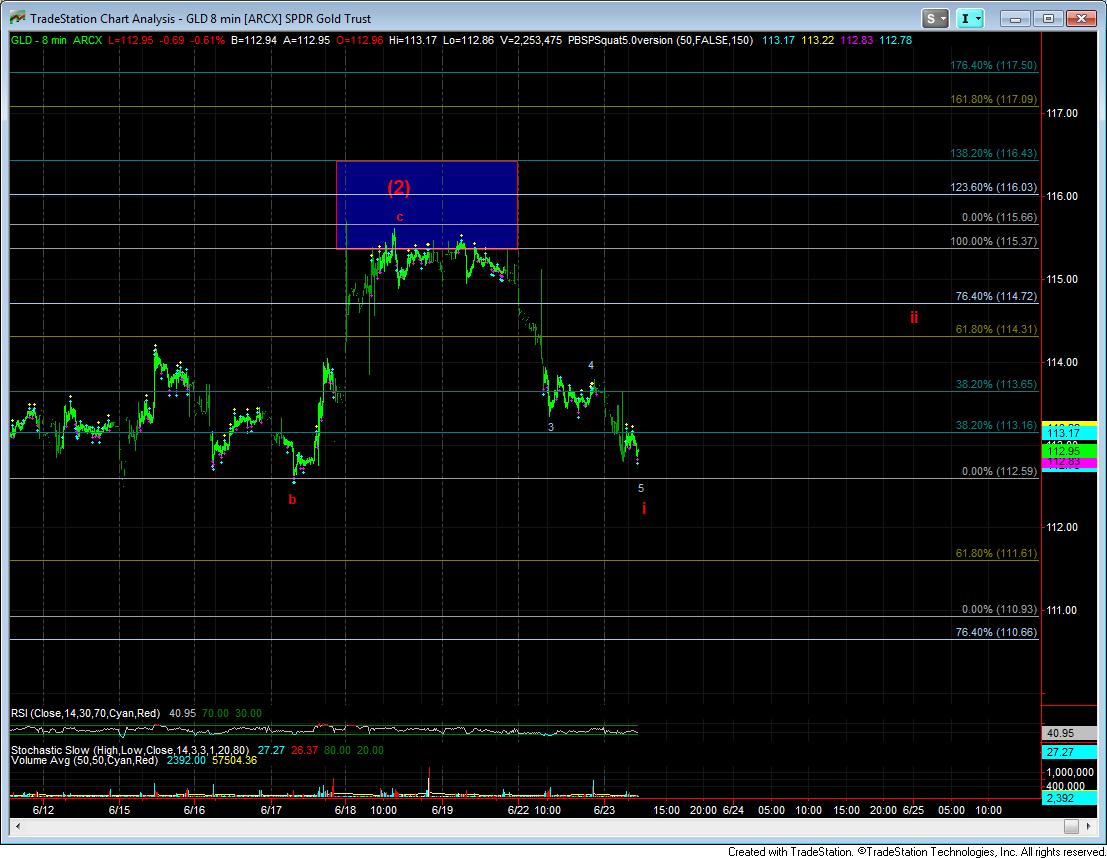 GLD8min