Decisive Breakdown Below 3950 As Markets Heads Into Santa Rally Bullish Seasonality
The most significant things that occurred last week were the Emini S&P 500 (ES)'s massive rejection at 4180 after the CPI report, followed by the breakdown continuation below the 3950s 4-week low. Then, price was able to close near the weekly lows in the 3870s to cement a -1.47% trend week down. Overall, it was a massive weekly range 4180-3855 (worth 7.8% and 325 points).
Key ideas going into next few sessions:
Typical bullish seasonality starts ramping during Dec 22-23 into 2/3rd day of the New Year, according to stats (an average of ~1.5% gain during that period). Keep this in your back pocket when trading if setups accompany this bullish seasonality.
Price is currently hovering in the 3880s, which is below the previous 4-week balance of 3950-4150, indicating short-term sellers remain favorable as trapped longs got liquidated.
Main expectations/bias going into this week is that if sellers retain momentum by disallowing daily closes above 3950, then further selloff could escalate into the 3750-3700 area for continuation.
Conversely, if buyers sticksave this by breaking and holding above 3950 on a daily close, and then make consecutive daily closes above it, this opens a scenario for another retest into 4100/4150/4180.
Basically, 3950 will be the most pivotal point of battle for the incoming sessions given the context of the breakdown structure below the 4-week low.
Intraday trading parameters:
Almost all of our short-term downside targets have been considered fulfilled from the prior report. Per Dec 16th report: looking for another test into 3912-3920, 3900, 3885/3850/3830 as continuation targets.
As of writing, need to be aware that Monday most likely going be an inside/range day balancing between Friday's range of 3930s-3850s.
Look to buy vs. potential range low if 3850/3865 hold with the corresponding setup after RTH open tomorrow.
Look to short vs. potential range high if price backtests into 3912/3920/3930 resistances.
A break and hold below 3850 would immediately open up bigger trend towards 3750-3700 zone.
Let's see where we open for RTH as our parameters could change, utilize the additional key levels at the end of our ES game plan report (in room).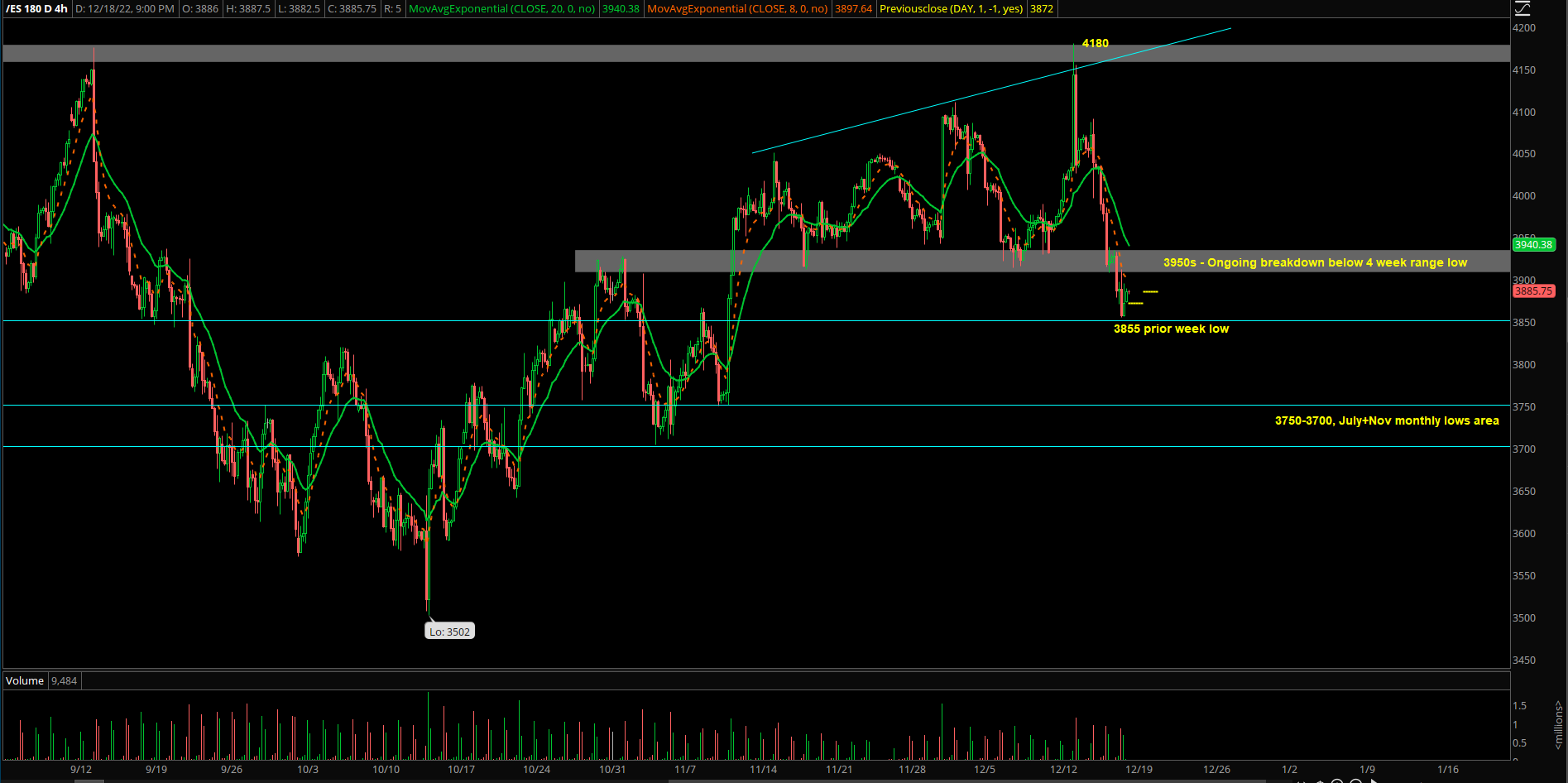 ES DEC18_REVIEW_2022