Day #2 Success, Bulls Showing Commitment
Context Section:
Starting from mid Jan 2022, since the decisive breakdown below the trending daily 20EMA + 4650s area, the market has continued trading in a massive sideways range of 4630s-4100s on the Emini S&P 500 (ES). And within this period the majority of time has been spent between 4585-4250.
In addition, no short-term directional trend that has outlasted more than 2 weeks before it reversed into the other side testing extremes. Whipsaw environment.
Feb's monthly range = 4586-4101.75
March's monthly range = 4631-4129.5
Ongoing April month range = 4588-4355.5
April's monthly price action continue to be trading entirely within the previous month indicating indecision and consolidation before the next decisive monthly move (eventually outside the range)
Zooming in: If you recall, last week's expected initial range was 4525-4400 since the Monday April 11th report. In reality, the weekly range played out as 4491-4375.
For the most part, all dips into 4380s-4400s were bought throughout the shortened holiday week. However, by end of the week price confirmed that bears were in full control with the short-term downtrend with Thursday closing around the week's low.
As of 4/19 EOD close, price action recaptured above DAILY 20EMA (main trend), a shift of momentum change.
4/20 EOD closed at 4455, confirming a day#2 above our key levels of 4425/4444. If you recall, 4425/4444 were critical levels for earlier this week. This indicated that bulls were ready to attack 4500-4525 range high area into end of week as bears failed their shot at lower lows.
4/21 as of writing, ES at 4498~, hitting the lower end of our target zone.
Current parameters:
Overnight range = 4498-4467, current price = 4498. Market about to open as +0.9% gap UP vs yesterday's close. Strong trend continuation (NQ +1.3% gap up, playing catch up).
4490s also represent last week's WEEKLY highs, watch if FOMO or an initial fade that gets bought. Ongoing massive weekly ES bull engulf, NQ still lagging at the moment.
Momentum news: TSLA premarket +7.4%, risk-on market. See if it sustains after RTH open. We want to see $1150-1200 (10% away) in next few sessions if so. Now, $1050
Similar stance as yesterday, short-term bull remain in favour due to 4/19 DAILY 20EMA trend change + 4/20 day#2 confirmation.
ES main scenario for today, trend day continuation model:
Immediate supports are ES 4473/4465/4455, look for higher lows to buy dips against for a chance for 4500-4525 range high towards end of week.
Note: ES risk vs reward is lower now that the bulk of move has played out. (NQ trying to play catch up, shared bonuses in Ricky's service)
At this point if price goes below 4444 then things become wishy washy due to the momentum. Below 4444 opens 4425/4400 for immediate downside risk/backtest.

ES APRIL21_REVIEW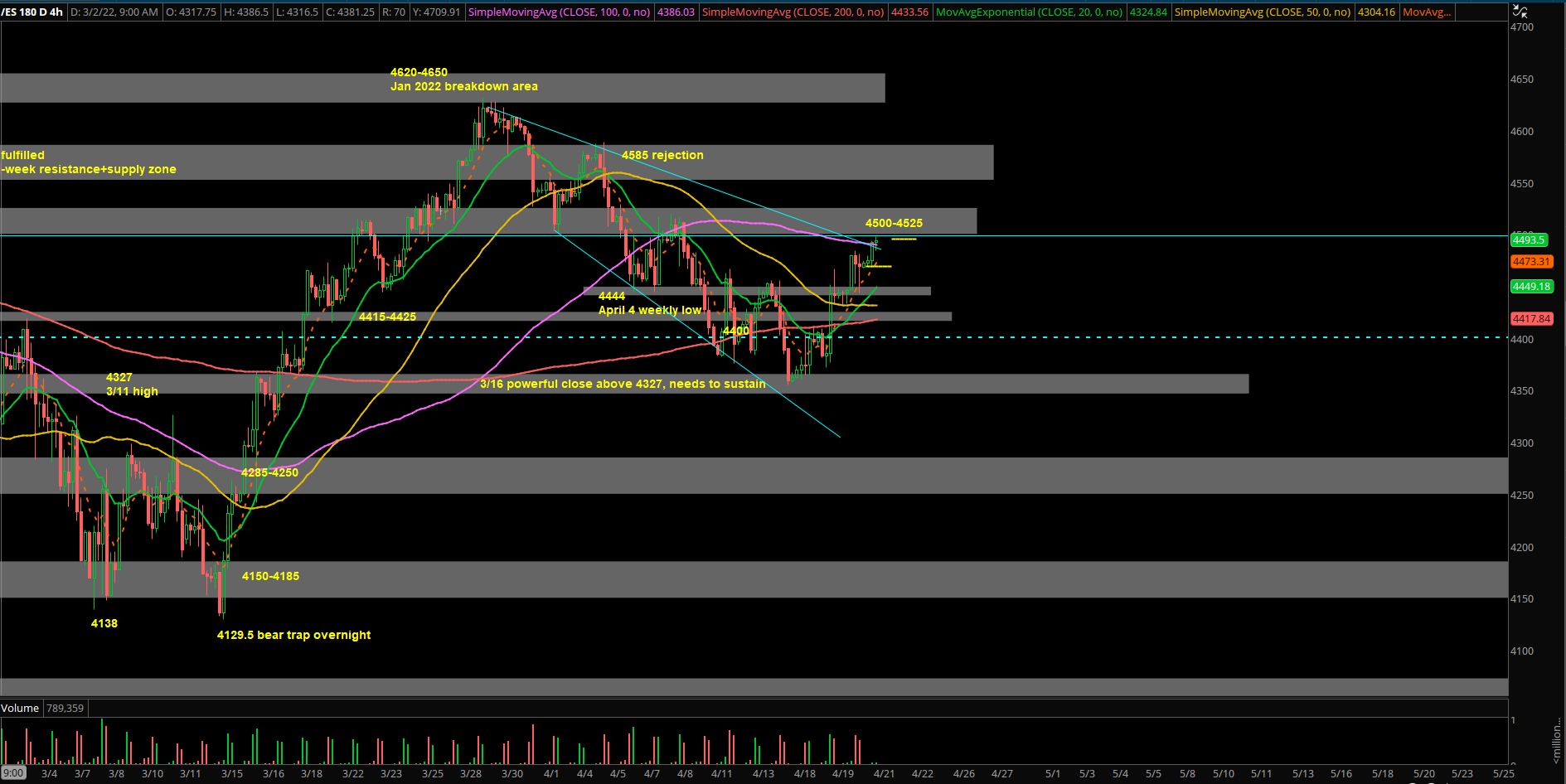 ES APRIL21_REVIEW2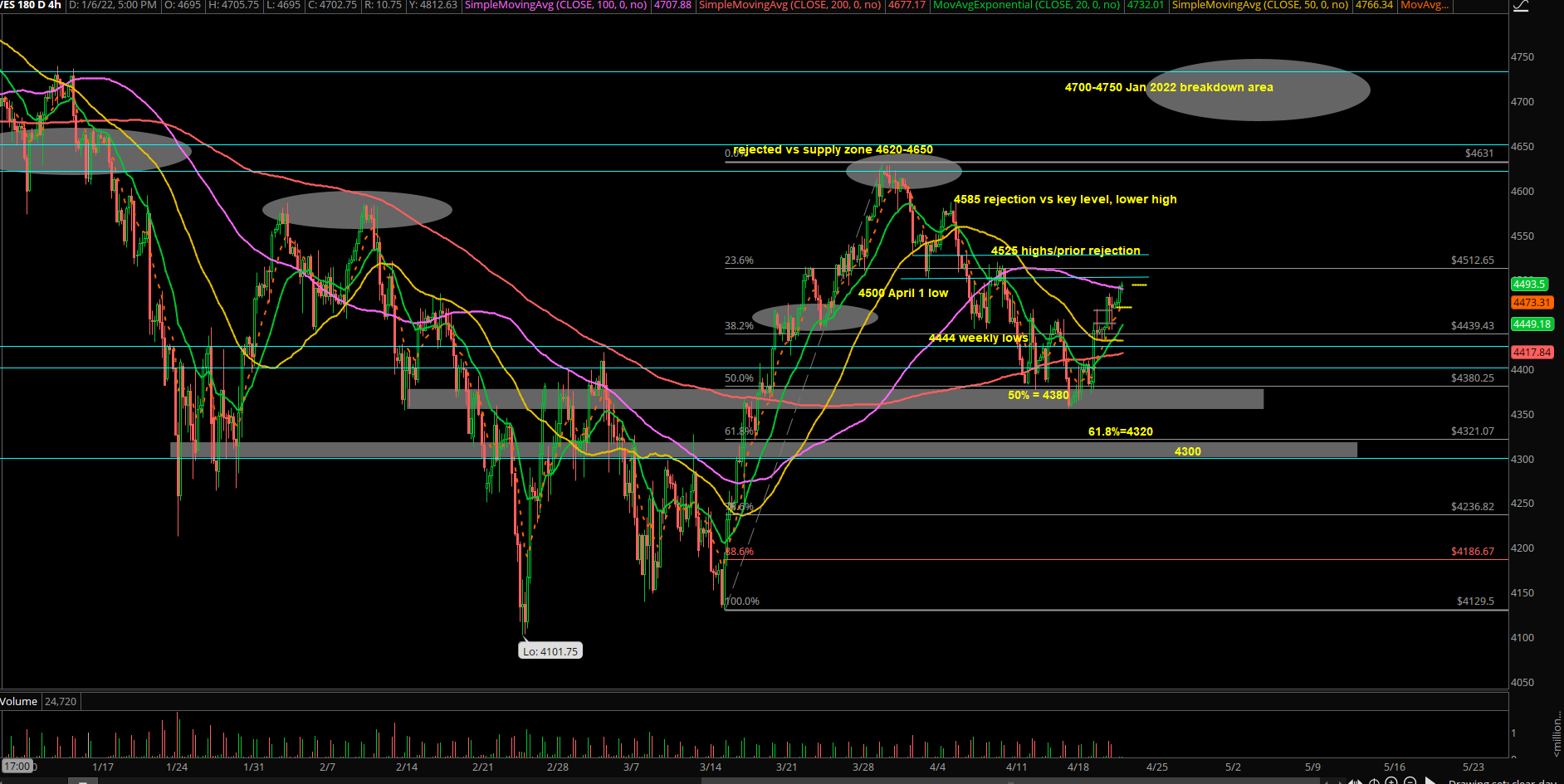 ES APRIL21_REVIEW3