DXY - Creeping Lower But Still No Signal Of a Top
This week we still saw very little change on the DXY. The index has moved slightly lower this week but from a structural perspective, there is very little to add to the previous analysis. As I noted last week I do see the potential for the move into the current high to only be a wave A of (B) as shown in purple rather than all of wave (B) as shown in white. In either case, I am still looking for at least a local top on the DXY sooner rather than later. I will use the structure of the action back to the downside to help give further guidance as whether we have topped in all of wave (B) or just the wave A of (B).
The overlapping, sideways action we have seen in the DXY is action we have not seen since 2013-14, when the market was setting up to rally strongly. At this time, we are seeing a similar type of overlapping consolidation, but with the expectation of the opposite price action, since we are topping now relative to bottoming back in 2013-14.
In the smaller degree structure, we were not able to hold support for an impulsive rally structure, which means that any further upside will likely be as an ending diagonal in the c-wave of the wave v of C in the (B) wave, which can be seen on the daily chart.
Since our expectation is that we will see a (C) wave decline once we complete this topping process, and c-waves are usually impulsive 5-wave structures, the fact the downside seems corrective in nature suggests that market is likely going to still try to stretch a bit higher prior to topping.
But, with as high as we have come, one has to recognize that the downside potential far surpasses any further upside expectations that I have left, and the pattern to complete this (B) wave has gotten quite full. A break of the 95.03 level followed by the 93.81 level may act as an initial signal that a top may have been struck but again I would want to see a full five-wave move to the downside to give us further confirmation that a top has indeed been stuck.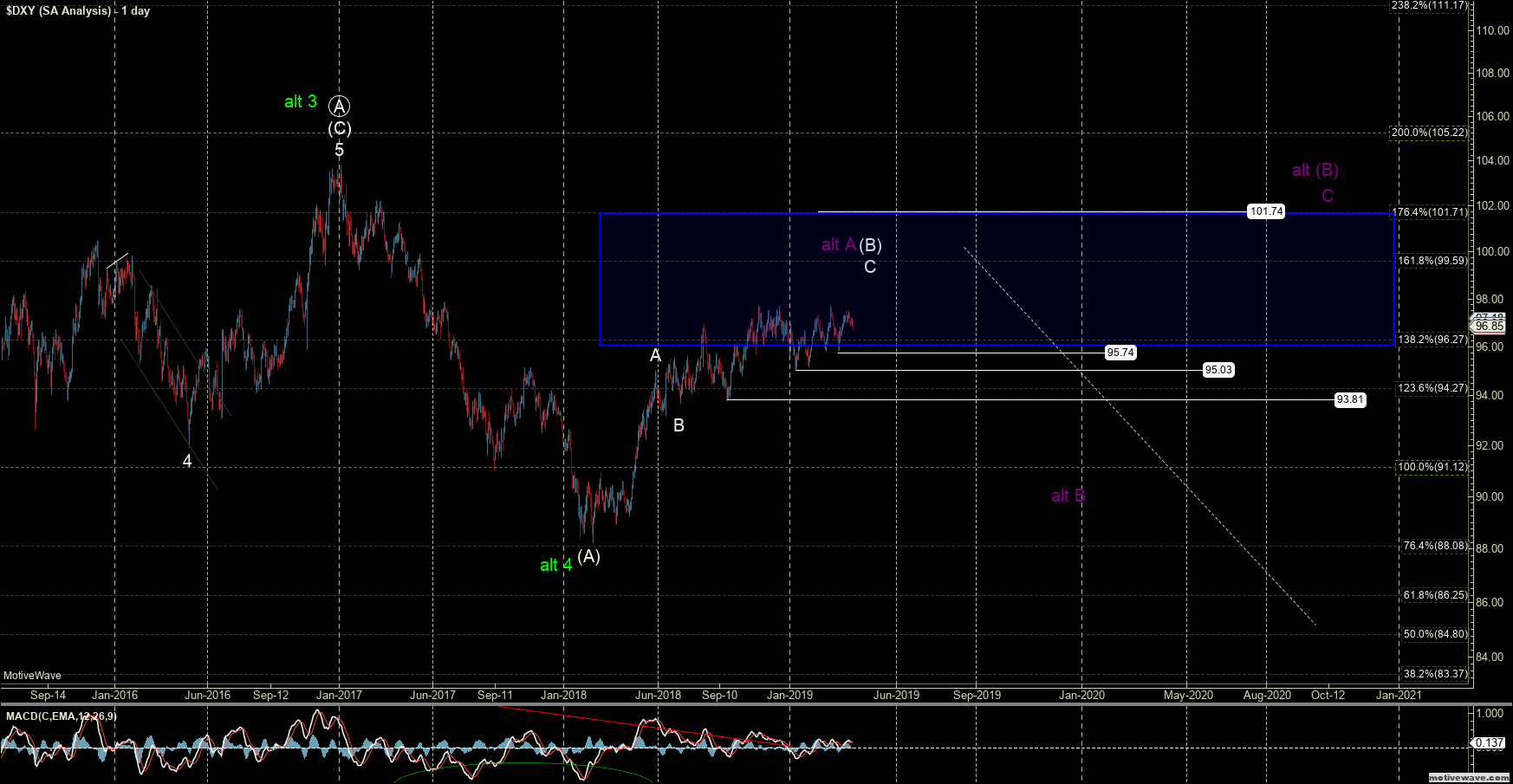 $DXY - (1 day)