Could There Be A Bottom In Place?
For over 4 years, many have been looking for a bottom to this metals black hole. Many have called for a "certain" bottom in place many times over. But, until we reached our targets AND had a full pattern in place, we were not able to call a bottom.
However, while I am not yet "calling" the bottom, I am going to note that the potential now exists that a bottom can be in place in the GDX as it now has the bare minimum number of waves to call it a full 5 waves down in this larger degree c-wave. If you look on the chart, I still have the potential for an extended 5th wave to take us towards the ideal target around 12, but it is not necessary.
But, I will warn you that I will need to confirm any bottom in place. That means, I will need to see a 5 wave move back up towards the 18 region, followed by a corrective 3 waves back, and then a take out of the initial 5 waves up to strongly declare that the bottom is in. That will still likely take some time. But, for now, I will be watching the 13.86 level, because as long as the market remains below that level, the micro (i)(ii) structure down in an extended 5th wave is still very much on the table.
As for the GLD, nothing has really changed, as I am still looking for at least one more lower low, if not two, as long as we remain below 103.50-104.75 resistance region.
And, in silver, we need to exceed the 14.50 level for me to consider that the immediate downside has completed. But, even in silver, it really would look better with at least one more, if not two more, lows, similar to what I have outlined in gold. But, remember, this is not necessarily the time to be focusing on the short side, as we are quite close to a very long term bottom in the metals and miners.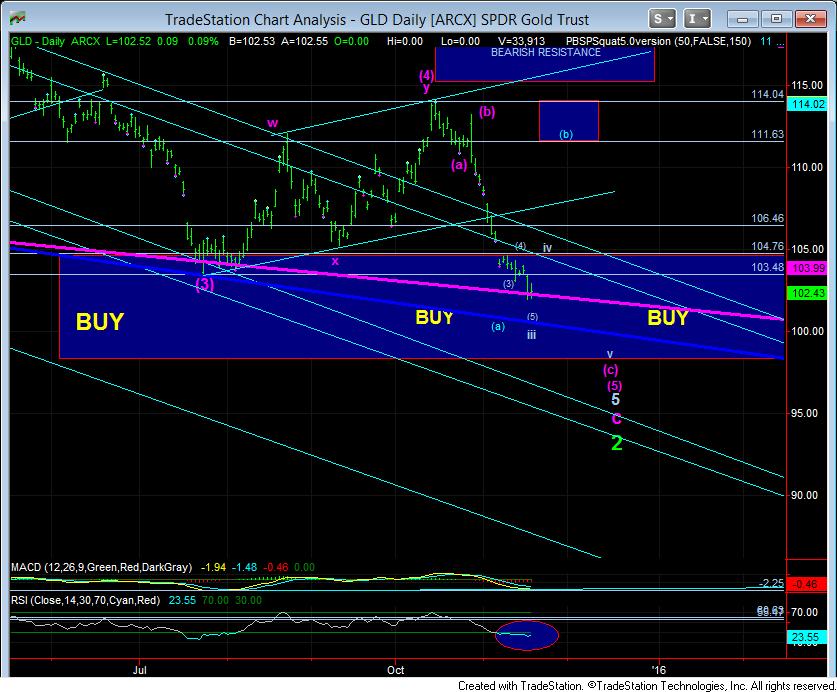 GLDdaily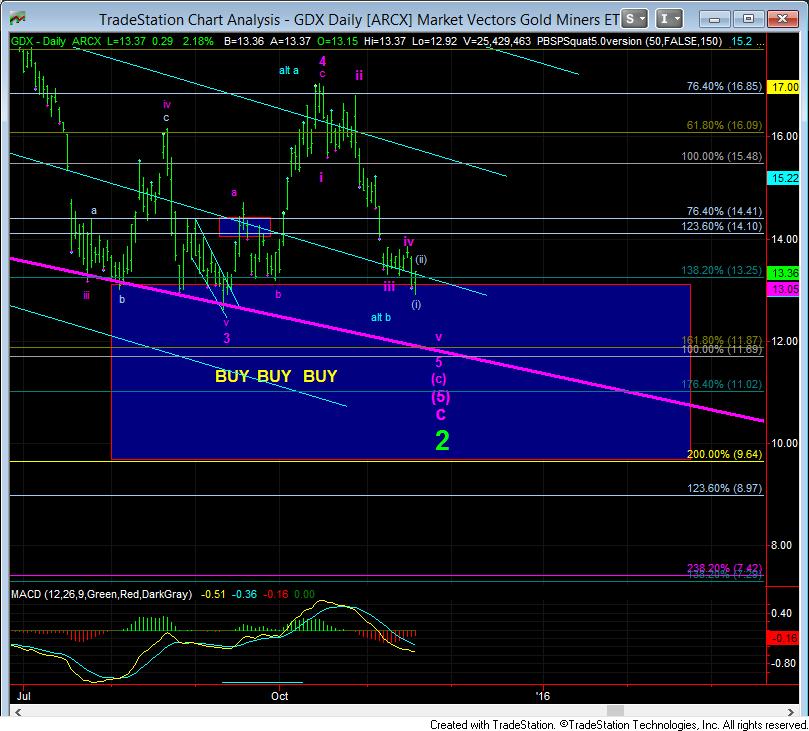 GDXdaily
silver daily