Clearly Not Time To Sit Tight
Today, the market tested our support region between 28.50-29, and clearly broke it. It prior updates, I noted that a break of our support points us down towards the 27 region, which is where we now reside as I write this. However, I am not seeing anything in the GDX chart alone that is suggesting the market is going to hold this region with high confidence. Rather, this sell off can continue down for another 10% below the 27 region and take us to our prior blue BUY box below.
The main issues I am seeing that give me some pause is that the GLD has been holding rather well, and has support just below the market, with my minimal expectation for downside to strike 125.80, with the bottom of that support in the 124 region. This still maintains a i-ii, 1-2 pattern in the GLD.
However, silver has now dropped and heading to the lower modified target in the 18.28 region.
As I have mentioned several times before, what has eluded us is where a 2nd wave should be viewed with high confidence in the rally off the lows earlier this year due to all pullbacks being so shallow. If I was to apply the rule of alternation, that would make this a 4th wave since it is a much larger pullback than the 2nd waves in the GDX. But, when we reviewed the various individual miner charts, there are 3 different bullish interpretations we can come away from them, and I have presented them on the GDX daily chart.
While the GLD count does align well with the i-ii, 1-2 in the GDX, there are a number of charts that can even count this drop as a bigger ii, or a 4th wave in the bigger wave I off the lows.
On a micro scale, I will need to see a sizeable bounce back towards the 28 region if I am to begin to assume we are "bottoming" in the GDX at this time. Until I see such a bounce, the market pressure will clearly remain to the downside and we can still head lower towards our blue BUY box in the GDX at this time.
Ultimately, what I am saying is that now is the not the time to sit tight, but now is the time to protect your portfolio – if you have not on the break of 28.50, and allow the market to provide us further clues in the near term.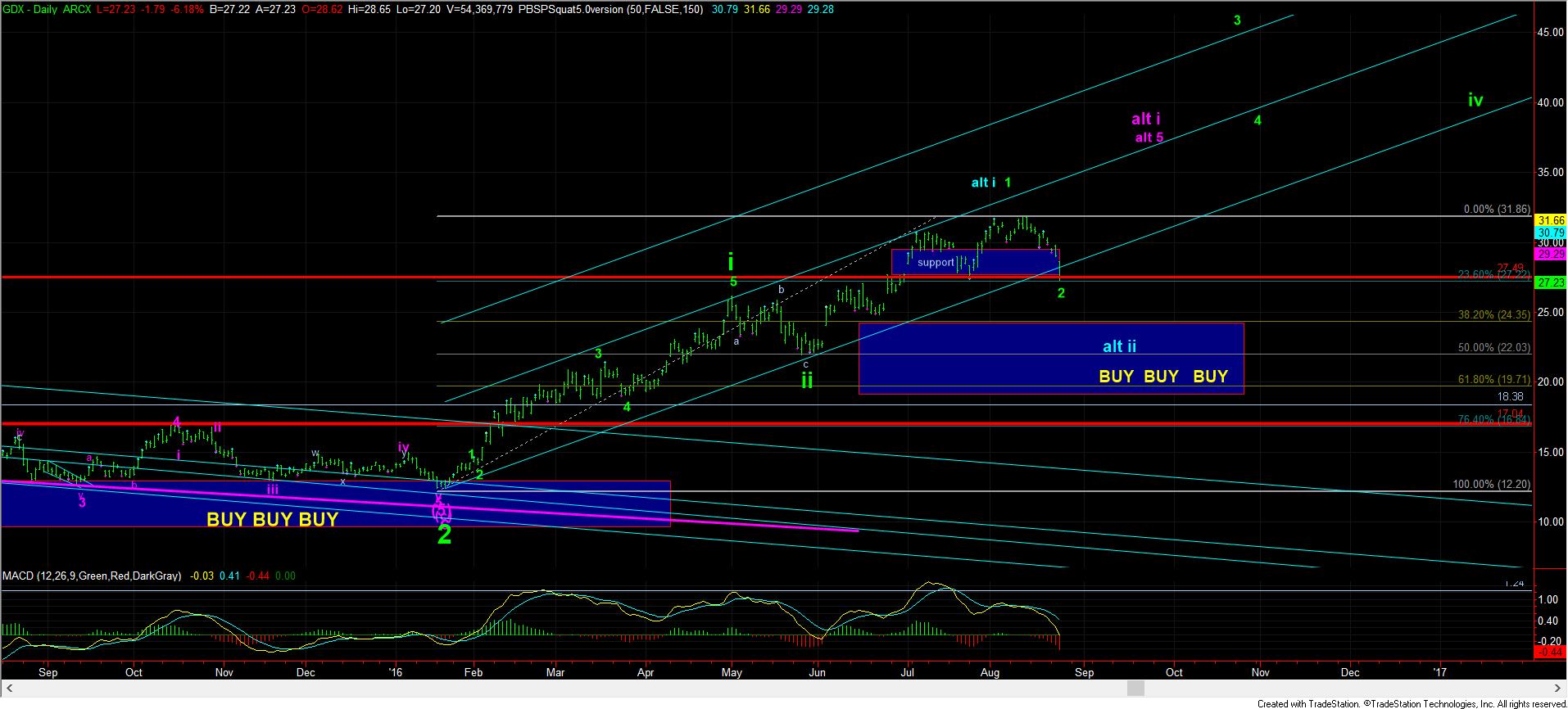 GDXdaily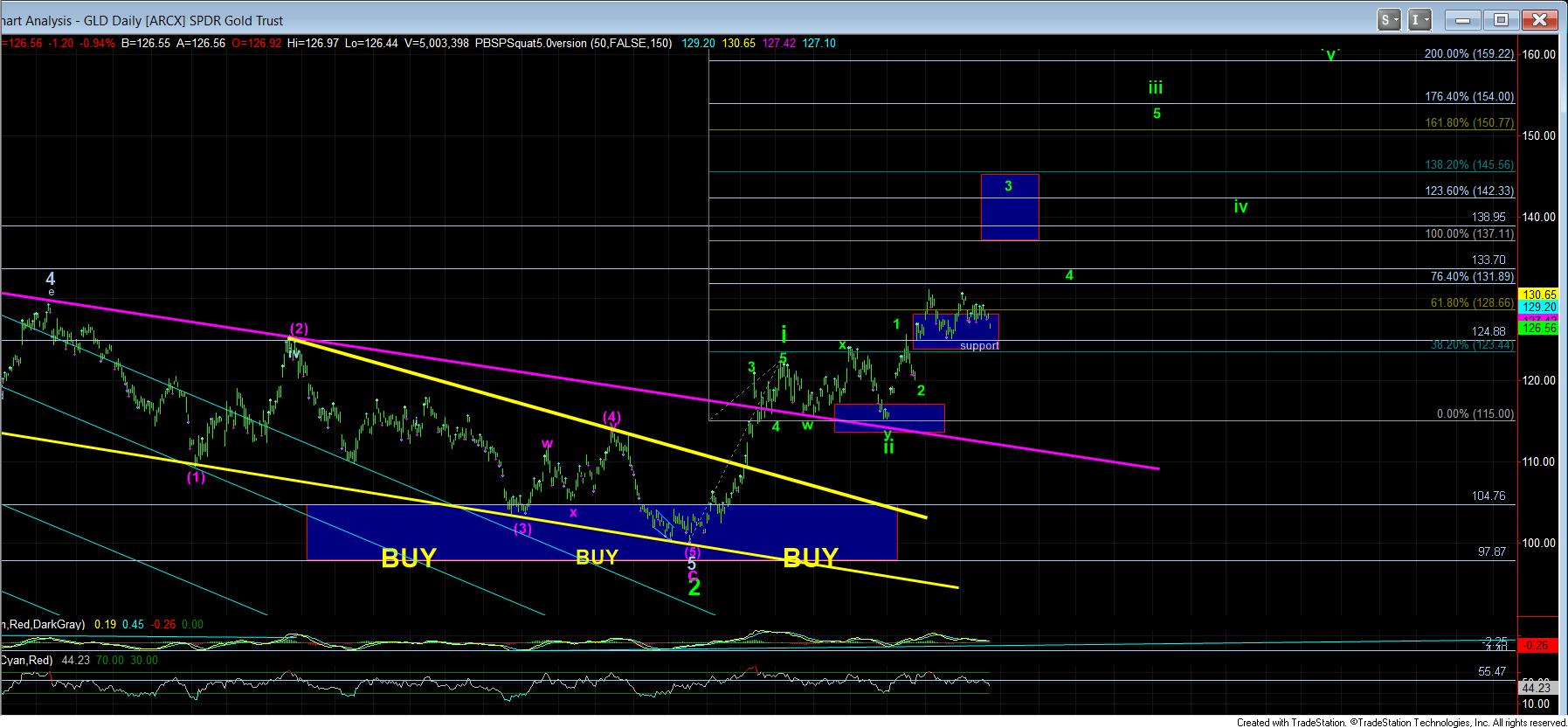 GLDdaily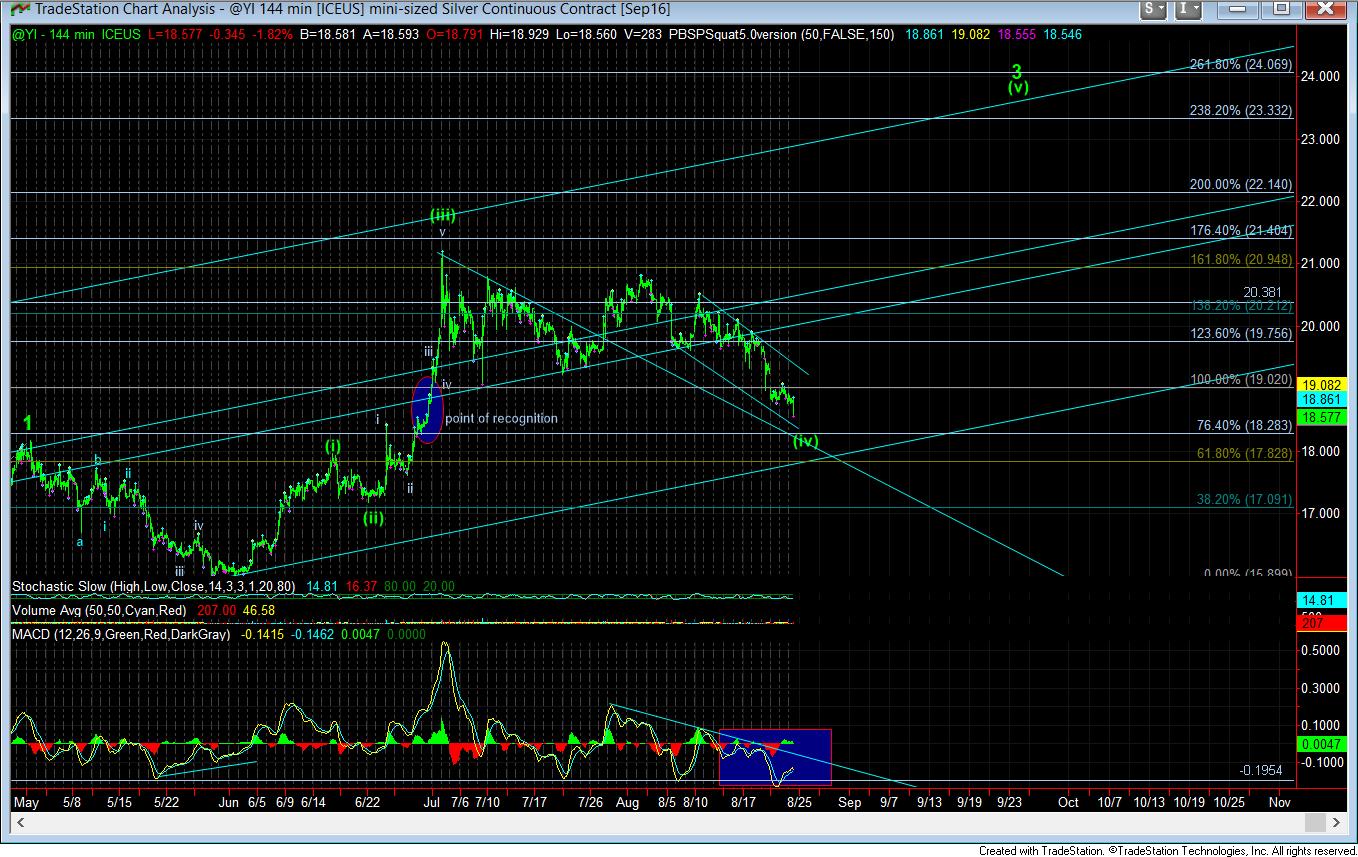 Silver 144 min