Charts of the Day: LYFT, TEVA, BBBY & More
Our Stock Waves Charts of the Day video features wave analysis on Lyft, Inc. (LYFT), Teva Pharmaceutical Industries Limited (TEVA), Bed Bath & Beyond Inc. (BBBY), Insperity, Inc. (NSP) and SunPower Corporation (SPWR).
LYFT got a decent drop of about 10% on earnings. It appears to be part of a 4th wave lower towards ideal support at around 44.50, before a 5th wave up towards the 58-60 region to complete the leading diagonal and larger wave up.
TEVA had a nearly 9% move today after earnings, completing 5 waves up. To confirm a trend change and start something more bullish, we want to see an a-b-c retrace hold. That would give it 5 waves up and 3 down, confirming that this is more than just a corrective bounce. Watch for a measured move to the 19-20 region provided it holds support in the 8 region as an a-b-c retrace.
BBBY had a big gap down, which counts nicely as most of the 3rd wave inside of the C of wave (B). The bounce off of that extreme at the 10.70 level this morning should probably be a 4th wave. Ideally after this correction, we get one more low towards 10.24 and possibly down into the 9 region to complete wave (B). And then look for the potential turn into a 5-wave up move into the (C) wave towards 28.
View the video for additional analysis, including on NSP and SPWR.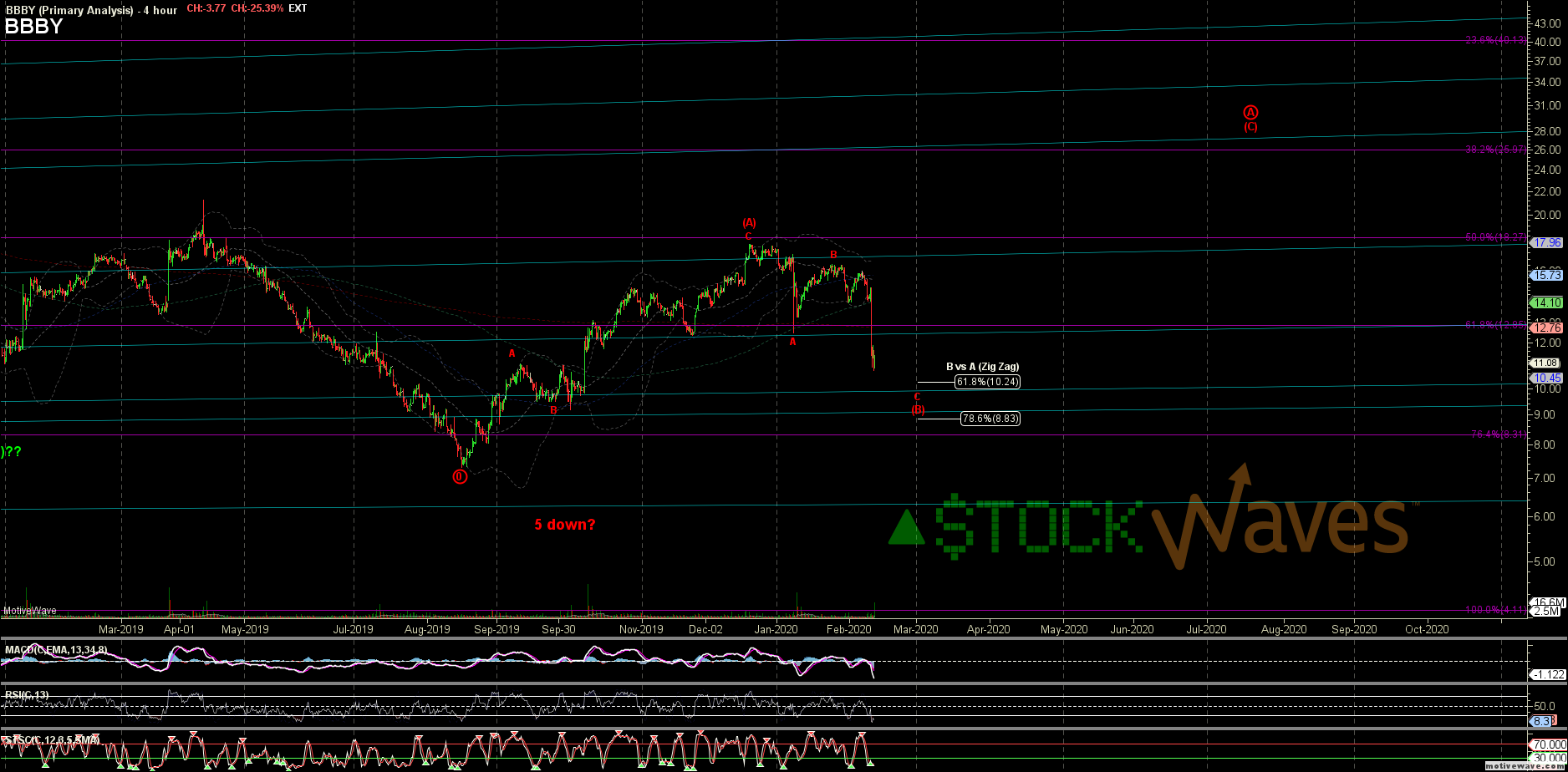 BBBY - Primary Analysis - Feb-12 1002 AM (4 hour)