The bears have fulfilled all their short-term targets since Monday's decisive breakdown below 4250 on the Emini S&P 500 (ES) into 4238/4225/4200/4165/4150. This is the moment of truth for the bigger picture due to Monday's orderly liquidation structure during regular trading hours (RTH) and Tuesday's lack of downside follow through below 4150.
If you recall on Monday, the bulls failed to sustain the massive overnight stick-save from 4238 to 4325, which caused a liquidation break into our 4150-4200 must hold area. This area must hold in order for 4550-4585 to be valid, otherwise sh*t hits the fan.
The overnight Globex continues to be easier to execute than RTH as the key levels hit and provide smoother train rides -- i.e., the same 4150 key level produced yet another ~100 bounce. The overnight range was 4260-4152, a 108-point width. With a decent double bottom stick-save going into the open, the bulls really need a >4250 DAILY close today.
The current price is 4255, and RTH are looking to open +2%, or +88 points, in a MASSIVE GAP UP vs Tuesday close of 4168. Bulls have the ball here, and they need to sustain during RTH.
A daily break above 4250 confirms stabilization event; gummy bears and we squeeze back into 4285/4300/4325 for eventually breakout attempt into 4400-4425/4550-4585 bigger picture.
A daily break below 4150 confirms more downside pain because the it reduces the chance of 4100 March LOW holding and opening up LOWER LOW potential into 4080/4050/4000/3980.
If price is trading between 4250-4150, wait patiently for the setups to take place, as bi-directional trading opportunities allowable using our key levels/alerts.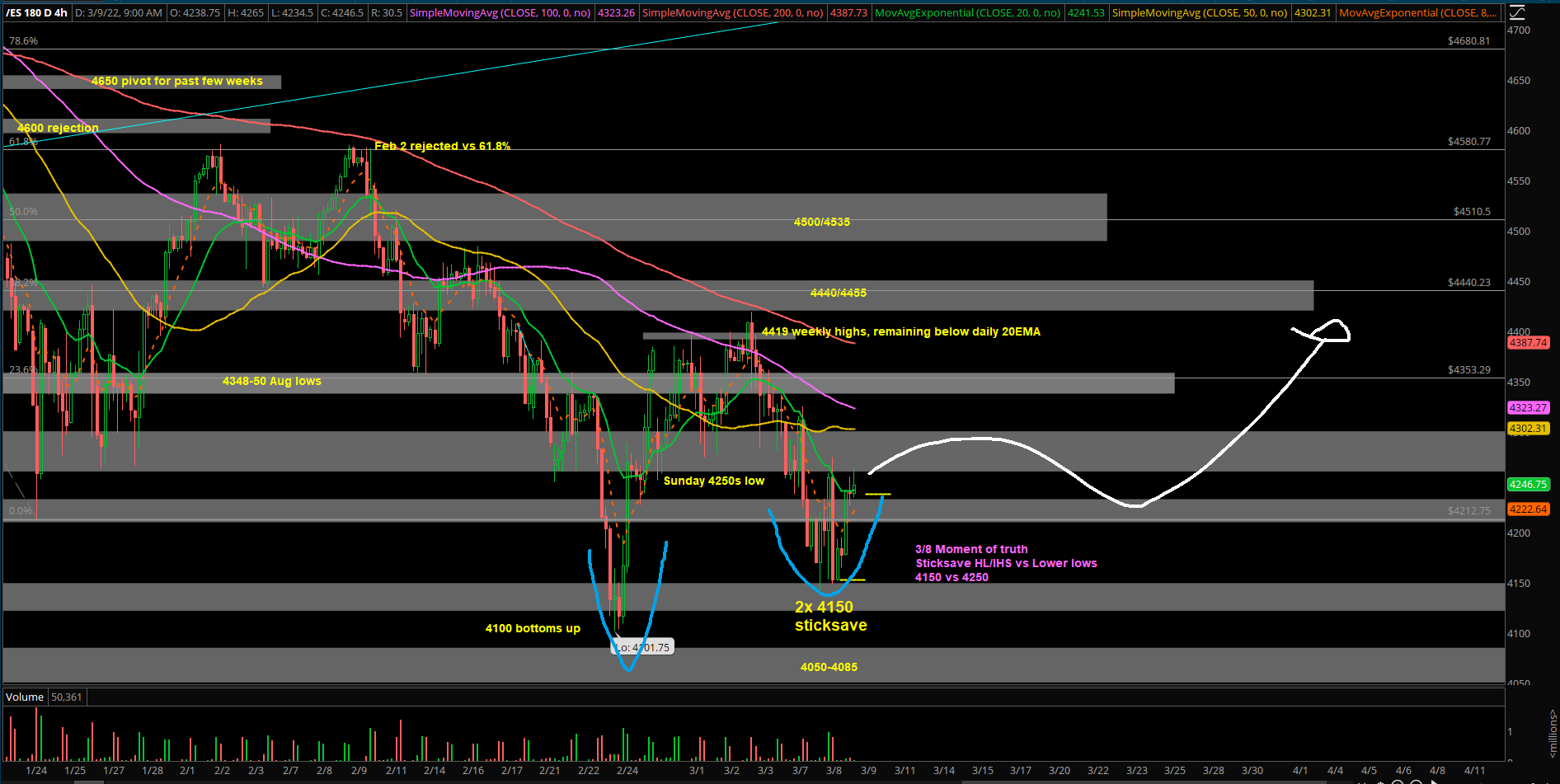 ES MARCH9_REVIEW